Part Two: Antwerp

We left France on the Thursday and headed across the border into Belgium for the second leg of our Great European Adventure.
As stations go, Antwerp has a very pretty one.
Antwerp also has a lot of diamond shops. If you ever feel the need to buy as many diamonds as you possibly can, then Antwerp is the place to go.
But we weren't interested in diamonds. We were there for the pretty buildings and historic centre, so we made our way through the modern side to reach our goal of Grote Markt.
Antwerp's City Hall is very pretty. Shame about the crane behind it.
The statue in front of the City Hall is pretty cool too.
Now, when we first saw this statue we were more interested in the dragons at the bottom and I completely missed what was being depicted at the top. It was only when we went on a tour of the city the next day and they explained what it was that I noticed what was happening...
That the guy at the top was throwing a hand...
And water comes out of the severed hand too, which is equally hilarious and awesome.
So, yeah, I can now show off my Antwerp knowledge and tell you all that the guy in the statue is Silvius Brabo, a local hero who cut off the hand of a giant (who was cutting off the hands of locals who refused to pay him a toll) and threw it in the river. And that's apparently where the name Antwerp came from, cos "hand werpen" means "hand throw" in Dutch.
I could totally be a tour guide.
Not too far away from the Markt is Het Steen:
And the guy on the left is Lange Wapper, a shapeshifting trickster who terrorised the locals. Based on this statue I assume he did so by showing them his terrifying genitals.
Still, the castle is pretty.
Moving away from giant shapeshifting dicks, we return to the historic centre and the Onze-Lieve-Vrouwekathedraal, or the Cathedral of Our Lady...
It's tall.
It also contains this statue that is apparently not Eric Morecambe balancing a giant cross, but is quite clearly Eric Morecambe balancing a giant cross.
The real art is to be found outside, however...
Yes, that is a statue of a boy and a dog sleeping underneath the cobblestones.
They are Nello and Patrasche, from the story A Dog of Flanders. I avoided looking up the story itself while I was there cos I was worried it was going to have a sad ending as stories like this always seem to for some reason.
I have since looked it up and surprise surprise, I was right. Both the dog and the boy freeze to death inside the cathedral, which puts a much darker spin on the cute image of them sleeping together outside.
Still, it's a cute statue.
On a happier note, here's a statue of Jacob Jordaens...
No, I don't actually know who he is either. I'm just amused at how put out he looks...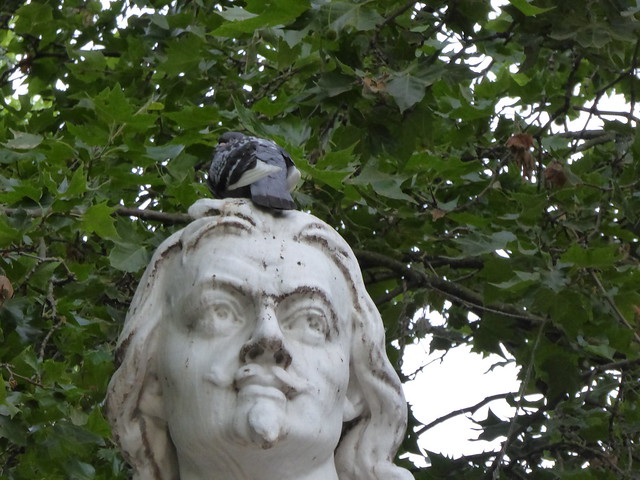 Jacob Jordaens does not appreciate his head being used as a pigeon perch.
~*~
Next up: Amsterdam
Current Mood:

okay