A week ago today I started off my London adventure by going to the Doctor Who Symphonic Spectacular! It was amazing and I love Murray Gold's music so much. I do wish there had been more of a focus on the music of the Eleventh Doctor's era, but that's just my personal preference. I would have loved to have heard Together or Not at All - The Song of Amy and Rory (even though it would totally have made me cry right there in the arena) and The Wedding of River Song. I'd also hoped they would play the full version of I Am the Doctor, which is one of my favourite pieces ever, but I had to make do with it being part of The Pandorica Suite. Not that I'm complaining, because it is used so perfectly there and is one of the most epic things I've ever seen/heard!

I knew of two people I'd met before that were planning to go and hoped to meet up with them for a drink or something beforehand, but it didn't really work out. One of them was ill and had to cancel. The other one I did manage to see for a couple of minutes before she hurried off. I fear I was a bit awkward and didn't do a very good job talking to her, which upset me a bit. I thought I was doing better with things like that but it was like my brain froze and everything inside me tied up. I made sure to text her during the interval to ask what she thought of it so far, cos I didn't want our last interaction to have been so awkward! And I think it was ok, she texted back and we had a conversation about stealing one of the Daleks that went right past me, and afterwards she mentioned a video she'd taken where a Cyberman looked right at her! She put it online and it is indeed very cool!

I had a really good seat too. Right at the front of C-block, so there was a walkway right in front of me which meant I had a really good view when the monsters came out and into the audience. The Dalek going right past me was brilliant. And I got terrorised by a dream crab walking right towards me! Sadly the Cyberman bypassed the bit I was in, which was a shame. But at least there was no danger of being upgraded!

I took a load of photos and some of them came out really well. I put them on Tumblr, but I'll share them here too:








Peter Davison was a wonderful host; very funny and charming. I loved all his references to being replaced by Colin Baker, and David Tennant being his son-in-law, and the fact that the venue had had to be evacuated a couple of days before because they found an unexploded WWII bomb nearby. I was especially fond of one of his comments near the end where he said "This evening has been a blast. And I mean that in the sense of it having been a very good night and not in the sense of an unexploded World War II bomb."

So overall, it was a brilliant evening. Topped off by a drink at the Udderbelly on the Southbank where Paul and I proved that we were hip and down with the kids by taking a selfie of ourselves with our drinks and posting it on Twitter.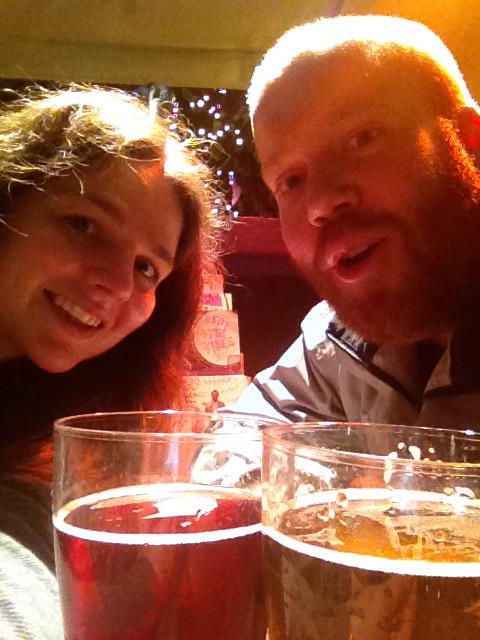 So cool.