HELLO FRIENDSLIST!

YOU MAY HAVE NOTICED THAT I AM CAPSLOCKING AGAIN. YES, THIS IS ANOTHER MARCH MADNESS POST.

DR SHELDON COOPER IS FACING OFF AGAINST DR TEMPERANCE BRENNAN. IF YOU DON'T KNOW WHO THESE PEOPLE ARE THEN GO VOTE FOR BRENNAN AND ALL WILL BE WELL. IF YOU DO KNOW WHO THESE PEOPLE ARE THEN VOTE FOR BRENNAN ANYWAY BECAUSE YOU KNOW HOW AWESOME SHE IS.

GO! VOTE!

PROOF OF AWESOMENESS: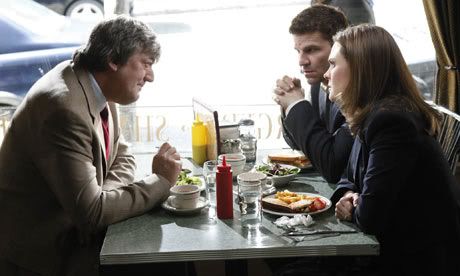 THAT IS BRENNAN. SITTING ACROSS FROM STEPHEN FRY. STEPHEN. FRY.

YOU KNOW IT MAKES SENSE.