My brother is a graduate. He has letters after his name. (He gets to be Bachelor of Science, which sounds so much more impressive than Bachelor of Arts. I'm jealous.)

Yes, Robert and Kat graduated today, which means I got to sit in a cathedral listening to names being read out and then sit in the sunshine drinking Pimms and eating strawberries. Much more fun than going to work.

It made me want to graduate again, though. Just a shame about the years of work that have to precede such an event. (Actually I do often wish I could re-do my graduation. There is so much about mine that I hate - I was quite a bit fatter then, my clothes look stupid and I was wearing awful, awful shoes. I especially hate my official graduation photo, which is of course the one my grandparents have up in their house.)

I was quite jealous about their gowns too. They had hoods. Actual hoods. Behold: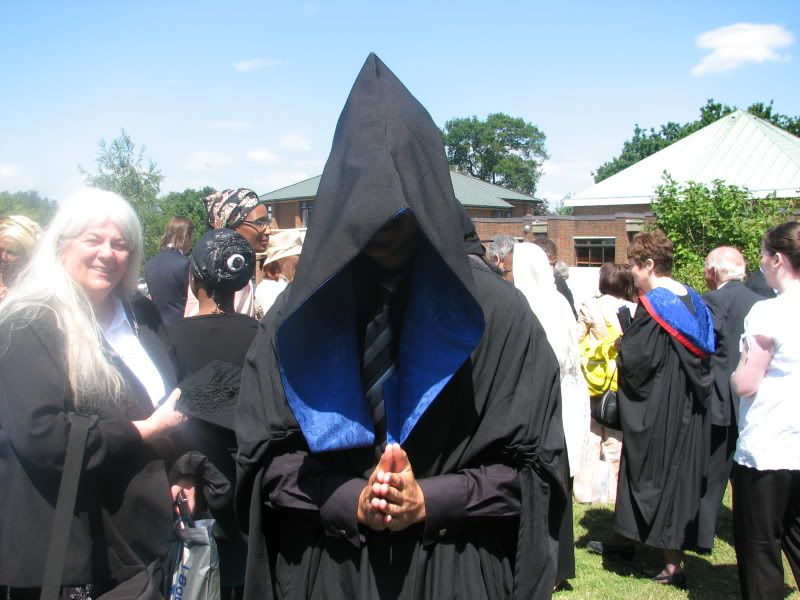 I took quite a few pictures using the camera John lent me and then I used Robert's camera to take some and, oh my god, I love his camera. I love it so much. I was leaning towards buying a high end digital camera rather than a DSLR but now I think I've changed my mind. I'd been put off by the size and the fact that they don't take movies (at least not the ones in my price range) but the picture quality is amazing and it's so fast. Now I'm going to have to do even more research into all this.

Of course it was helped by the fact that it was a lovely day. Perfect graduation weather really.