Prison Break: The Final Break
Part 2: Free



Location: Miami Condo




Michael is filming a video of himself. Almost as if he knows he's going to die. He never filmed videos before his other plans.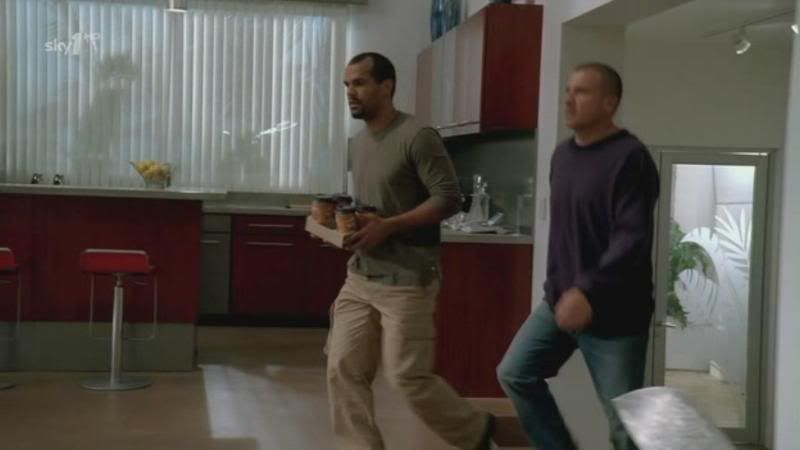 Sucre and Linc return with coffee for everyone. I love this, I really do.

Michael lays out the new plan. Things are still going ahead, but now Sara needs to meet them at the chapel. Meanwhile, Mahone is charged with getting a plane and pilot while Sucre and Linc are in charge of getting the $100,000.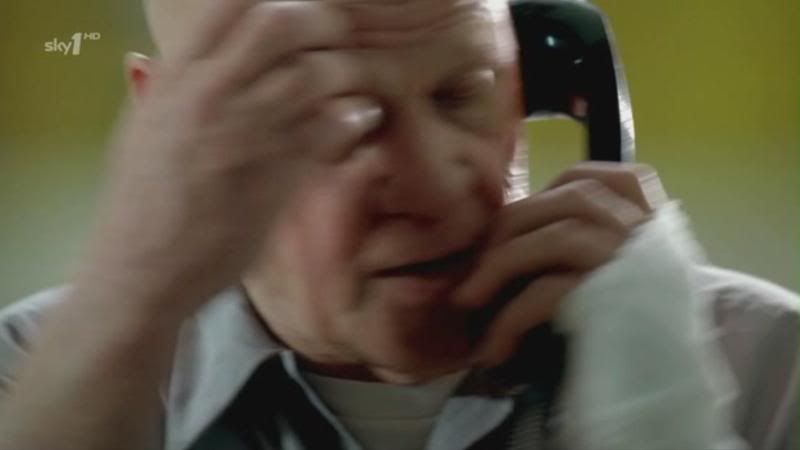 Speaking of which, General Pad Man's lawyer tells him they're having a bit of trouble with their contact so General Pad Man orders him to make it an open bounty. Excellent, that'll make getting the money much easier.

~*~

Location: Miami-Dade Prison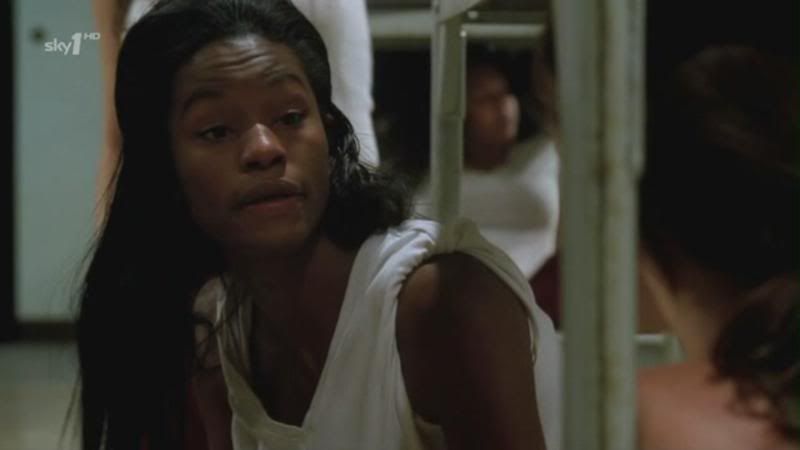 Daddy's "wife" lets Dr Sara know that there's a bounty on her head and she should stick with the family.

Before they can go off and play cards together, though, the guard comes by to tell Dr Sara she has a visitor.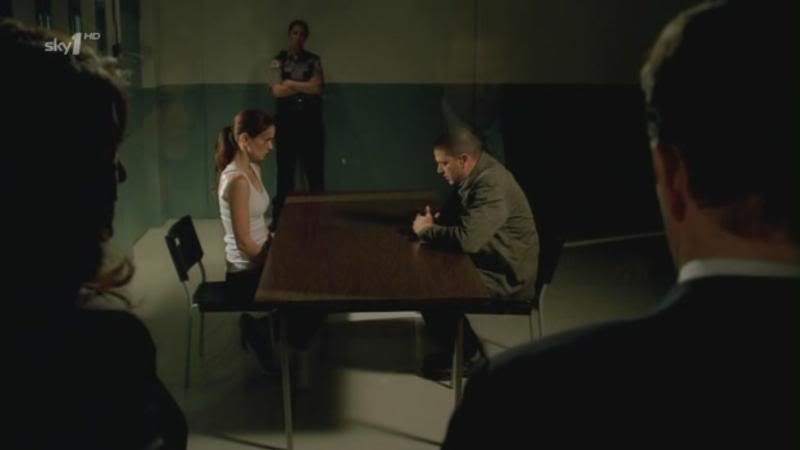 Michael tells Dr Sara that this isn't working out and she should pray for them tonight. Agent Bastard is behind the glass this time yet doesn't seem to pick up on this as suspicious at all.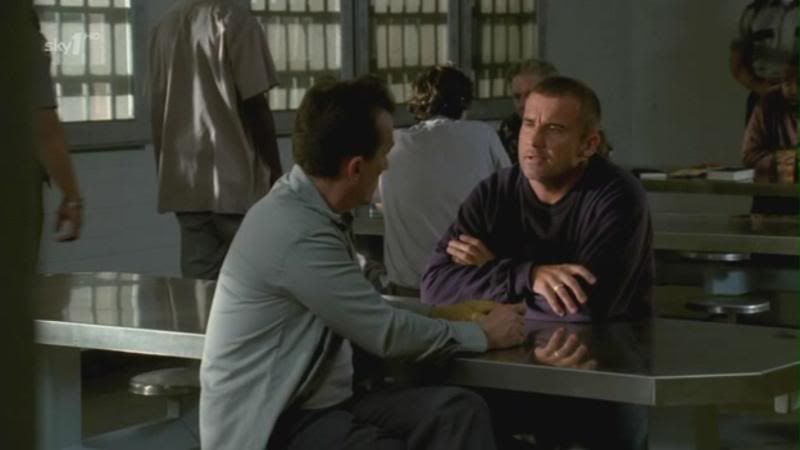 Over on the other side of the prison, Lincoln is meeting with T-Bag to tell him they need more information on how to get the money.

~*~

Location: Miami Condo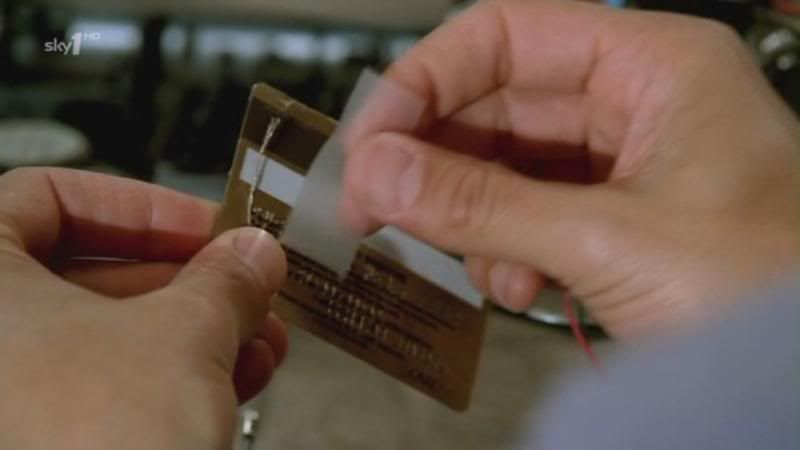 Michael is rigging a credit card to open the electronic locks in the prison. He tells Mahone that it should work due to when the prison was built, and that his only other option would be to cause a power surge which would take out all the electronics in the building.

Mahone points out that it would also kill him. Michael says nothing.

NO, FORESHADOWING, GO AWAY. YOU ARE NOT WELCOME HERE!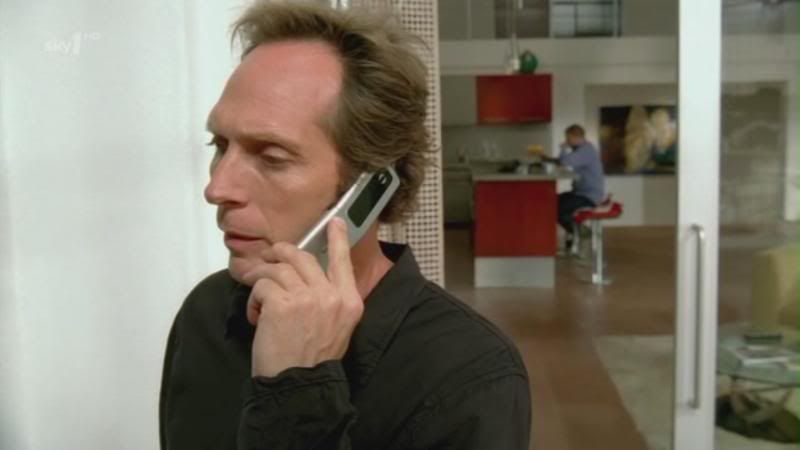 Mahone heads out on to the balcony to call Agent Bastard who tells him to get more information.
~*~

Location: Miami-Dade Prison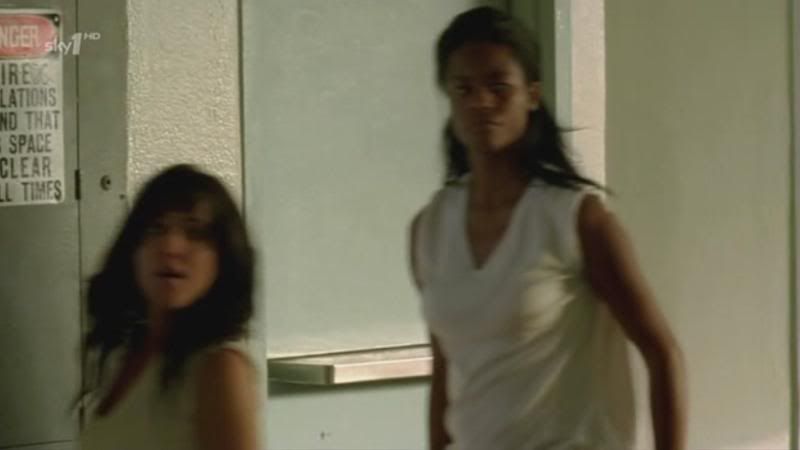 The ladies are all gathered in the shower area when the guard and a lot of the inmates start leaving. That's never a good sign.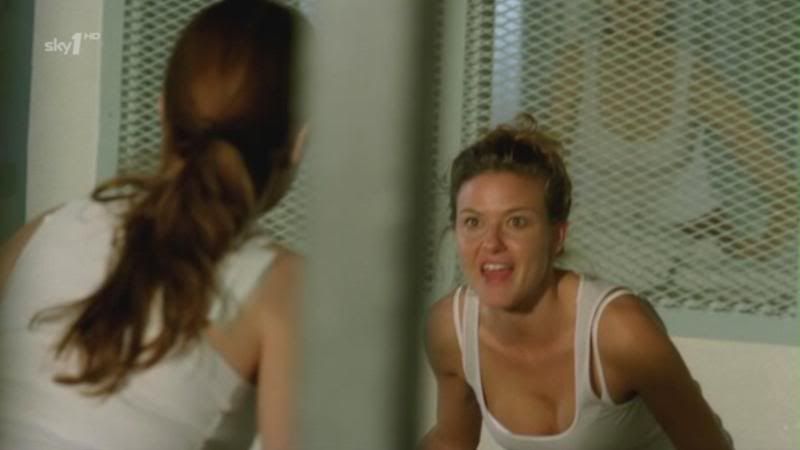 Looks like one of Daddy's "kids" is trying to cash in on that Dr Sara-killing bounty.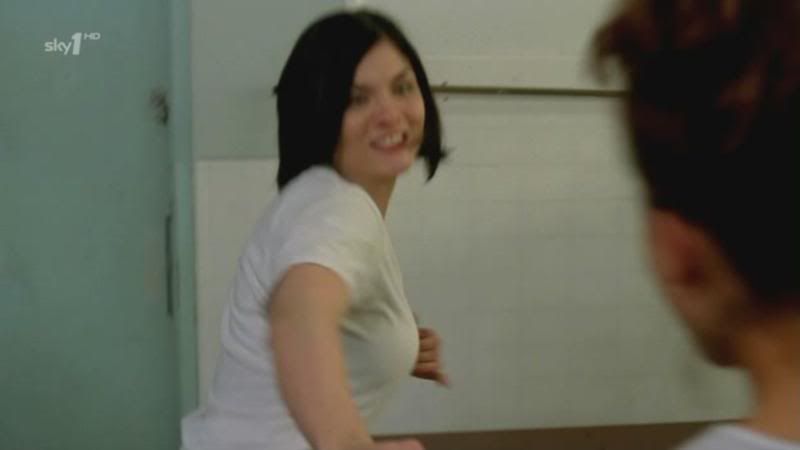 Evil Gretchen steps in to help Dr Sara.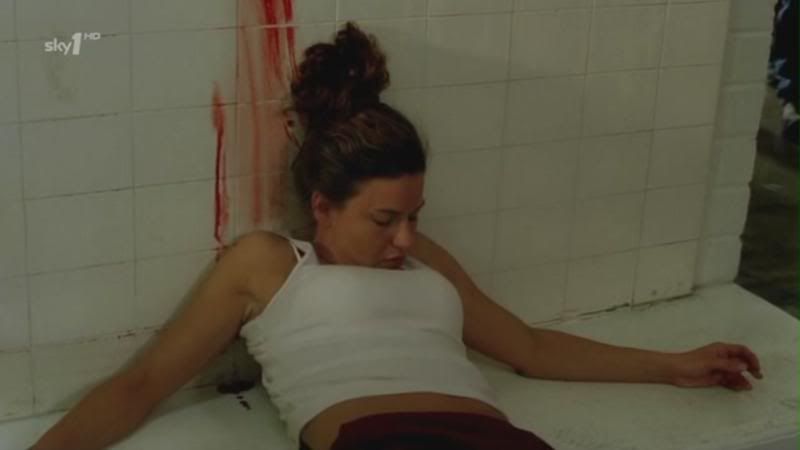 And things end badly for the attacker.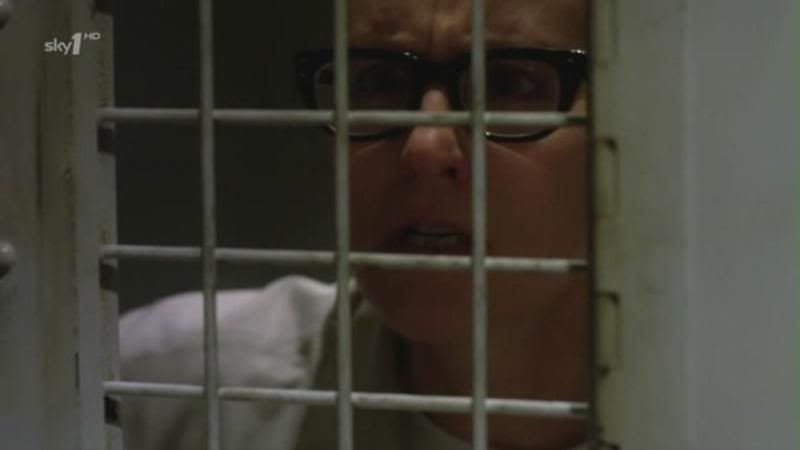 Daddy is very upset to hear that one of her girls is dead at the hands of Dr Sara and Evil Gretchen.

~*~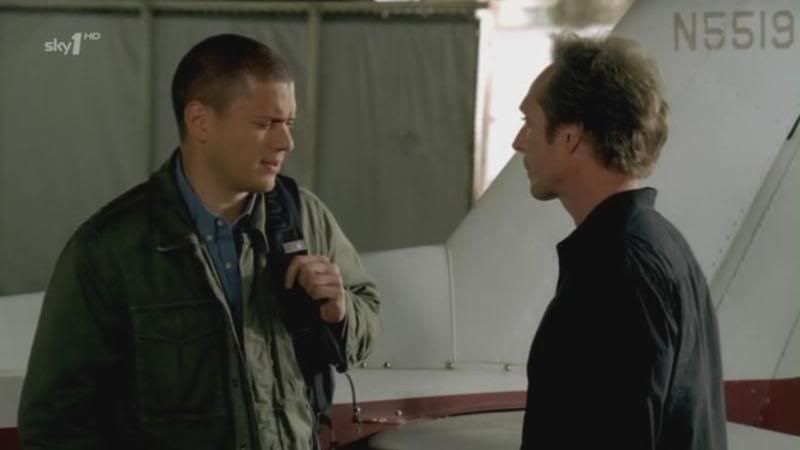 Mahone takes Michael to meet the pilot he's acquired, who obviously thinks this plan is nuts but is willing to go along with it.

Michael then asks Mahone to make sure that Lincoln and Sara get out of the country if he doesn't make it, and to give them the DVD he made. He tells Alex that he trusts him and I hope Mahone is either lying to Agent Bastard or feeling really, really guilty right about now.

~*~

Location: Miami-Dade Prison, Men's Side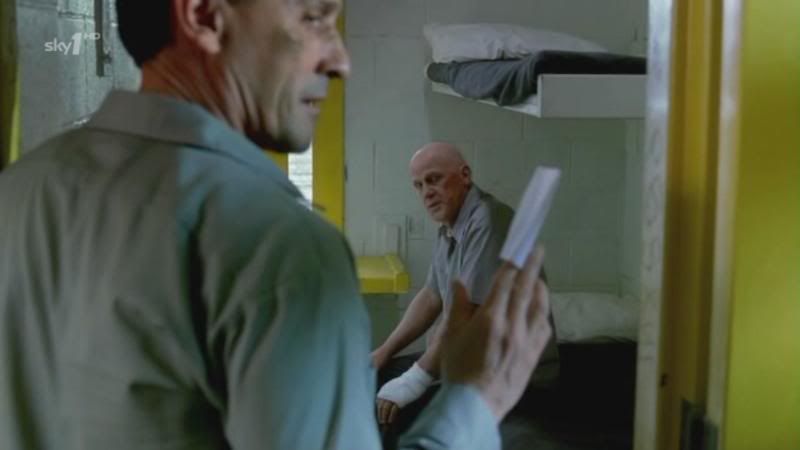 T-Bag makes his newspaper delivery to General Pad Man and gives him a note asking about "the birthday present" which he wrote himself but pretends came from elsewhere. General Pad Man scribbles a reply and tells him to pass it back to the sender.

T-Bag calls Lincoln to give him the information on General Pad Man's man on the outside and tells him to make sure the money is wired to his account.

~*~

Location: Miami Condo




Sucre is on the phone with Sofia and arranges their passage to the Dominican Republic and then on to Costa Rica. I take it Panama is sooo last season?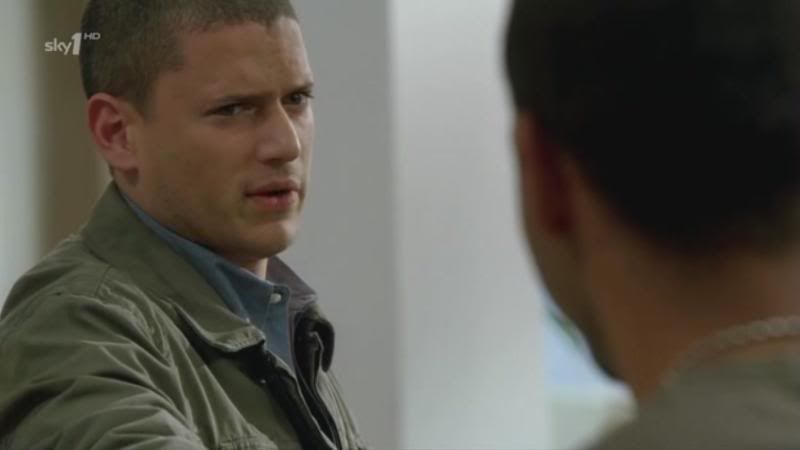 Michael thanks Sucre for everything and they bump fists. This can't be Michael and Sucre's goodbye scene, can it? They deserve so much more!

~*~

Location: Miami-Dade Prison




Evil Gretchen shows Dr Sara a necklace she made in woodshop for Emily. She explains that she wants to get out so she can give it to her daughter on her birthday. Dr Sara tells her that they need to be at the chapel at 7.

Further down the line, the rest of Daddy's "family" are giving Evil Gretchen and Dr Sara death glares. It's probably for the best that they get out as quickly as possible.

~*~

Location: General Pad Man's Man's House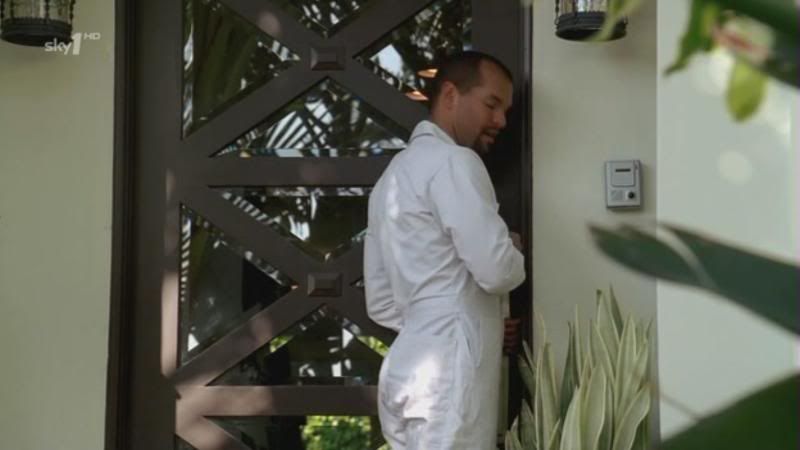 Sucre arrives pretending to be the world's most insistent painter who breaks into the house after the man tells him to go away.

The man heads to the garage to make his escape, but Lincoln is lying in wait for him.

~*~

Location: Surplus Skydiving Equipment Shop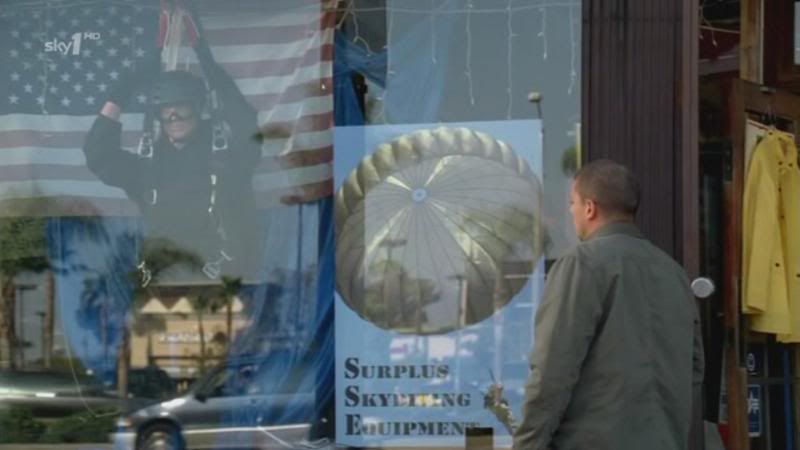 Michael is there to stock up on everything he'll need for his crazy, crazy plan.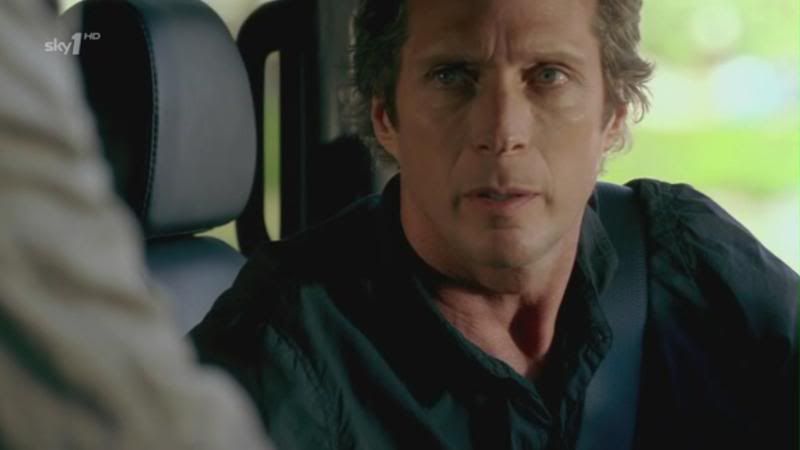 Mahone looks at the DVD, has a crisis of conscience and calls Michael back, telling him there's a better way.

~*~

Location: Miami-Dade Prison




Daddy is back. Uh oh.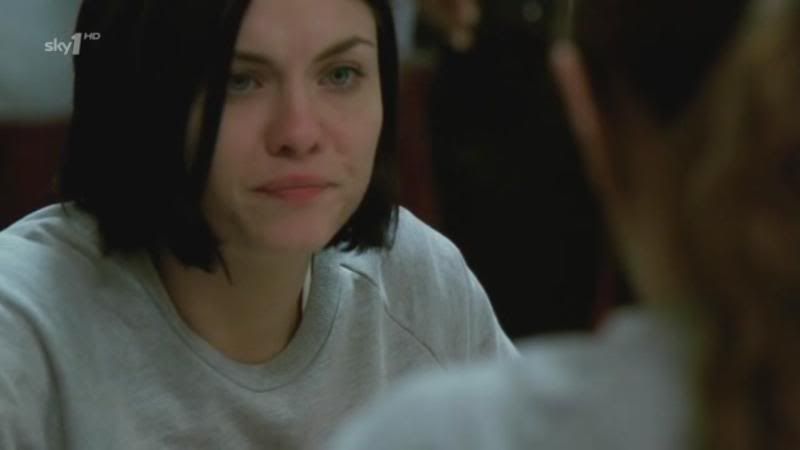 They all head to the cafeteria and Evil Gretchen warns Dr Sara that they're going to have to fight.

~*~

Location: Miami-Dade Prison, Men's Side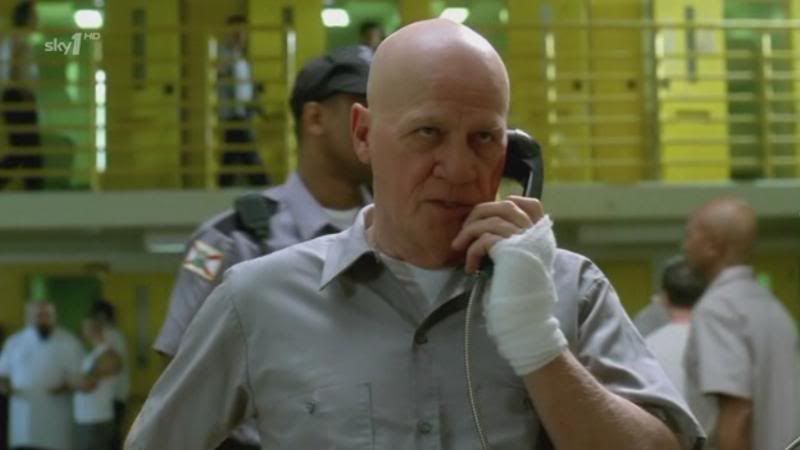 General Pad Man calls his man to confirm that things went down ok with the "birthday present". The man has no idea what the hell he's talking about and says two guys attacked him and took the money.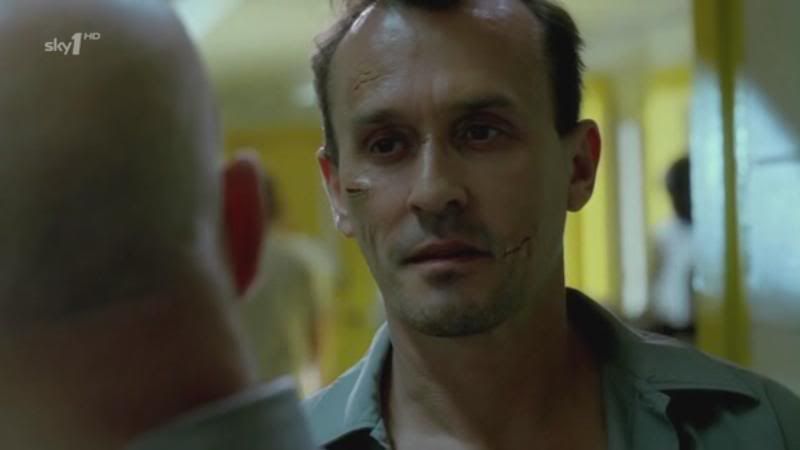 T-Bag comes along to taunt General Pad Man about the fact that his own financial situation has just vastly improved.

~*~

Location: Air Strip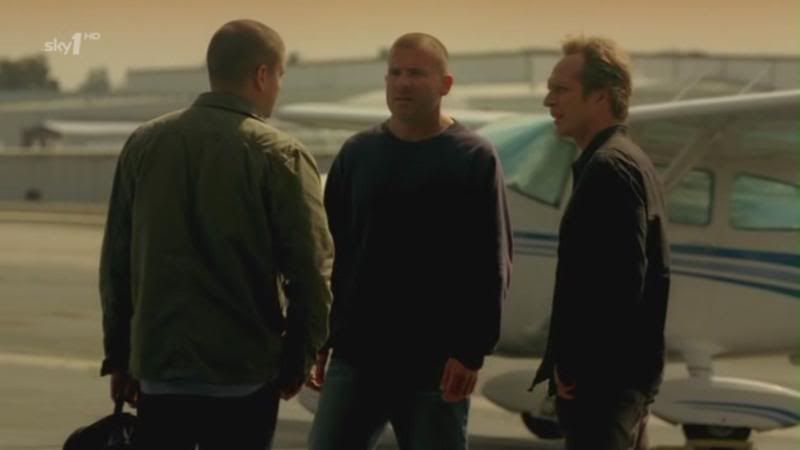 Michael, Mahone and Lincoln are ready to put the plan into motion.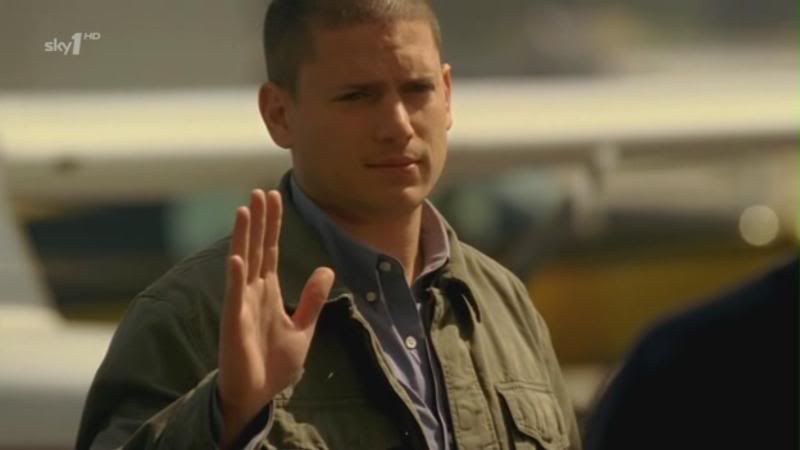 Michael and Lincoln share a goodbye and I'm pretty sure this is going to be the last time they see each other. It feels very final.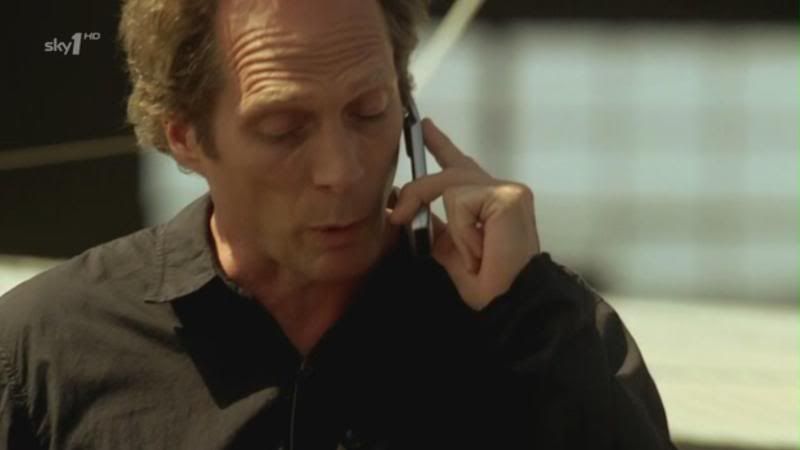 Mahone wanders off to call Agent Bastard and tell him that Michael is planning to parachute in. I'm confident that this is a trick and Mahone is fully on Michael's side now so I won't break out the capslock of rage this time.

~*~

Location: Miami-Dade Prison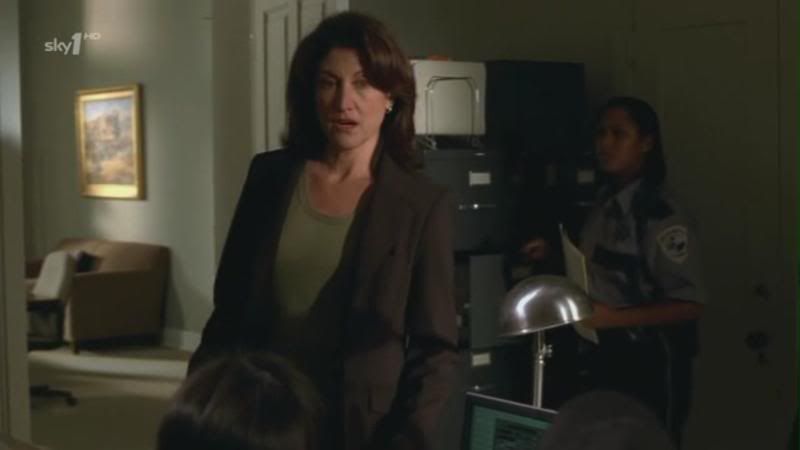 Agent Bastard informs the warden of the plan and she orders more guards outside and tells them to cut the lights. She also wants Dr Sara brought to her.

~*~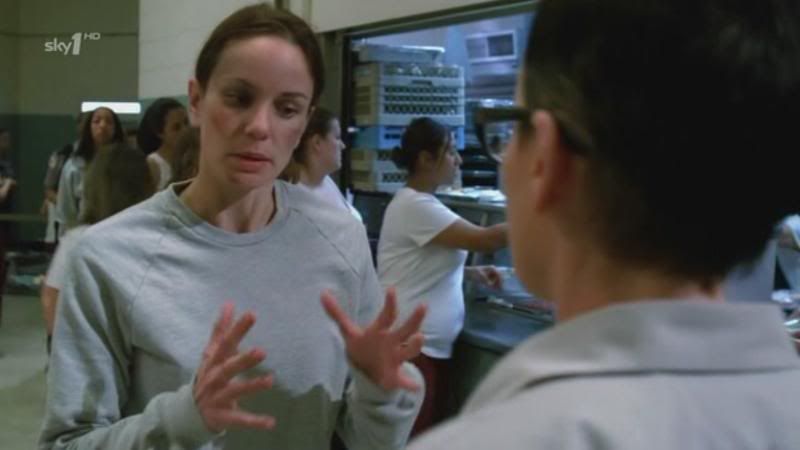 While Dr Sara tries to convince Daddy that she was just defending herself and doesn't really know what happened in the shower room...




Evil Gretchen attempts to distract the guard with more awkward attempts at flirting.




Shivs are pulled, Dr Sara knocks Daddy into the kneecap-breaking woman, Evil Gretchen and the guard get into a fist fight and various women stand around shouting.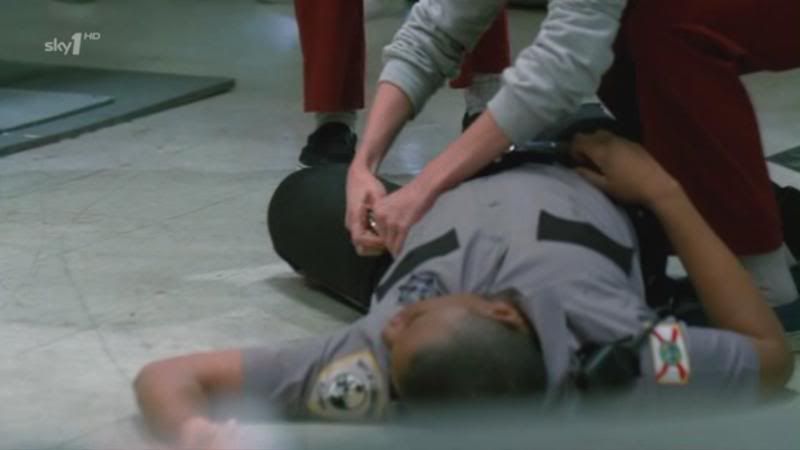 Evil Gretchen triumphs over the guard and Dr Sara has the forethought to swipe her keys before they make their break for it.

~*~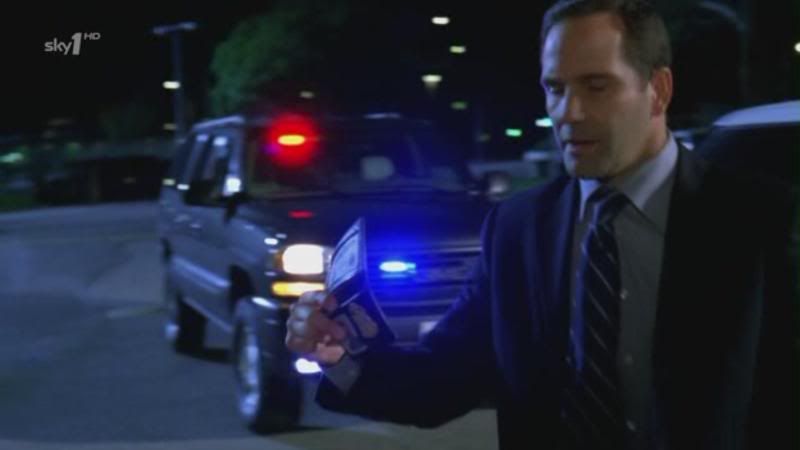 Outside, Agent Bastard arrives and demands to be allowed to drive in.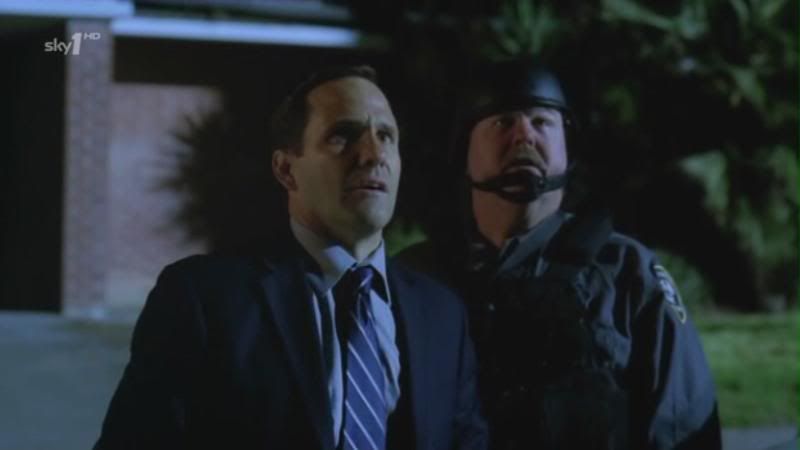 He and the guards watch the skies and catch sight of the plane flying overhead.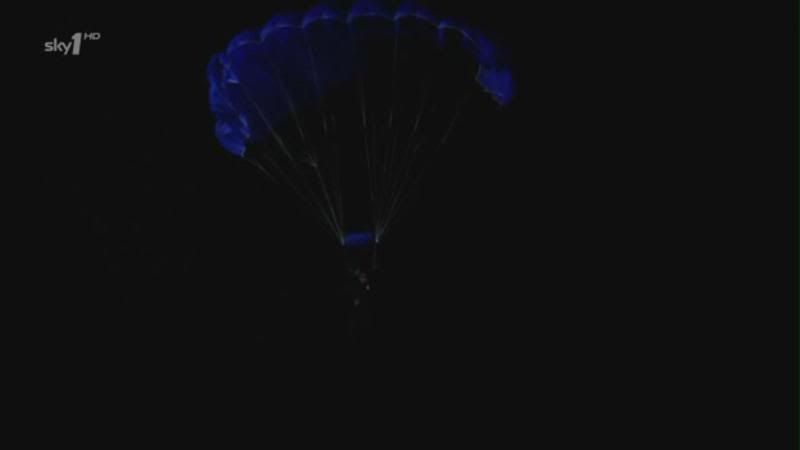 A parachutist emerges and the guards wait until it hits the ground to open fire. All this time I'm shouting at the TV "It's a dummy!"




Oh look, it's a dummy.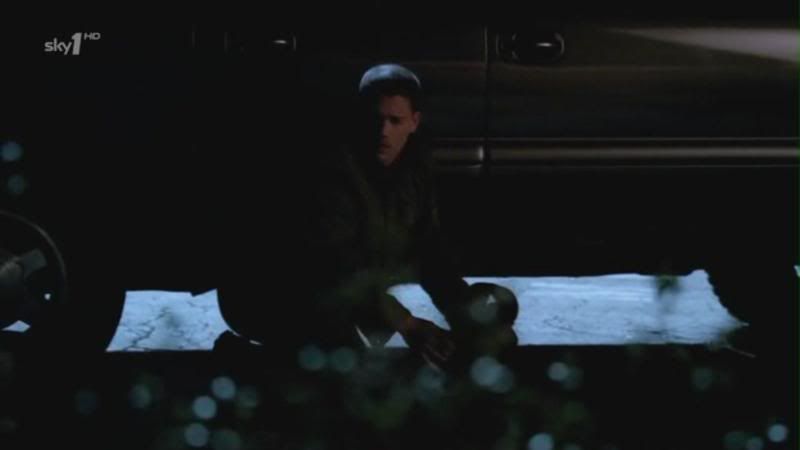 Turns out Michael got in by attaching himself to the underside of Agent Bastard's car while the agent was busy demanding entrance. Ha!

~*~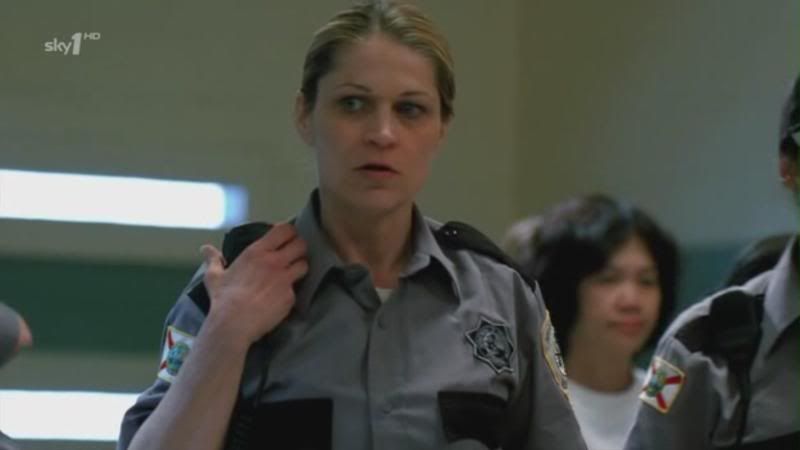 The warden calls down to the guards, wondering why Dr Sara isn't standing in front of her, like now, but the guards are busy sorting out the mess in the cafeteria.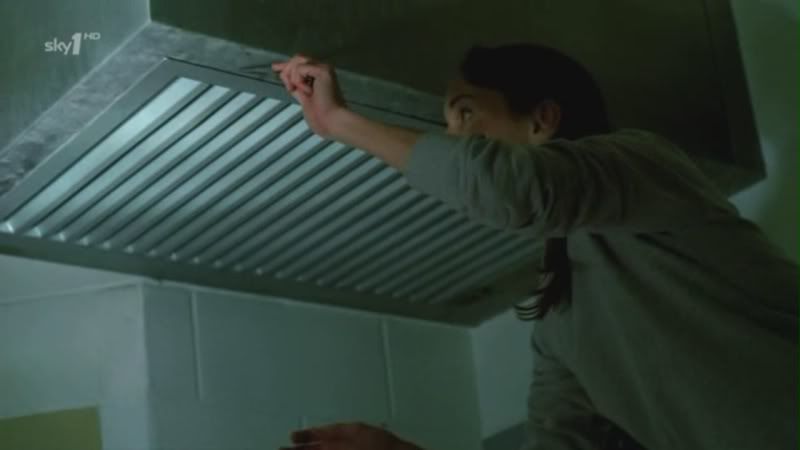 Dr Sara is doing her own version of escaping through air ducts. Evil Gretchen, having been stabbed in the leg during the fight, can't make it up herself and tells Dr Sara to either help her or leave her.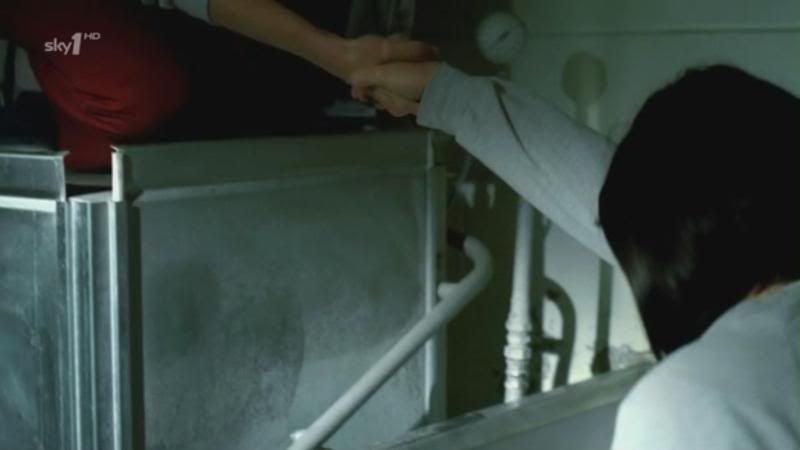 Dr Sara is such a nice person.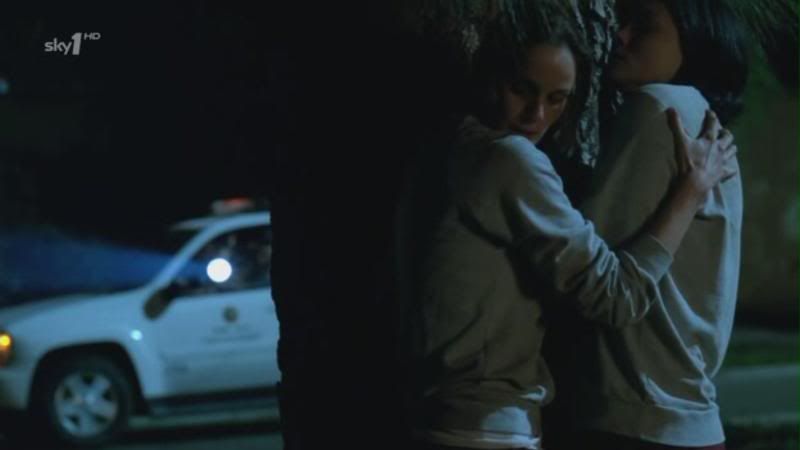 They make their way across the yard and avoid a patrol car by... hiding behind a tree. Seriously.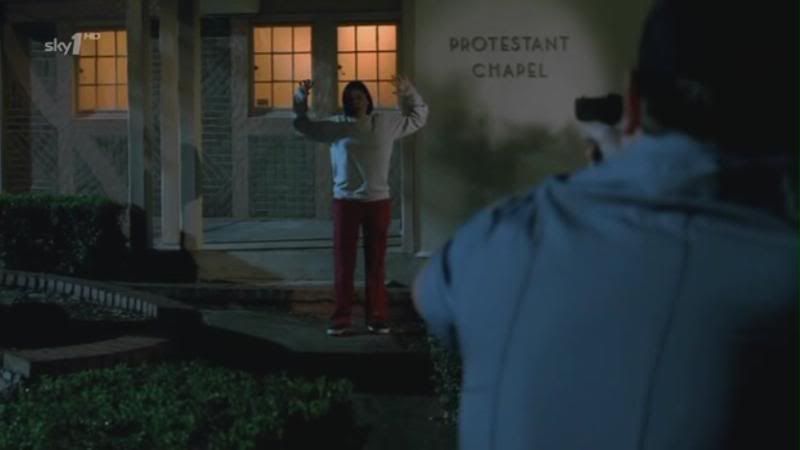 They make it to the chapel, but as Dr Sara reaches the door Evil Gretchen is spotted. The guards ask Evil Gretchen if there's anybody else with her and Evil Gretchen tells them God is.

Good for Evil Gretchen not giving Dr Sara up, but how are these guards so stupid? Are they out of the whole "We think Michael Scofield is going to try and break his wife out this evening" loop? Do they not consider that it might be a good idea to actually go and examine the area around which Evil Gretchen was found?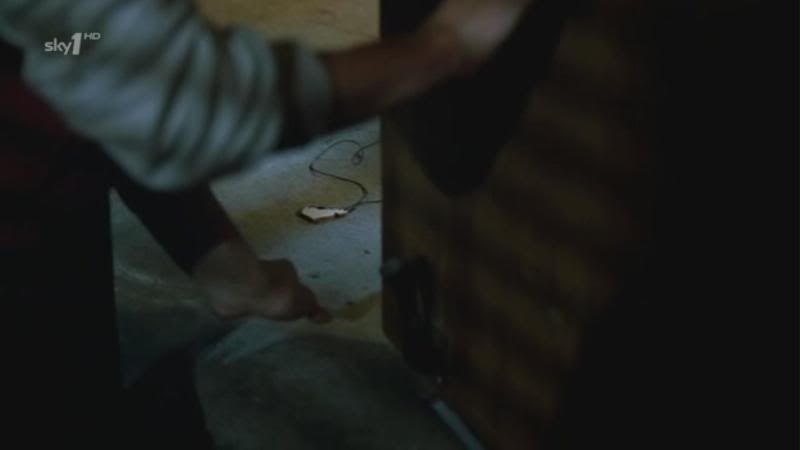 Dr Sara unlocks the door and crouches down inside the chapel entrance. She notices the necklace Evil Gretchen made for Emily on the ground and picks it up when someone grabs her wrist.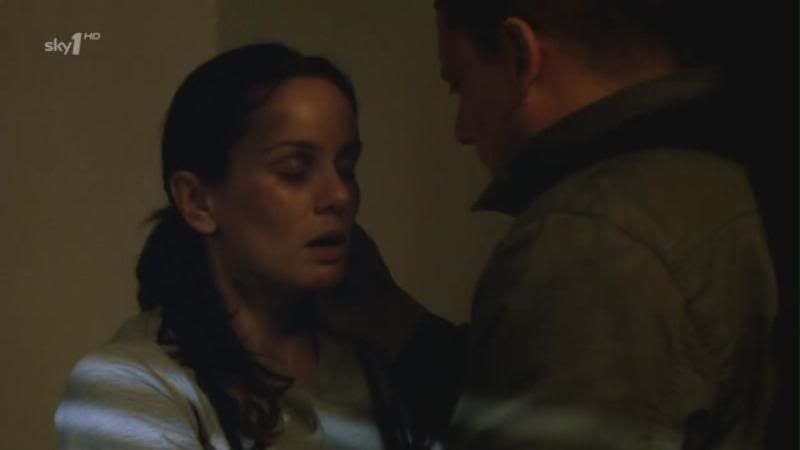 It's ok! It's Michael!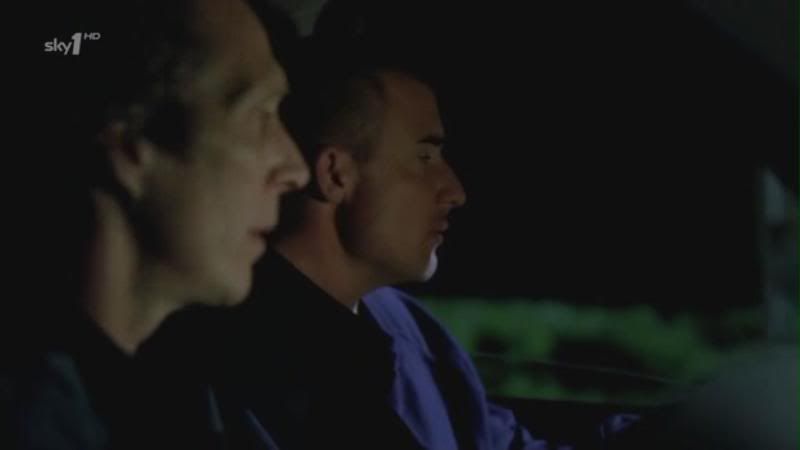 And we see that Mahone and Lincoln are waiting in the car at the rendezvous point.

~*~

Location: Wire Transfer Place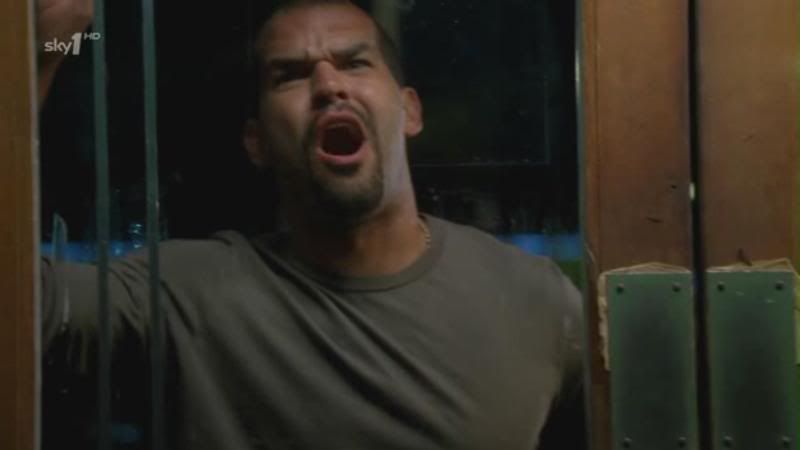 Sucre arrives with the money but find the place closed until 8. Nooo!

~*~

Location: Miami-Dade Prison, Men's Side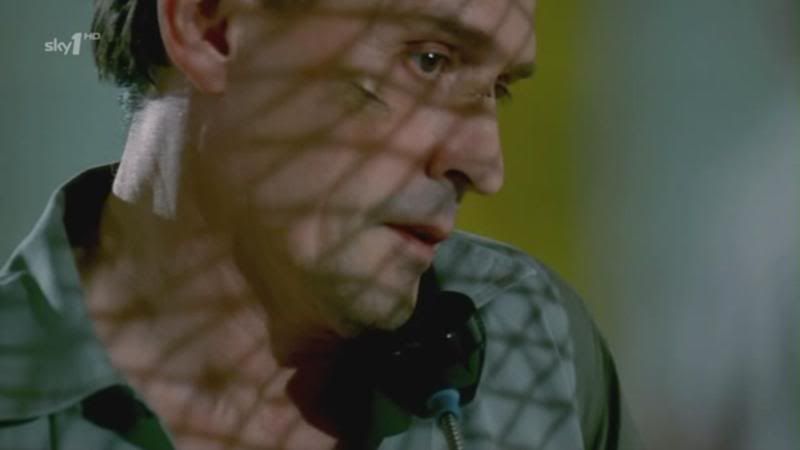 T-Bag calls his bank and discovers that his account contains the healthy sum of zero dollars and zero cents.




So it's straight to a guard to rat out Michael and his plan for him.
~*~

Location: Miami-Dade Prison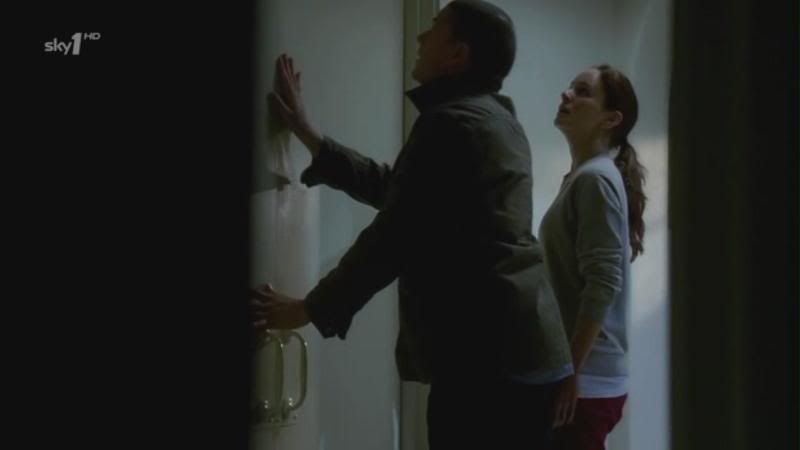 Michael and Dr Sara come across a locked door and Michael explains that this is why they asked T-Bag for help.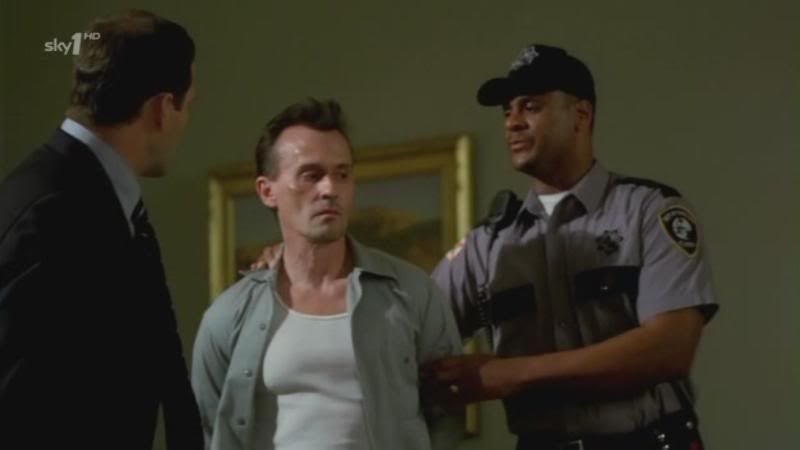 T-Bag tells Agent Bastard and the warden that he was supposed to start a small fire to set off the alarm. Agent Bastard and the warden come to the conclusion that Michael planned to get Dr Sara out during the evacuation then slip away somehow.

They order all the smoke detectors to be turned off, which I'm sure cannot be legal.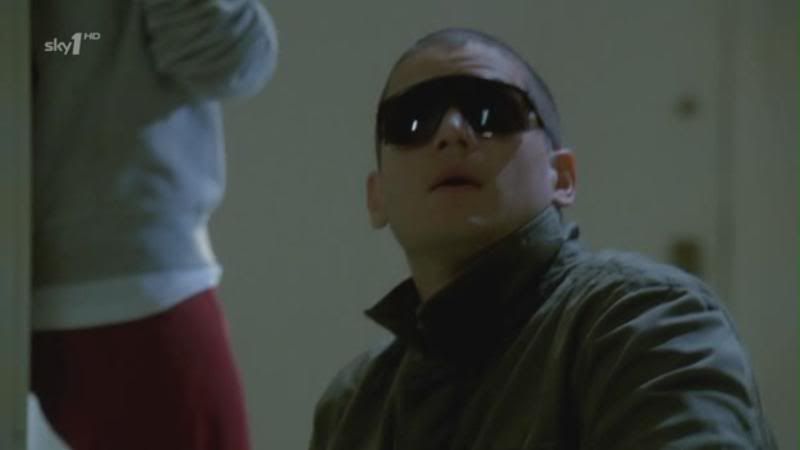 Michael and Dr Sara hear the sirens turn off (Oh yeah, I forgot to mention there have been sirens going off for a while now) and that's Michael's cue to begin.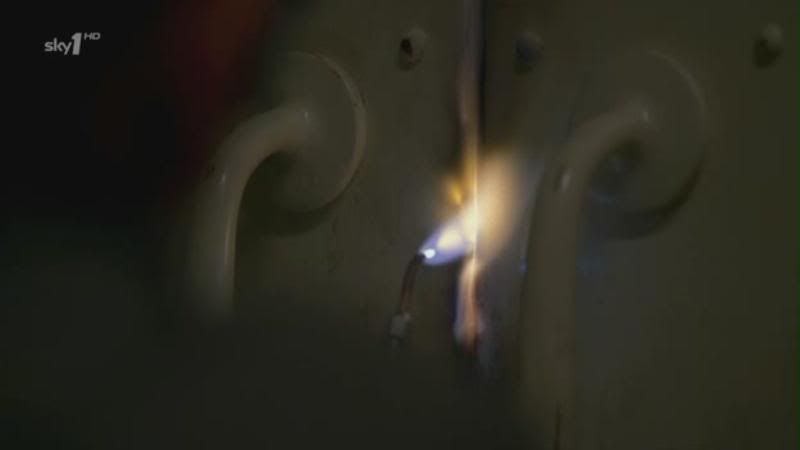 He uses a blow torch to open the doors. Dr Sara worries about the smoke detector right above their heads but Michael says he took care of it. See, he knew that T-Bag would betray them and the warden would turn off the detectors as a result. I am relieved that he never actually trusted T-Bag with any part of this plan.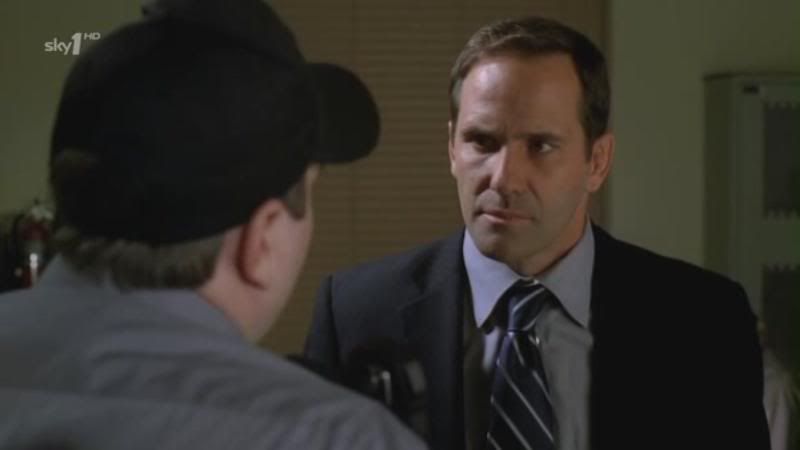 One of the guards tells Agent Bastard that they caught Evil Gretchen out by the chapel. Agent Bastard is all "And that didn't seem suspicious to you? Moron!"




Michael and Dr Sara head down to the basement and Michael explains that behind this door is a tunnel, Lincoln and sweet, sweet freedom.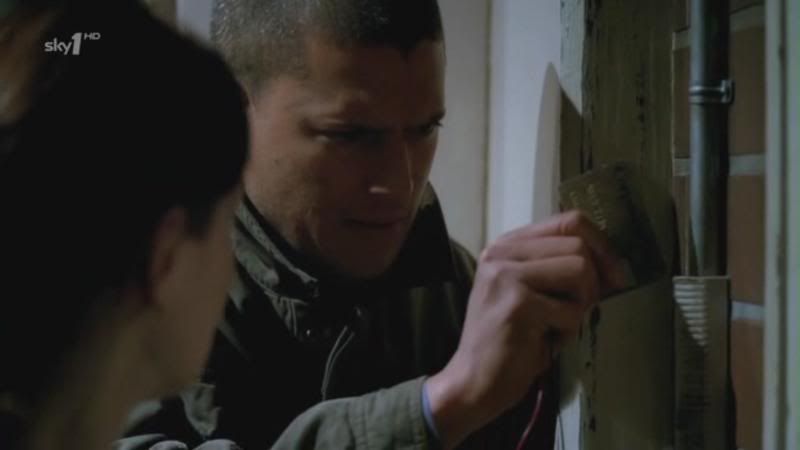 Unfortunately Michael's credit card device does not work like he hoped.

Dr Sara says they'll find another way but Michael says he knows what he has to do.




Agent Bastard has arrived at the chapel.




Sucre returns to the car and lets them know that he couldn't wire the money.

`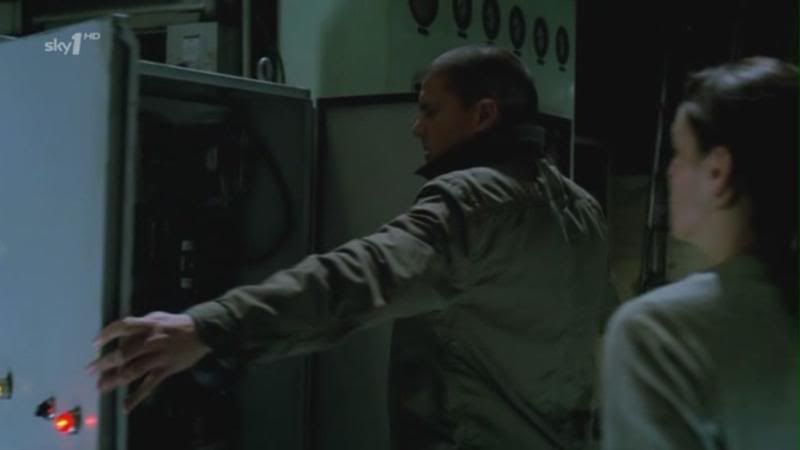 Michael tells Dr Sara that he has to pull out and reconnect some cables, blowing the whole building's electricity system, and when he does that she has to open the door and run. She wonders what he's going to do but he tells her that someone needs to stay behind and...yeah.

Dr Sara tells him that she doesn't want to leave if he's not coming with her. He touches her stomach and says he is coming with her. Yeah, that's sweet and all but NOT THE SAME THING.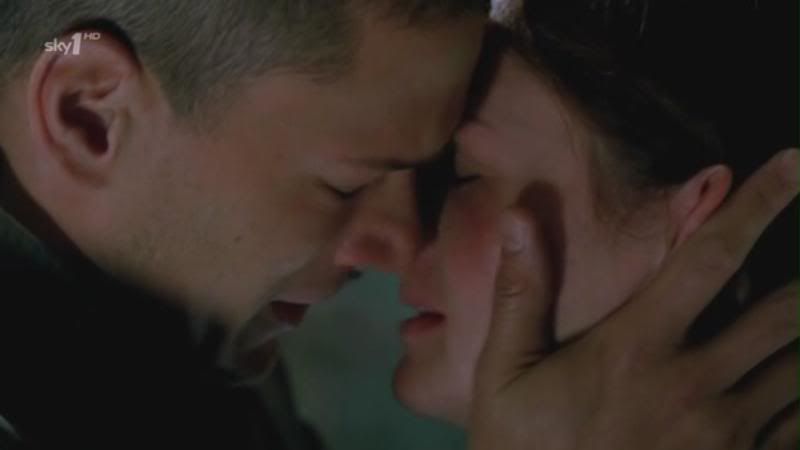 They share a goodbye kiss and damn you Prison Break for doing this to me. I knew this was going to happen and you'd think I wouldn't be so upset about it but I am. Damn you!

And why has this man, who has geniused his way out of many, many impossible situations, so easily come to the conclusion that sacrificing himself is the only option?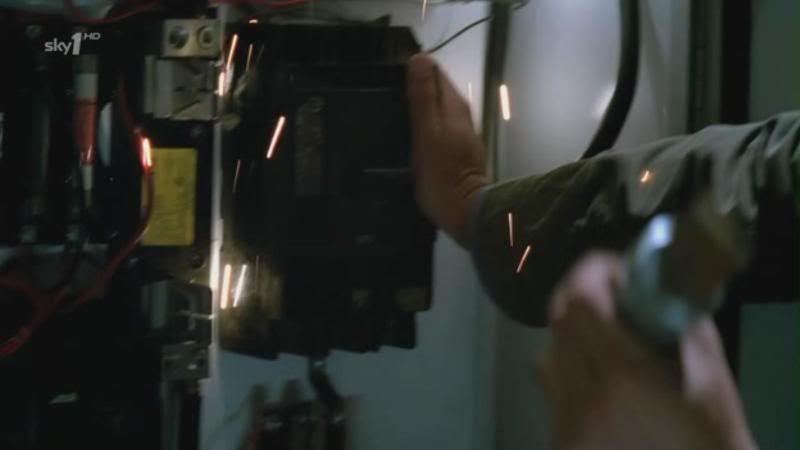 Michael pulls out the wires and brings them closer to each other.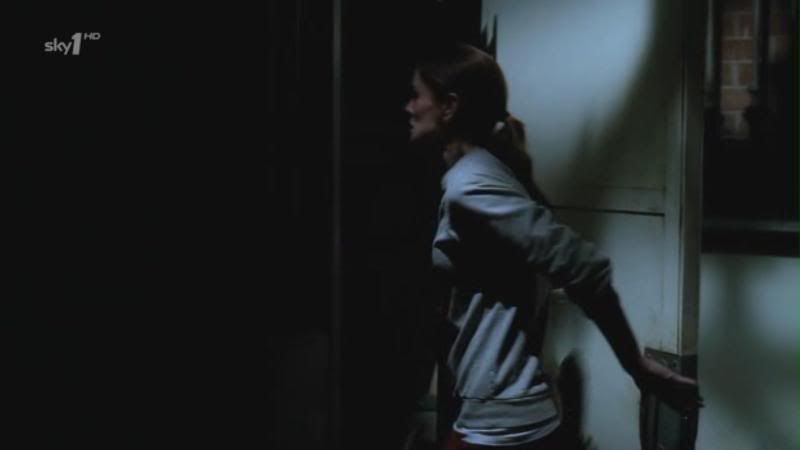 And Dr Sara is able to open the door. They don't show us Michael being horribly electrocuted but I'm sure Dr Sara can't be ignorant of the fact that being able to open the door means her husband has just died.




She still clings on to hope though, and waits for him to join her but after a while of staring into the darkness has to admit that he's not coming back. I assume the door will automatically re-lock if she lets it close, otherwise I don't understand why she doesn't go and check to see if he's still alive or not.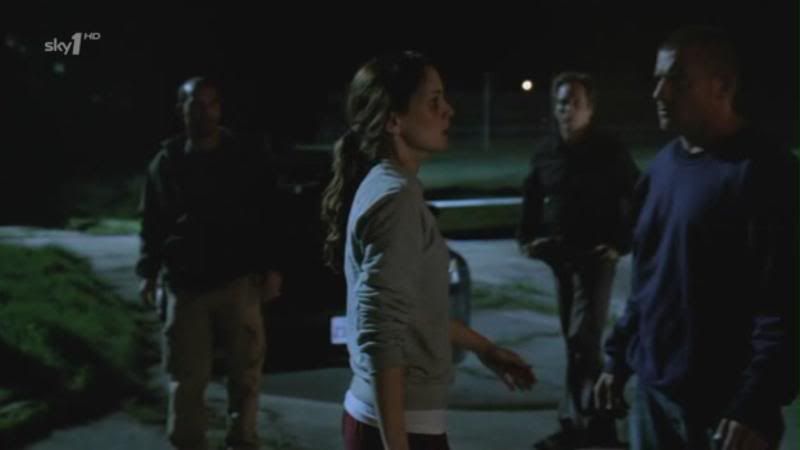 She runs through the tunnel and out to freedom and the guys. Lincoln asks her where Michael is and she just looks behind herself helplessly.

Mahone says that Michael's gone. DAMN YOU PRISON BREAK!

After standing around for a while looking suitably devastated, they all climb into the car and drive away.

~*~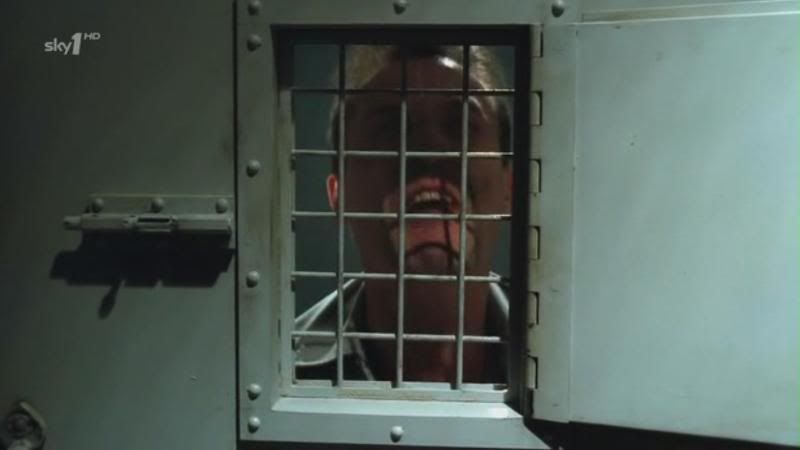 The next day T-Bag is sent to the SHU for his part in the escape. He screams Scofield's name, unaware of his nemesis' fate.

~*~

Location: Car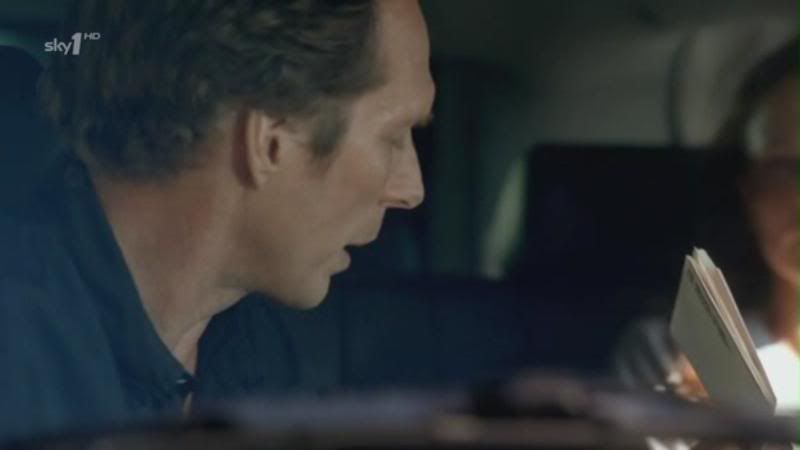 Everyone is quiet and sad. Mahone hands Dr Sara some papers, telling her that Michael said they would help her understand why he did what he did.

Turns out his brain tumour was still there and he was going to die soon anyway. This way he was able to sacrifice himself to save his wife and unborn child.

But why? If the Evil Company was able to save Christina Rose, surely the technology and knowledge exists to save Michael?

~*~

Location: Beach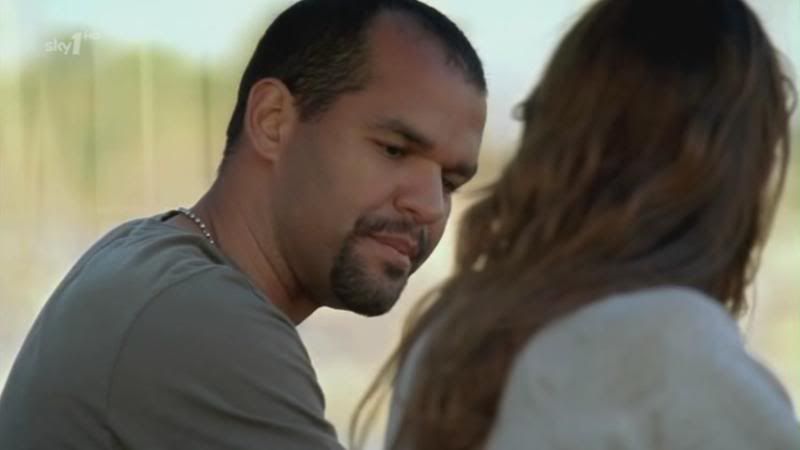 Sucre gives Dr Sara a briefcase, telling her that he was supposed to wire the money down to Costa Rica for her and Michael's new life together, but he didn't get the chance to. Again, I am pleased that they never intended to give T-Bag the money.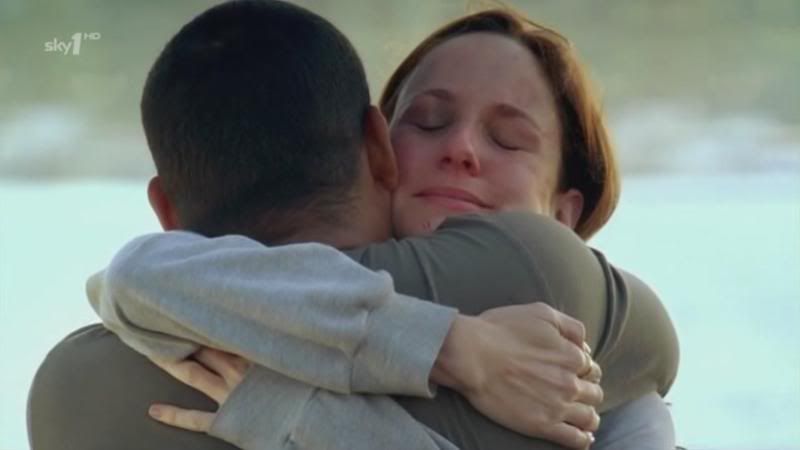 Sucre tells her to take care of that baby and they hug, which is really sweet, but I am still annoyed that Michael and Sucre didn't get a goodbye hug.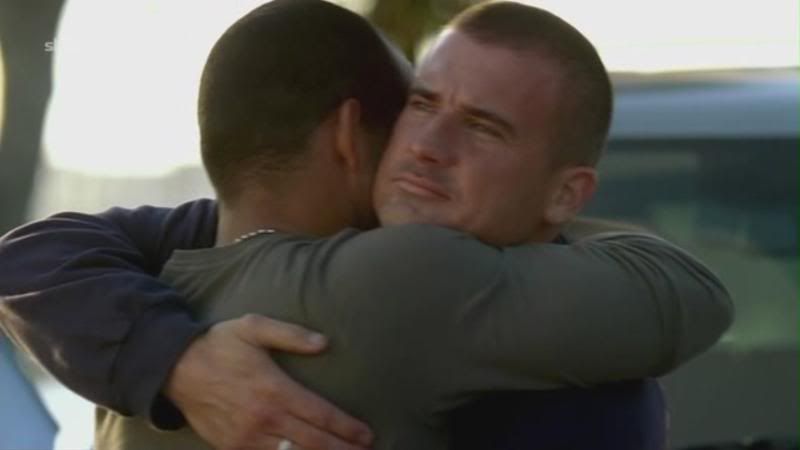 Then Sucre hugs Lincoln. They're really rubbing it in aren't they?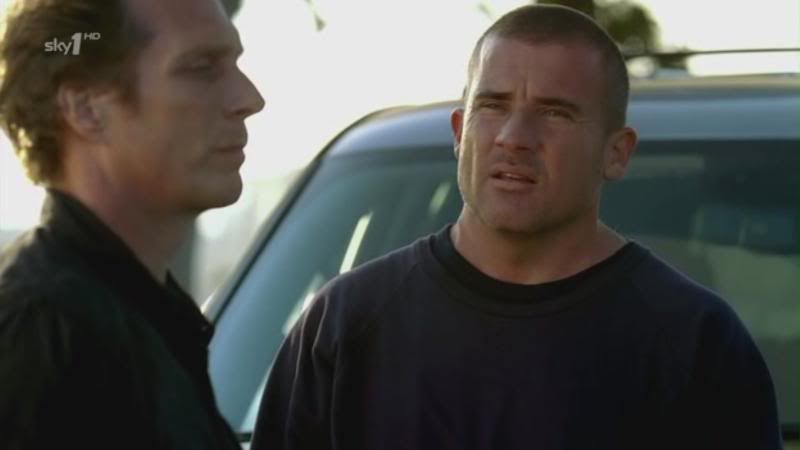 Mahone gives Lincoln the DVD that Michael made. Lincoln says Michael didn't tell him about the tumour and Mahone says that's because he knew that Linc would do everything he could to protect his family. Linc says he clearly didn't but Mahone points out that Dr Sara and her baby are Lincoln's family as well now.

Mahone calls out a goodbye to Dr Sara and leaves.

~*~

Location: A Nice Yacht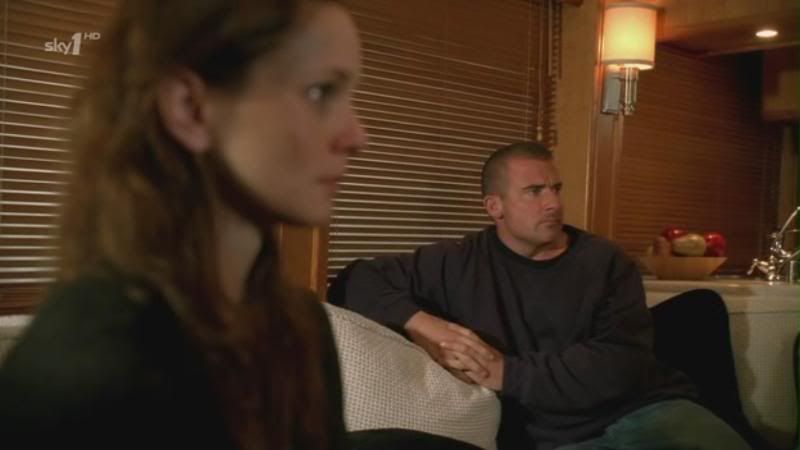 Dr Sara and Lincoln settle in to watch the DVD.




Michael tells them that if they're watching this, he's glad, because it means they're safe. He says he loves them both and asks Lincoln to be a good uncle to the baby and tells Dr Sara to keep Linc out of trouble.

He ends by saying that he wants his child to always know that he is loved and how lucky he is to be free. Cos that's what they are now, free.

Except... Dr Sara is now a wanted fugitive and can never return to the US or any country that has a extradition treaty with them so she and her child will have to spend the rest of their lives in hiding. Yay freedom!

~*~

And this is the point at which Dr Sara wakes up, says "Wow, that was a stupid dream" and prepares for her wedding to Michael, after which they live happily ever after. THE END.

~*~

Also, I feel compelled to point out that we never saw Michael's body, nor anyone actually say that he was dead. Dr Sara and Lincoln assume he's dead and sail off to Costa Rica but it's never actually confirmed. Considering this is Prison Break, death without a body usually means no death at all. I honestly don't think it's too farfetched to think that Michael survived, but then it's sad to think of Sara and Michael Jr living their lives thinking he's dead and Michael in a prison somewhere not having any idea how his wife and child are.

~*~

Still, I'm very angry with Prison Break for giving Michael and Sara a total of, what, twenty seconds of happy married life? That was just mean.

And, something that I don't think I mentioned in my ramblings at the end of the series, I really don't like how all the characters had to travel to meet up with Sara and Mini-Michael and obviously hadn't seen each other for a while. So Dr Sara is raising her son alone, with no friends or family around? I would have thought she would at least have lived near enough to Lincoln that they could just pop round to see each other any time and Michael Jr would spend a lot of time with his uncle. Which is what Michael Sr specifically wanted in his video message.

~*~

But I guess this is it. For real this time.

Goodbye Prison Break. You ran the gamut from awesome to total crap but I will always remember my first experience of you, watching Riots, Drill and the Devil on Channel 5 one night when I was at uni and realising "This is an excellent programme." And for the most part you were. I just refuse to acknowledge a lot of the later episodes as existing.

Screencaps by
sky_angel22