Here is it. The final Prison Break. Called, appropriately enough, The Final Break. It's split into two episodes but is really one feature length special. It's split into two recaps cos Livejournal won't let me have a big long one.

Prison Break: The Final Break
Part 1: The Old Ball and Chain



Location: The Ocean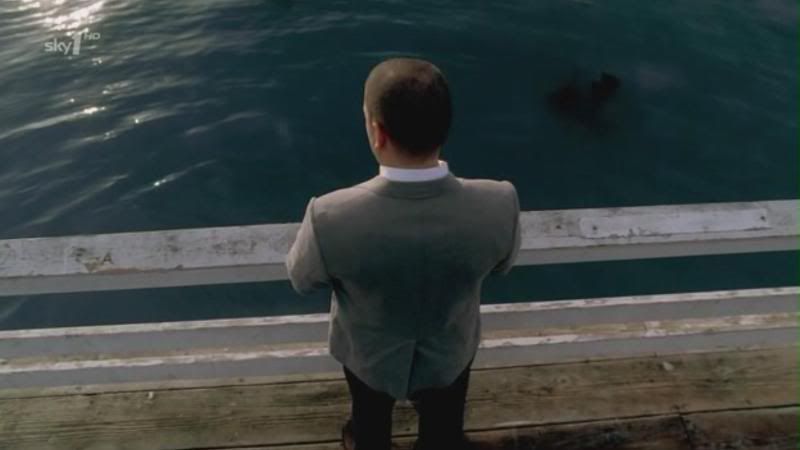 We open with this very picturesque image of Michael looking over the water.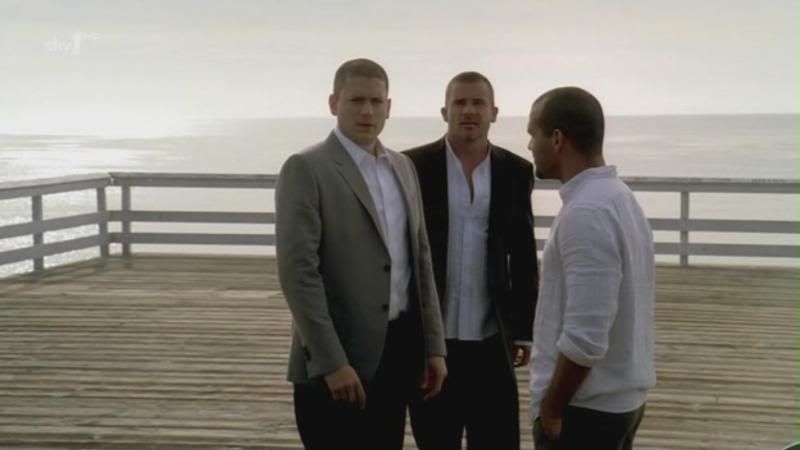 He, Lincoln and Sucre are all gathered, the atmosphere is tense and they look nervous. What could this all be about?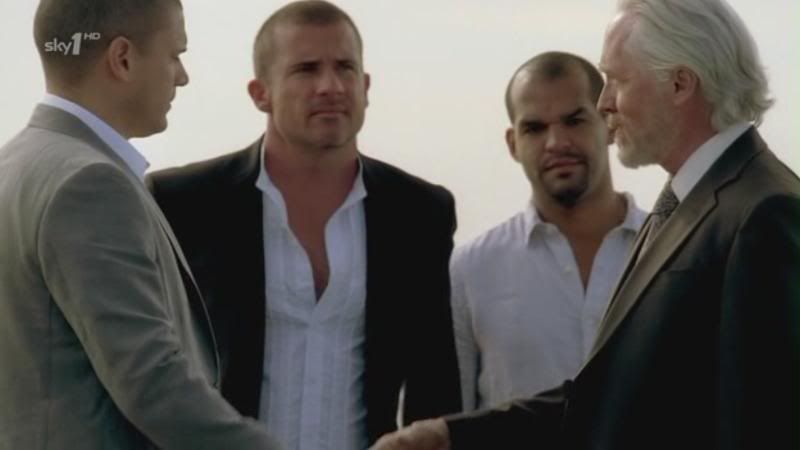 They meet up with this guy because Michael needs his help with something. The man points behind them and asks if that's the other half of his team. What does this mean? Is Michael planning to break in/out of another high security facility?!?




No, it's Dr Sara! See, they were just trying to mislead us into thinking Michael was setting up another mission. He's actually getting married! (Ok, so I totally knew that from the beginning so it all seemed a bit silly to me, but I suppose it could work on people who didn't know what was going on.)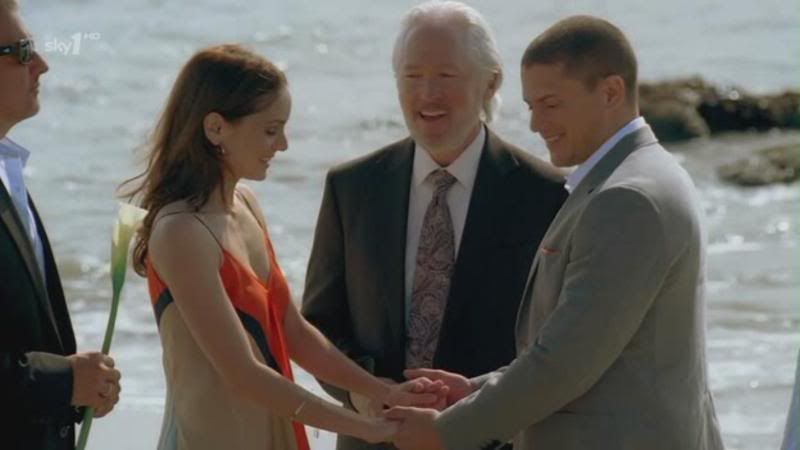 Yay for Michael and Sara! Don't they look so happy together? Isn't this a wonderful moment? Doesn't Lincoln look so cool holding that lily?




I love that Sucre's part of the wedding too. Because he's part of the family.

I wonder how long after the events of the previous episode this is. Can't be too long cos Dr Sara is still not showing at all, but presumably long enough for Michael to have obtained a divorce from his Russian Czech stripper wife. Or maybe we're just supposed to forget she exists cos that's what Prison Break does best.

Anyway, moving on...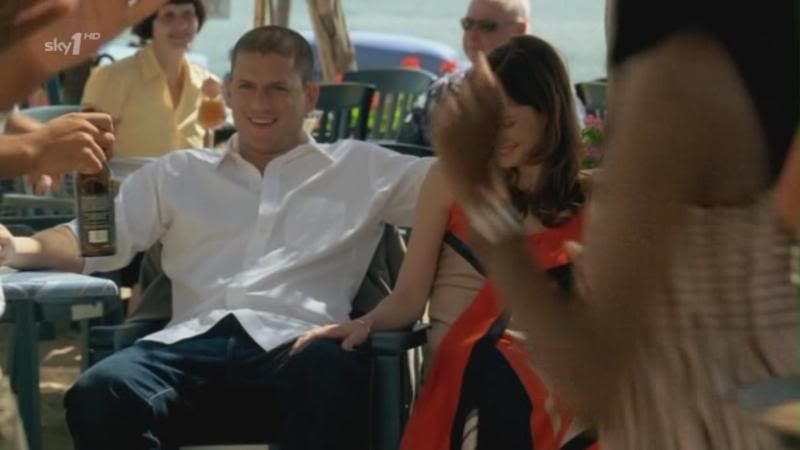 To the party! The happy couple is happy, people are dancing, there is casual touching. It's all good.




Sucre pulls Dr Sara up to dance with him. She looks back to Michael for help.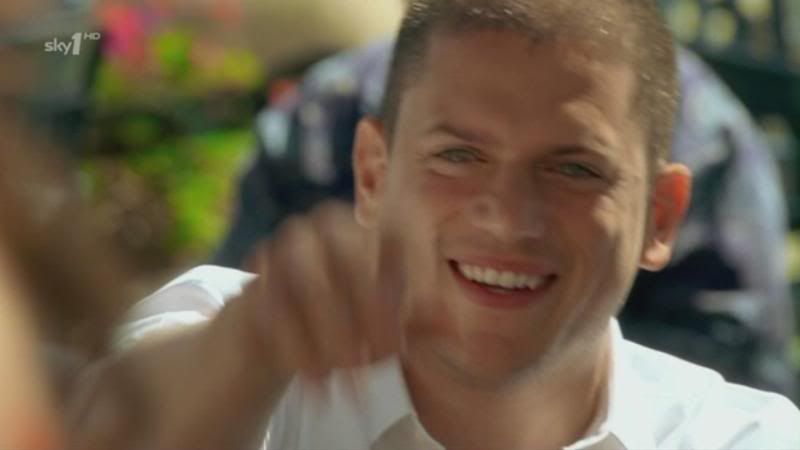 Her husband is not too sympathetic to her plight.



But she looks like she's having fun. And who wouldn't be? She's dancing with Sucre! We love Sucre!

AND THAT'S IT! Prison Break is over. Michael and Sara live happily ever after with their friends and family around them living equally happy lives and nobody dies until they're old and grey and ready to go.
THE END.

Oh, all right. Let's continue.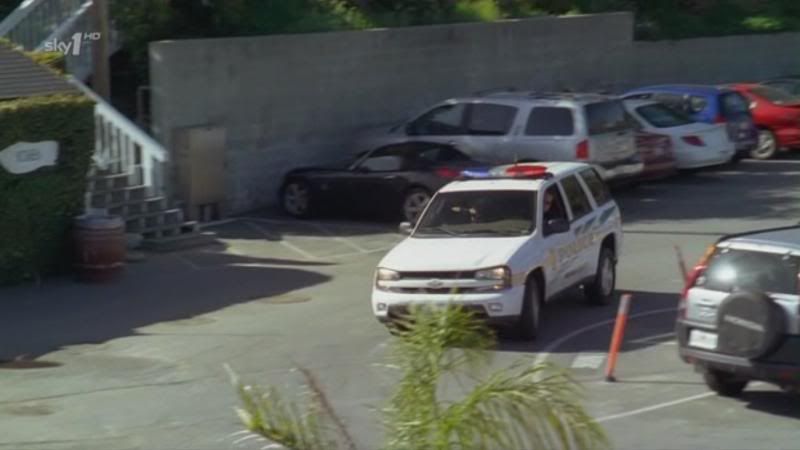 Some mean, mean people have come to break up the party.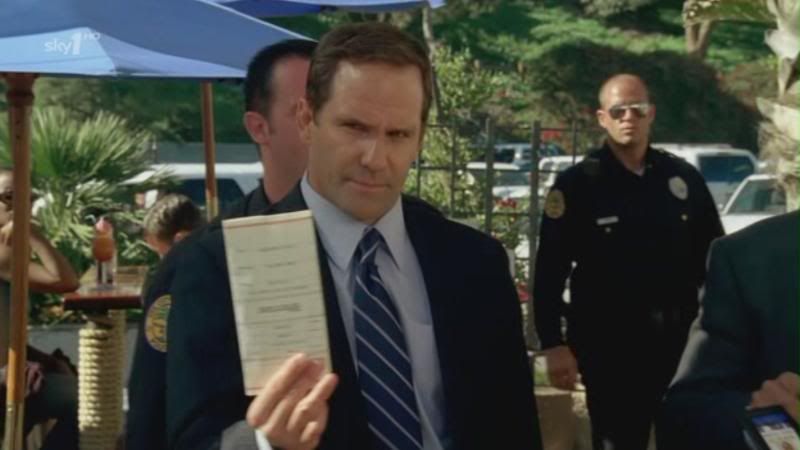 Michael and Lincoln immediately protest that they were exonerated but the Mean Man isn't there for them. He's there for Dr Sara, who is shown on surveillance camera killing Christina Rose.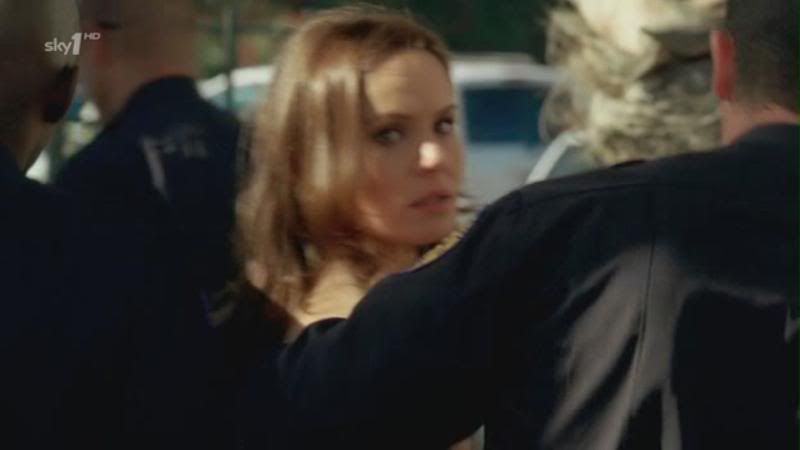 Arresting her on her wedding day? MEAN! Mean, mean man.

~*~

Location: Miami Hotel Room. Seriously? You guys couldn't find anywhere else? Or did you figure that since the Evil Company's paid for it you might as well use it.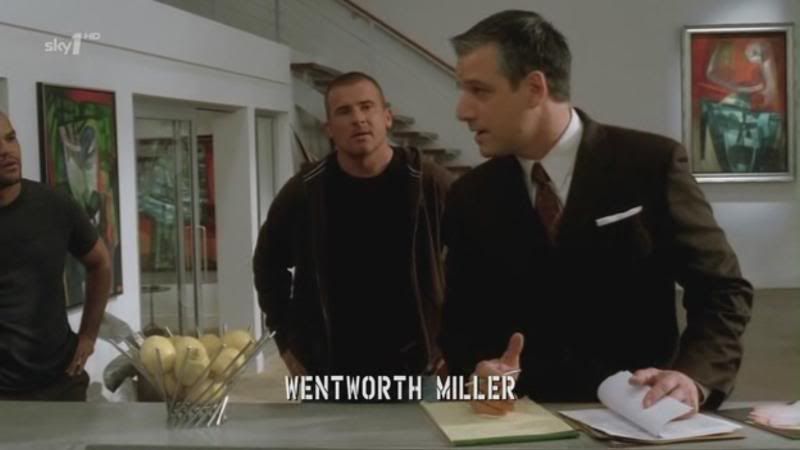 Sucre says that Dr Sara should be able to plead self-defence since she only shot Christina Rose to stop her killing Michael. Lawyer Man says no, cos the tape only shows this:




Just Dr Sara firing the gun, nothing of Christina Rose to show what she was doing. So... nothing to prove she actually shot her then?

Lawyer Man says that Christina Rose was so good at hiding her secret identity that everyone only knows her as Christina Hampton, innocent woman extraordinaire. So Dr Sara is looking at 25 years to life.

I'm sorry, but this whole story idea is bullshit. Wouldn't Christina Rose's involvement in the Evil Company and her death all have been covered in their statements when they were exonerated? Shouldn't this have all been dealt with already?

Also, they're refusing to let Michael in to see her so Lawyer Man is going to see what he can do about that. Cos she has a right to visitation so, again, what sense does this make?

STOP BEING STUPID PRISON BREAK, JUST STOP IT!

~*~

Location: Miami-Dad Prison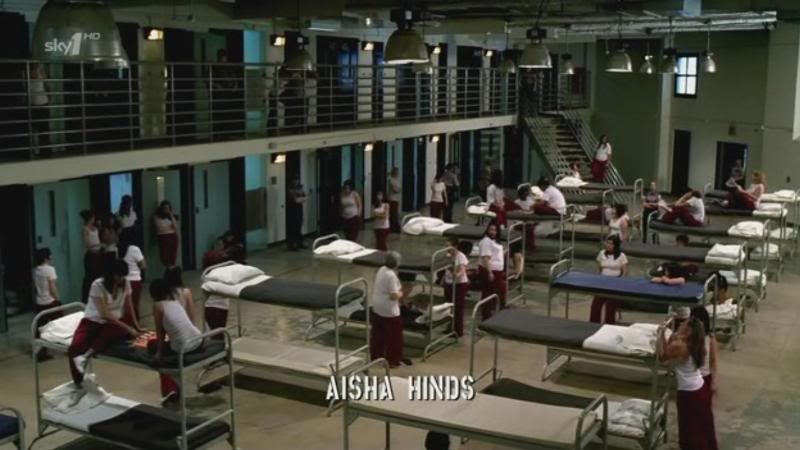 Dr Sara's new home.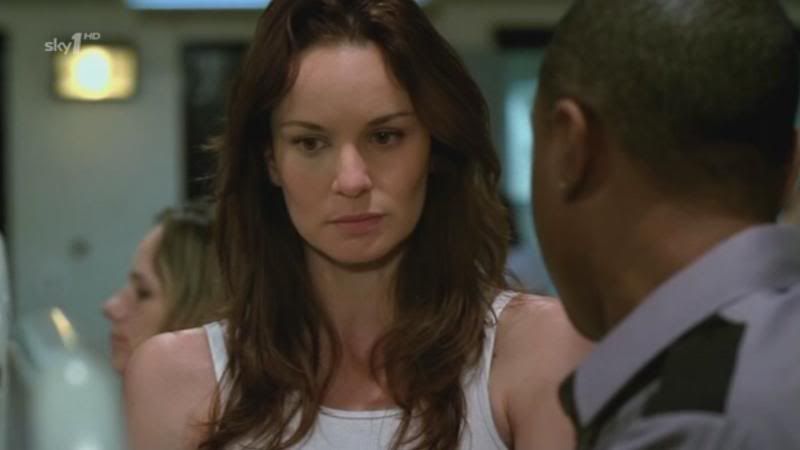 Dr Sara points out that she hasn't actually been convicted of anything yet and so should be in jail, not prison. The guard tells her that due to overcrowding and budget cuts, the bit in the middle of the prison cells is jail.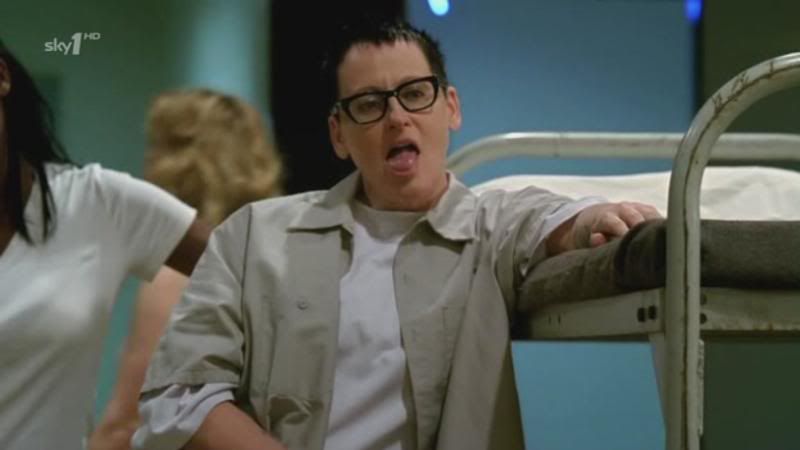 This is Daddy, played by Lori Petty who most people know as Tank Girl but who I will always remember as being in that god-awful Voyager episode where Tuvok crashed on a planet and developed feelings for her which resulted in flash backs to an incident from his youth and oh god it was bad. So very bad.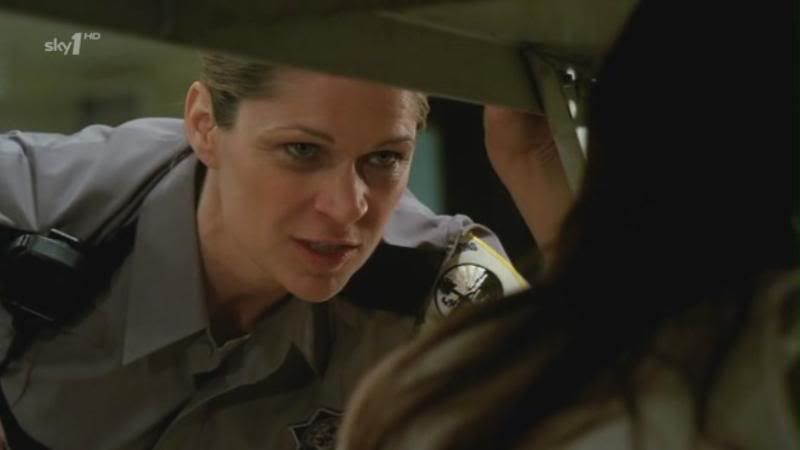 This guard sees that Dr Sara is being bothered by Daddy and offers to take her to another wing which is nearly empty. Dr Sara gratefully follows. WTF? Dr Sara, have you learnt NOTHING from your years as a prison doctor? DO NOT TRUST THE GUARDS!




Sure enough, Dr Sara is led to a room with other guards in wait, ready to kick the crap out of her for her actions at Fox River which caused several guards there to lose their pensions. Because prison guards have to stick together, right! It's like a club.

They know she's pregnant though, so they won't hit the "baby basket". How decent of them.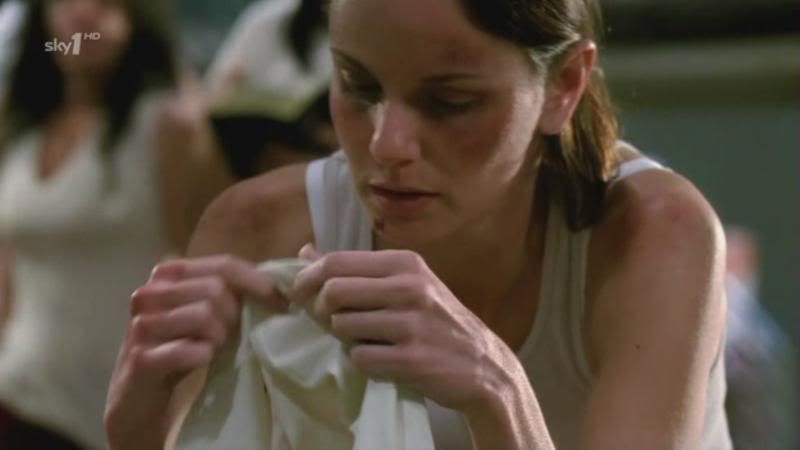 This is what happens when you trust prison guards. Daddy returns to try and chat up Dr Sara some more.




And the scene is watched by someone from the balcony.

~*~

Location: Miami-Dade Prison, Men's Side




T-Bag is sucking up to General Pad Man by getting him newspapers and sweets. General Pad Man is unimpressed.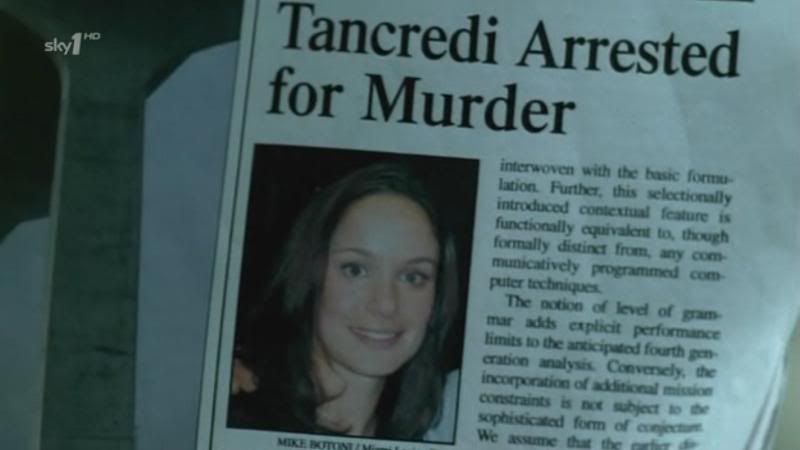 He's more impressed by what the newspaper reveals, though.

Having said that, the newspaper doesn't really reveal much. I can only assume that the reporter was high when he wrote that story. Or writing in some super, super secret code. Seriously though, I find it hilarious that the props people didn't even bother to change the article. Did they think no one would try to read it? That we don't care enough to look at things like that? Oh, how little they know fandom.

Actually, this jut further reinforces my idea that this whole episode is a bad dream. Maybe Dr Sara is nervous the night before her wedding and this is the result.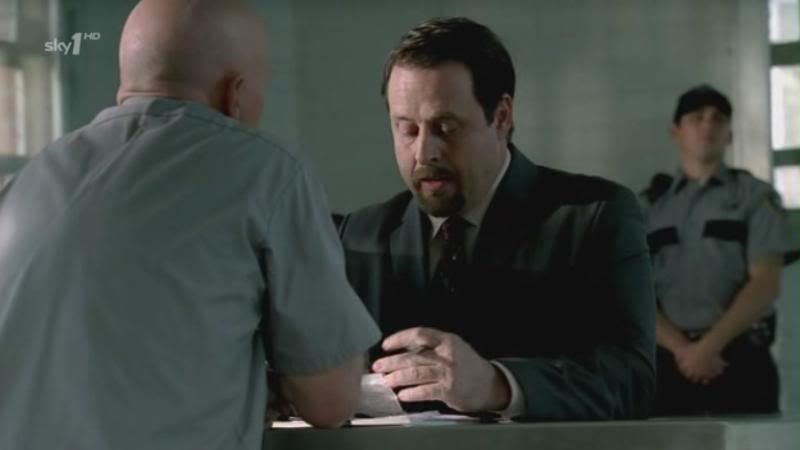 General Pad Man writes "$100,000 dead" next to the picture of Dr Sara and instructs his lawyer to get it to his contact in the women's side of the prison.

Who could that be?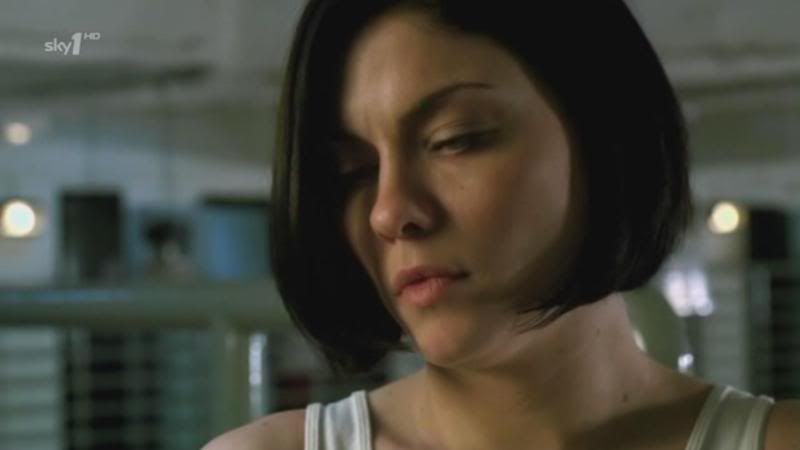 Evil Gretchen! With new, short hair!

~*~

Location: Miami-Dade Prison, Cafeteria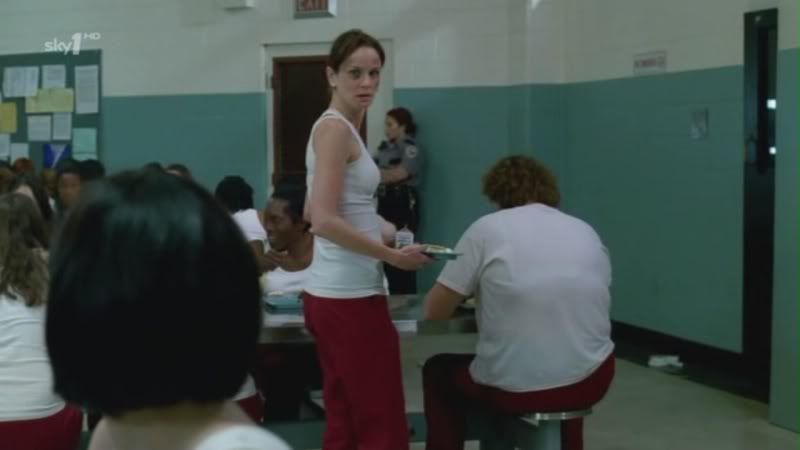 Evil Gretchen warns Dr Sara away from sitting next to the large, curly haired woman who apparently has a penchant for breaking kneecaps.




Instead Dr Sara sits with her, and Evil Gretchen points out Daddy and her family, suggesting that they could offer her protection.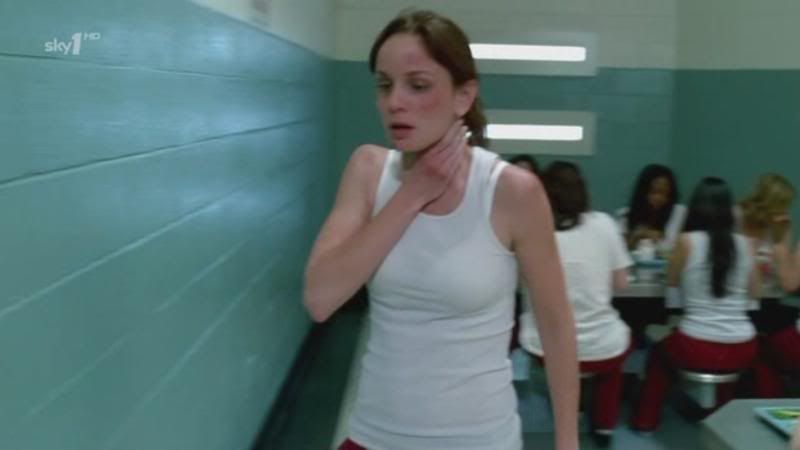 But Dr Sara has more immediate concerns right now, having been poisoned.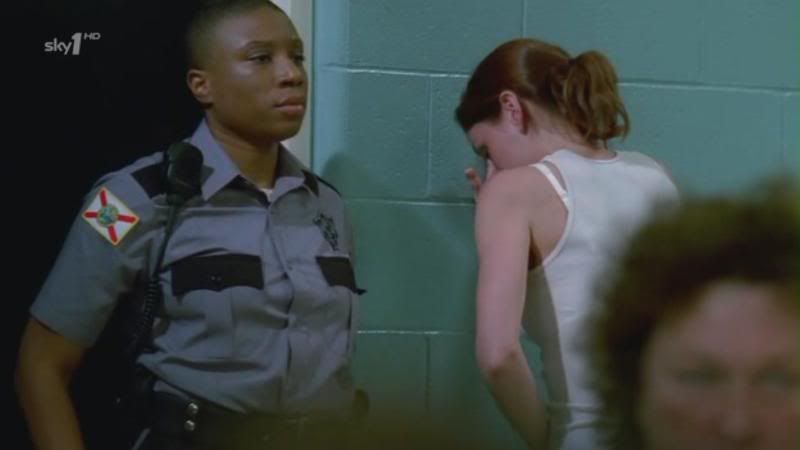 The guard does not heed her pleas to go to the infirmary lest she and her baby die. Not until Daddy suggests that she let her go.

~*~

Location: Miami-Dade Prison, Infirmary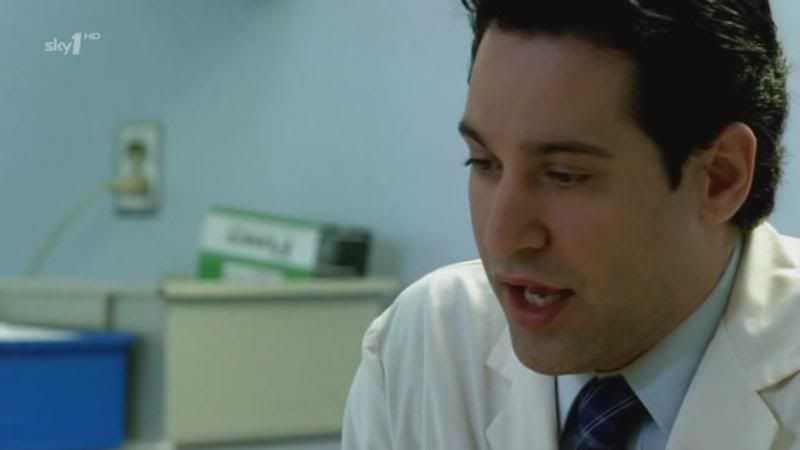 The doctor is a young man, presumably as another way to mirror Dr Sara's prison experience with Michael's. He tells her that she got the antidote in time and so she and her baby are going to be fine.

Speaking of the baby, Dr Sara wonders, what's going to happen with that when the time comes? Well, she'll be taken to the hospital with armed guards and once the baby is born she'll be able to see it for 30 minutes before it's whisked away. He suggests she think of herself as a surrogate to ease the crushing depression that usually follows such an event.

~*~

Location: Miami Hotel Room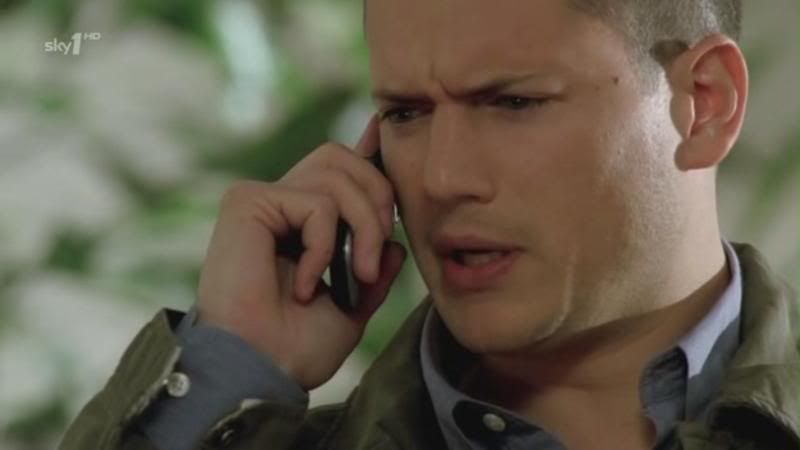 Lawyer Man calls to let Michael know that his wife was poisoned but she's ok now.

~*~

Location: Miami-Dade Prison, Men's Side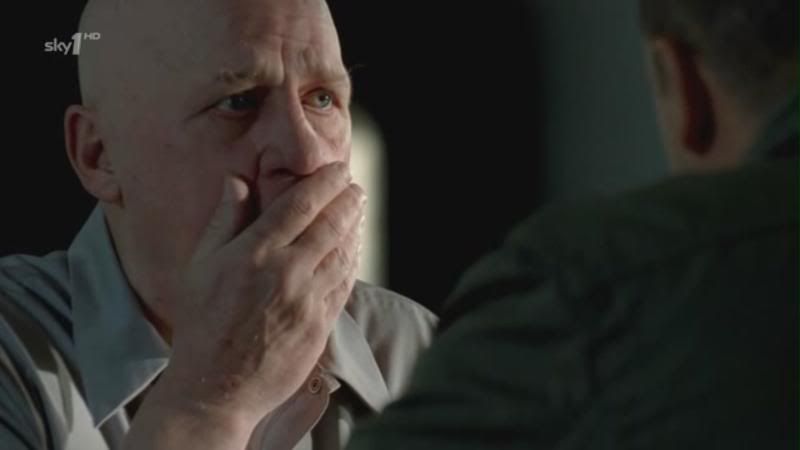 Michael visits General Pad Man who is absolutely shocked to hear of the attempt to poison Dr Sara. See, see how shocked he is. The only way he could be more convincing would be if he said "Oh my stars!" and fainted.

Michael says that if General Pad Man has to kill someone, to kill him but leave Sara alone. General Pad Man points out that killing Dr Sara would hurt Michael far more than killing him. At least, that's what whoever ordered this awful attack would think. Not him, of course.

~*~

Location: Miami-Dade Prison Warden's Office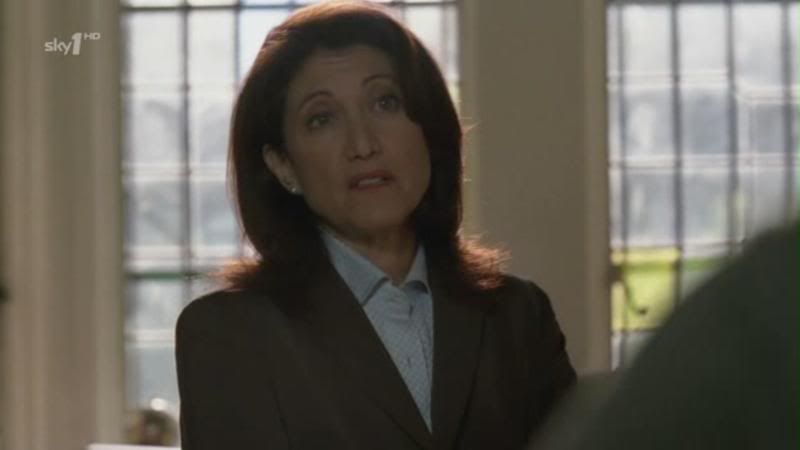 Michael says that his wife isn't safe in prison and asks the warden to move her. The warden is suspicious that Michael is planning to break her out (not an unreasonable assumption) and says that Dr Sara is staying where she is.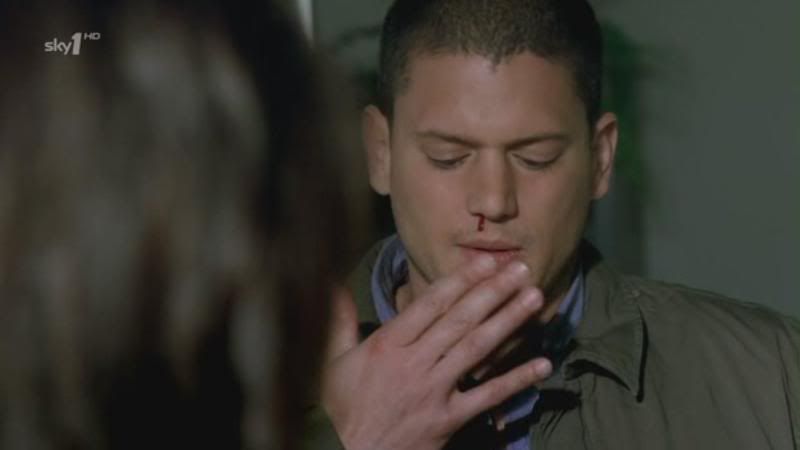 Michael's nose starts bleeding, to remind us of that stupid brain tumour.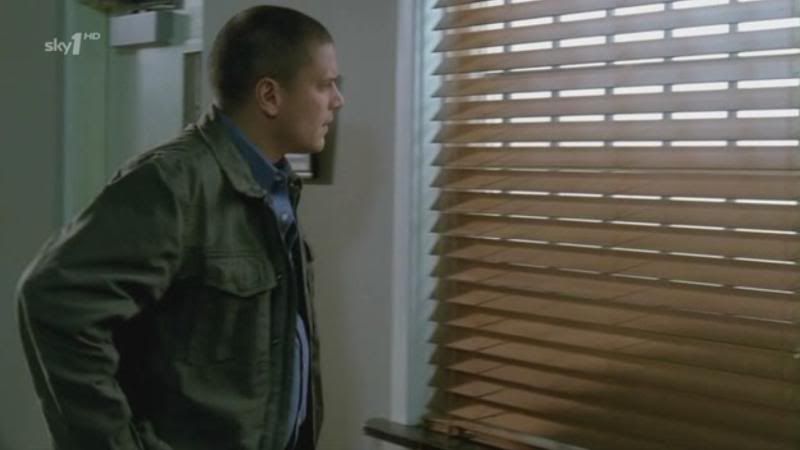 And he looks out the window to study the fence.

~*~

Location: Miami Hotel Room. You know, I've just realised, after weeks of calling it this, it's not a hotel room at all, is it? Me smart.

Location: Miami Condo




Michael tells the others that the warden is no help and they can't wait for Lawyer Man so they have no choice. They're breaking her out!


~*~

Location: Chicago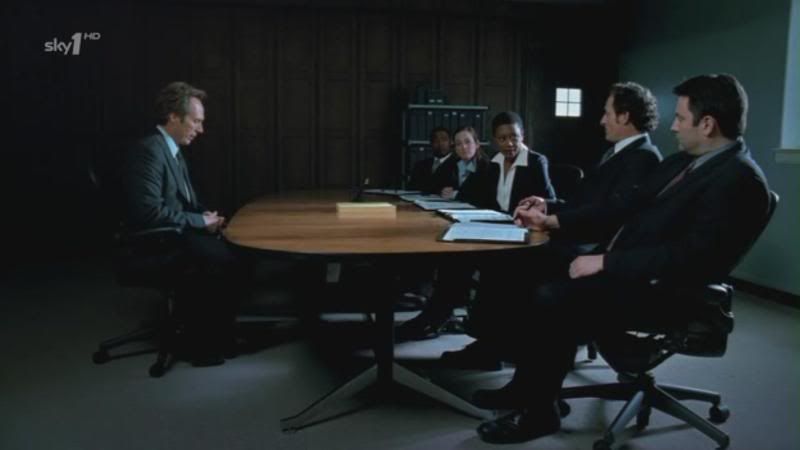 The FBI is deciding whether or not to let Mahone back into their club. Lang thinks they should cos Mahone is the bestest most awesomest agent she's ever met. The others are not so convinced.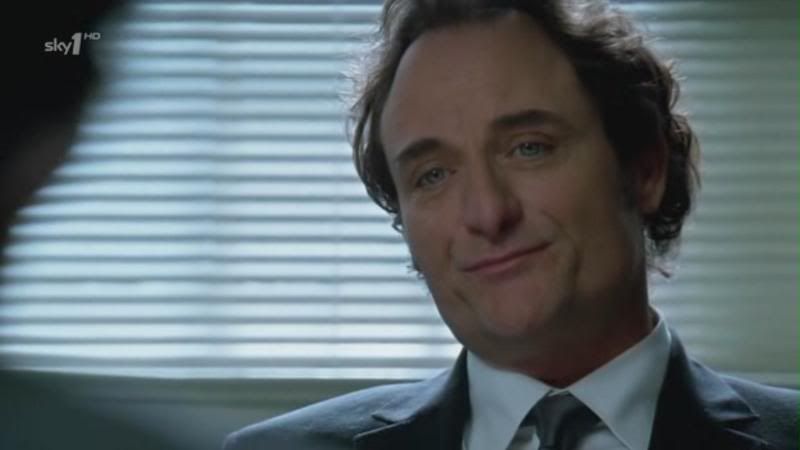 Especially not this guy, Sullins. Look what a smug bastard he is. But, he says, there is a way for Mahone to earn their trust back. He tells him that Dr Sara has been arrested and the FBI thinks that Michael is going to break her out, so he wants Mahone to go there and spy on Michael for them.

Mahone is not interested in betraying the man who has done so much for him.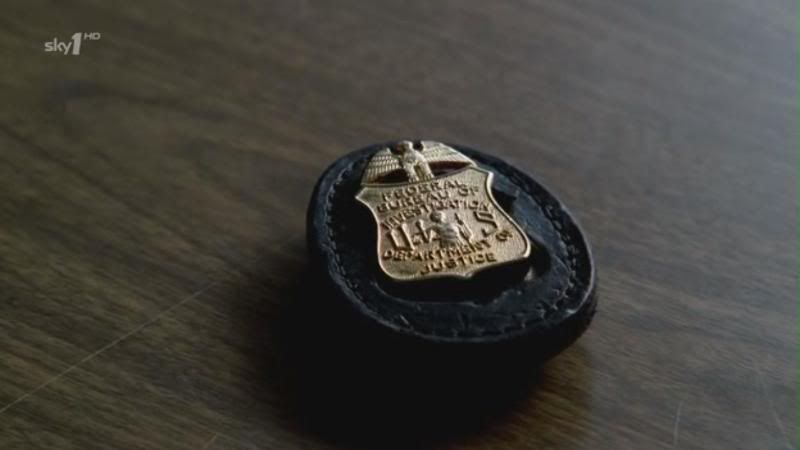 But maybe a shiny badge will change his mind.

So...shiny.... so... tempting... Agh!

~*~

Location: Miami Condo




Sucre reports that Agent Wheatley, henceforth known as Agent Bastard, is watching the condo.

Michael suggests that Sucre might want to go home to his family. Sucre says no, he's going to stay. I love how determined he is to help Michael and Sara. Because they too are his family.




I really thought they were going to kiss there for a second.




Michael has collected a load of newspaper articles about previous, failed, attempts to break out of the prison and the changes that officials made after those attempts. Looks like it's research time! That was always a hit on Buffy the Vampire Slayer.

~*~

Location: Miami-Dade Prison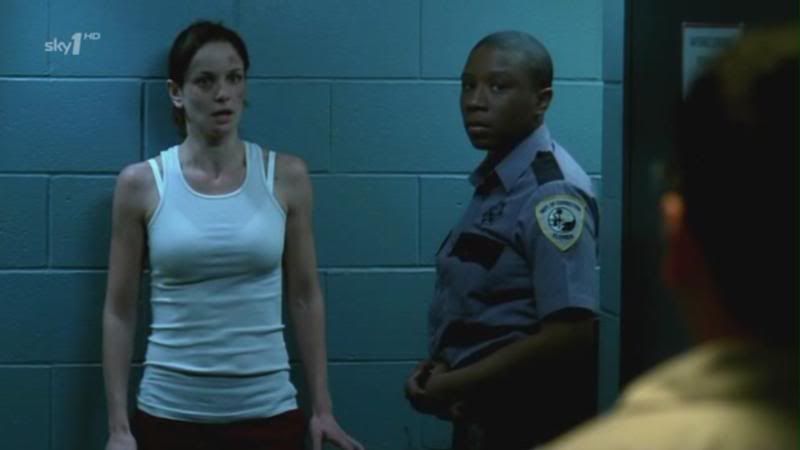 The guard drags Dr Sara into a back hallway where Daddy is waiting to invite her to join their work detail in the motor pool.

~*~

Location: Miami




As he drives around, Michael notices he's being followed, and parks up to confront Agent Bastard. Agent Bastard warns him not to try any prison breaking type things.

~*~

Location: Outside the Miami-Dade Prison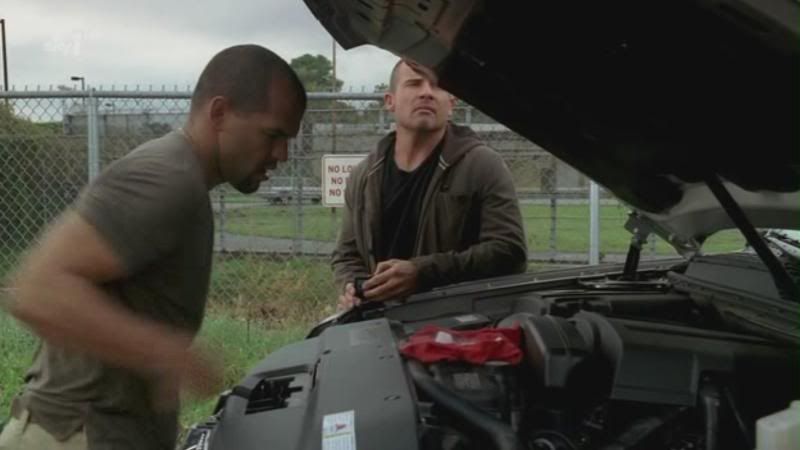 Ah, turns out Michael was the decoy, distracting Agent Bastard while Lincoln and Sucre did their thing. Which is using dry ice to fake a car breakdown while surreptitiously taking pictures of the prison and measuring the distances of various points from the road using a laser measure.

~*~

Location: Somewhere in Miami




After a quick call to make sure everything was going well with Linc and Sucre, Michael enters this building.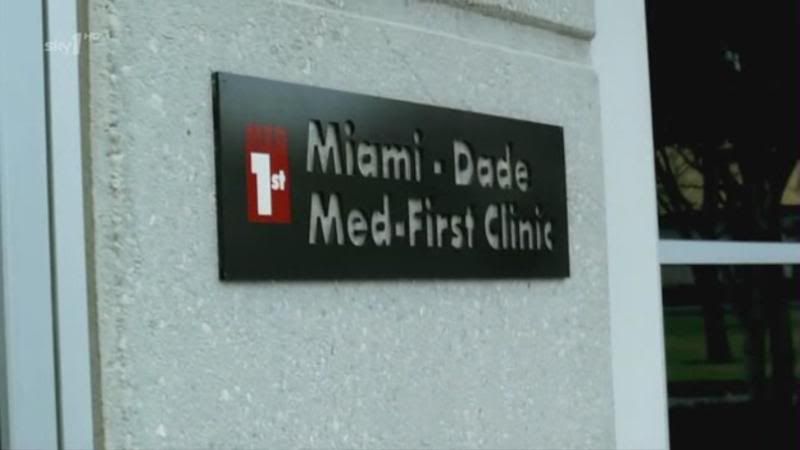 LA LA LA, MICHAEL'S NOT DYING I CAN'T HEAR YOU LA LA LA.

~*~

Location: Miami-Dade Prison, Motor Pool




Daddy and her "wife" are having an argument over Dr Sara.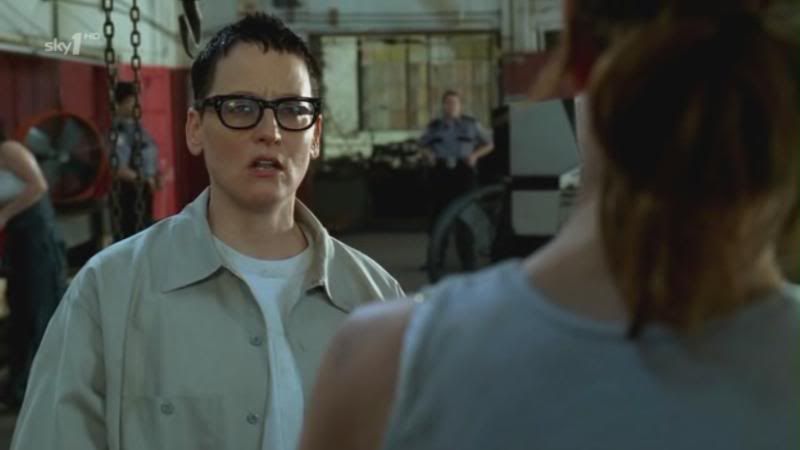 Daddy tells Dr Sara that families can be trying sometimes, but it's important to have one. Dr Sara says she has a family, a husband. Daddy points out that her husband isn't in prison with her.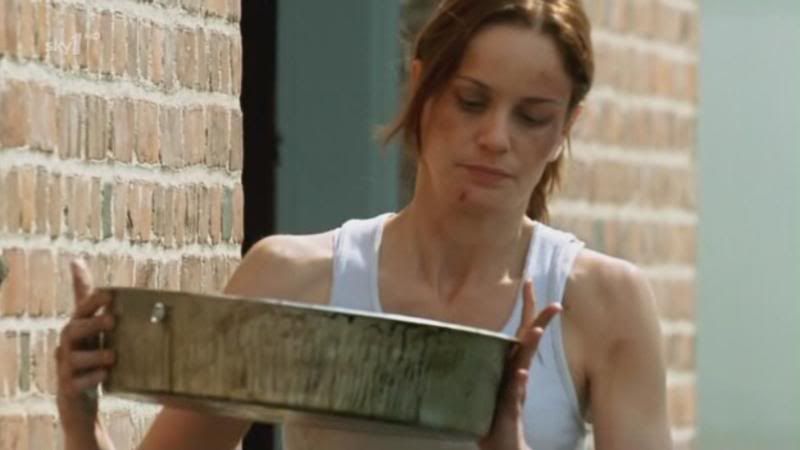 Dr Sara heads out to the oil dump, just outside the motor pool building.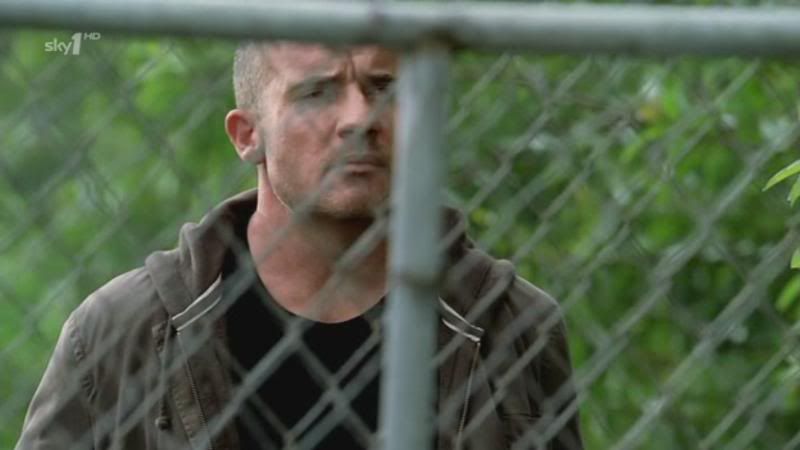 This is helpful for Lincoln, who is on the other side of the fence and now has an idea of where she is.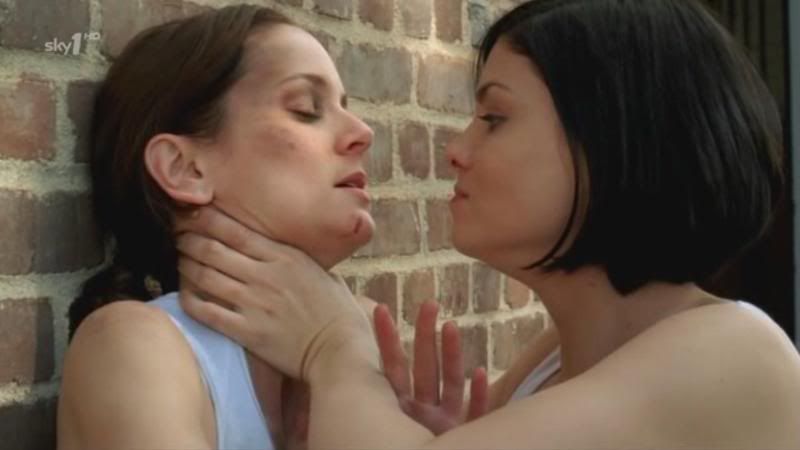 After Lincoln leaves, Evil Gretchen appears to ask her what Linc was doing there.

~*~

Location: Miami-Dade Prison, Men's Side




This guy has heard about General Pad Man's hit on Dr Sara and tells T-Bag that his girl will do it for $30,000, no $40,000. T-Bag is not too happy to hear this, since General Pad Man had previously told him that he had no money.

~*~

Location: Miami-Dade Prison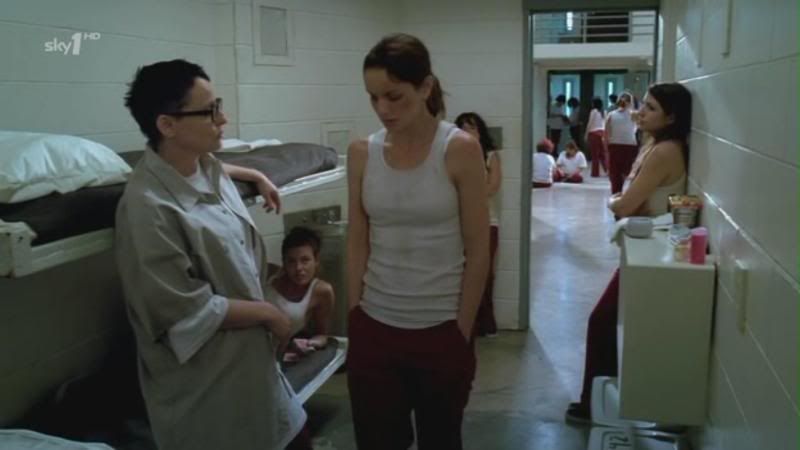 Dr Sara goes to Daddy's cell to ask to be part of her family. Daddy says she needs to prove her commitment first and brands her with a weird snake-like thing.




Ouch.

~*~

Location: Miami Condo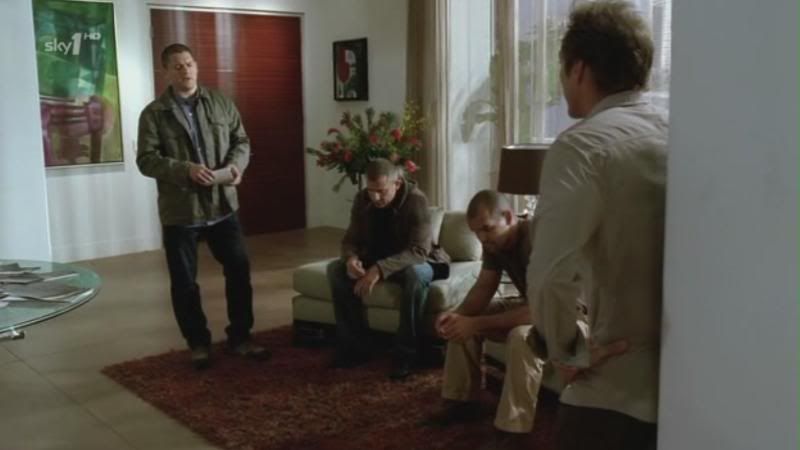 Mahone has arrived to join the fun! Michael is suspicious of his motives and Mahone tells them that he was offered a deal with the FBI to spy on him, but he wants to help.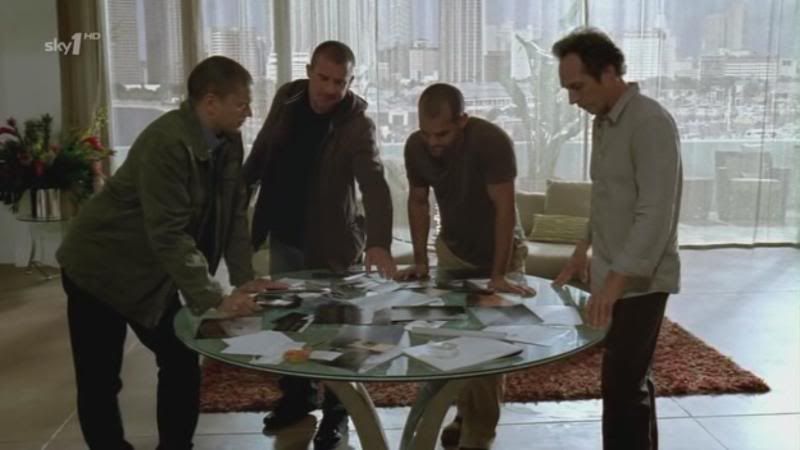 Lincoln and Sucre report back on their findings and Michael comes up with a plan to break in close to the motor pool. Apparently after a previous escape attempt they moved the fence line but kept the cameras in place, so there's a perfectly convenient area that isn't watched where they can break in.

Really? Planning the Fox River break out took months and an intricate tattoo and plans upon plans upon plans. But this time you're just going to cut the fence?

But anyway, they need to find a way to tell Dr Sara to be by the motor pool at 7pm the next day.

~*~

Location: Miami-Dade Prison




The warden is examining the letter Michael has written to Dr Sara. She declares it clean. This time the prop department have actually gone to the trouble of writing a proper letter which makes sense when you're sad enough to flip the screencap and read it.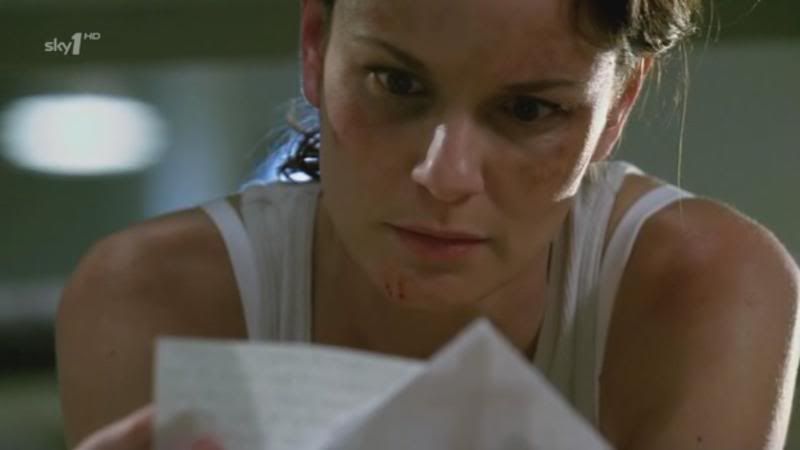 The letter is given to Dr Sara and, as the first line asks if she remembers what he taught her about flowers, she realises she needs to fold it like an origami flower.




She does so, and discovers the secret message about being at the oil dump at 7.

~*~

Location: Miami Condo




The guys return to find that Agent Bastard has no respect for people's personal space and has just invited himself in to have a look at the papers and photos on the table. Michael points out that taking photographs on a public road isn't a crime and Agent Bastard leaves.

~*~

Location: Miami-Dade Prison




Evil Gretchen chats up the guard, offering herself in exchange for a favour. Sexy Gretchen is always awkward and wrong and this is no exception.




Apparently it's good enough for the guard though, as soon Daddy finds her cell being tossed. Drugs are found and Daddy is off to the SHU. Looks like Dr Sara's lost her family.

~*~

Location: Miami Condo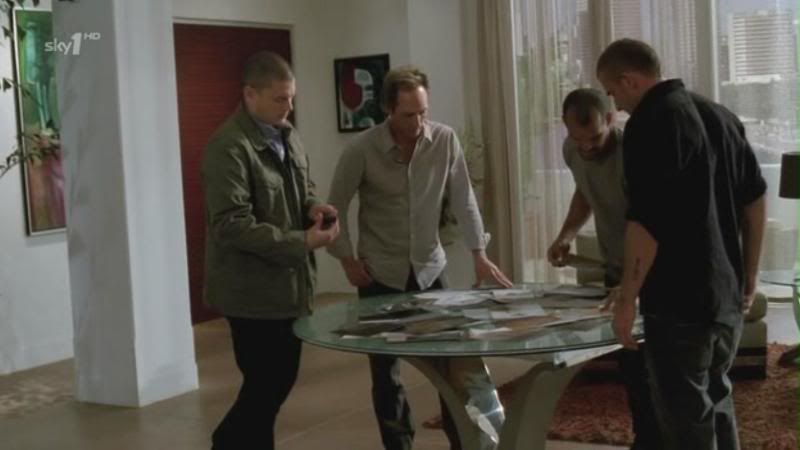 Lincoln says that Sofia has arranged for them to make their escape to Central America. Meanwhile, Lawyer Man calls to tell Michael that he's got a visitation.

~*~

Location: Miami-Dade Prison, Visitation Room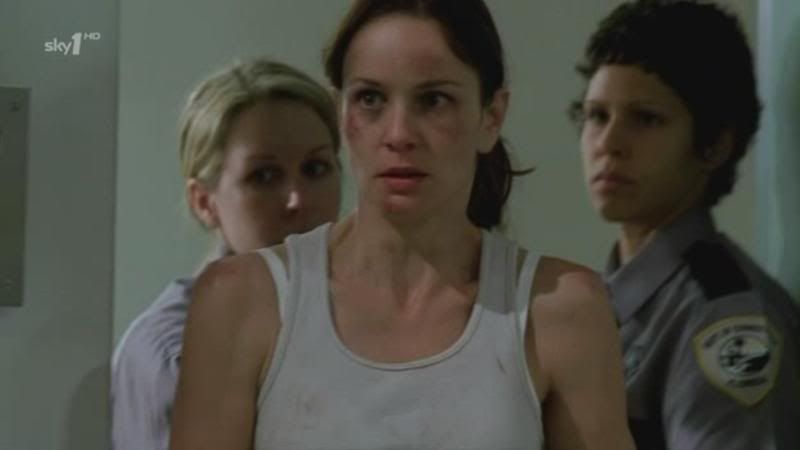 Dr Sara is escorted to her visitation.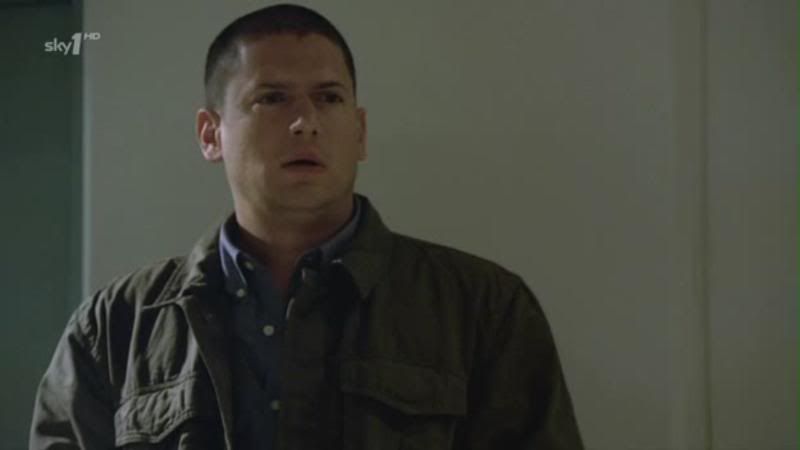 Michael is shaken at the state of his wife.

They sit down to talk and Dr Sara tells him that her protection is gone and she understood his note. She says this in code though, so as not to tip off the guard and warden who are watching on the other side of the two way mirror.

All too soon the visitation is over and the guards take Dr Sara away.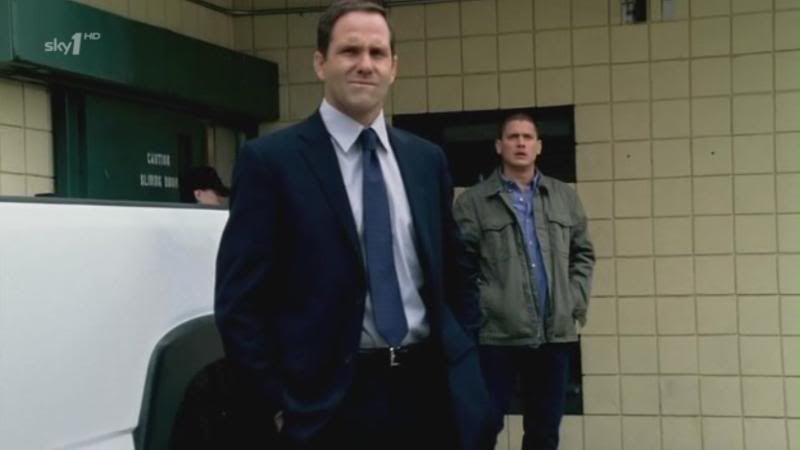 While leaving the prison, Michael runs into Agent Bastard and is shocked by what he sees.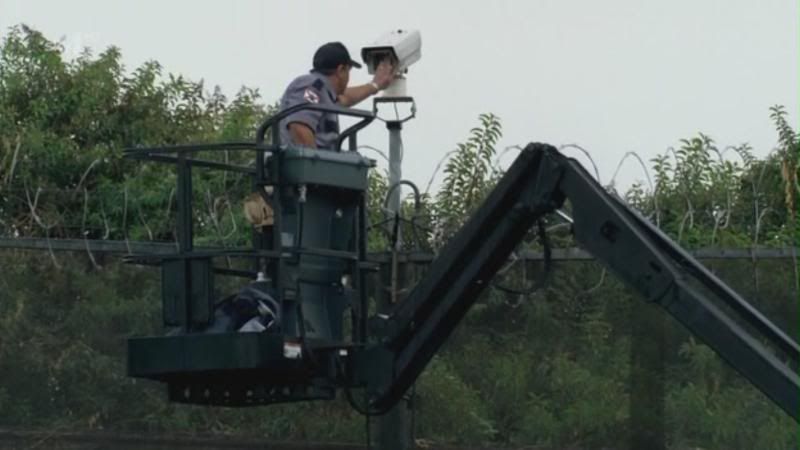 Agent Bastard explains that when he was looking at those pictures on the table he noticed a blind spot along the fence. Fortunately he's got some people in to fix that now. Michael should appreciate that, right?

~*~

Location: Miami Condo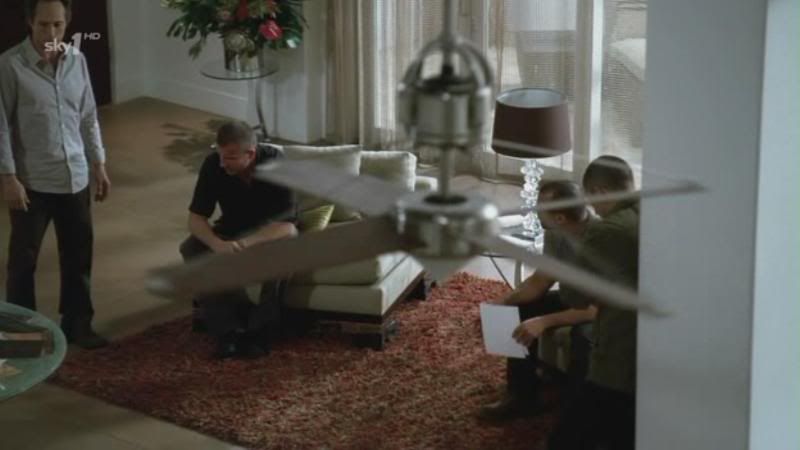 So the guys have to come up with a new plan. Like... parachuting in! No, seriously. Yeah, Lincoln thinks it's insane too.

~*~

Location: Miami-Dade Prison, Men's Side




T-Bag has an unexpected visitor in the form of Lincoln. Lincoln wants him to set the fire alarm off tomorrow at 7:30. T-Bag says he'll do it as long as he gets the $100,000 General Pad Man is offering by 7pm.

~*~

Location: Meeting Point




Mahone and Agent Bastard meet up. Agent Bastard thanks Mahone for the information about the security camera. MAHONE! HOW COULD YOU! DIDN'T WE ALREADY GO THROUGH ALL THIS IN THE LAST EPISODE WHERE IT LOOKED LIKE YOU BETRAYED MICHAEL BUT YOU DIDN'T! YOU TWO HAVE BEEN THROUGH TOO MUCH TOGETHER AND I REFUSE TO BELIEVE YOU WOULD BETRAY HIM NOW. BAD MAHONE! BAD!

Alternatively, yet more evidence that this whole piece of crap is just a bad dream.

~*~

Location: Miami-Dade Prison




Evil Gretchen corners Dr Sara to let her know that General Pad Man ordered her to kill her, but she's through taking orders from him. And she knows that Michael is planning to break her out and she wants in.

I think Dr Sara now probably has a better idea of why Michael ended up with so many unsavoury characters involved in his escape.

~*~
~*~

Screencaps by
sky_angel22