It's the finale! And my longest recap so far!

Episode 4.22 Killing Your Number



Location: Miami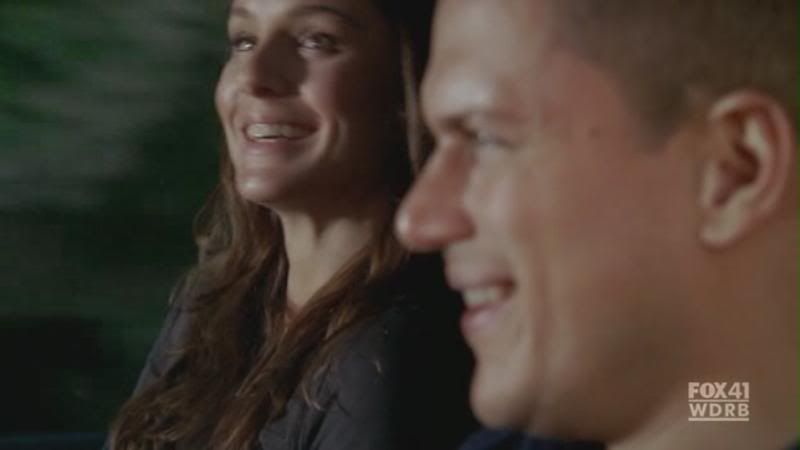 Michael and Dr Sara are being happy and cute together, discussing their future lives filled with dinner, movies and nursery schools.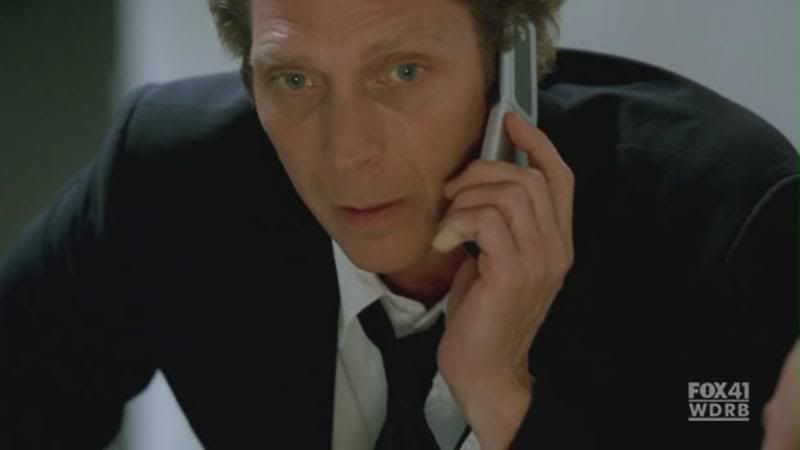 Mahone has to ruin the moment by calling to say that the expected boom did not boom as expected and what should he do now?

Michael tells him he'll have to detonate the trigger manually. That doesn't sound good.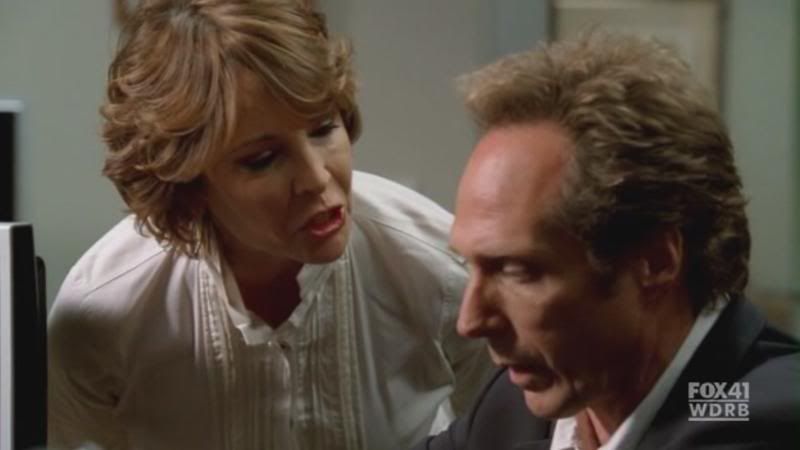 Christina Rose demands to know what's wrong with Scylla. Mahone is all "I don't know. It was fine when I left it alone with Michael for a few minutes before coming back and taking it." Christina Rose orders Andy to kill Mahone.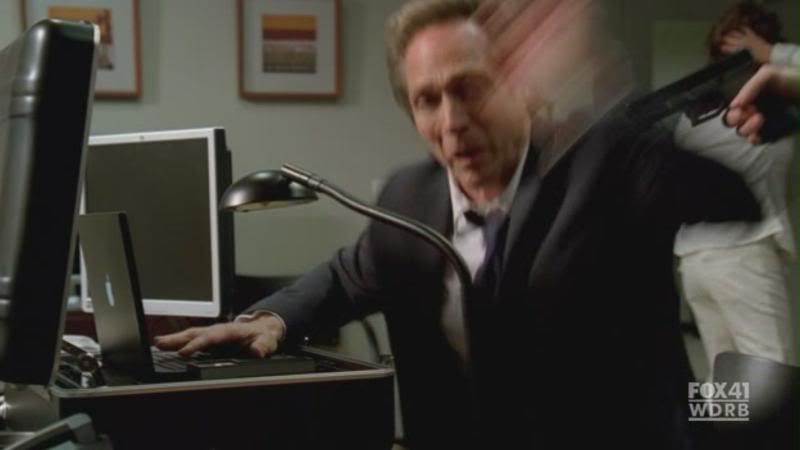 Mahone, being awesome, manages to activate the switch, disarm Andy and run into the other room with Lincoln before the bomb goes off.




It appears to me that Christina Rose grabs Andy to shield her from the full extent of the explosion. Yep, she clearly treats him like a son. And no, I'm not being sarcastic.

~*~

Location: Miami Hotel Room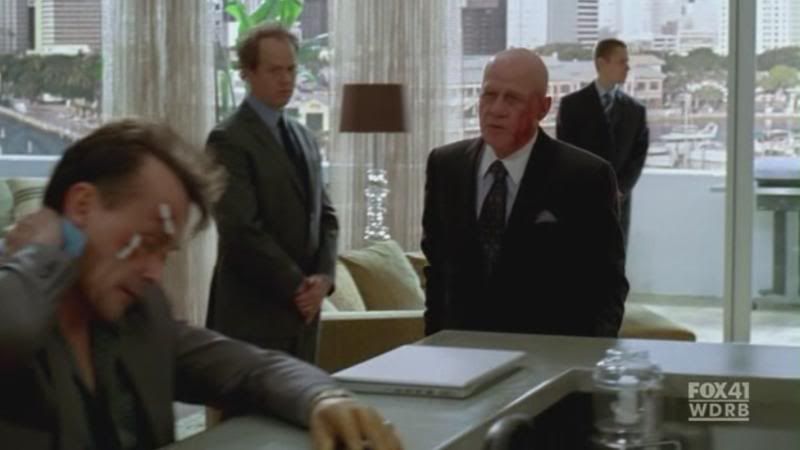 General Pad Man has returned and is not happy with T-Bag's constant failure.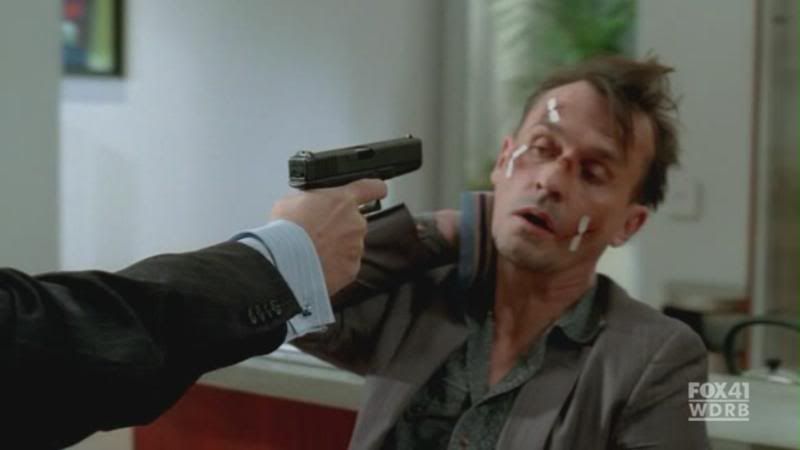 Just as it looks like it could all be over for Teddy (finally!)...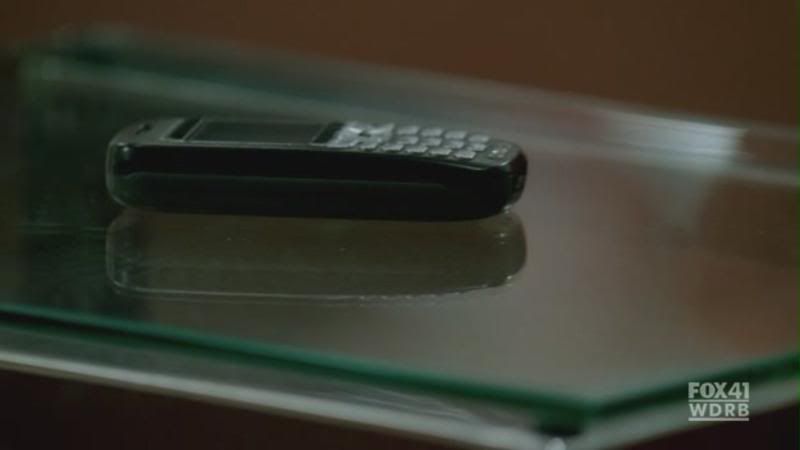 He's saved by the phone. Dr Sara's phone, to be precise. T-Bag answers it, demanding to know who's calling.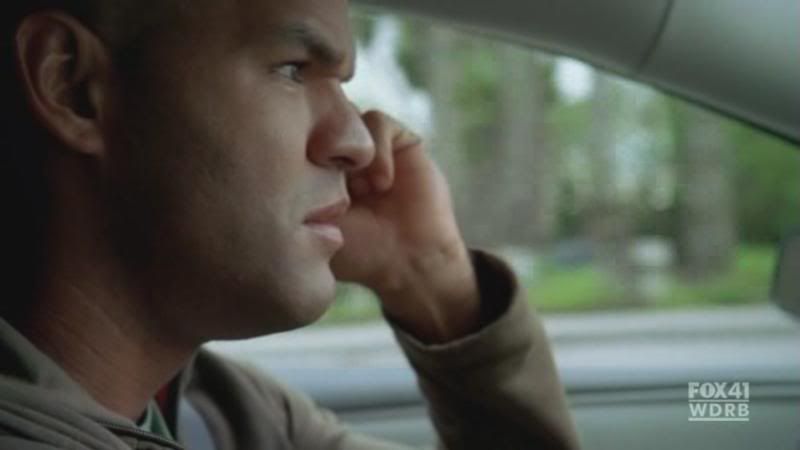 It's Sucre, wondering what the hell T-Bag is doing answering Dr Sara's phone. T-Bag says that Michael and Lincoln are being held hostage by Christina Rose and asks Sucre to meet with him at a nearby park.

This is enough to convince General Pad Man to let him live, for now.

~*~

Location: Christina Rose's Office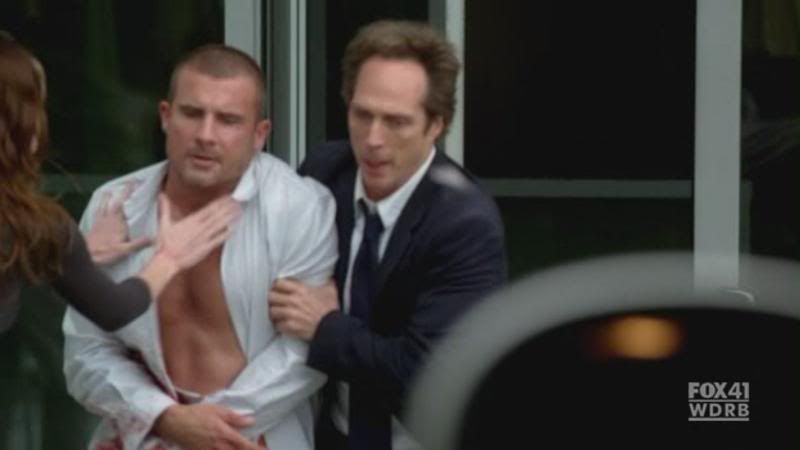 Michael and Dr Sara have arrived to pick up Mahone and Lincoln. Despite his gaping bullet wound, Lincoln insists on not going to the hospital, since that means certain jail.

Mahone says that he thinks Christina Rose and Andy were both killed in the explosion.




Christina Rose's twitching fingers think otherwise.

~*~

Location: The Park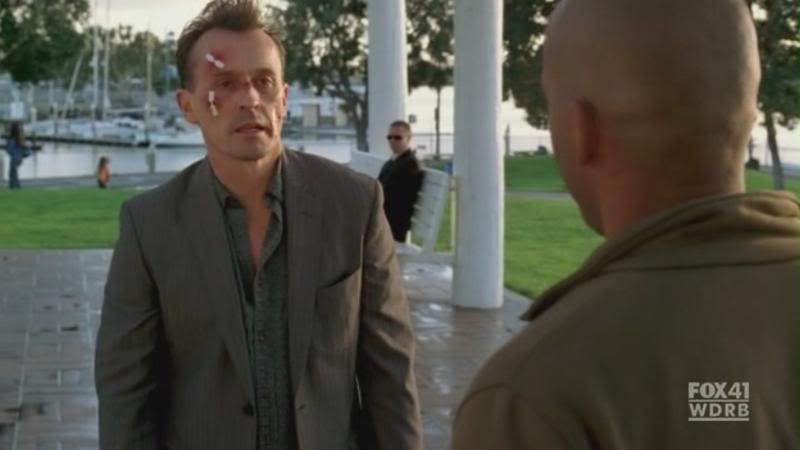 Sucre and T-Bag meet up. Sucre wants to know where Michael and Lincoln are. T-Bag is not feeling particularly inclined to help and points out the trained assassin behind him.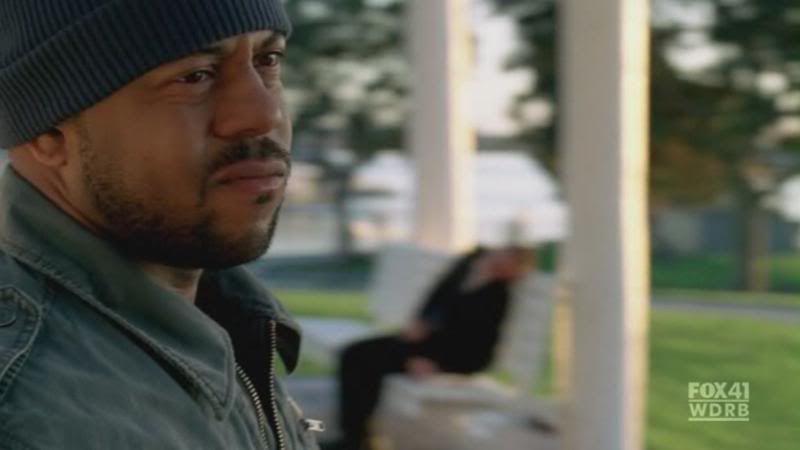 The same trained assassin who is apparently taking a nap as C-Note appears from behind T-Bag with a gun.

C-Note phones Not So Evil Paul to let him know they have Dr Sara's phone.

~*~

Location: Miami Hospital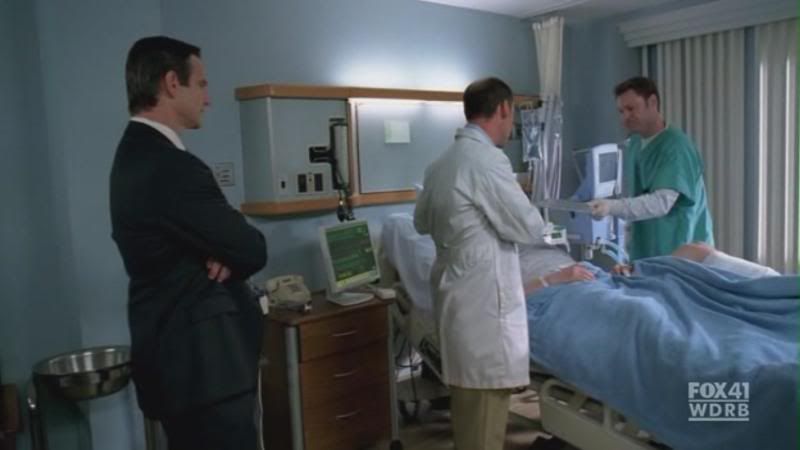 Self's brain is apparently wasting away or something. The Men with Badges wonder if he's faking it but even Self is not that good of a liar.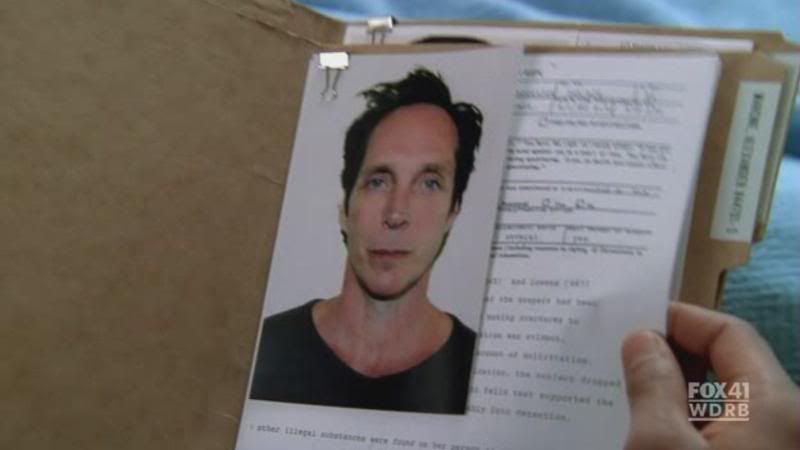 While the doctors do their thing, the Men with Badges familiarise themselves with the rest of the group Self was associating with in that warehouse of his.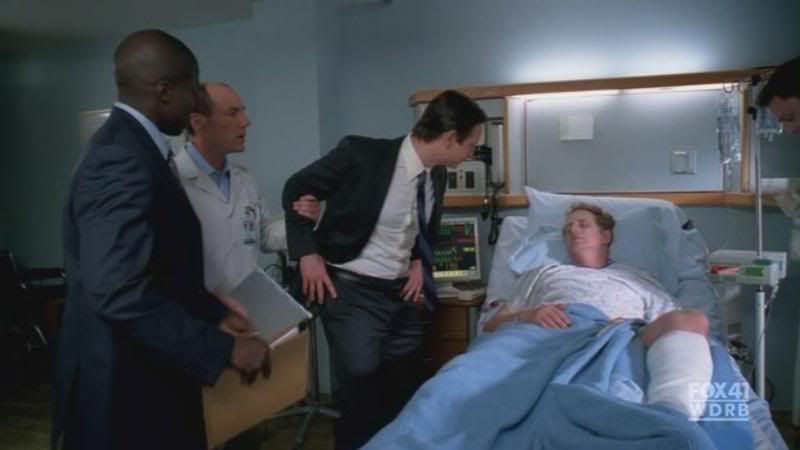 But all it not lost for the Men with Badges. Apparently Self can still hear them and move his hand.

~*~

Location: Abandoned Building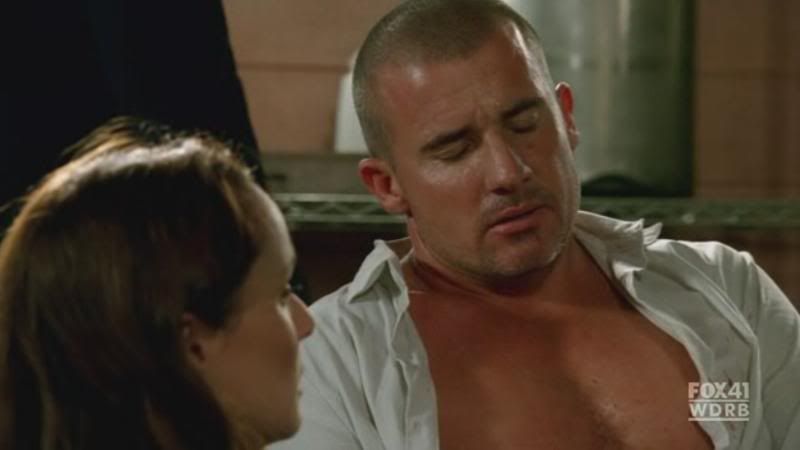 While Dr Sara is doing her best to stop Lincoln bleeding to death before they can get him proper medical care, the others are wondering what they should do with Scylla. Michael suggests destroying it and everyone else is pretty on board with this plan but then...




A phone interrupts them, as phones have a habit of doing on this show.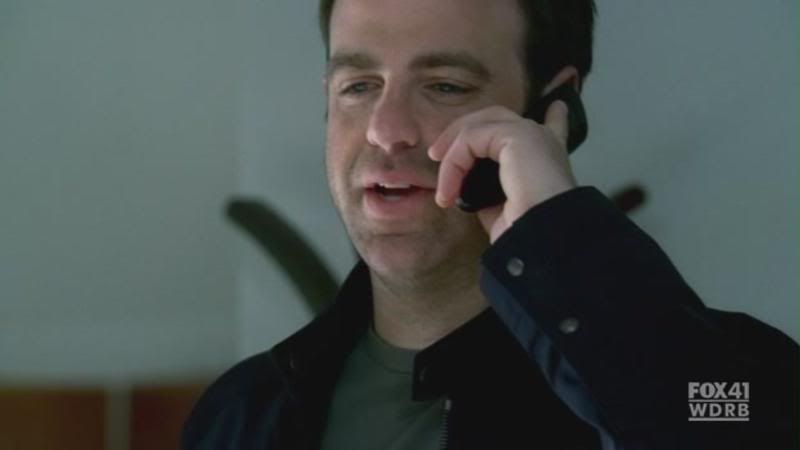 It's No So Evil Paul!

So, do we think anyone else will be returning this episode? Evil Gretchen perhaps? Or Evil Caroline?

Also, I must point out that one of Michael's suggestions for destroying Scylla was to throw it into the water. For a genius he sure is an idiot. He threw his hard drive into the water when he went into Fox River and Mahone was able to retrieve it and get the data off it, which is what clued him in to so many of your next moves. Idiot.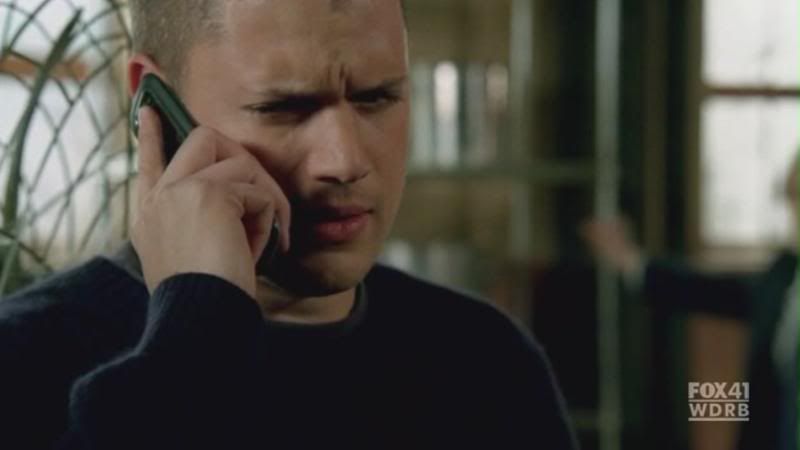 Anyway. Michael is a bit confused by a dead guy calling him on the phone. Not So Evil Paul explains that he was saved by people from the Anti Evil Conspiracy, the group Daddy Burrows founded.

Not So Evil Paul says that he knows a UN attaché who would take Scylla and use it to bring peace and love to the world. Michael, understandably, wonders why he should trust Not So Evil Paul. Not So Evil Paul says you don't have to trust me, trust the UN. Yeah, Americans aren't so good at that.




The phone dies, but they have bigger concerns to worry about right now with Lincoln coughing up blood. Dr Sara needs to get some supplies.

This is a good life lesson I think, when on the run from the authorities, always make sure you have a doctor in your group. It's a basic necessity, really.

~*~

Location: A House (Presumably provided by Not So Evil Paul and his Not So Evil connections)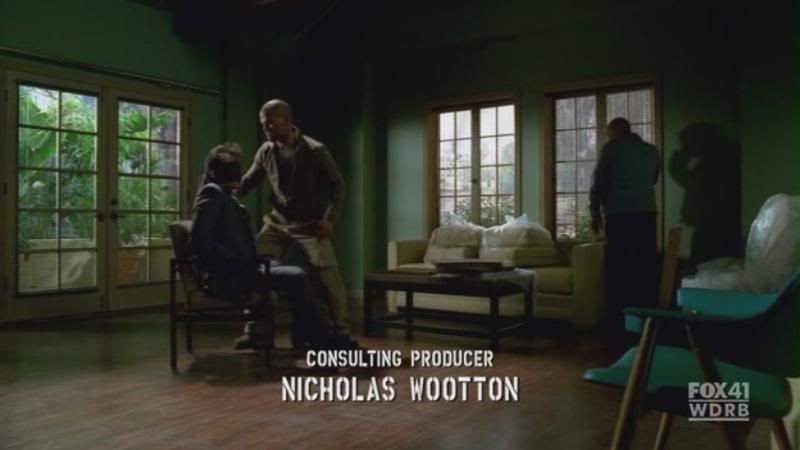 C-Note and Sucre bring T-Bag to the house for a little chat.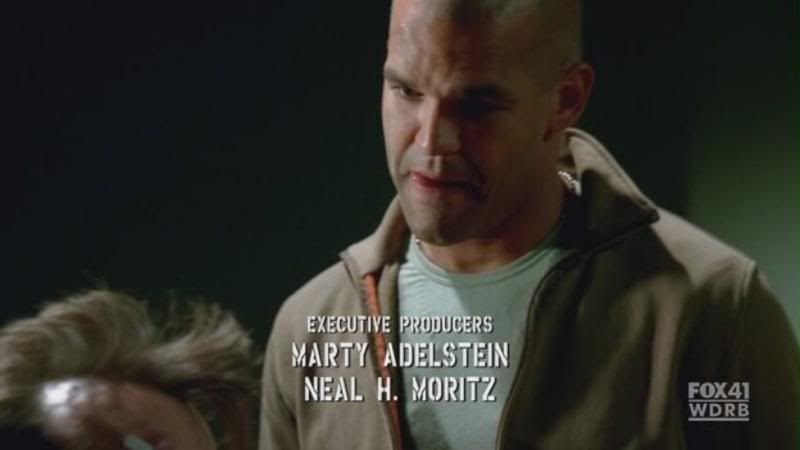 Sucre tells T-Bag that if he tells them the location of General Pad Man, he'll get immunity with the rest of them.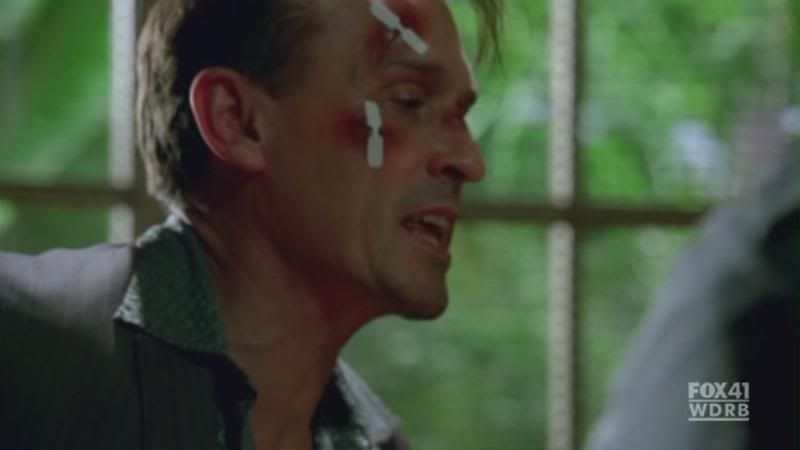 T-Bag is still convinced that General Pad Man is the winning horse and refuses to help.

~*~

Location: Miami Hotel Room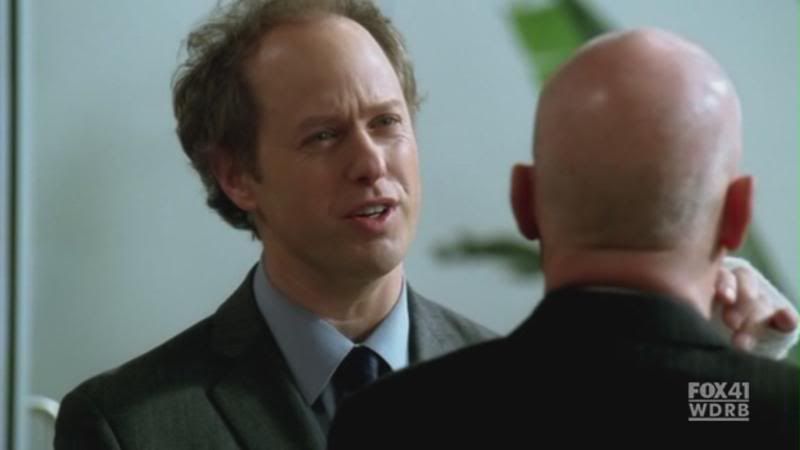 Speaking of General Pad Man, Ralph is informing him of T-Bag's capture and suggesting they retreat and regroup.

General Pad Man thinks this is wuss talk! Especially now they've got a hit on a location for Lincoln's cell phone.

~*~

Location: Outside the Hospital




Michael and Lincoln are having a touching brotherly conversation. Lincoln suggests they take Not So Evil Paul's deal if it means they'll be free. He also says that if Michael has to leave, he should. Michael says he'd never leave his brother.

Lincoln brings up Christina Rose's claim that they're not really brothers and Michael insists that she's messing with his head and it doesn't change anything. Linc's stuck with him, not matter what. Awww. I approve of this message.

~*~

Location: Inside the Hospital




The Men with Badges are trying to get more information from Self. He manages to write something down on a piece of paper for them.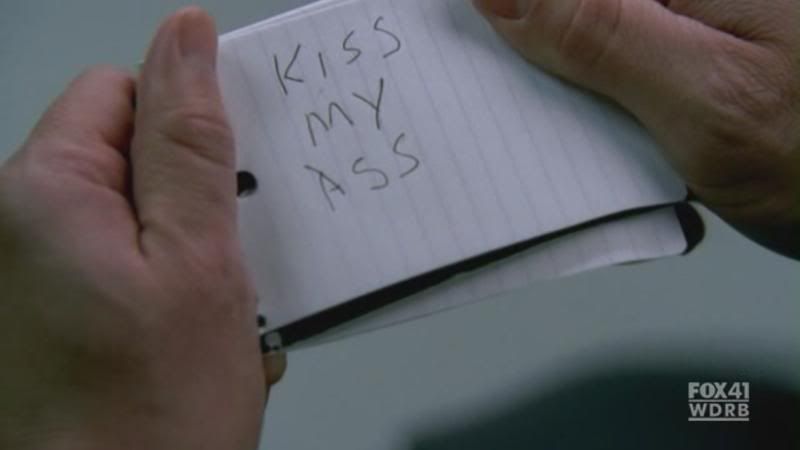 Well, that's helpful.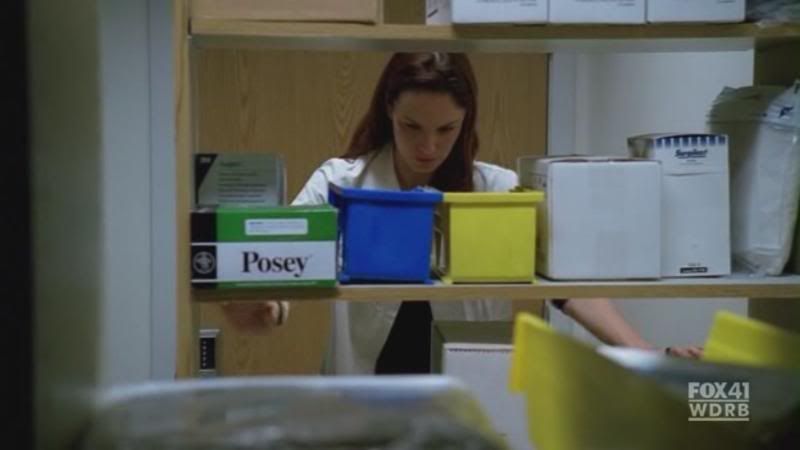 Nearby, Dr Sara has snuck in to steal some supplies to aid her in her Lincoln Life Saving.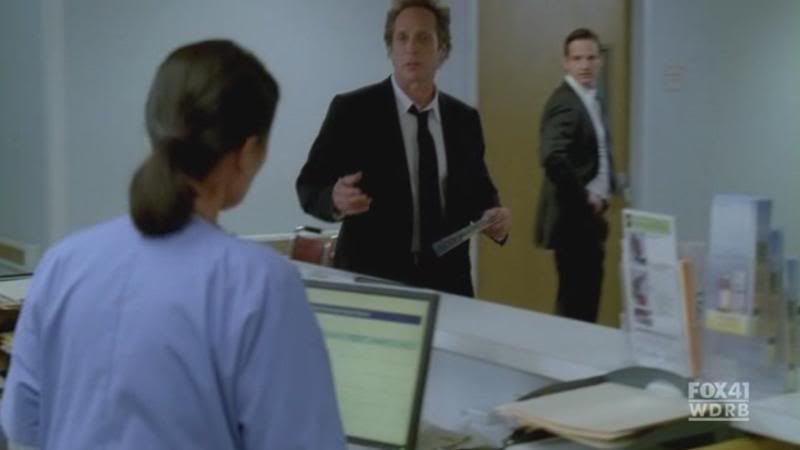 Mahone helpfully distracts a nurse who was about to go into the same cupboard.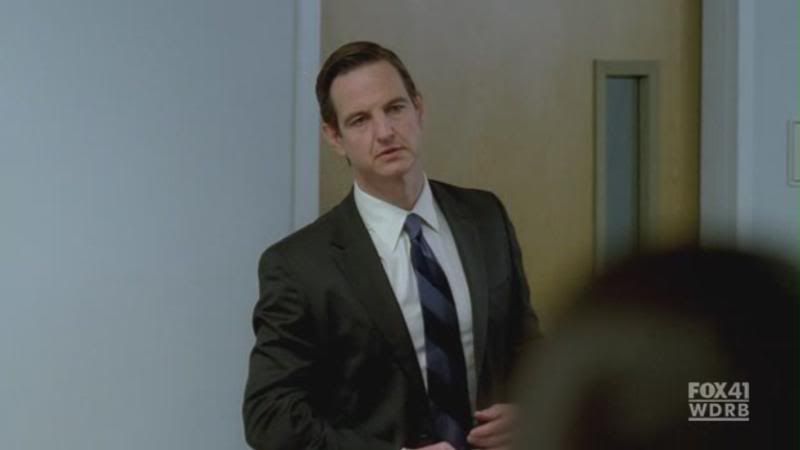 Unfortunately attracting the attention of the Man with Badge, who was looking at Alex's picture just a few moments ago.




Dr Sara returns in time to see Mahone being arrested and quickly makes her exit.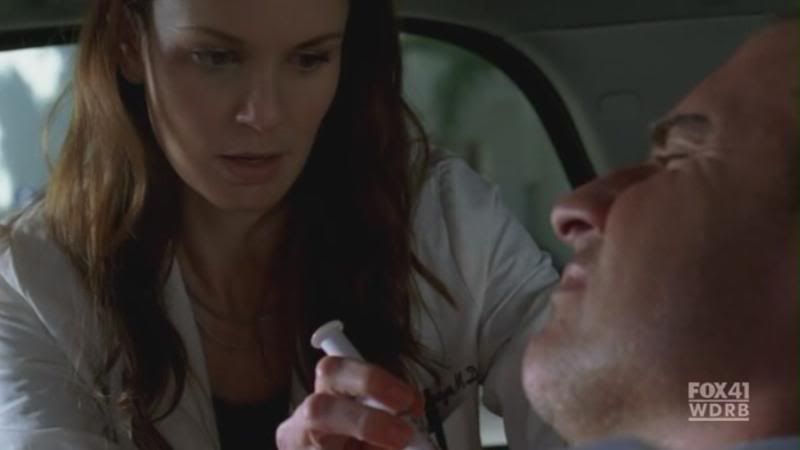 Back at the car, she begins work on the Lincoln Life Saving. She reports back on Mahone's fate but Michael says that if this all works out, Mahone will be exonerated along with the rest of them so he's fine.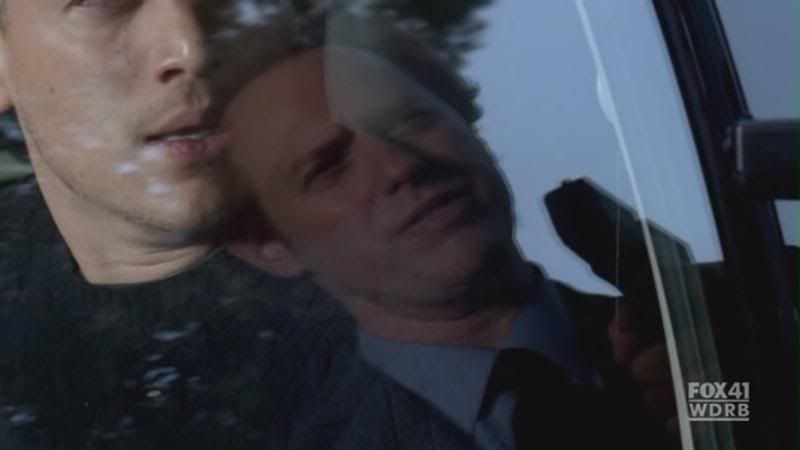 Which is more than can be said of them, unfortunately, since Ralph has arrived to take them back. He got there rather quickly!

~*~

Location: House of T-Bag Torture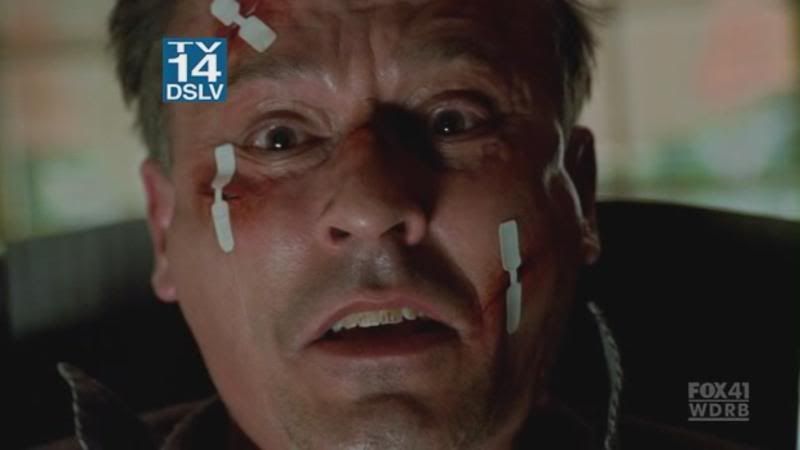 T-Bag is not looking well.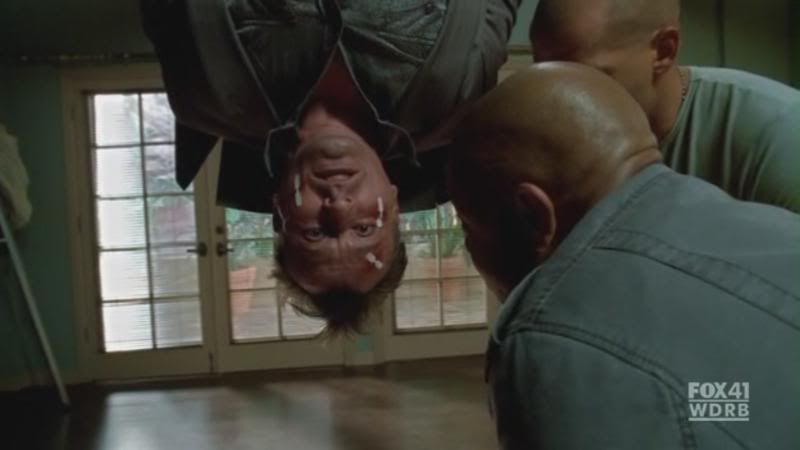 This would be why.

But he still won't crack. He insists that he won't betray! His destiny is to be a respected businessman, dammit!

~*~

Location: Miami Hotel Room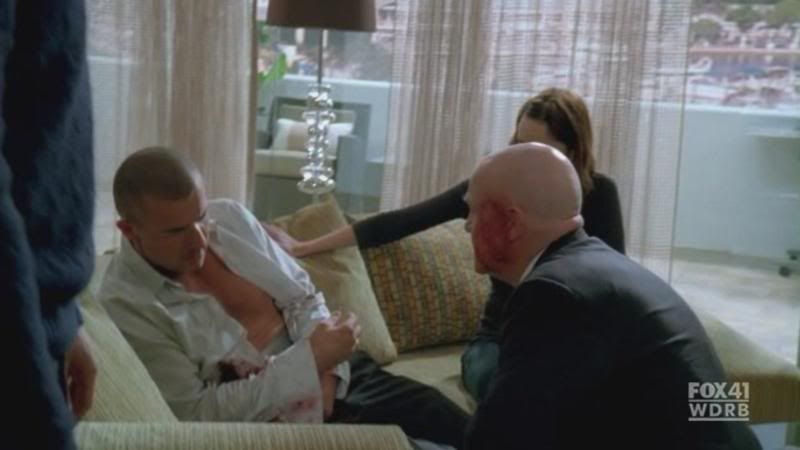 And the guys are back here again, subject to the taunts of General Pad Man who wonders how Lincoln would feel if it wasn't him slowly and painfully bleeding to death but his girlfriend.




And, oh look! He just happens to have said girlfriend on a camera feed from Panama! I must admit I didn't realise Sofia and Linc were together, but I suppose that happened in parts of season three I didn't watch, which was most of it.

~*~

Location: Police Station I guess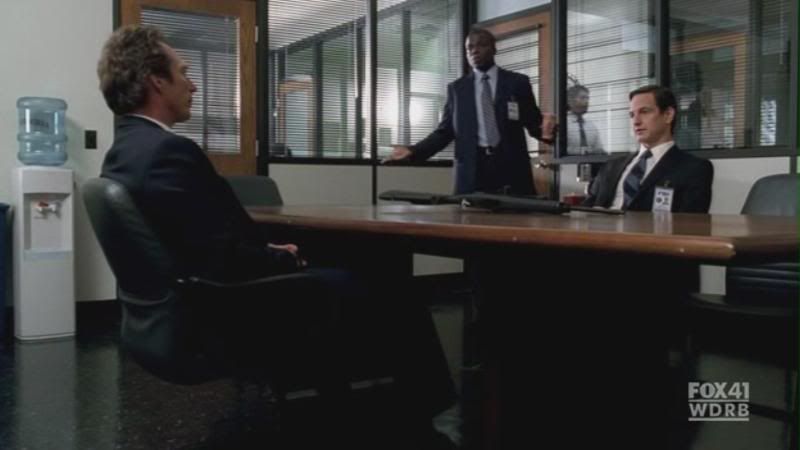 The Men with Badges are interrogating Mahone. They find his claims that the brothers were set up to be laughable and his conspiracy theories moronic.

~*~

Miami Hotel Room




So, what's it going to be?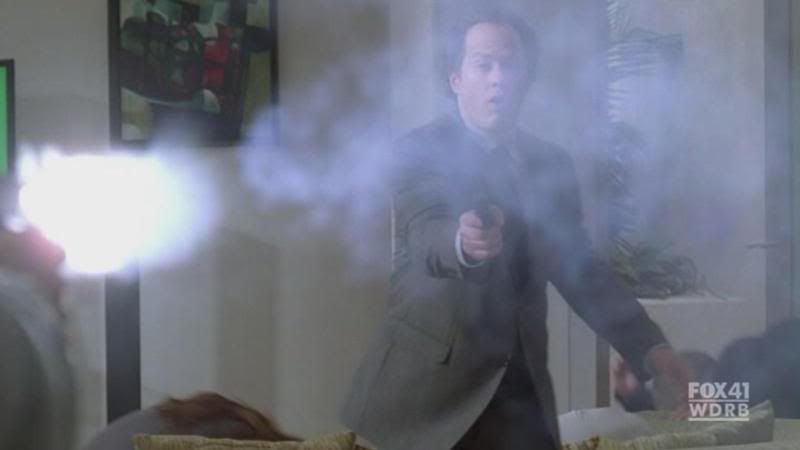 I'll take Dramatic Rescue by C-Note and Sucre, please. Apparently they too have the ability to climb up smooth buildings.




Michael tells General Pad Man to order the release of Sofia. He does so and I think that in that kind of situation you should have a secret code phrase that sounds like 'let her go' but is really 'pretend to let her go and recapture her off camera.' There's not much of the episode left though, so I doubt it.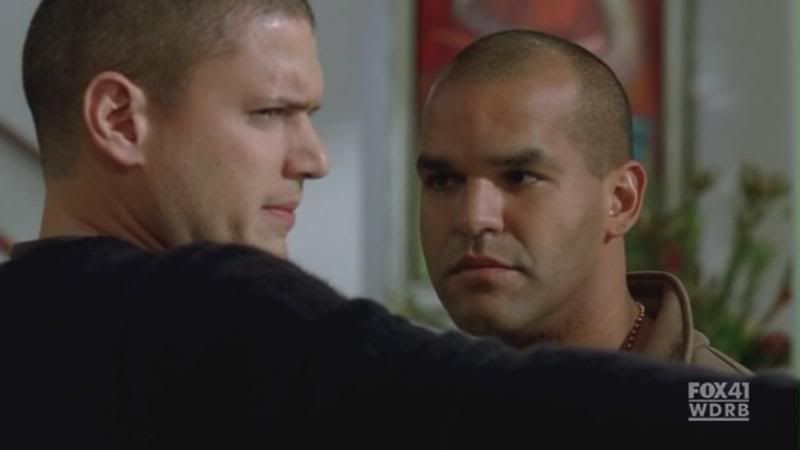 Michael is gripped with the temptation to kill General Pad Man but Dr Sara and Sucre talk him out of it.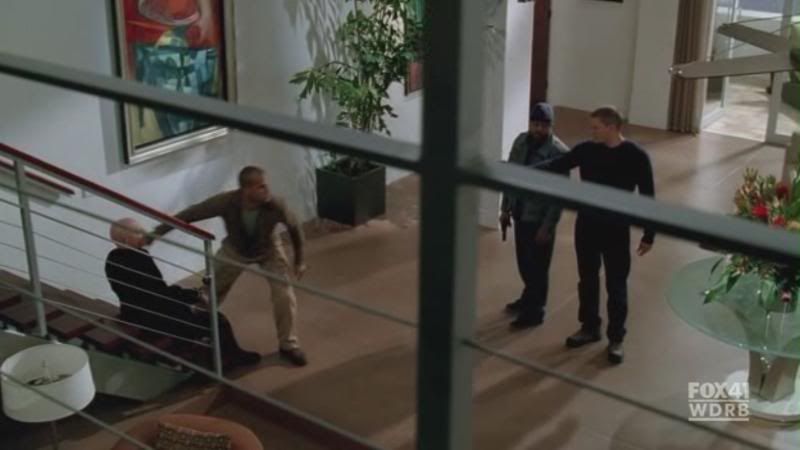 Instead they handcuff him to some stairs and take off. They must be very confident that this plan is going to work out, otherwise it would be highly stupid to just leave the head of the Evil Company who has threatened and killed loved ones before where he could easily escape or be rescued.




Sirens can be heard and Dr Sara says "Gentlemen, we have to leave." For some reason I absolutely love that line.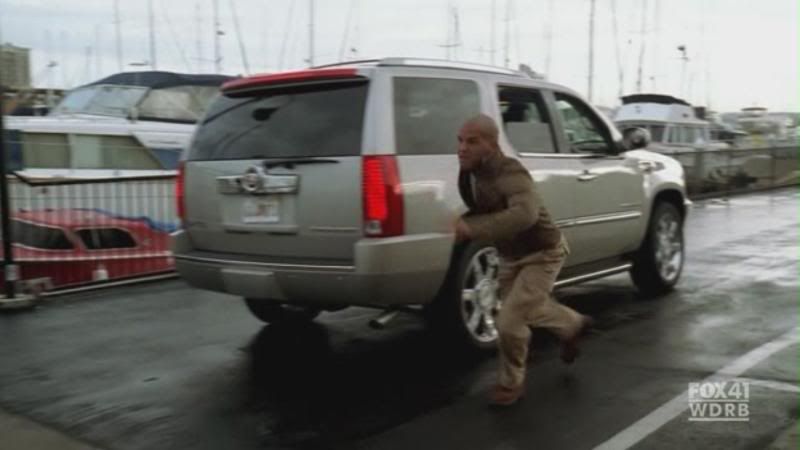 They all pile into their car, except Sucre who runs back.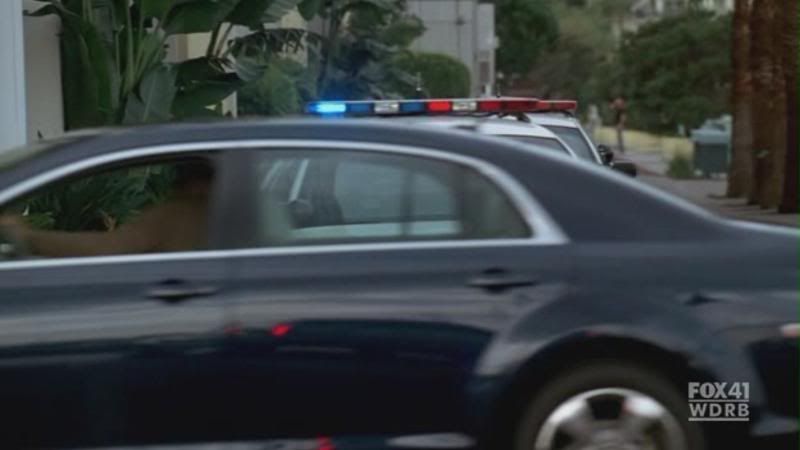 To cause a road block to stop the approaching police cars.




Which results in his being caught. He shouts at the others to go and they drive off to safety without him.

~*~

Location: Abandoned Building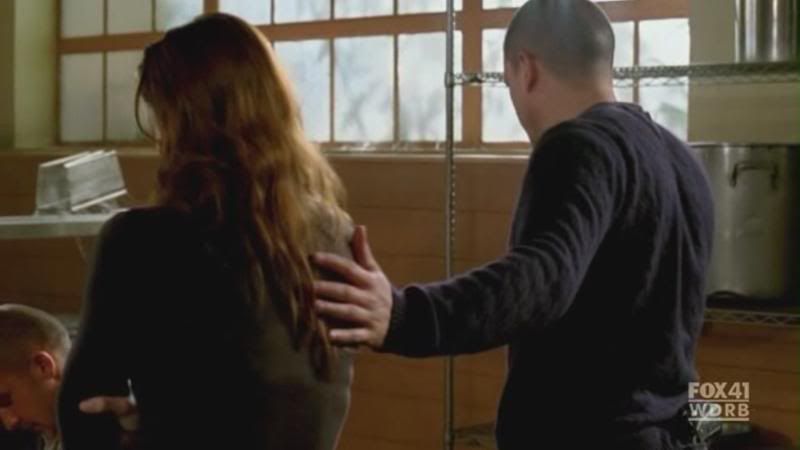 There is more casual Michael/Sara touching, which pleases me.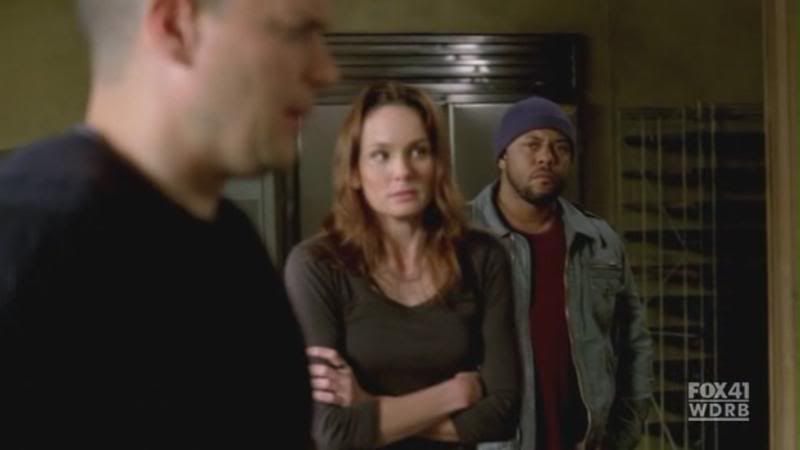 Michael still isn't sure that they can trust Not So Evil Paul, but C-Note points out that he's their only chance.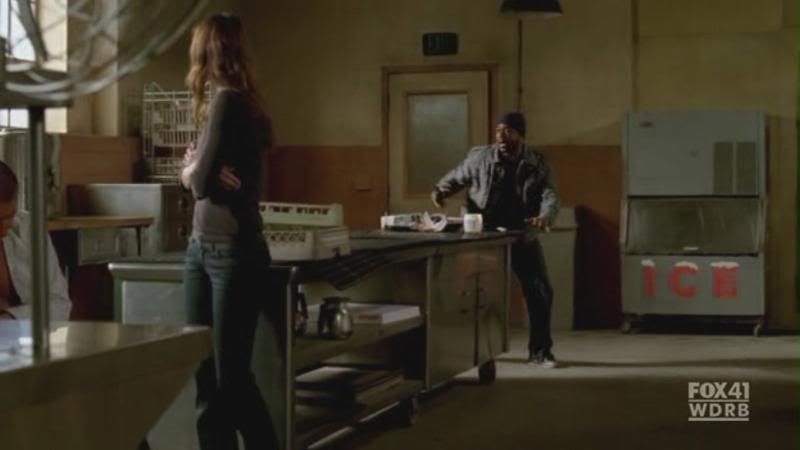 Because the excitement never stops with these people, C-Note looks out the window and realises someone has found them.




The expendable goons enter first to clear the way.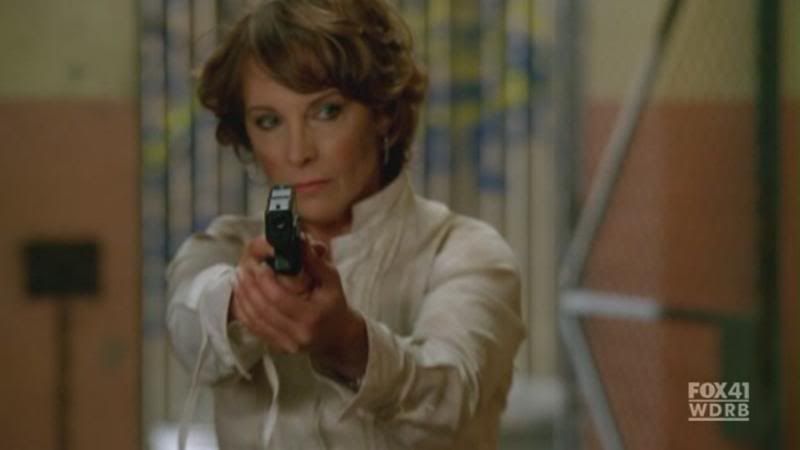 For Christina Rose! The woman who just won't die and who looks remarkably good for someone who was just in an explosion. Clearly she is not human.

~*~

Location: Police Station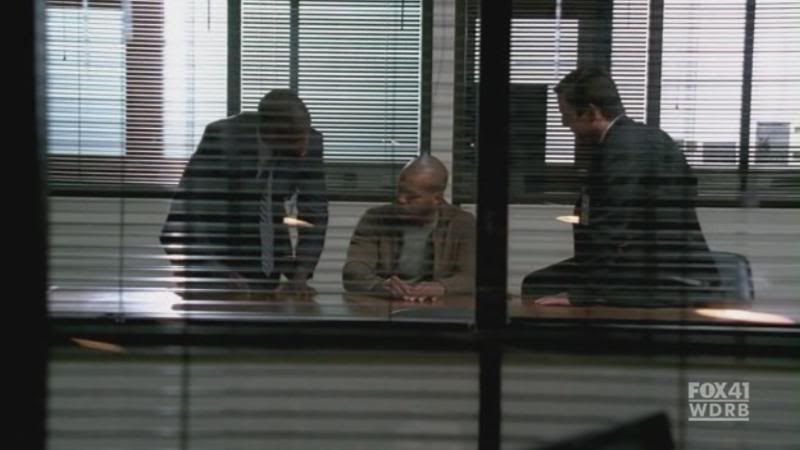 The Men with Badges are trying to get Sucre to sell out Michael, something they should know will never EVER happen.

Sucre also tries to tell them about the Evil Company but they don't listen to him either.

~*~

Location: Abandoned Building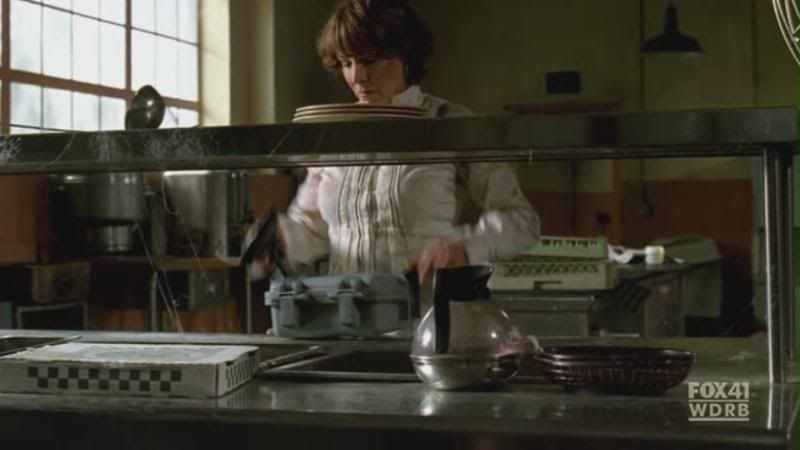 Christina Rose uses her alien abilities to go straight to the cupboard where Michael hid Scylla and take it out.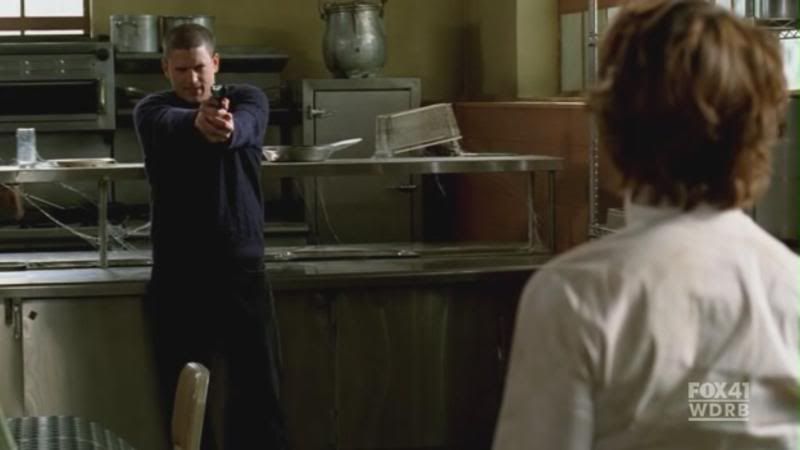 As Christina Rose is leaving, Michael pops up to stop her. She tries to appeal to him as a mother by telling him stories from childhood but Michael is having none of it and says he's no longer her son.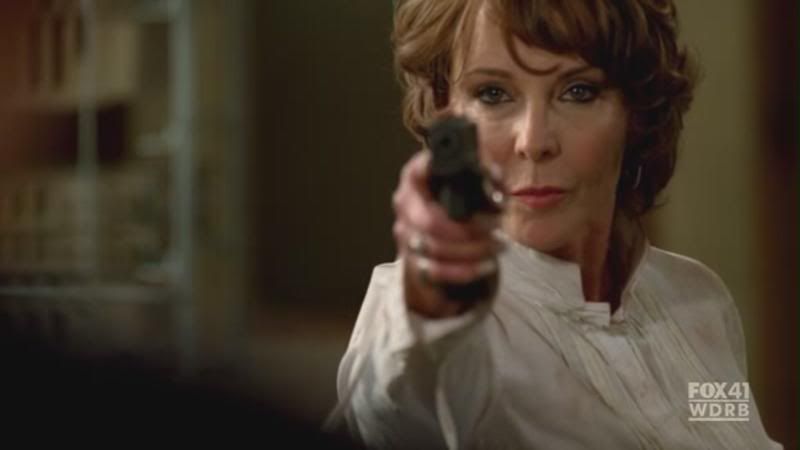 Still, she correctly realises that Michael can't shoot her. She finds this mockable and tells him he was born a Scofield but will die a Burrows.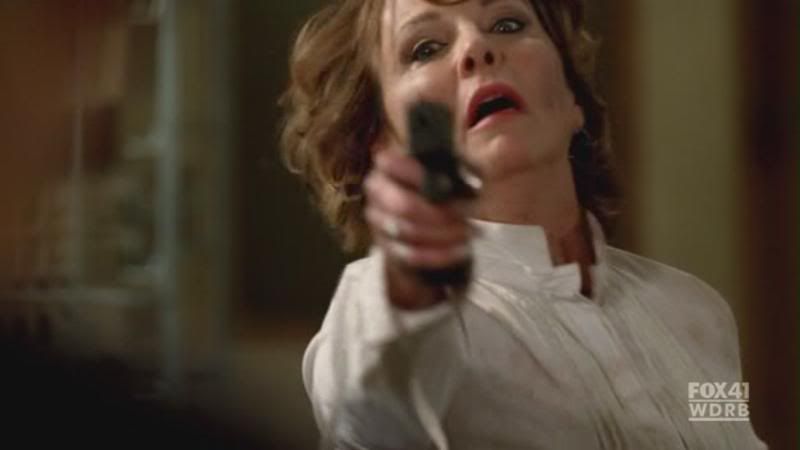 But while Michael hasn't got it in him to shoot her...




Dr Sara has.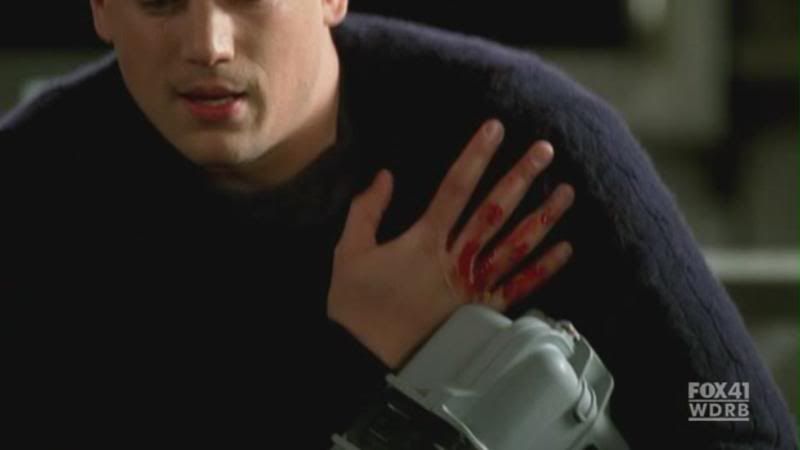 Christina Rose got off a shot of her own at the same time, but only grazed Michael.

This is good, because Michael needs to head off to see Not So Evil Paul while Dr Sara takes Lincoln to the hospital.

~*~

Location: A Bridge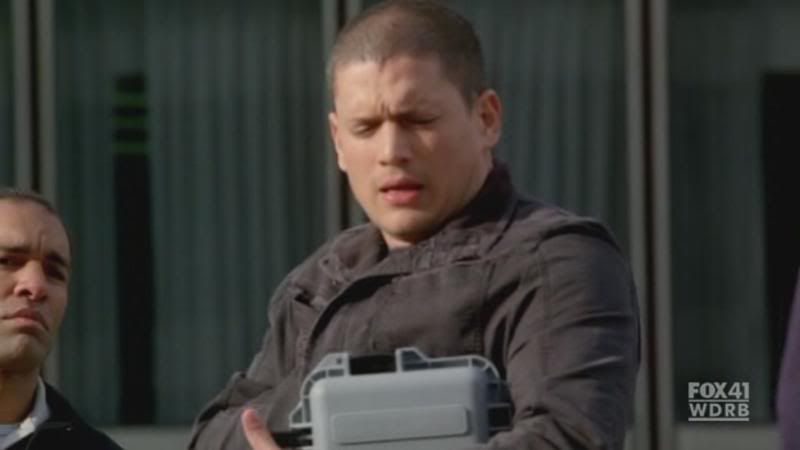 Michael is on his way when some goons suggest that he come with them.




They take him to a conference room.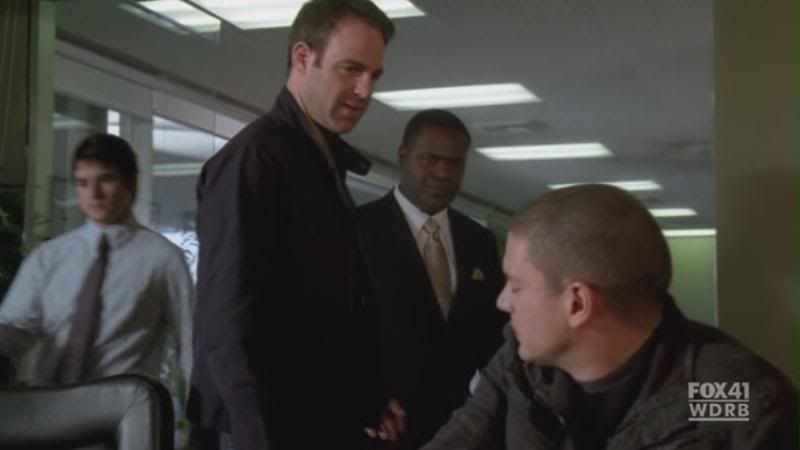 Where he is met by Not So Evil Paul.

Before he hands over Scylla, Michael wants confirmation that all his friends and family will be exonerated. Not So Evil Paul says they will be.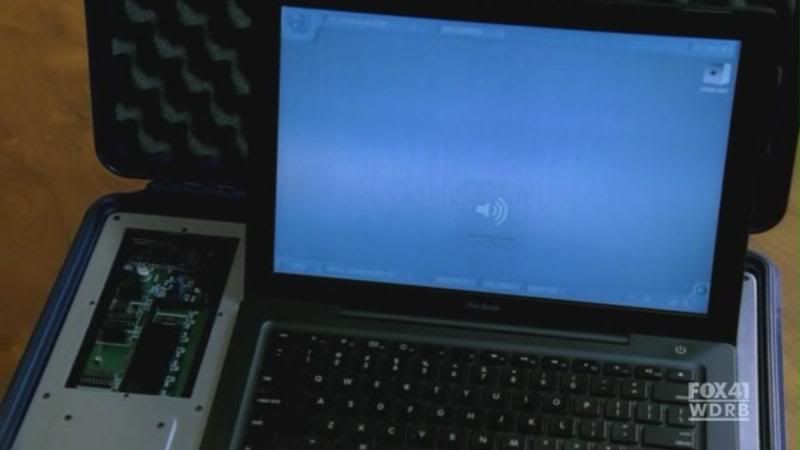 The UN Man sets up Scylla and realises there's a piece missing.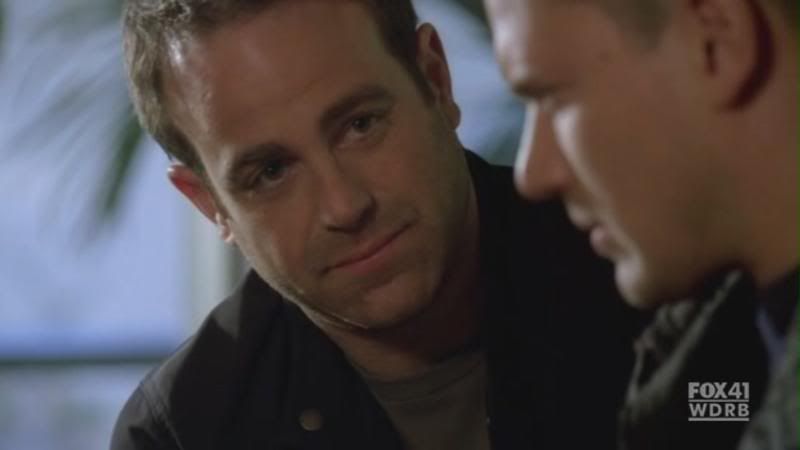 Michael wonders how they expect to exonerate the others from here. Not So Evil Paul tells him not to be stupid and to hand over the last piece before they have to run for their lives again.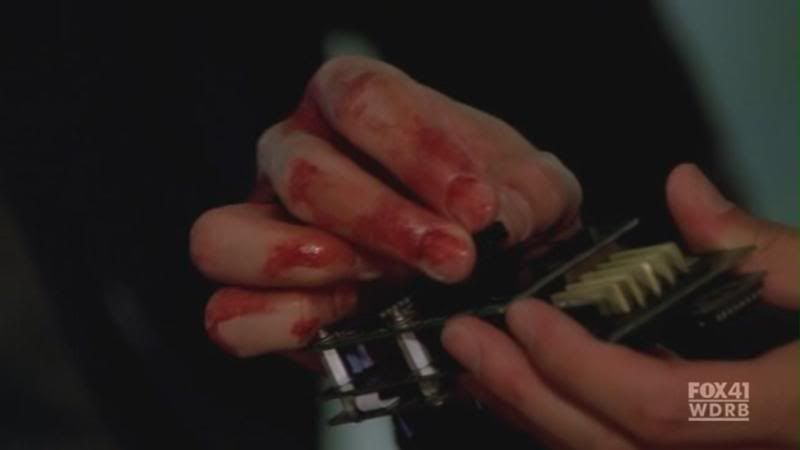 Since Michael is tired of running, he complies.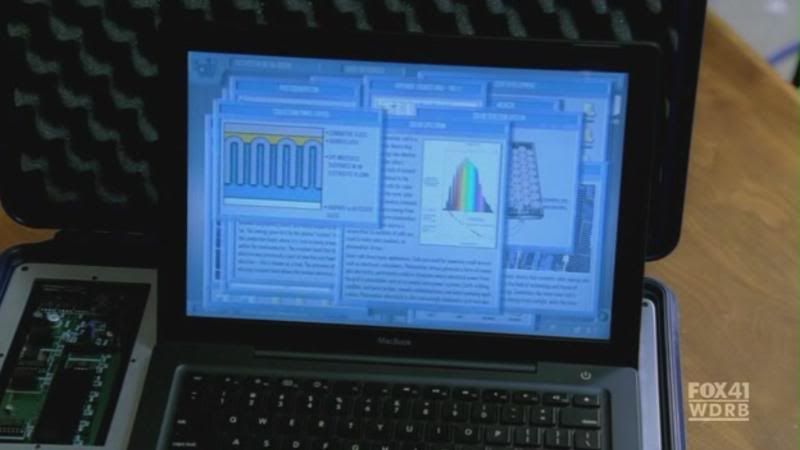 It's Scylla! In all its complete awesome glory.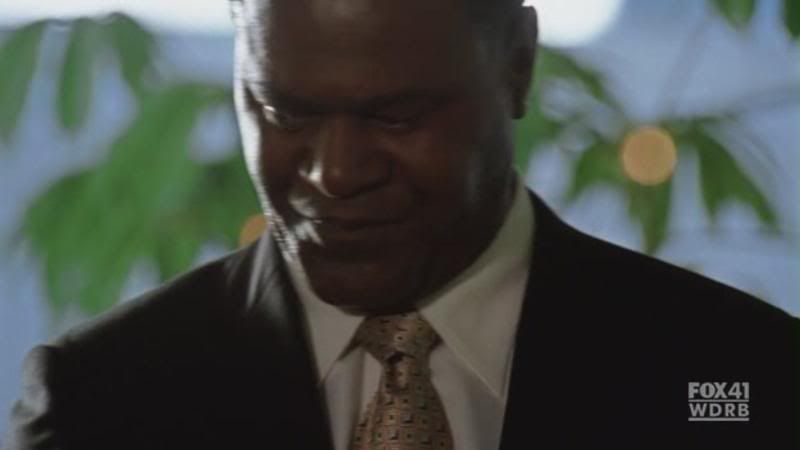 UN Man is pleased and goes off to make the call.

~*~

Location: Miami Hotel Room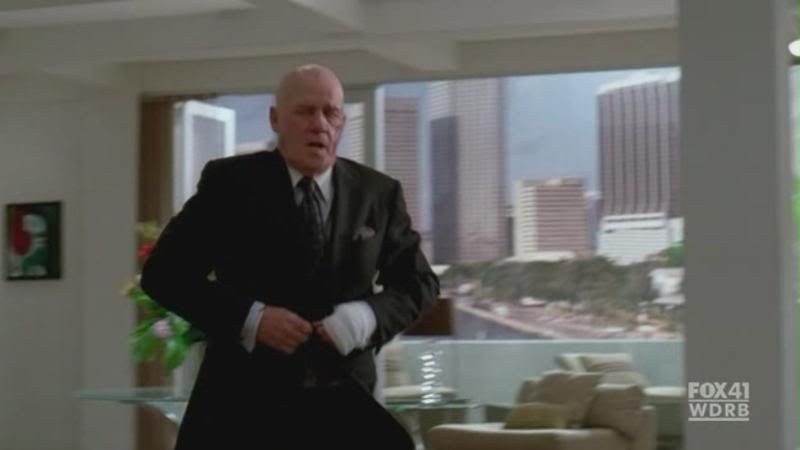 General Pad Man has escaped from the handcuffs and is off to do some more Evil Doings.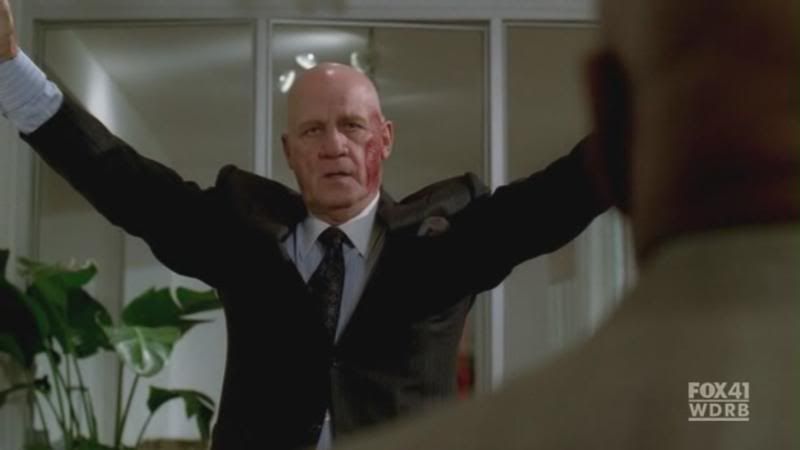 But is stopped in his tracks by the police, who have come to arrest him. And might I say, that is a very dramatic way of putting your hands up.

~*~

Location: Abandoned Building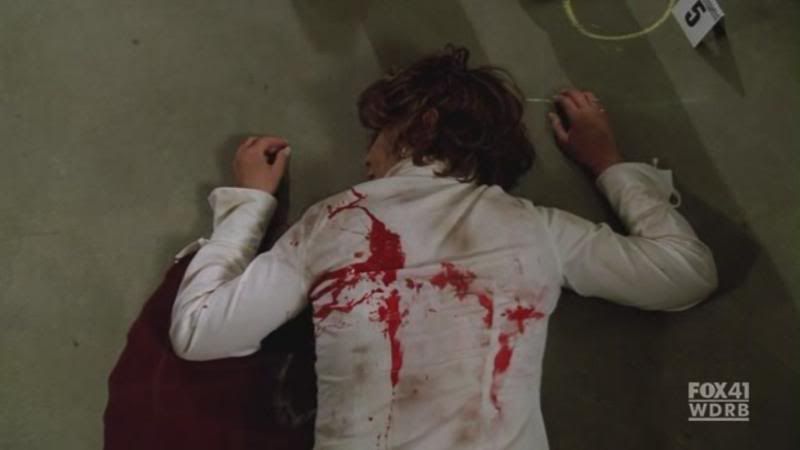 Looks like Christina Rose is really dead this time.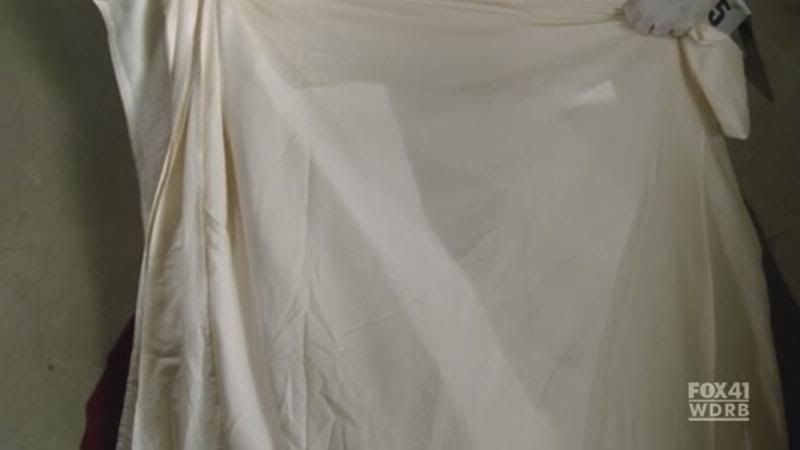 Really, really dead.

~*~

Location: Miami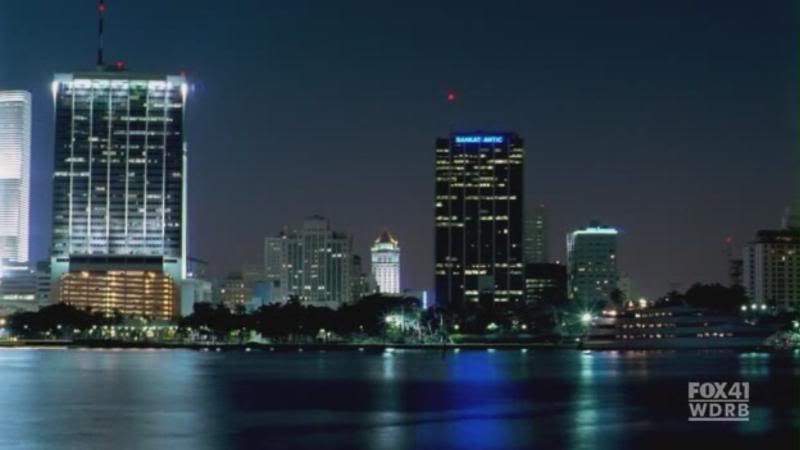 Time passes.

~*~

Location: Conference Room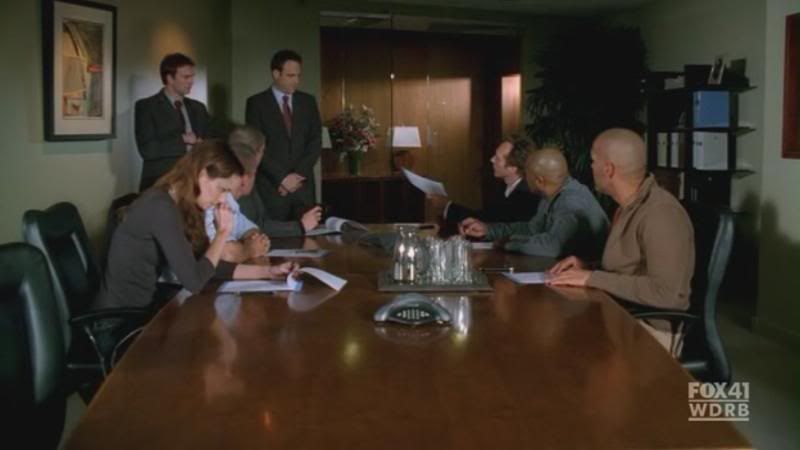 Michael, Lincoln, Dr Sara, Sucre, C-Note and Mahone are all gathered to sign their Papers of Freedom. For real this time.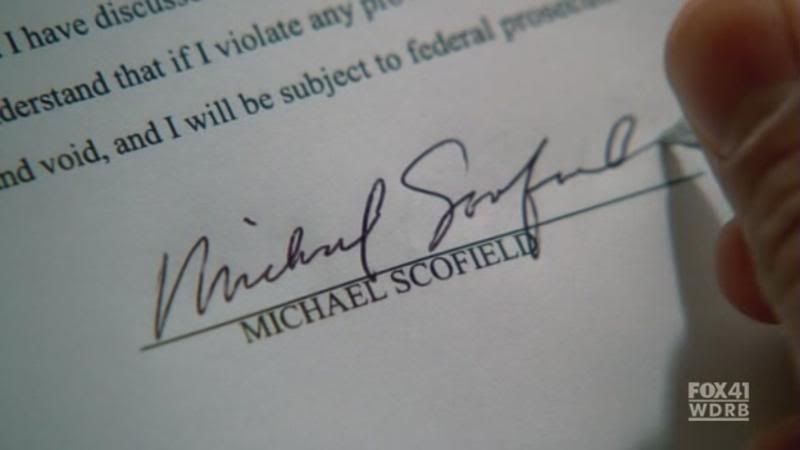 Yay!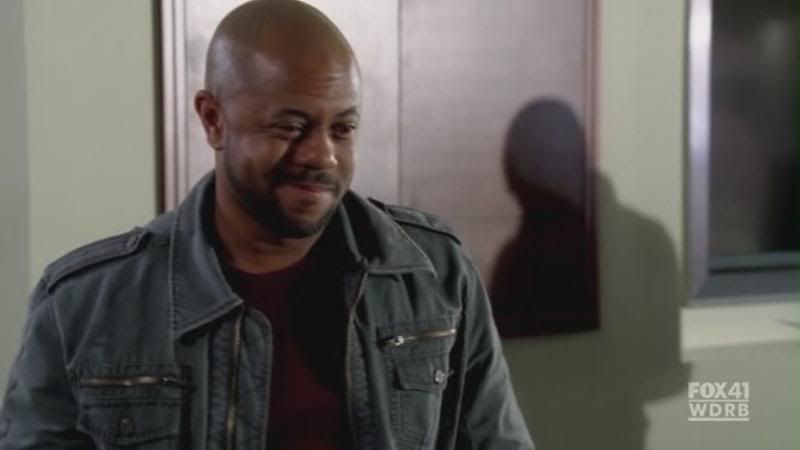 Everyone is happy..




And hugging.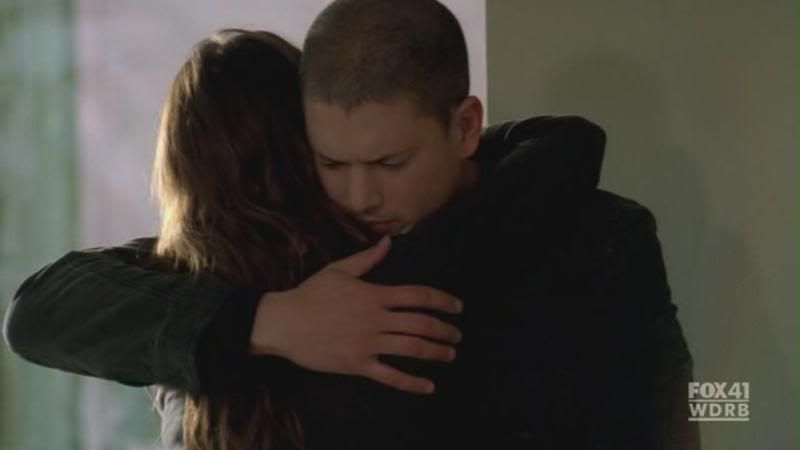 And hugging...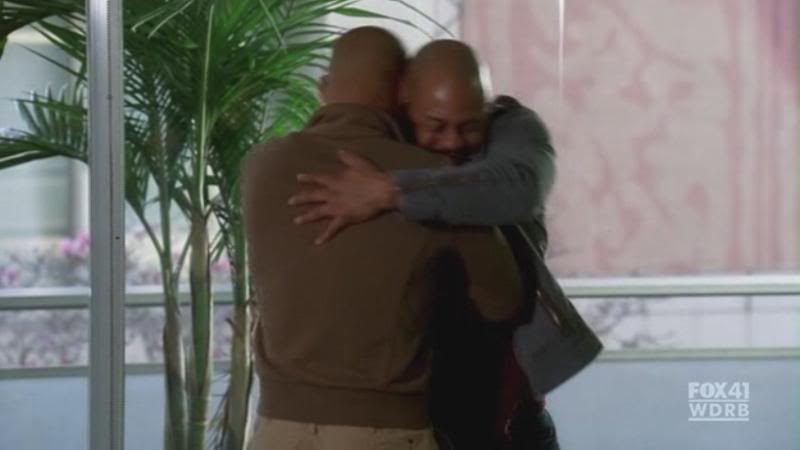 And hugging.




Sucre asks if he can keep the pen. I love you Sucre. Freedom pen!

Although I am very disappointed that there was no Michael/Sucre hug. Very, very disappointed. Come on, papi!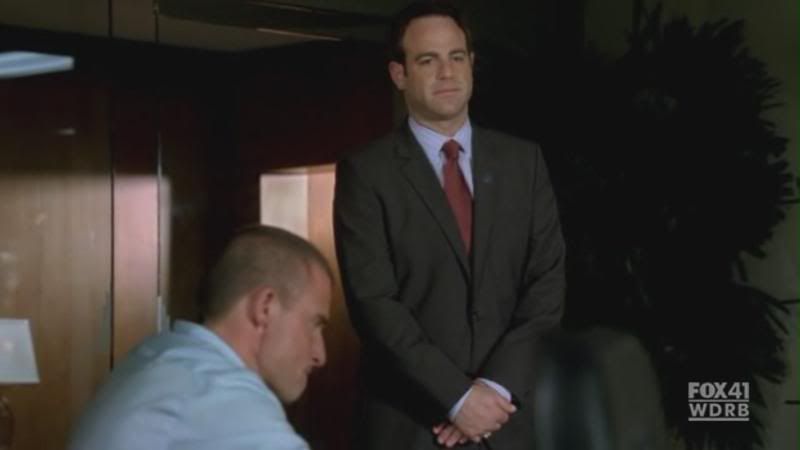 Not So Evil Paul has more news though, firstly their loved ones are all safe and secure. But also, they have T-Bag is custody who is claiming that he helped and wants in on the exoneration. Not So Evil Paul can do that, if the group want him to.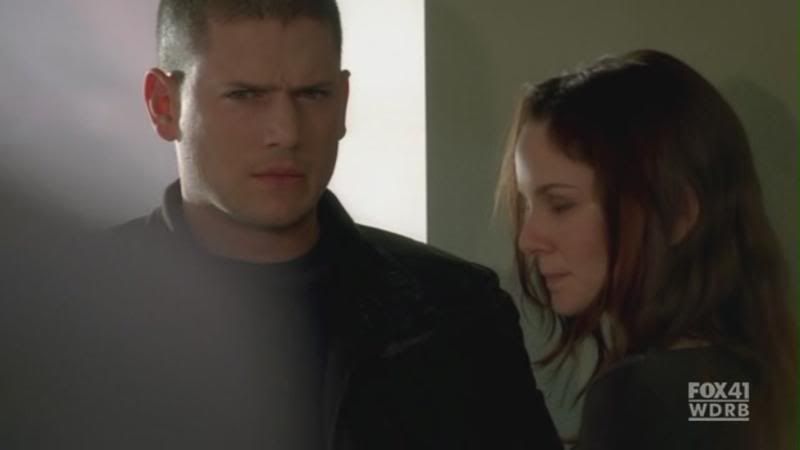 Hmm, let us think...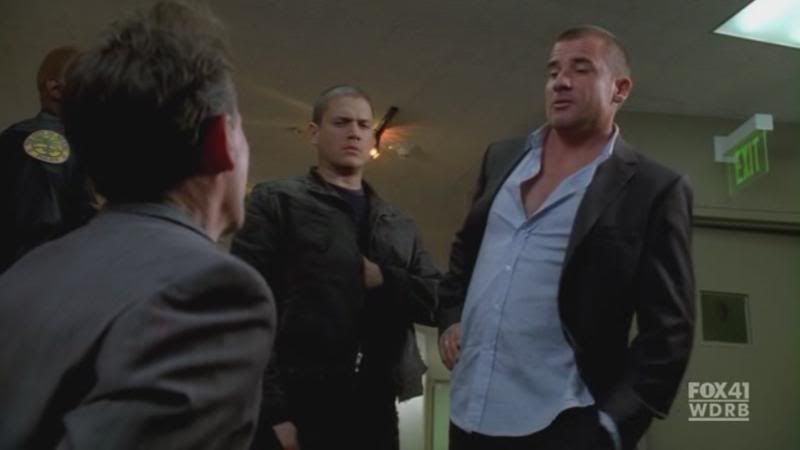 Michael and Lincoln head out to give T-Bag the good news that he's heading straight back to the big house.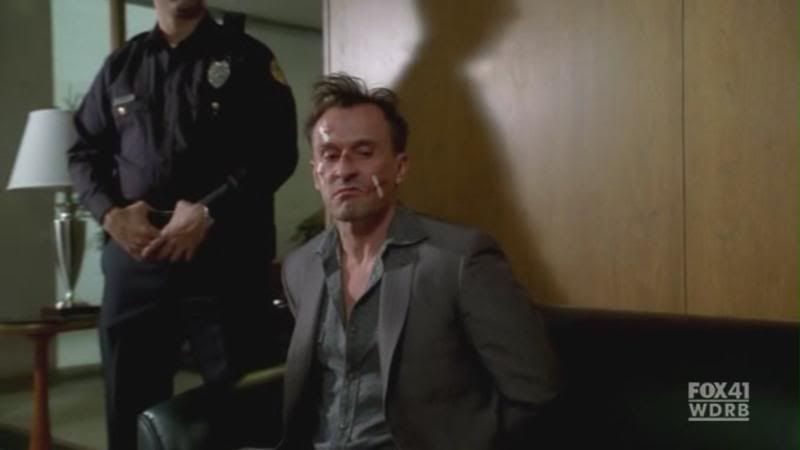 T-Bag kindly requests that they rot in hell.

I do like how this ties in with earlier events. Both Dr Sara and Sucre promised to help T-Bag get an exoneration if he helped them and both times he refused. So suck on the consequences of the choices you made, T-Bag.

~*~

Location: The Beach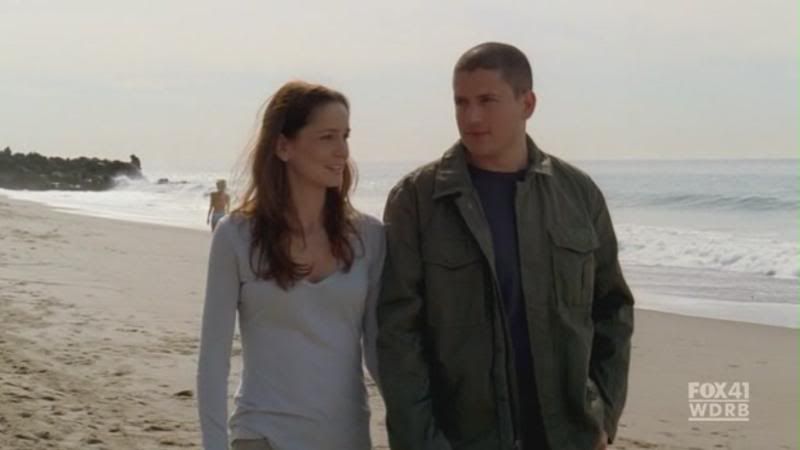 Michael and Dr Sara are happy and chatting about their future. Michael says that he will be a totally hands-on dad and if the baby needs a bottle in the middle of the night he will totally keep her side of the bed warm until she gets back. Aw, Michael is so cute.

He also tells her that he plans to be the most overinformed dad in Chicago. Oh, he so will be. He'll know everything there is to know about babies and be all over that kid.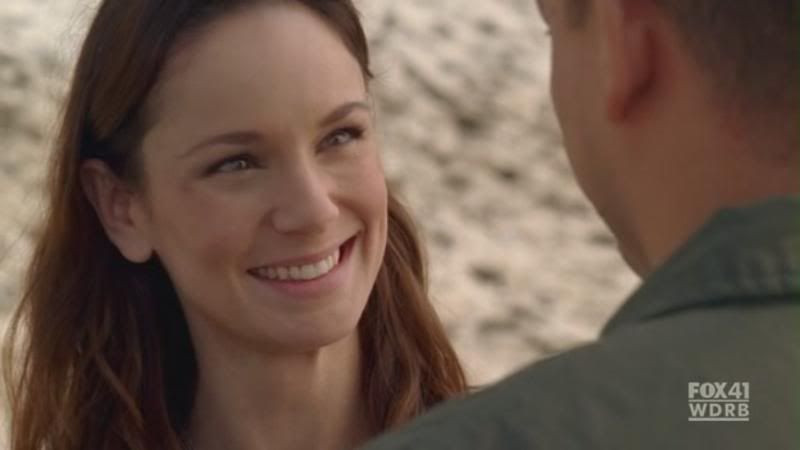 They look at each other and declare how happy they are right now.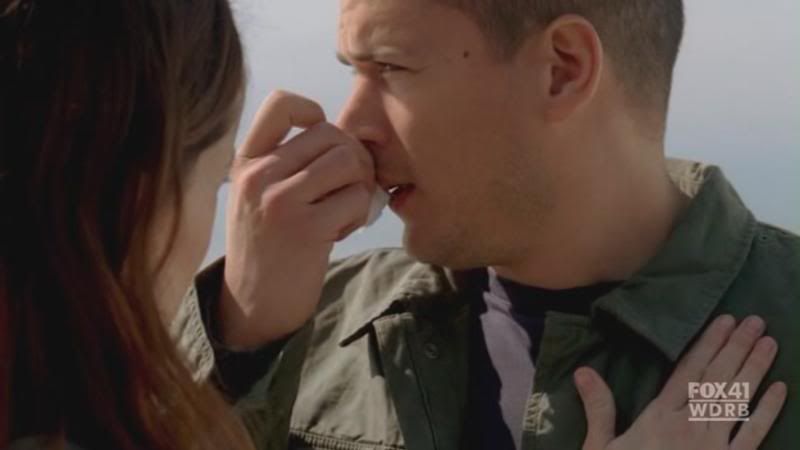 So Michael's nose chooses that moment to start bleeding again and I announce that if their happiness is messed up with brain tumours I will hunt someone down and kill them.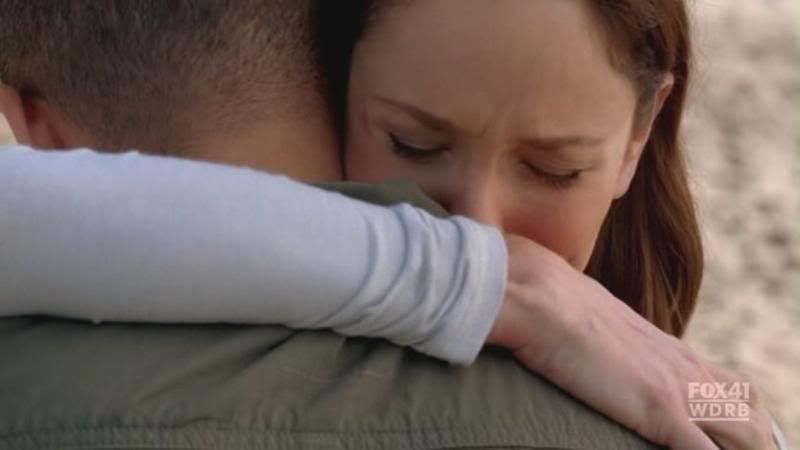 Damn you, Prison Break. They were happy and smiling. Why did you have to ruin that?

~*~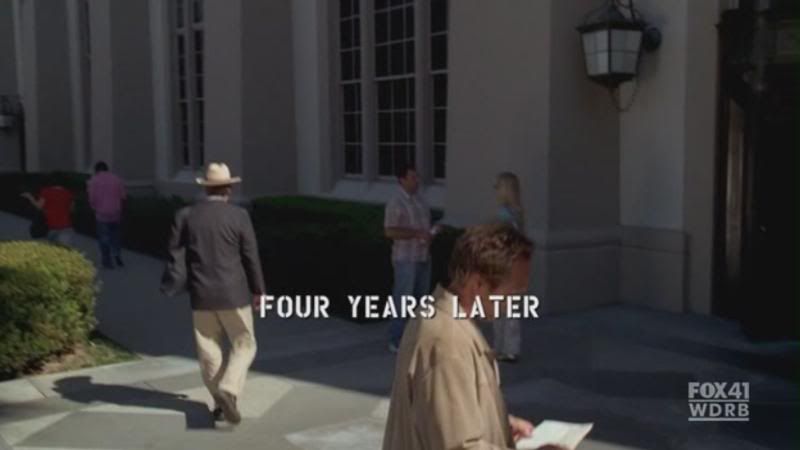 Time jump to present day.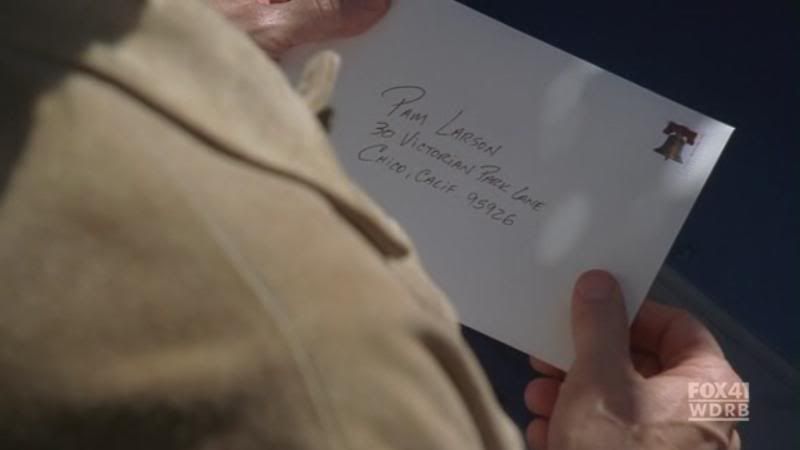 Mahone is sending a birthday card to Pam. She has a different surname now, so I guess she's moved on.




But then, so has Mahone! Aw, Mahone/Lang. Yay!

They talk about Mahone heading out on a trip.

~*~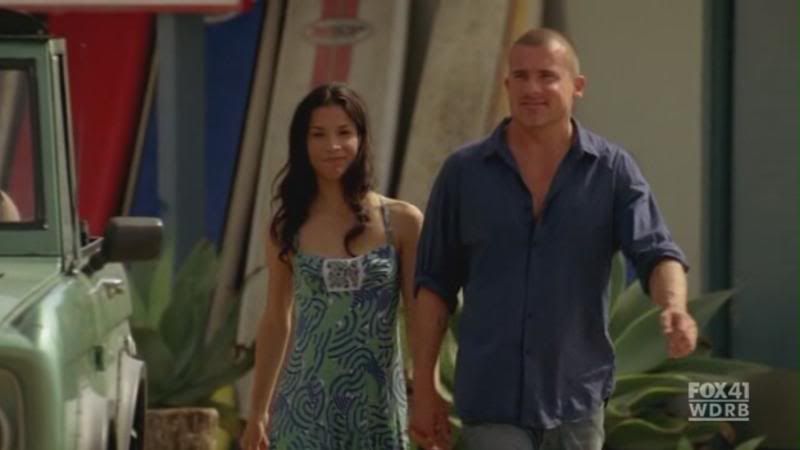 Lincoln and Sofia appear to have a nice house on the beach somewhere. They talk about LJ, thus indicating that he is in their lives without requiring the presence of Marshall Allman.

Lincoln too, is heading off on a trip.

~*~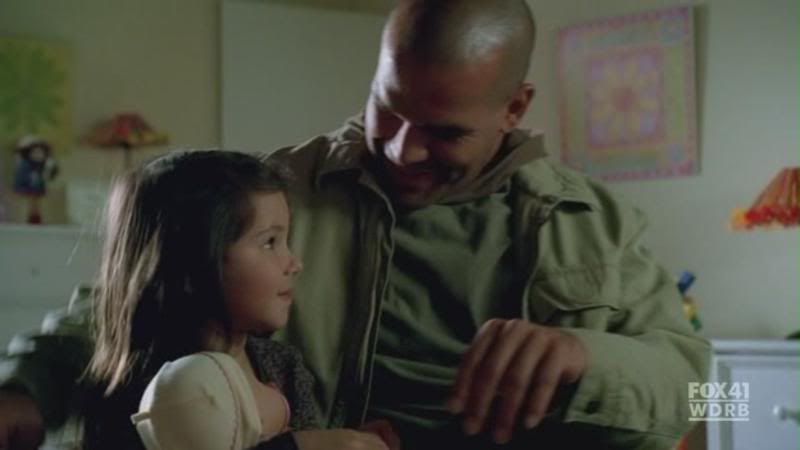 Sucre is telling Leila that he'll be back in two days. Aw, she's so cute! And he's so cute with her!

~*~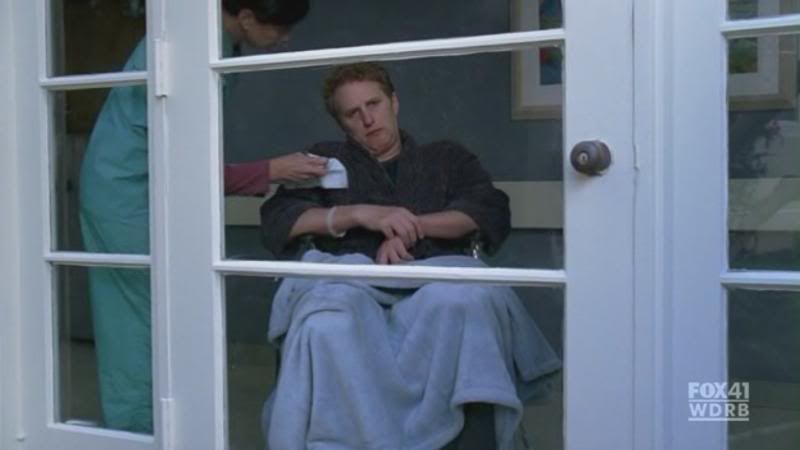 The cuteness is interrupted as we see Don Self's fate is as a vegetable. Rather fitting.

~*~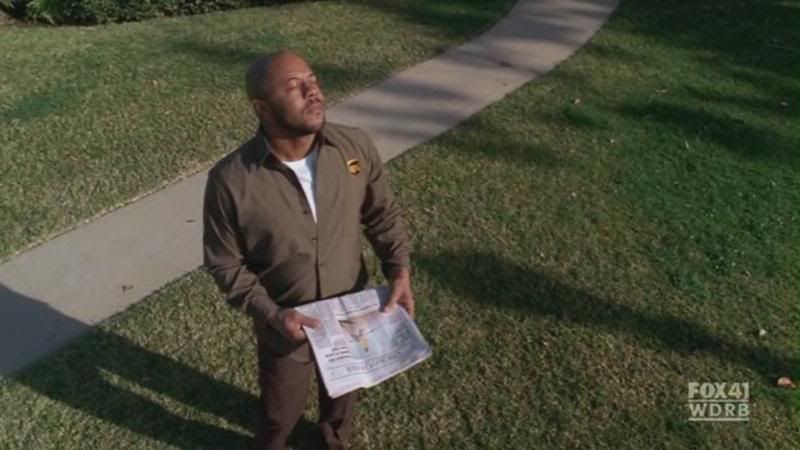 C-Note has a decent job as a UPS driver and is enjoying the sunshine.

~*~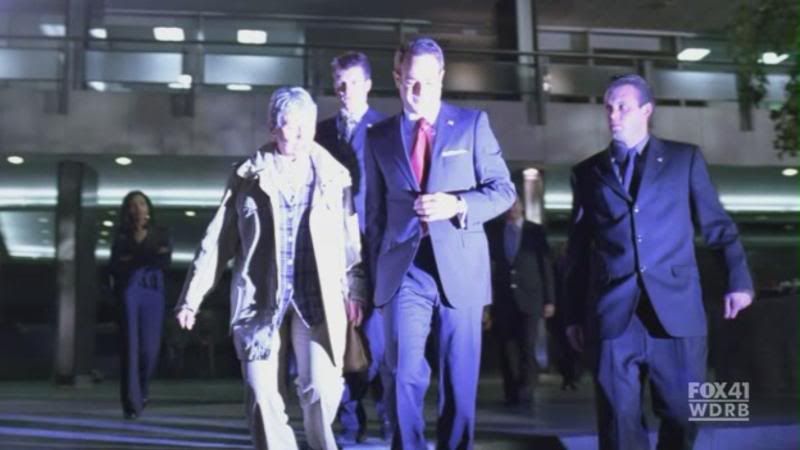 Not So Evil Paul is a congressman. Apparently the American public are very forgiving.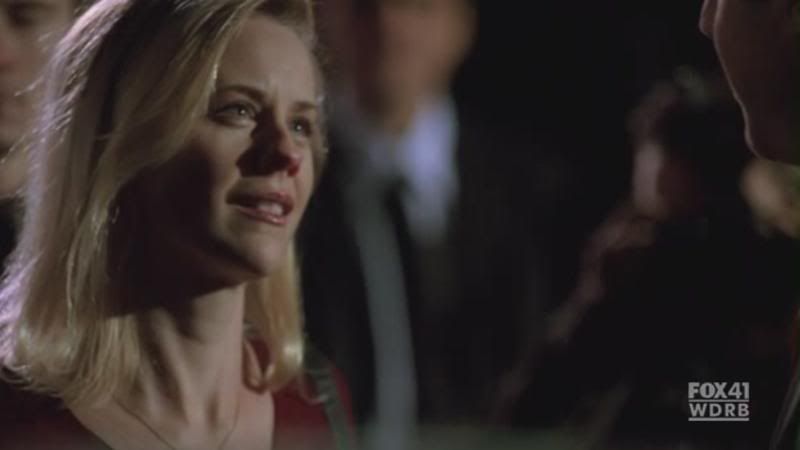 A woman comes up and introduces herself as Danny Hale's widow before spitting in his face. You may remember Danny Hale as Evil Paul's partner from season one whom he killed. At least not everyone has forgotten his past.

~*~




General Pad Man gets his own unhappy ending. The priest asks him if he's ready and he replies 'semper paratus'. He doesn't look it though.

~*~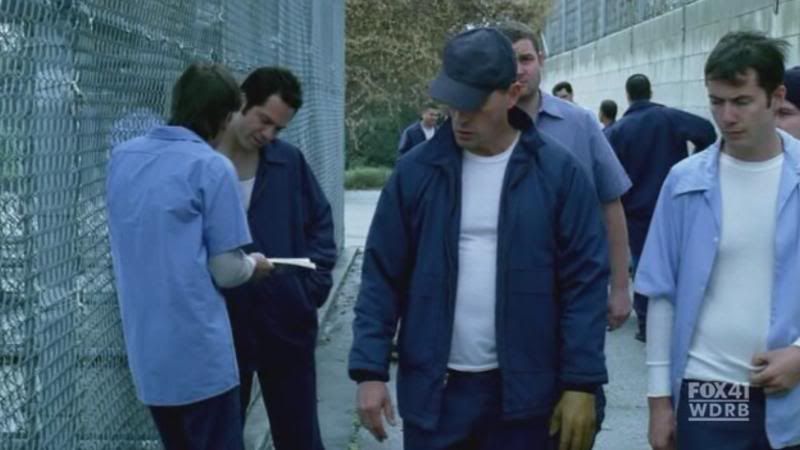 T-Bag is back in prison where he started. He overhears someone quoting the 'captivity of negativity' line and is outraged to discover that someone has a GATE book. The reminder of his lost dreams of business cards is too much and he demands never to see it again.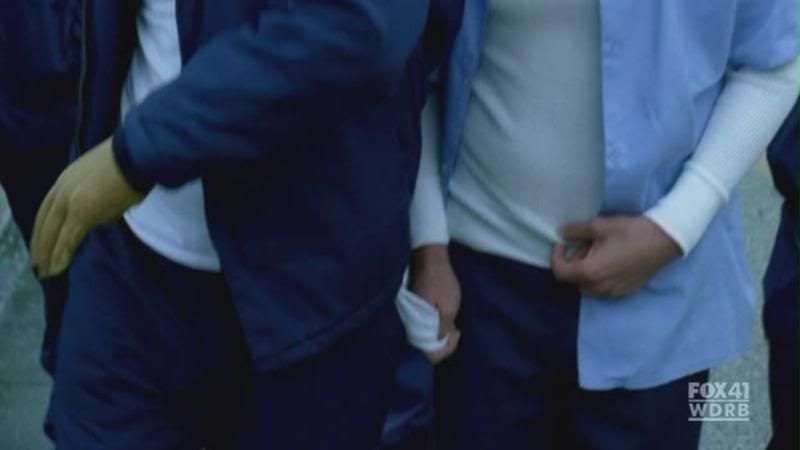 Apparently T-Bag is once again the big man on campus in prison. I'm not sure why he wasn't executed too though. I've lost track of how many people he's killed in this show.

~*~




Dr Sara is at a market with Michael.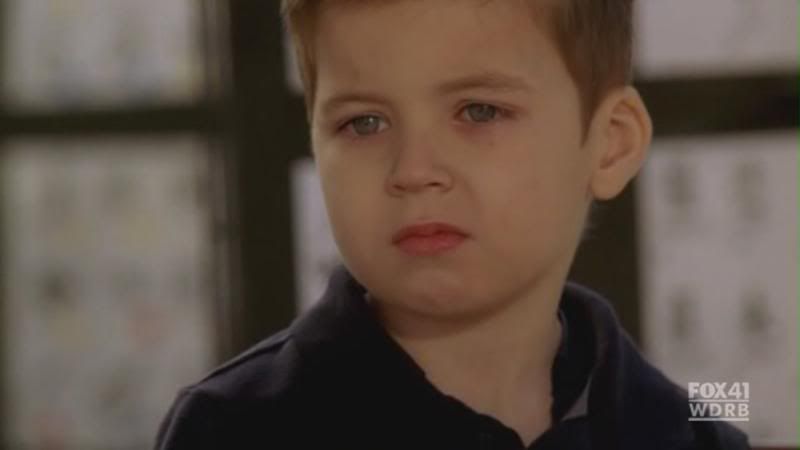 Mini Michael, that is! Who has just got a temporary tattoo. I bet the writers fell over themselves with pride for that idea.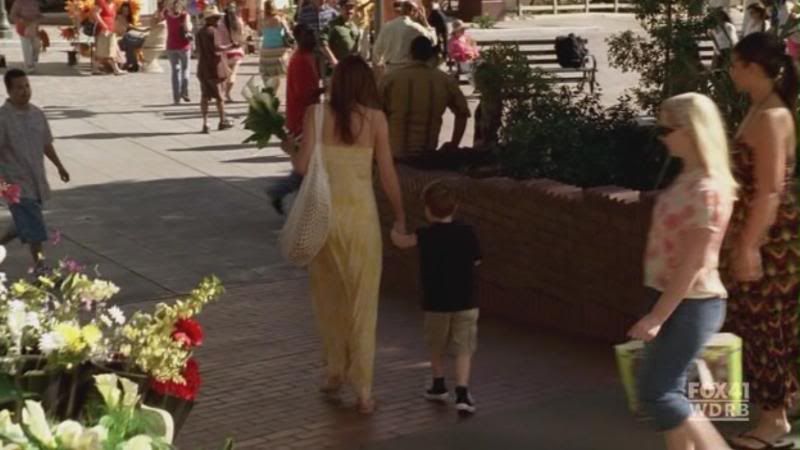 Dr Sara says it's time to go and see daddy and they skip off. The phrasing worries me.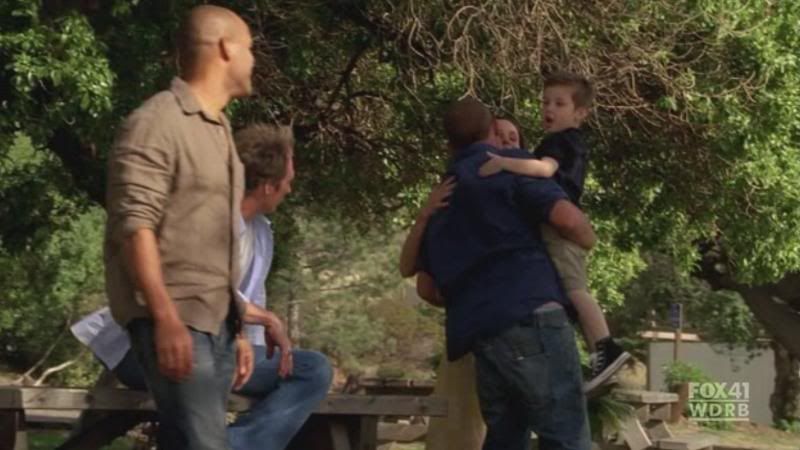 They head to where Lincoln, Sucre and Mahone are waiting. Obviously they are still a close-knit group, which pleases me.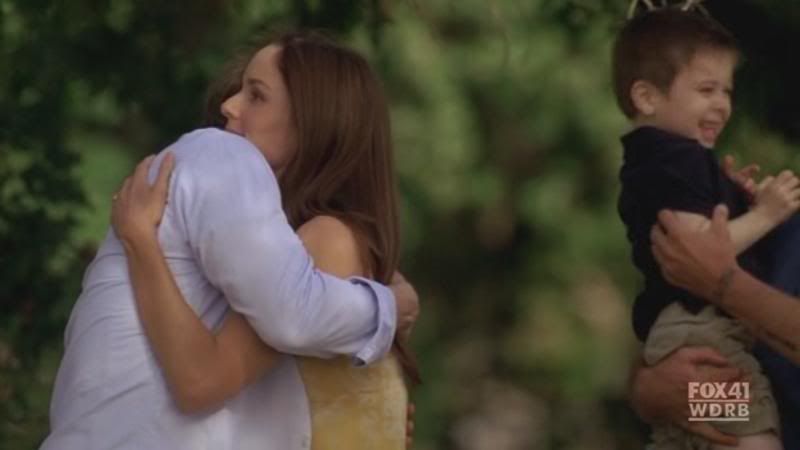 I especially like this, after what Mahone said about them not liking each other.

And yes, I am putting off the inevitable, because by this point I know where they're going. It's quite obvious but I'm still shouting at the TV "Michael better not be dead, don't be going to his grave, Michael better not be dead."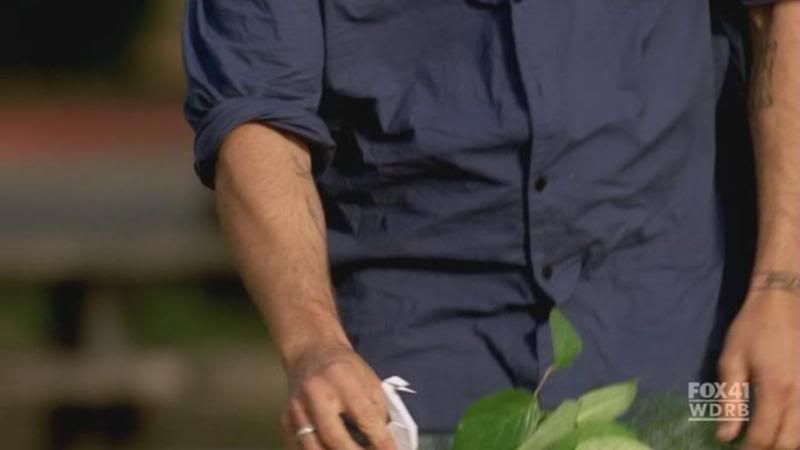 Ok, so the origami crane is a neat callback to series one.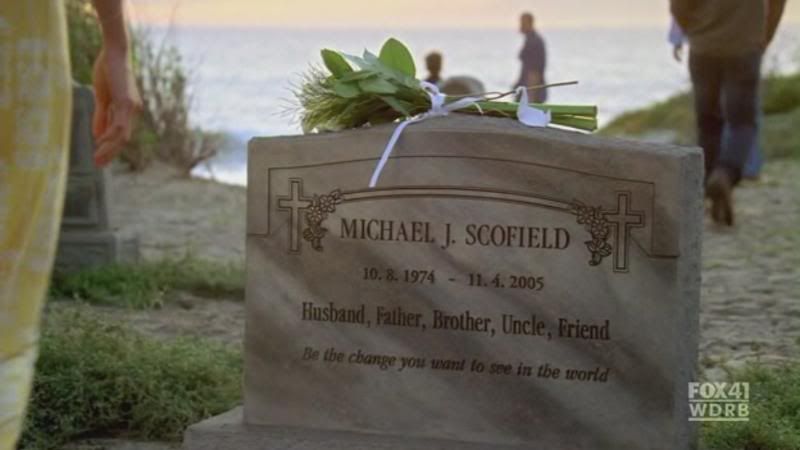 But still, fuck you Prison Break. Fuck you hard.

That was completely unnecessary and more than a little bit cruel. Why would you do that? And the date! 4th November 2005? Michael went into Fox River in April 2005. I'm not sure but I think the events of series four are July/August time. That means that Michael and Dr Sara only get a few months together. He won't even see his child born.

But having said that, the date of birth is wrong. I distinctly remember Michael's birthday being the 8th September, not October, because I was ridiculously pleased by the fact that his birthday was the day after mine. Clearly this gravestone is a fake and Michael is still alive. Case closed.

~*~

So that's it. The last Prison Break ever. Except... there's a special two hour episode on next week. WTF? I guess just like Christina Rose, Prison Break refuses to die.

Presumably this special will explain why Michael is now living in hiding with his wife and son and his family has to go to his fake grave every year to throw off whoever is after him.


~*~

This seems like a good a place as any to share my thoughts about Christina Rose too. I've come to the conclusion that she really is an alien who took on the form of Michael and Lincoln's mother, because to think otherwise ruins so much of what's gone on before.

The brothers obviously had nothing but good memories of their mother, Lincoln talks about how she raised them well, Michael named his boat after her and Lincoln said she would have liked that.

I also find it hard to understand how she can treat Lincoln so cruelly. Even if he's not biologically hers, she raised him as her son for years (I don't know how many exactly cos continuity is not one of Prison Break's strengths) and was obviously convincing enough for Lincoln to have no doubts about his parentage. If she disliked him as much as she claimed, would she really have been able to hide that? Wouldn't Lincoln have picked up on her obvious favouritism towards Michael?

~*~

Well, that's (almost) that then. I thought this would be it, but there's at least one more recap to go. That'll probably end up even longer than this one!

screencaps by
sky_angel22