I was getting bored of my Prison Break icons, so I have a new Happy Dr Sara icon for the occasion.

Episode 4.21 Rate of Exchange


Location: Miami Marina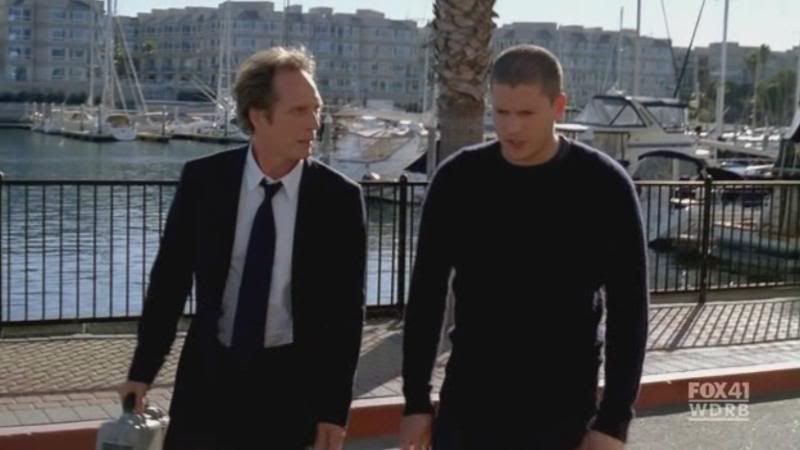 Michael the Genius is going to find a way to save both Lincoln and Dr Sara. He wonders if he can get General Pad Man and Christina Rose to bring them both to the same place. Mahone thinks this is a stupid idea as his only advantage right now is that neither party knows the other has leverage on him.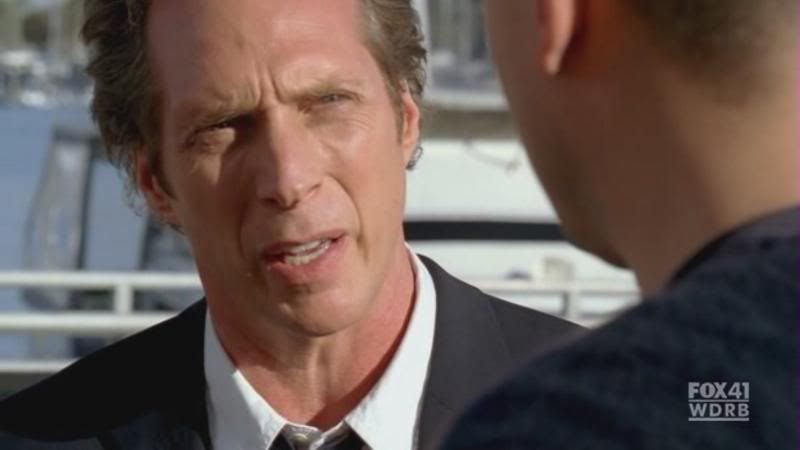 Mahone also points out that since Dr Sara has the advantage of not having a hole in her chest right now, he should go for Linc first.

~*~

Location: Christina Rose's Office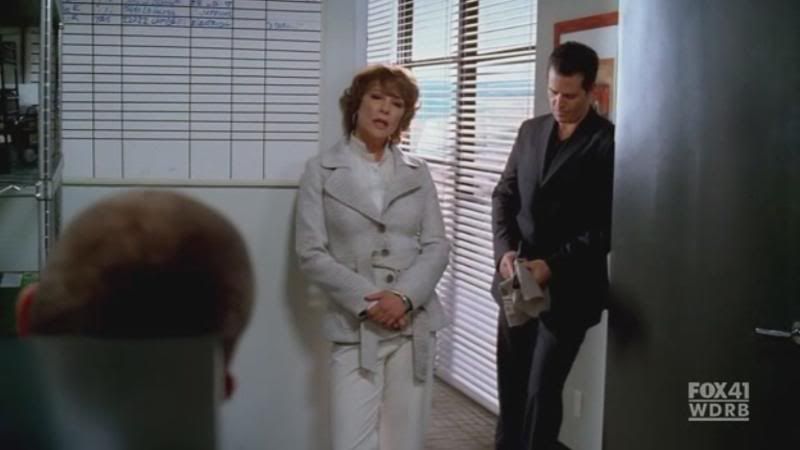 Christina Rose is watching carelessly as the man she raised as her son for years bleeds to death. She takes the opportunity to mock his intelligence and generally prove herself to be a complete and total bitch. Just in case we didn't understand that yet.

Michael calls and arranges to meet at the dock in 45 minutes.

~*~

Location: Miami Hotel Room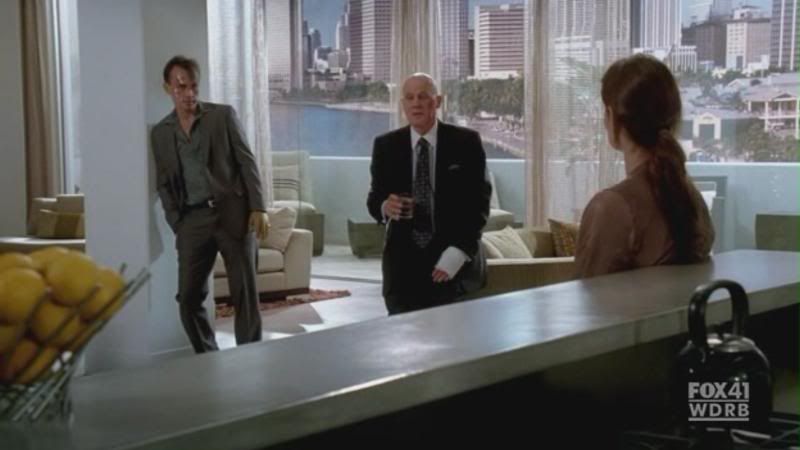 General Pad Man and Dr Sara are having a heart to heart about past mistakes and people's better nature. General Pad Man asks if she ever thinks about the night she left the infirmary door open and all the lives that would have been saved if she hadn't.

He taunts her that once Michael brings Scylla back, it will really all have been for nothing. And that Michael certainly will be bringing it back cos his heart always betrays his better judgement. Dr Sara agrees, cos if Michael had used his better judgment the night he stole Scylla, he'd have just killed General Pad Man.

This pisses off General Pad Man, who is apparently more sensitive than we realised, and he storms off, leaving her in the care of T-Bag.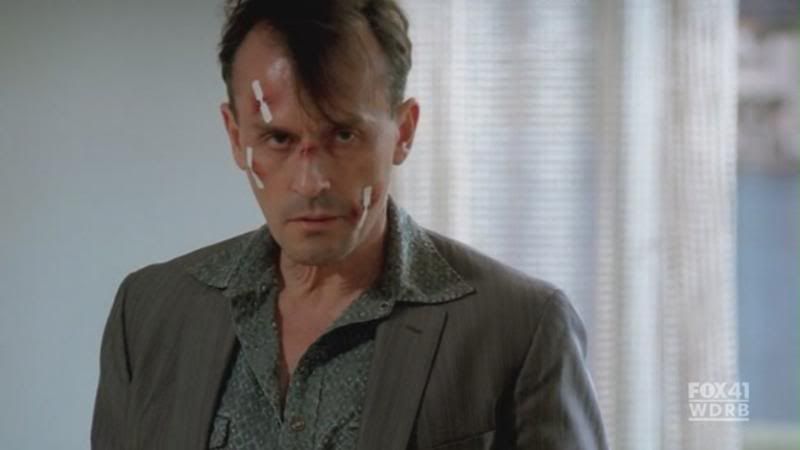 Who is looking particularly creepy today.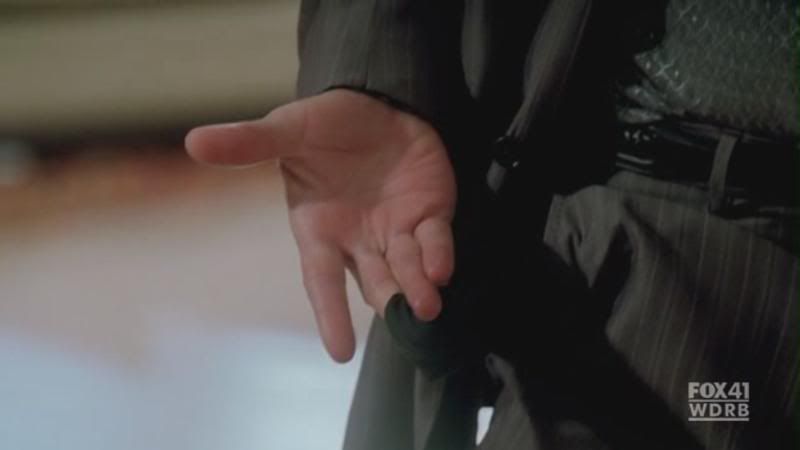 He tells Dr Sara to take his pocket, which is a neat reference to season one. Dr Sara looks suitably disgusted.

~*~

Location: Abandoned Building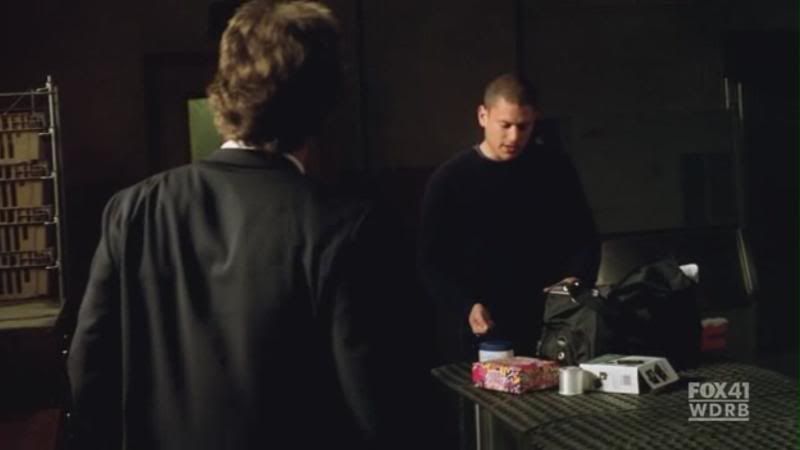 Michael is busying himself making some bombs while Mahone suggests that maybe he might consider just giving Scylla to Christina Rose.

Michael is confused since Mahone has been all about giving Scylla to General Pad Man. Mahone says that he's trying to find a way to save all their loved ones, including Pam and LJ, who are currently in the sights of Company Assassins like the one who took out Self's wife.

Michael is insistent that he will save everyone.

~*~

Location: Chicago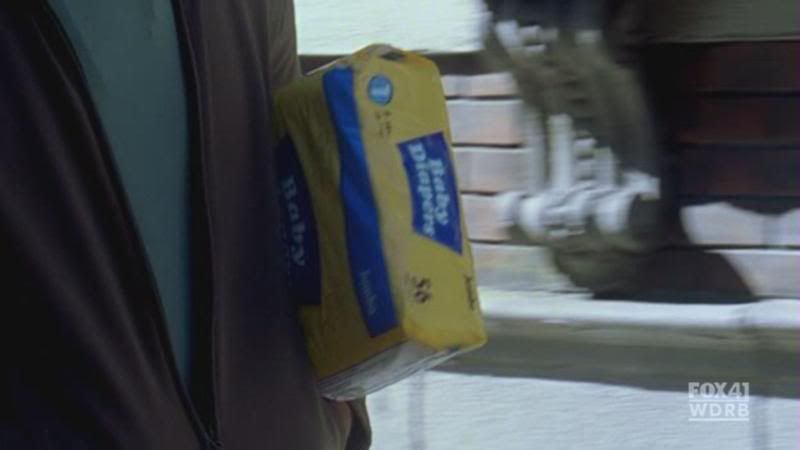 Someone has been buying "Baby Diapers".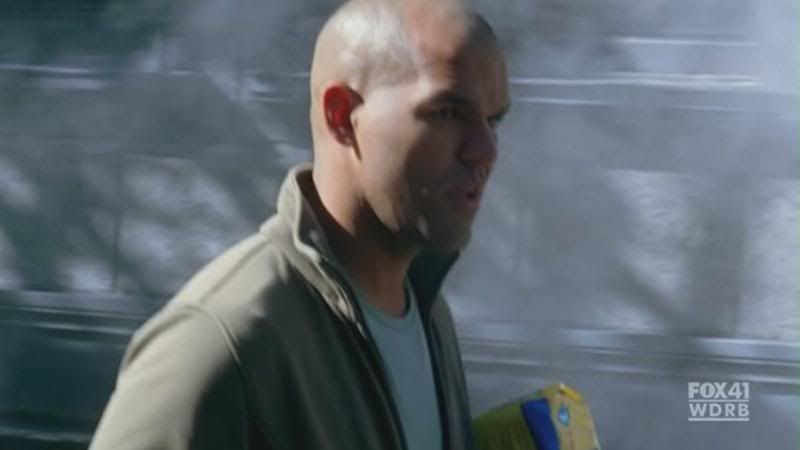 That someone is Sucre! My beloved Sucre! I knew we couldn't have seen the last of you!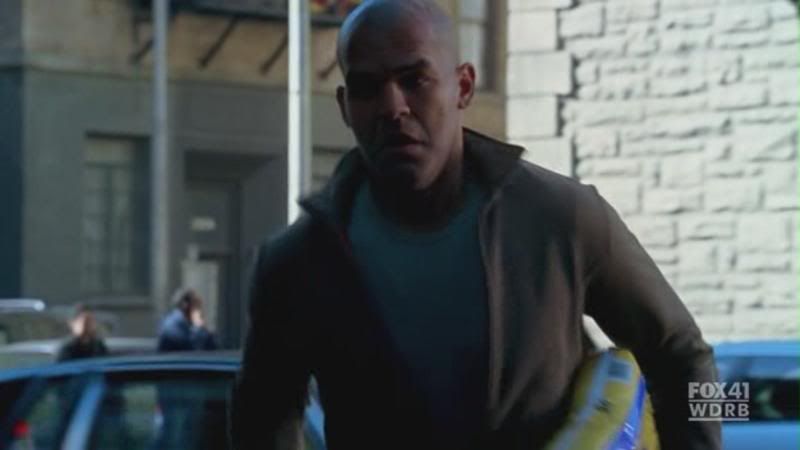 My beloved Sucre is spooked by a strange car following him and he runs into an alleyway.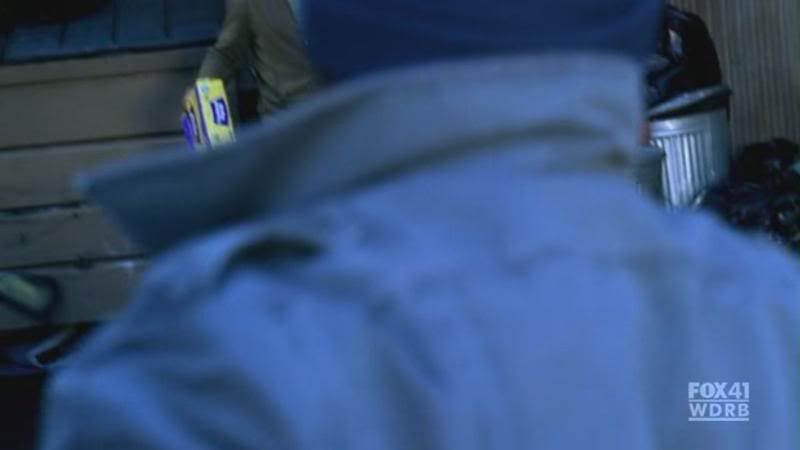 This conveniently hidden man steps out.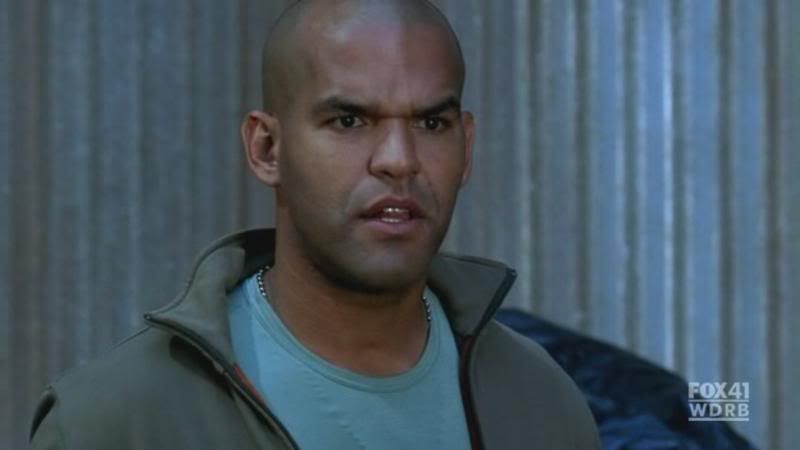 And Sucre is clearly more surprised than scared.

~*~

Location: Miami Hospital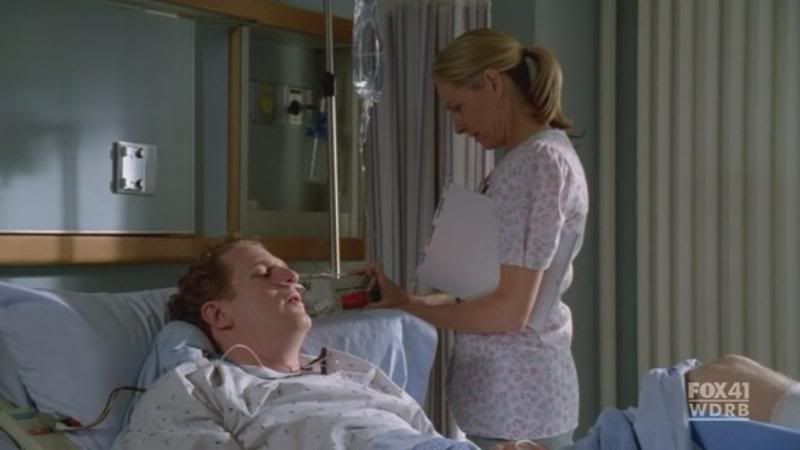 This is where Don Self ended up after his broken fish impression last episode. As soon as he returns to consciousness he realises that he needs to get out of this place. The nurse informs him that that might be difficult, since he has two men waiting to see him. Men with Badges.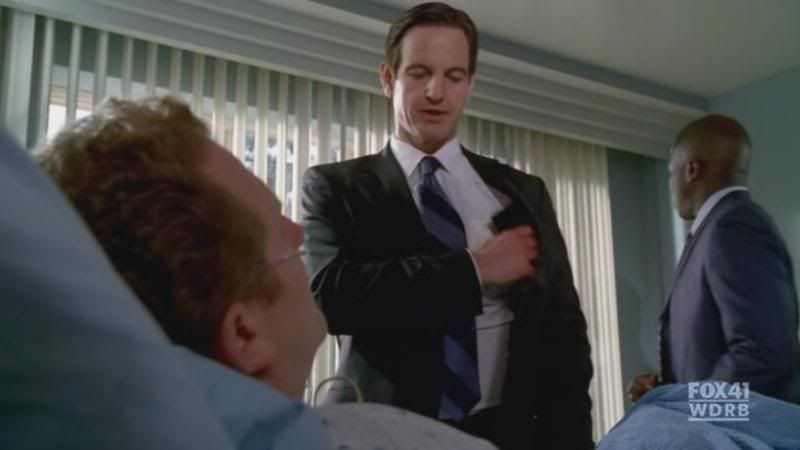 The Men with Badges would like to know the location of Michael and Lincoln.

~*~

Location: Dock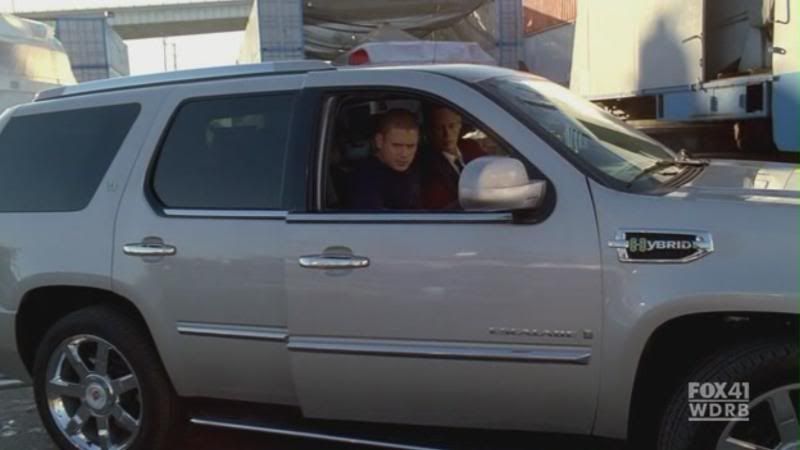 Mahone drops Michael off for his meeting with his mother.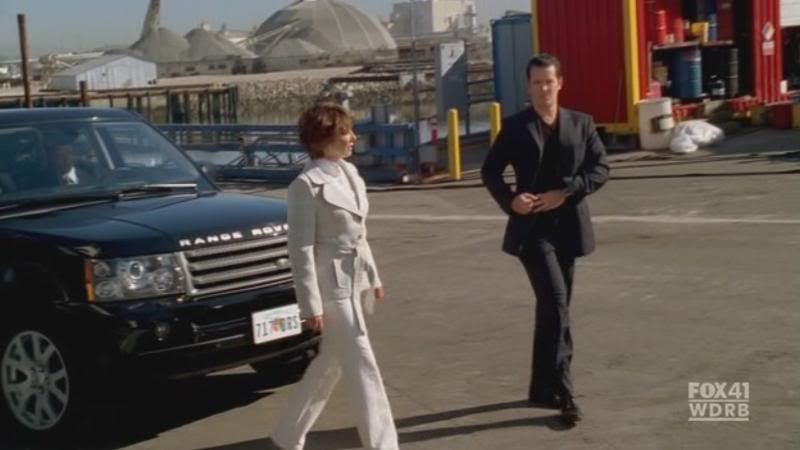 And Christina Rose and Andy arrive together. Christina Rose tells Andy that if Michael tries anything to take out both knees. And once they have Scylla, to kill Lincoln.

You are a cruel, cruel mother. And evil.




To make matters more complicated, Cletus here has recognised our hero and phones the police to let them know that he's just seen "one of them guys from the news."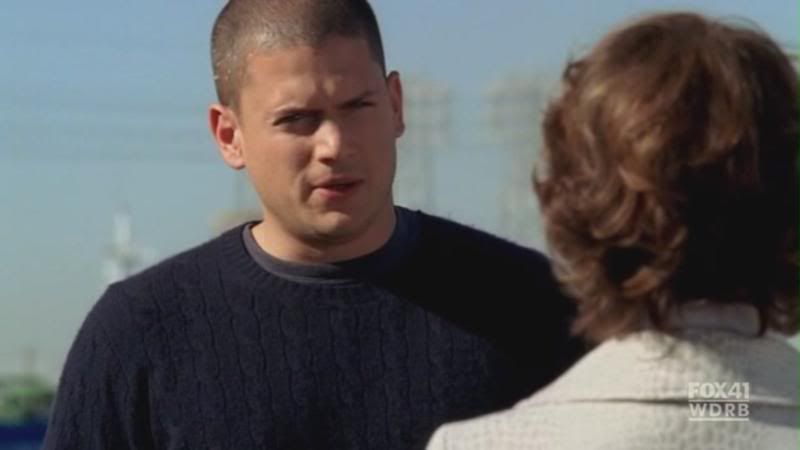 Michael and Christina Rose meet up, neither believing that the other came alone. Neither being incorrect.

Michael wants proof that Lincoln's alive before they continue any further.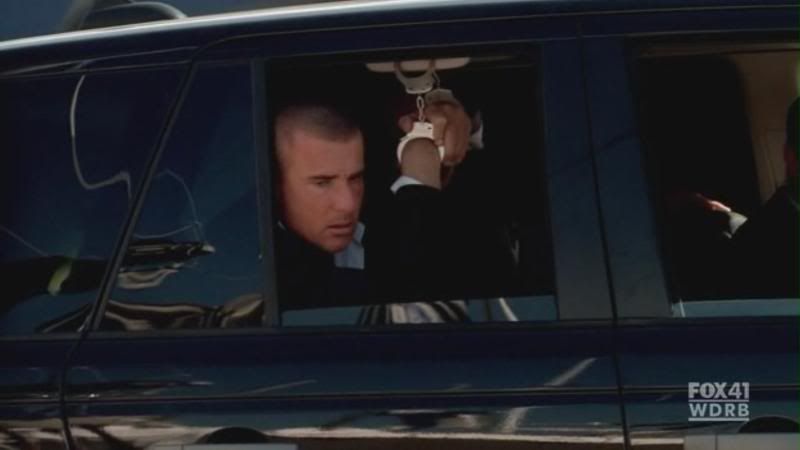 As requested.




Michael walks backwards getting Christina Rose to follow him. He carefully steps over the wire but Christina Rose stops before walking into it herself. The police arrive and Christina Rose shouts for Michael to give her Scylla. Michael tells her to come and get it.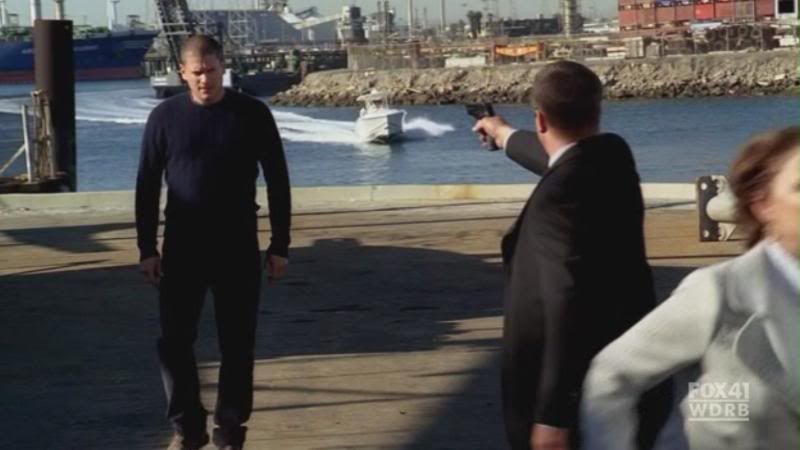 Christina Rose sends one of her goons instead.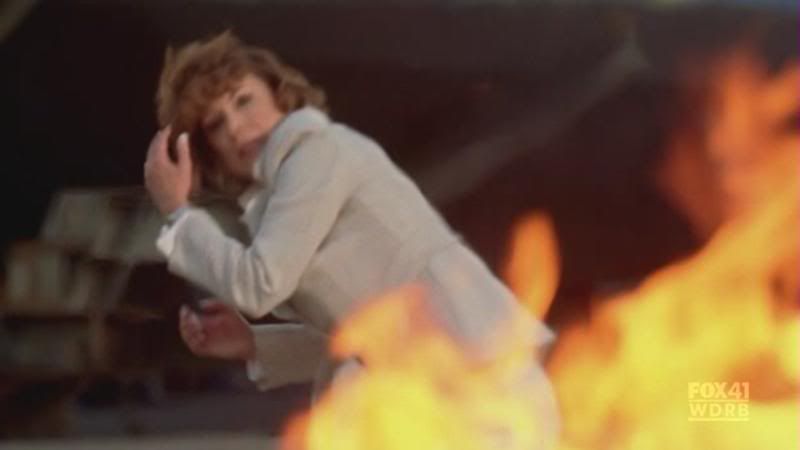 And he ends toasted in the explosion intended for mummy dearest.




So everyone walks away unhappy. Christina Rose still has Lincoln and Michael still has Scylla.

~~

Location: Chicago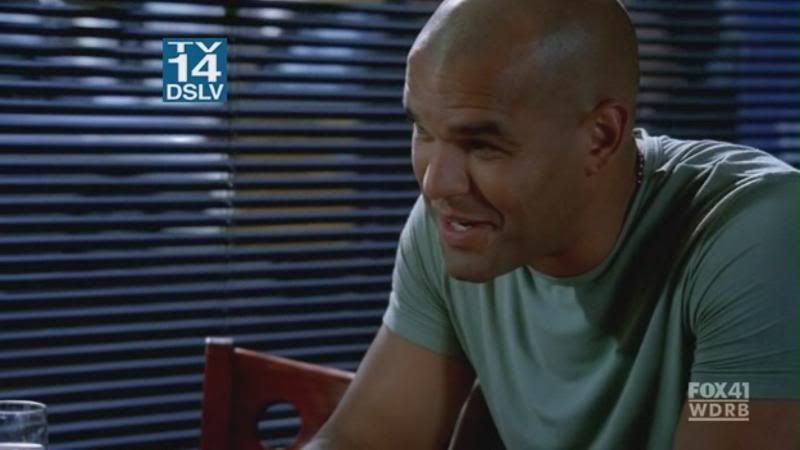 Sucre his talking to his mystery visitor. Who could it be?




It's C-Note! Oh, this episode is so awesome already.

C-Note explains how his deal with the FBI fell through when Mahone upped and disappeared and he's back in the same situation he was two seasons ago. He wants to know where he can find Michael and Lincoln.

Sucre absolutely refuses to help him sell out his boyfriend to the feds.

~*~

Location: Miami Hospital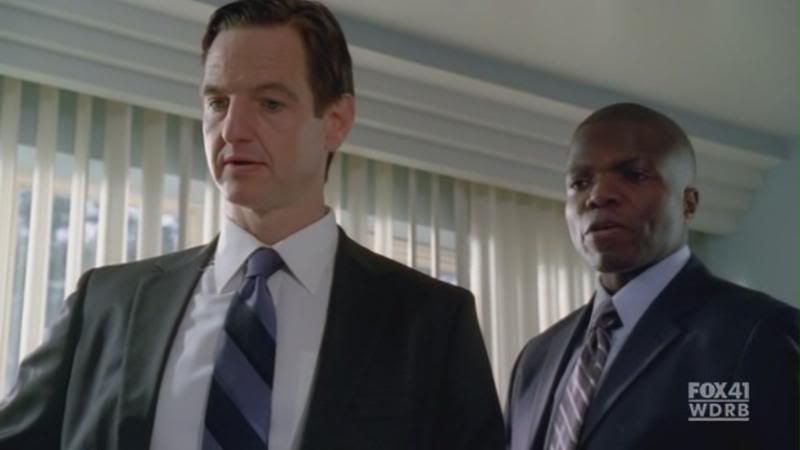 The Men with Badges would also like to know where they can find Michael and Lincoln.

Self once again tries his covert ops story but the Men with Badges are not buying.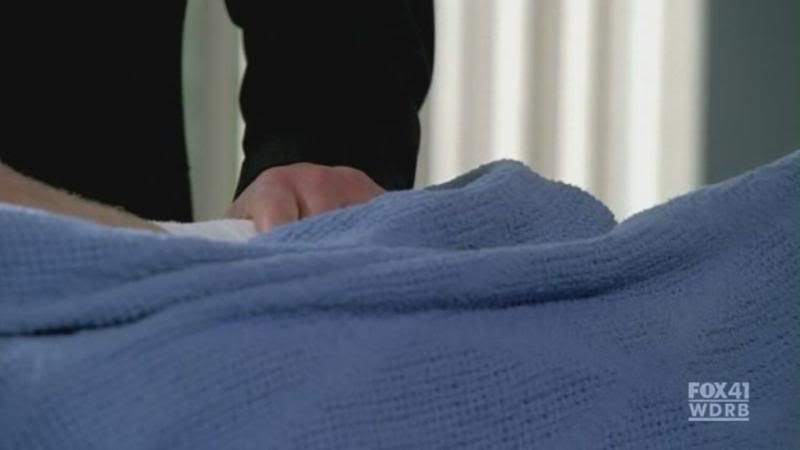 One of the men points out that anyone who impedes a terrorism investigation has no protection under the law against homeland security agents pressing down against compound fractures in their legs.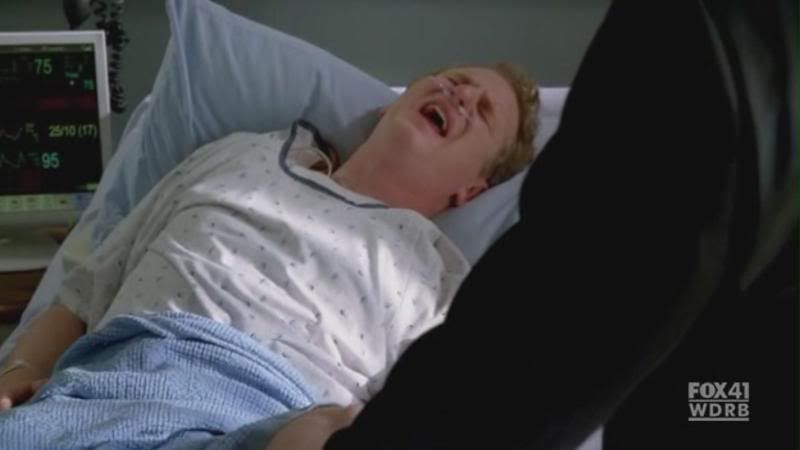 Well, when you put it that way.... Self says he doesn't know where they brothers are but he can find them.

~*~

Location: Christina Rose's Office




Christina Rose takes the opportunity to taunt Lincoln some more. She tells him he won't live long enough to be an uncle, which is a bit of a shock for Linc. The baby thing, that is, not the Christina Rose planning to kill him thing. I don't think her evilness is any secret now.

~*~

Location: Miami Hotel Room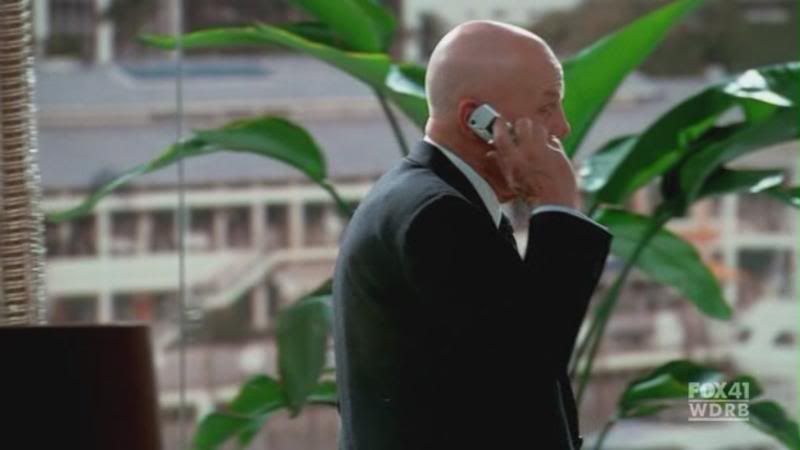 General Pad Man gives Michael a call to find out the status of his delivery. Michael says he's trying, General Pad Man says he's trying not to kill Sara, which would be a lot easier if he had something in his hand other than a gun.

Then General Pad Man lets Michael know that if he doesn't have Scylla in one hour, he's going to unleash T-Bag to "play doctor with the doctor." What a nice way of putting it.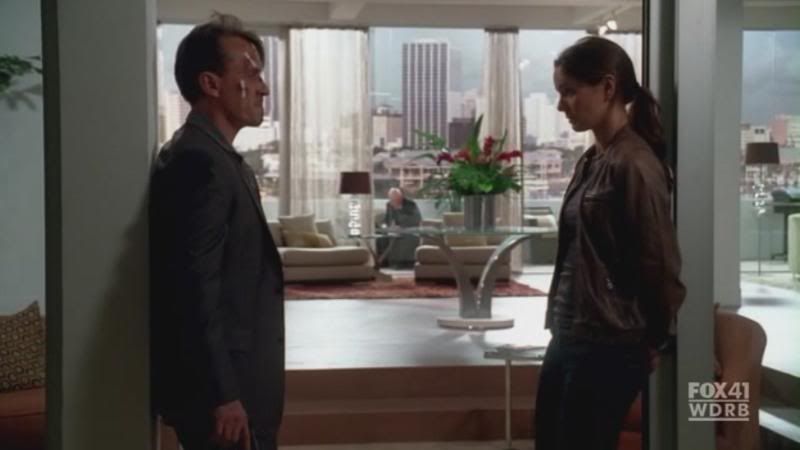 T-Bag is currently playing 'have a conversation with the doctor' with the doctor, which is fortunately less likely to induce vomiting.

T-Bag is whining about how Michael has messed up all of T-Bag's chances for freedom. Yes, T-Bag, it's all Michael's fault. It couldn't possibly be anything to do with you and all that raping and abducting and murdering you did.

T-Bag says this is his last shot and once it's over he'll have a real job with an office and a desk and BUSINESS CARDS! Dr Sara is the one to point out that a huge, wide reaching evil company like the Evil Company would have plenty of qualified employees and no use for someone like T-Bag. Once this is over all he's getting is dead.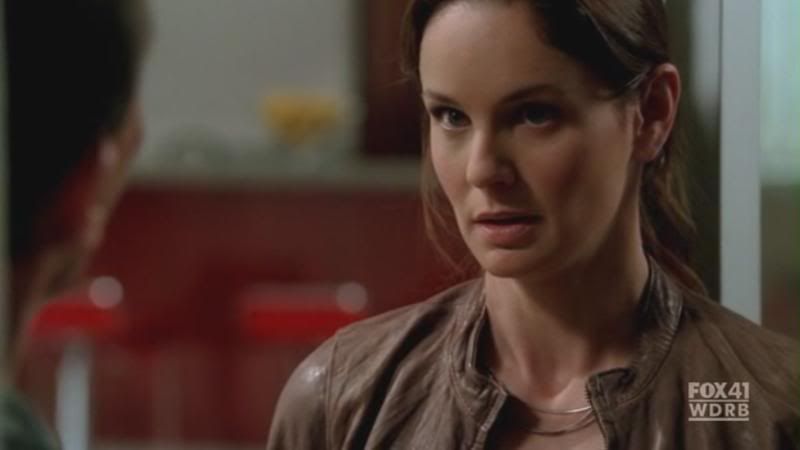 Dr Sara says that if T-Bag helps her escape she'll put in a good word for him with Michael and the slate will be wiped clean. But T-Bag's deep and abiding hatred of Michael Scofield means that will never happen.

~*~

Location: Christina Rose's Office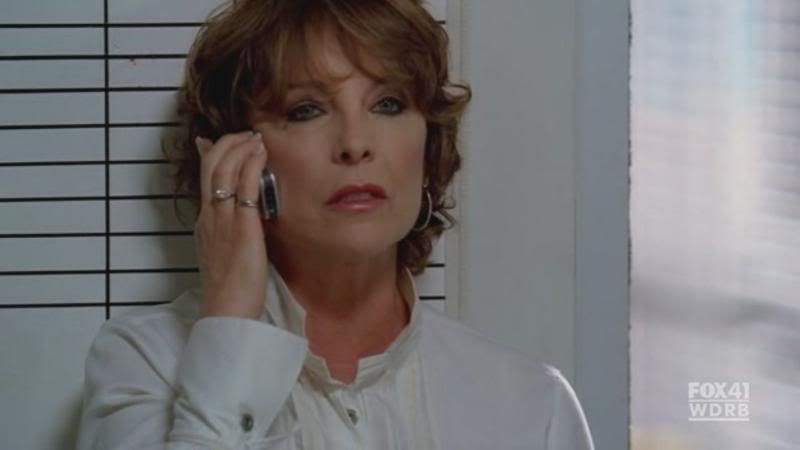 Michael calls Christina Rose to check on Lincoln. Christina Rose isn't too happy about her son trying to blow her up and says that she's always been able to tell when he was lying and will always be one step ahead of him.

Michael wants to talk to Linc. Christina Rose says he's in no position to be making demands but Michael points out that if Linc dies, he has no reason to give her Scylla and will be in exactly that position.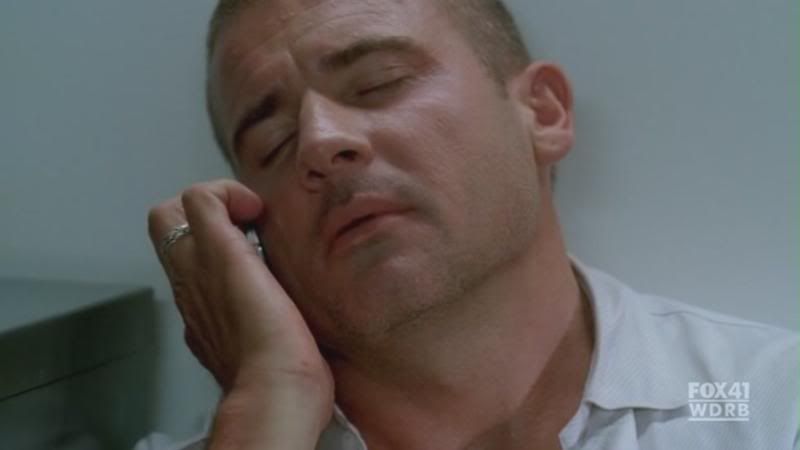 Michael wants to know if Linc can tell him anything about here he is. Lincoln doesn't know, but he does tell Michael that Dr Sara is pregnant. He tells him to save her and let him die knowing he did this thing for his brother.

Christina Rose snatches the phone back.




And Michael is shocked.

~*~

Location: Abandoned Building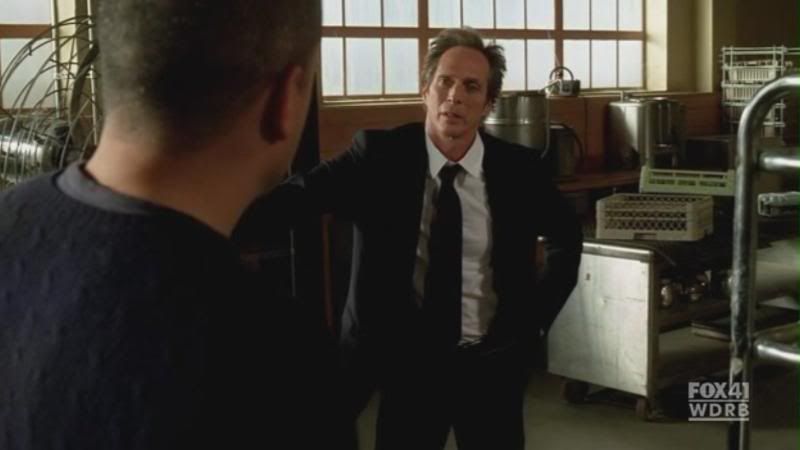 Mahone still wants to know what the plan is to save Pam as well. Michael says he's done with plans. The two boys fight and Michael says that if there's anything Mahone needs to do to protect Pam, he should do it.

~*~

Location: Christina Rose's Office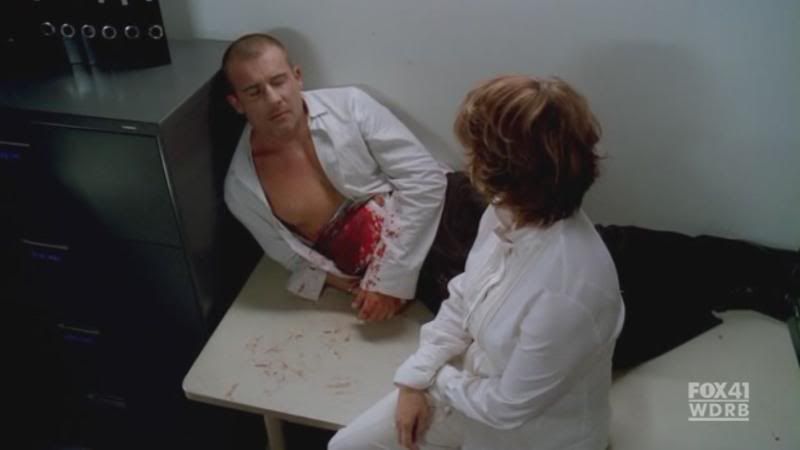 Christina Rose just can't get enough of taunting Lincoln. It's like she's addicted to it. She says the people have asked her how she could watch her son on death row. Simple, he's not her son and she's never cared about him.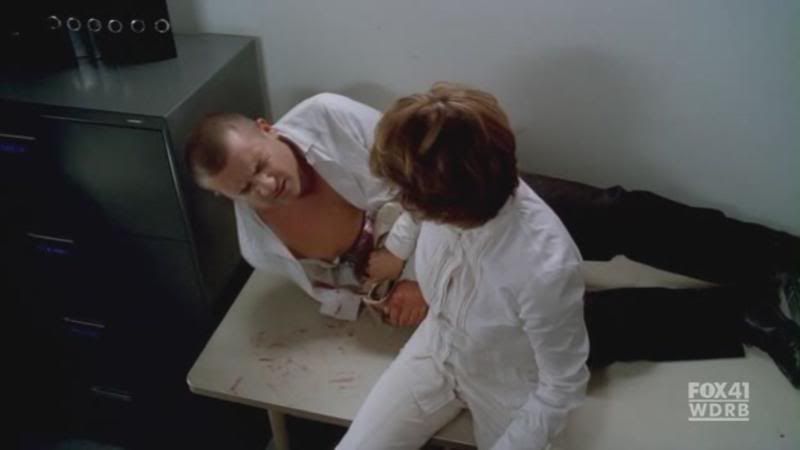 As evidenced by her willingness to stab him in his bullet hole with her shoe.

~*~

Location: Miami Hospital




The men with badges have come to a deal with Self about immunity in exchange for the brothers. But Self insists on having it in writing from the attorney general because he doesn't trust anyone who says they work for the government.

Makes sense when you consider how he himself screwed Michael and co over with false promises of exoneration.

~*~

Location: Chicago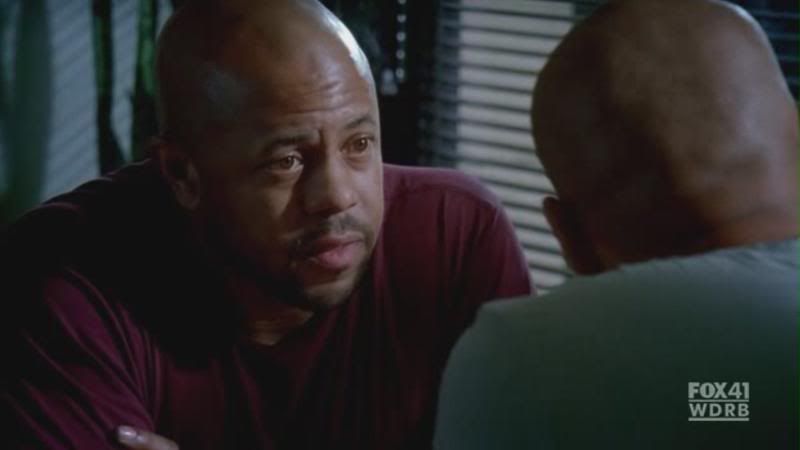 C-Note says that Sucre's got it all wrong and he wants to help the brothers. He just want Sucre to get them on the phone and they can decide for themselves. He says that "this guy" sought him out and wants to get "this device thing" into the right hands and once that's done he has the power to erase their entire records and give them all their freedom.

Who could this magic man be?

~*~

Location: Christina Rose's Office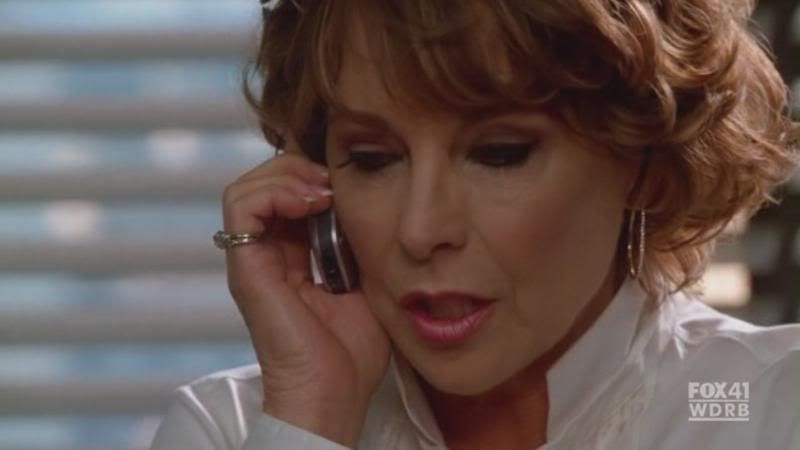 Christina Rose is on the phone with Nandu, trying to convince him that she will totally be sending him Scylla if he could just wait just a few more hours.




It doesn't go well.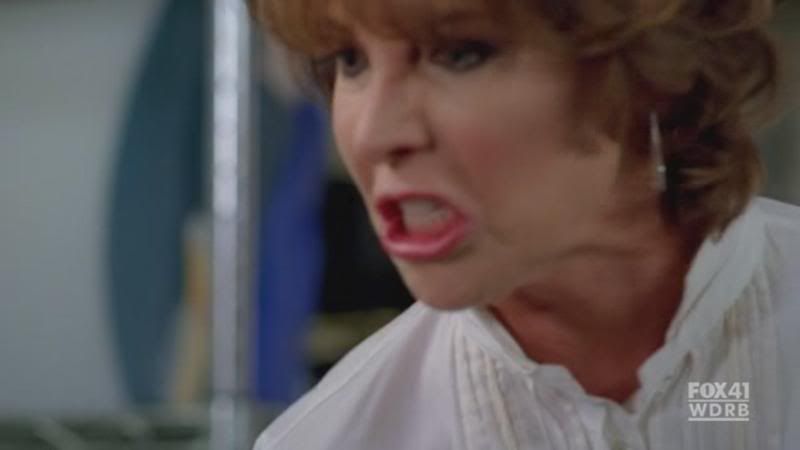 She storms back in to where she's holding Lincoln, shouting that he cost her three quarters of a billion dollars.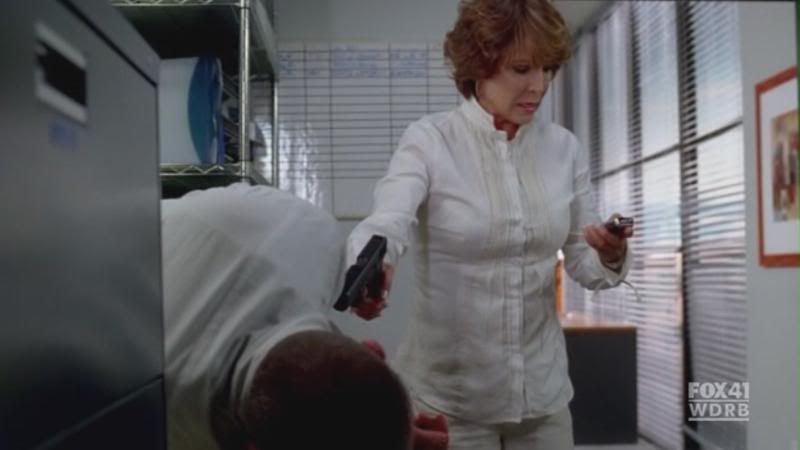 She's about to shoot him when she gets a phone call...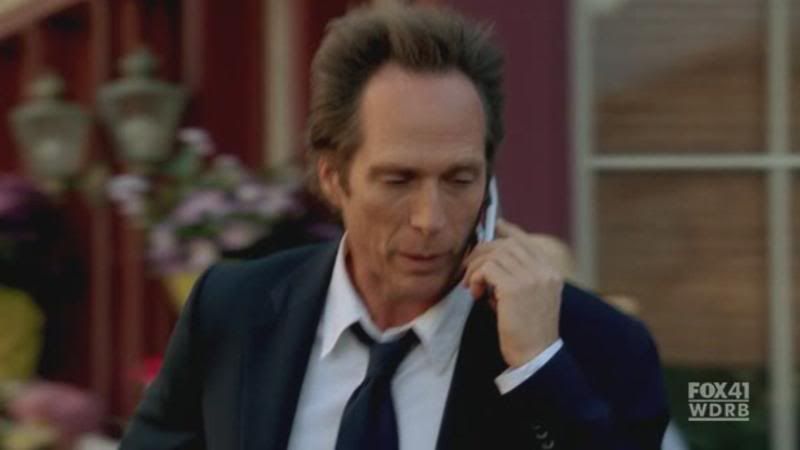 From Mahone. He tells her that Michael is planning to give Scylla to General Pad Man, but he'll get it for her if she can get Pam away from whoever is watching her. He'd also like Lincoln as part of the deal, as he did help him track down the man who murdered his son. That kind of thing tends to create a bond.

Christina Rose agrees, saying that if Lincoln's still breathing when Mahone brings Scylla he can have him.

Ok, this has to be some elaborate plan of Alex's. He can't really be betraying Michael, can he?

~*~

Location: Miami Hotel Room




T-Bag is being creepy and wrong. Which is not unusual for T-Bag, but I still want him to stop it.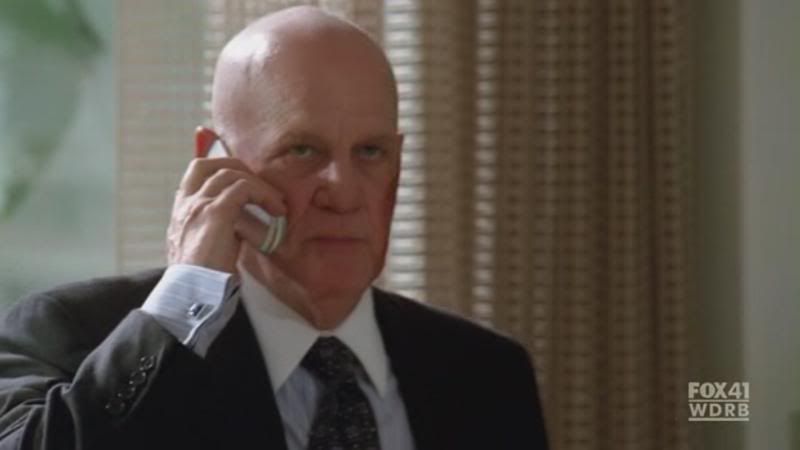 Michael calls General Pad Man to arrange a meeting to swap Scylla for Dr Sara.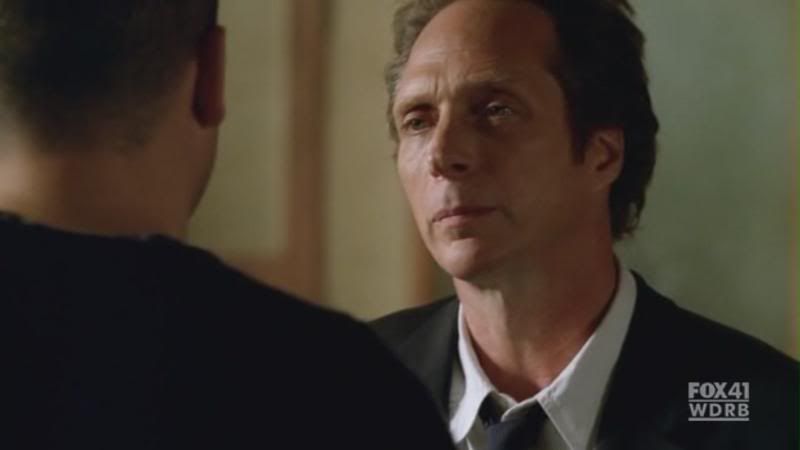 Michael apologises to Mahone for their fight earlier and thanks him for everything he's done for them. Mahone says that he's got Pam covered and hands Michael Scylla.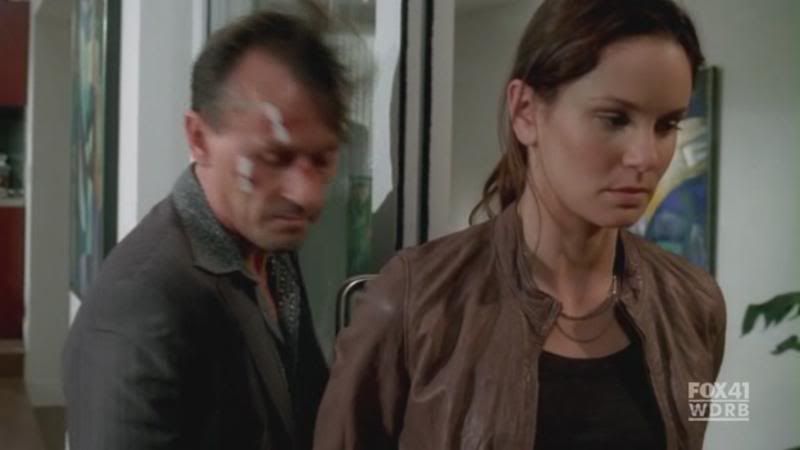 T-Bag begins untying Dr Sara for the handover. General Pad Man asks him what he thinks he's doing and explains that he has no intention of keeping his word. Rather he has a slow death planned for Michael and will be leaving Dr Sara to T-Bag.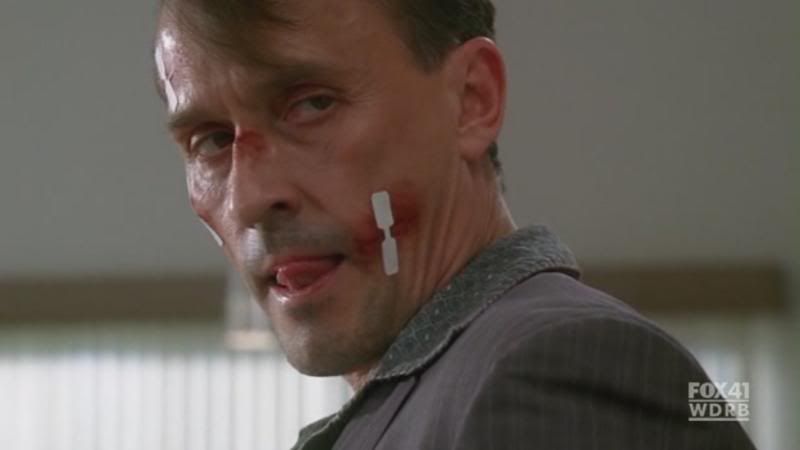 This does not bode well.

~*~

Location: Christina Rose's Office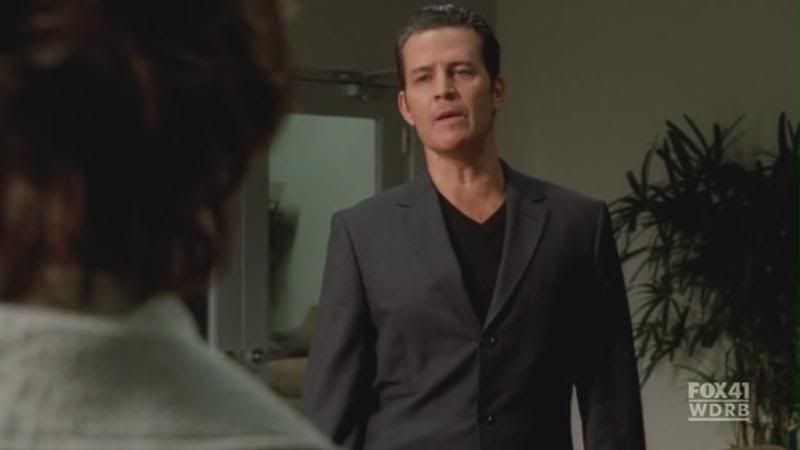 Andy informs Christina Rose that the attorney general has just given immunity to Don Self and wonders if he could be a threat.

~*~

Location: Miami Hospital




Self is calling Michael so the Men with Badges can trace the call. Michael hangs up. The Men with Badges are not happy.

~*~

Location: Chicago




C-Note is taking Sucre to meet the mystery man. He says his name is...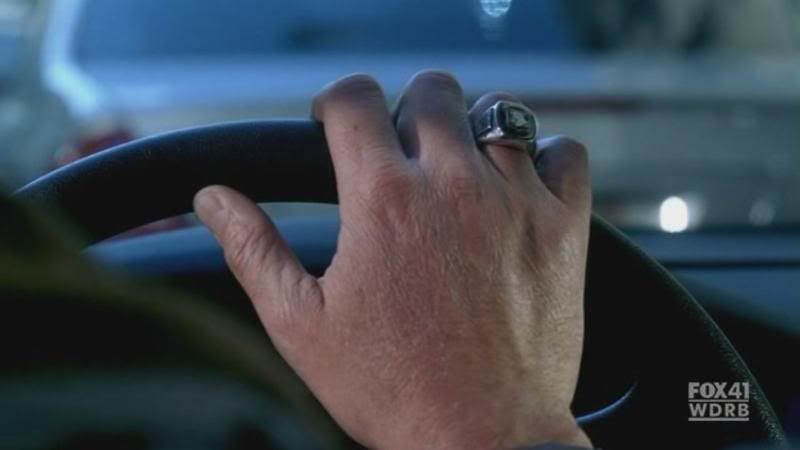 Paul.

Paul? As in Evil Paul? Seriously?

~*~

Location: Miami




General Pad Man is off to get Scylla.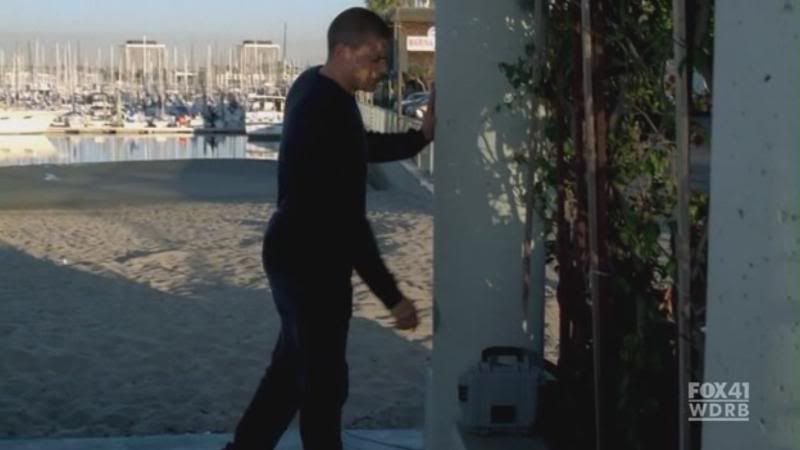 Which Michael is... leaving on a small wall?

~*~

Location: Miami Hotel Room




T-Bag is continuing his creepy, creepy ways. He decides to explain his plan. At first he thought he would get revenge on Michael by just killing him, but now he sees a better way. He says he'll return Dr Sara in one piece, but that piece will be a little used and every time Michael looks at her he'll see T-Bag.

I feel myself riling up for a rape rant but this is not the place for that, so I shall continue.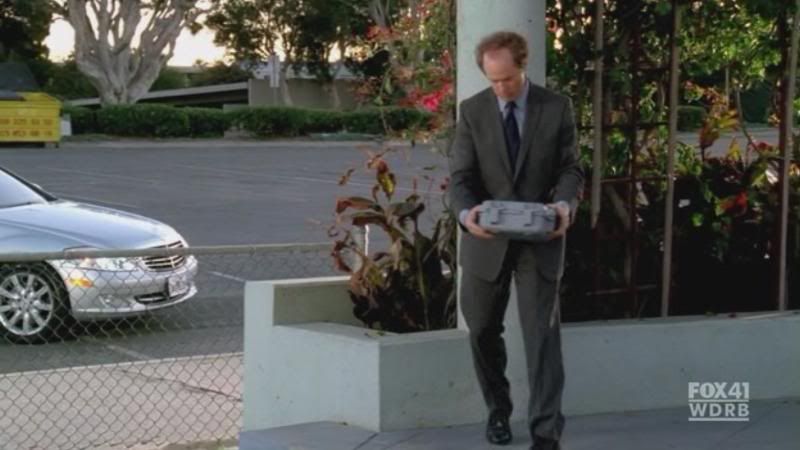 Ralph picks up Scylla from where Michael left it. But where could Michael be?




Scaling the side of the Miami Hotel, apparently. Of course. Makes perfect sense. It's so easy to climb up smooth buildings with nobody noticing you right after major surgery!

~*~

Location: Miami Hospital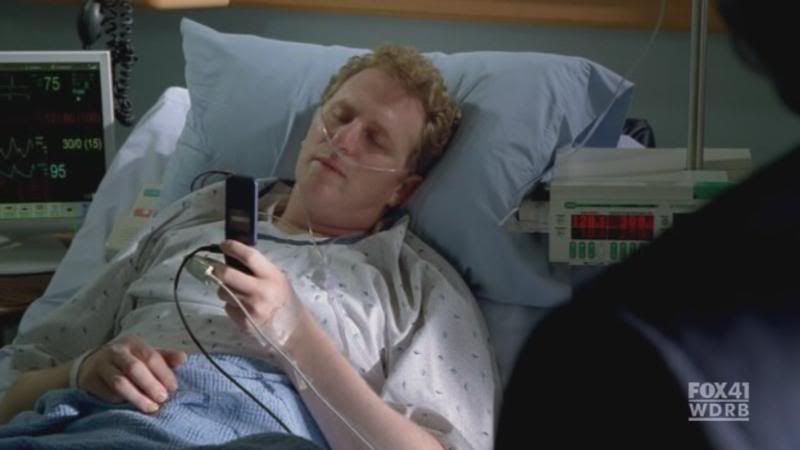 Self is still trying to reach Michael, this time leaving messages asking to call him back, a bit like an obsessed ex-boyfriend. The Men with Badges are still not impressed.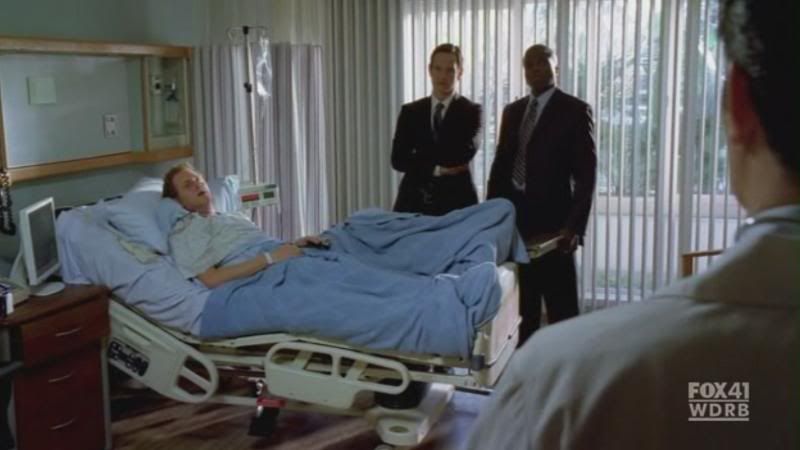 But for now they're ordered outside by the doctor who has to check on his patient.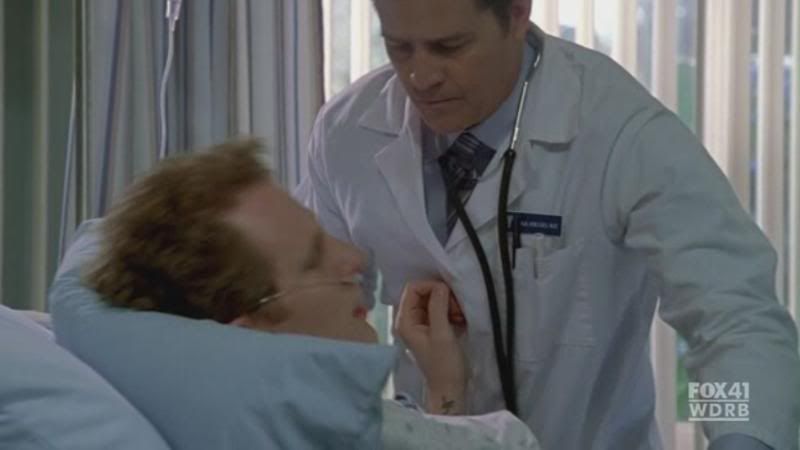 It's Dr Andy! That can't be good.

~*~

Location: Miami Hotel Room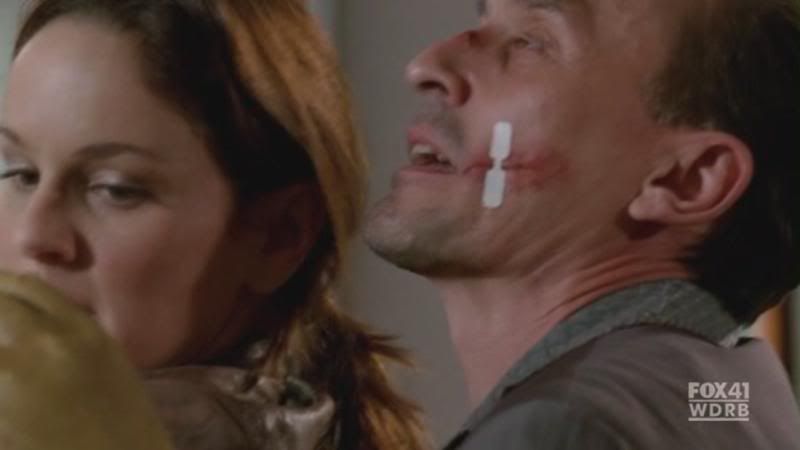 T-Bag just can't get enough of the creepiness.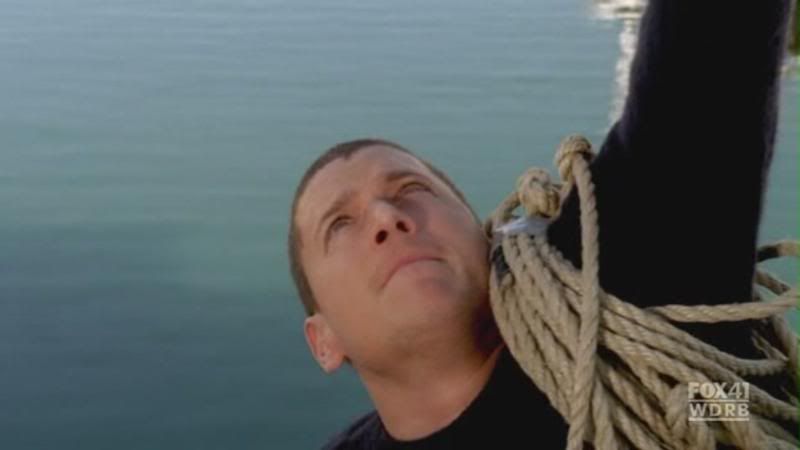 Michael is still on his way up.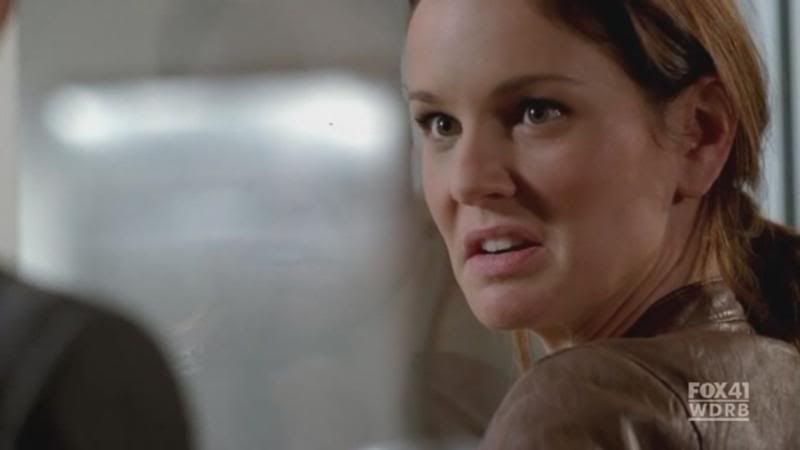 As T-Bag continues to taunt Dr Sara, she turns the tables on him by pointing out that when she was his doctor she read his medical file and knows that he can't... tick. He has neurologic erectile dysfunction, probably caused by his own childhood sexual abuse, and despite all his grand claims of what he's going to do to her, there is very little he can actually do.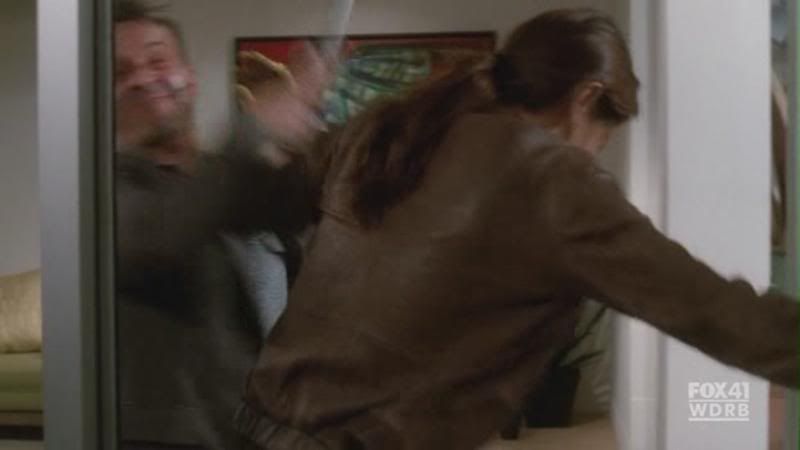 This enrages Teddy and she uses to distraction to attack him with the door handle she's managed to pull off.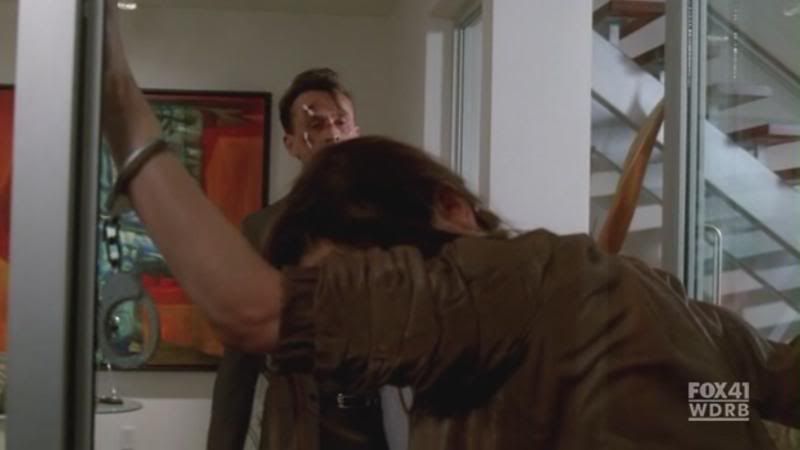 Unfortunately T-Bag has the upper hand, since her other is still cuffed to a different handle. He is highly insulted by her thinking that he is "erectorially challenged" and is about to show her just how functional he is...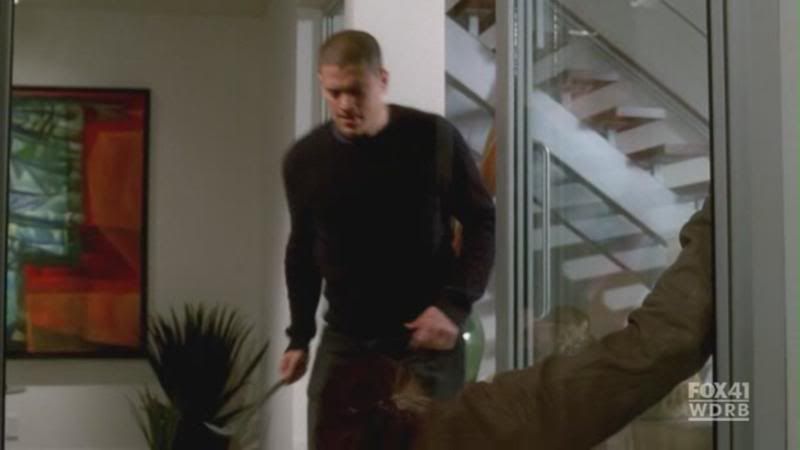 Fortunately for Dr Sara, that's the point at which Michael comes in to save the day.




Enraged by the idea of what T-Bag was planning to do to his girlfriend, Michael is about to kill him but Dr Sara pleads with him not to.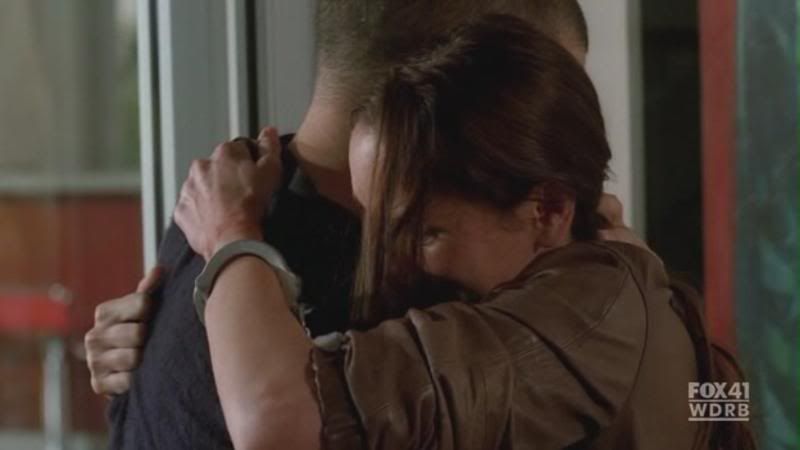 Instead they go for the emotional reunion.

~*~

Location: Outside Christina Rose's Office




Mahone meets with Christina Rose to hand over Scylla. Christina Rose tells him that she has an asset in the Evil Company who was able to access the location of Pam and her bird-dog.

Mahone wants Pam moved to safety before handing over Scylla. Christina Rose wants Scylla before moving Pam to safety. Realising this could take a while, Mahone relents.

~*~

Location: Abandoned Building intercut with Christina Rose's Office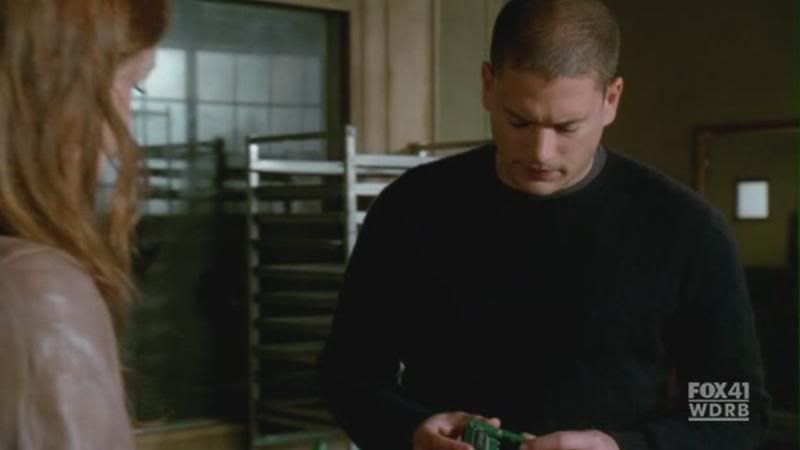 Dr Sara notes that Michael has been busy and asks where the rest of it is.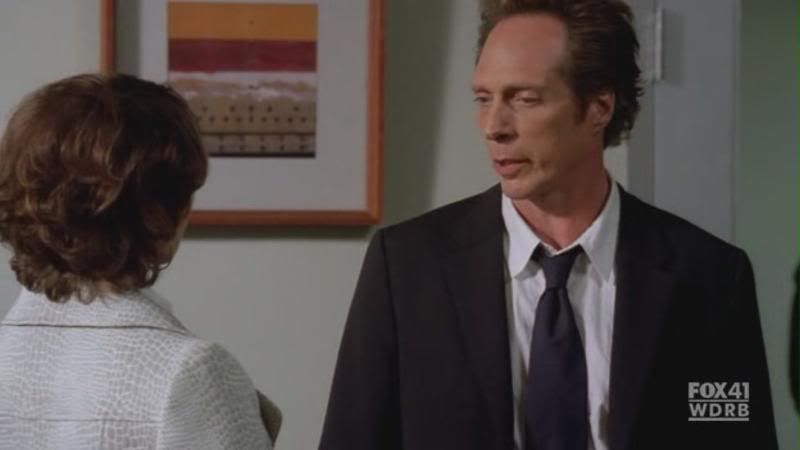 Mahone says that he's kept his end of the deal and demands Christina Rose make the call for Pam's safety and give Lincoln to him.

Christina Rose decides to throw him into the room with Linc instead.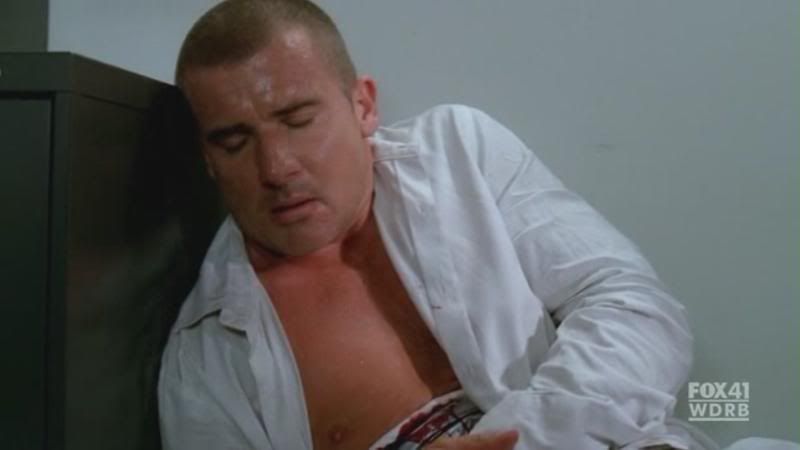 Linc asks Mahone what's going on. Mahone says he's saving Linc's ass.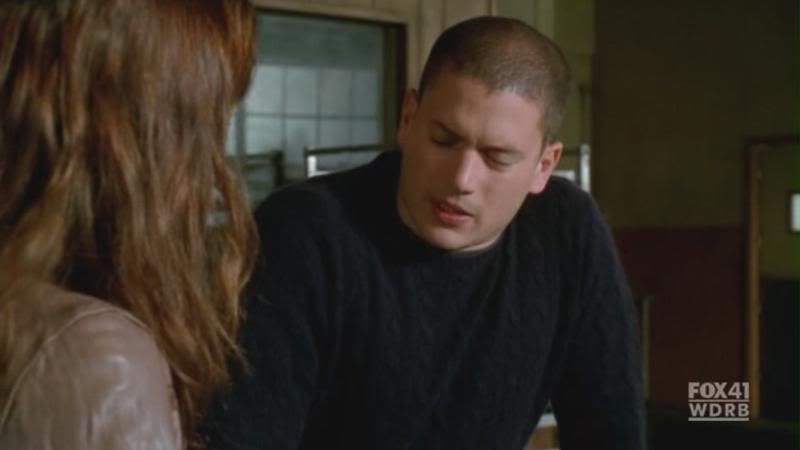 I was right, it was all an elaborate plan. Which Michael will now explain via flashback:




Just as Mahone was leaving, Michael called him back and suggested a way to save everyone. Their problems so far were rooted in the fact that Christina Rose could read Micahel like a book because she knows him. But she doesn't know Mahone.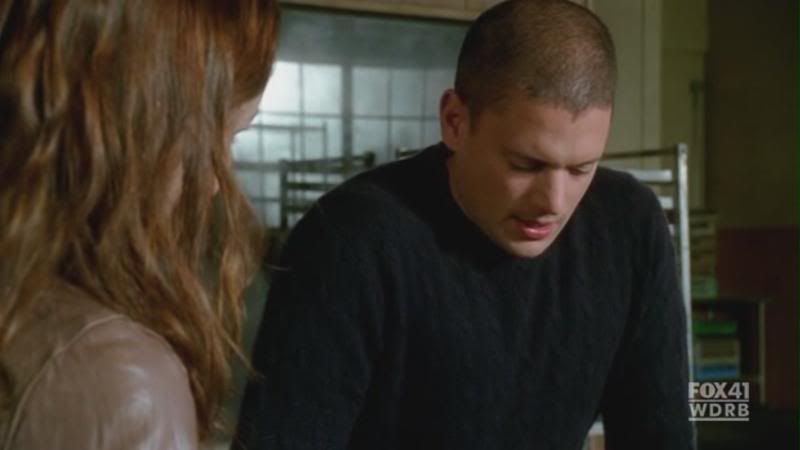 Michael says he knew General Pad Man would never keep his word so he did what he had to do and rescued Dr Sara while sending Mahone off with a Scylla-shaped bomb to end all this.

And once it's all over, he and Dr Sara can start something new. If she's ok with that.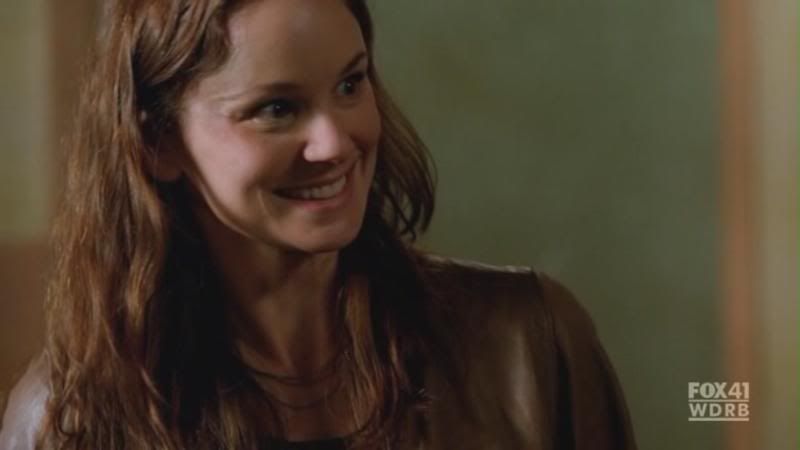 Dr Sara is very ok with that.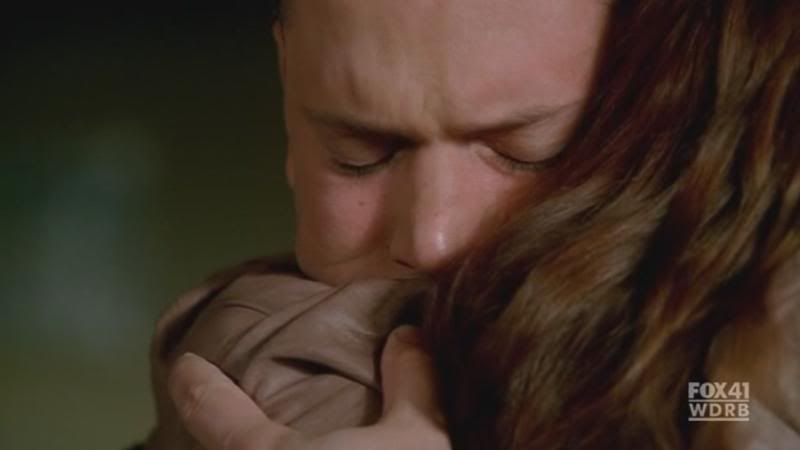 Awwww.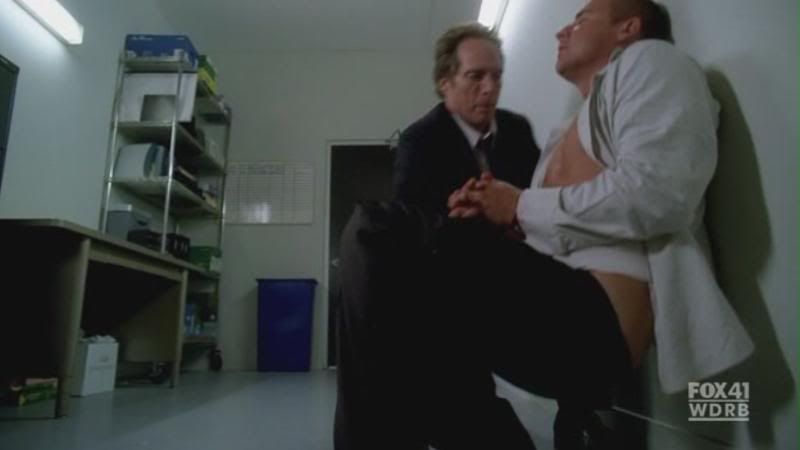 Meanwhile, at the office, Mahone gets Lincoln far away from the door to await the boom.




Christina Rose and Andy realise that there's a problem with Scylla.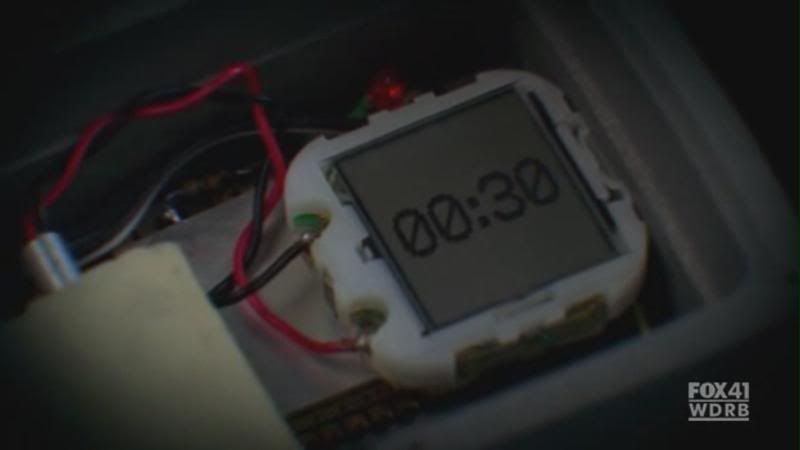 And the timer counts down. That seems far too long a countdown to me, she has loads of time to go and kill Mahone and Lincoln for bringing her a dud Scylla.

~*~

Screencaps by
sky_angel22