Episode 4.20 Cowboys and Indians


Location: Energy Conference Hotel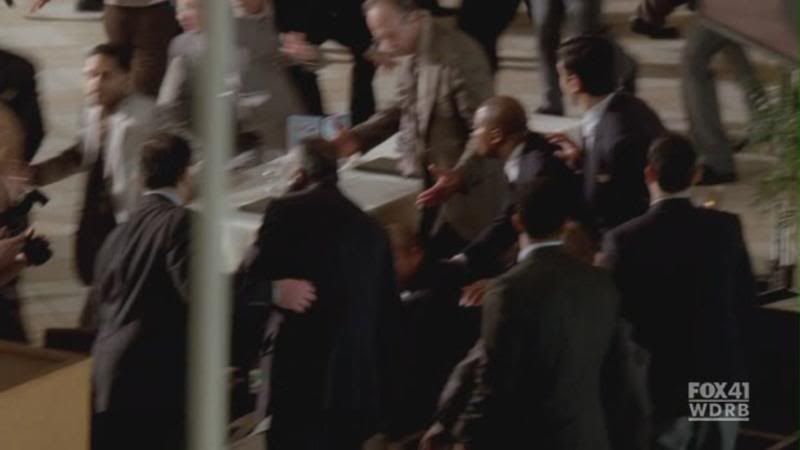 There's screaming and panic and chaos as people try to run away after seeing eminent scientist Naveen Banerjee shot on stage.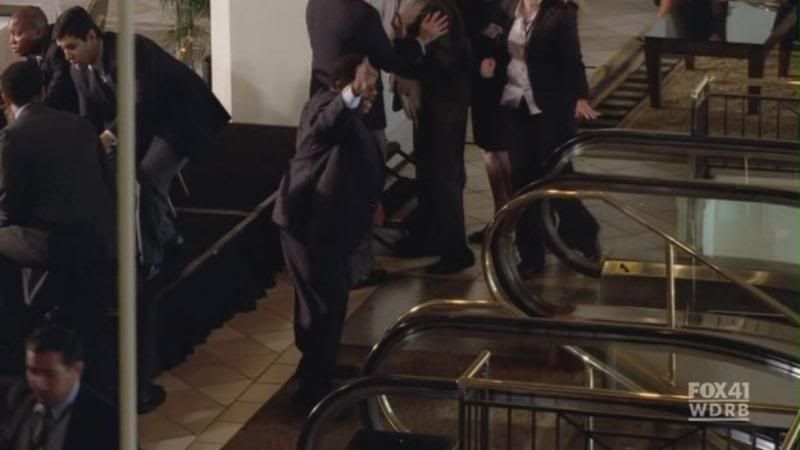 Someone realises that, hey, the shot came from up there, and points the police in the direction of our favourite brothers.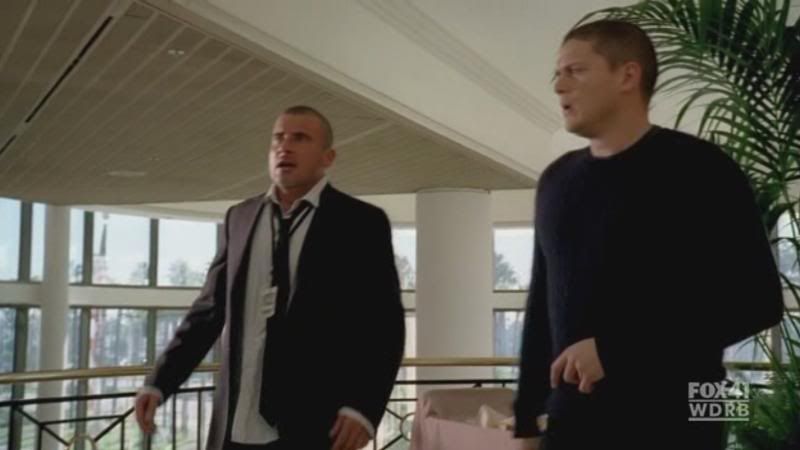 With the police running up the stairs, Lincoln suggests blending into the crowd. Michael, not being an idiot, says that won't work and tries to open the locked door.

Lincoln grabs the gun and shoots the door instead. You go, Lincoln. Get your fingerprints all over that murder weapon.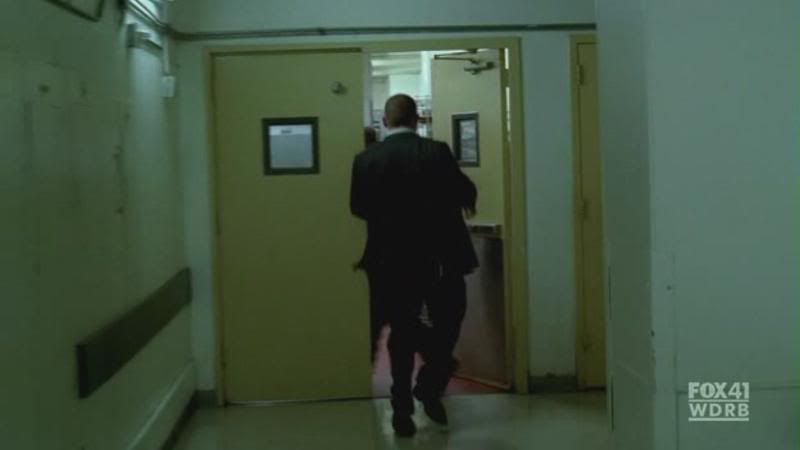 The guys run through the back corridors of the hotel into the kitchen. The police are not far behind.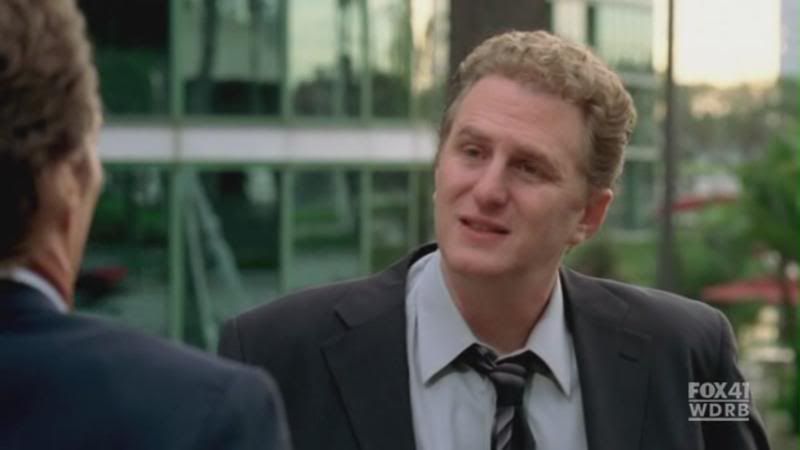 Meanwhile, outside the hotel Mahone and Self are discussing how this has all gone to shit and the risk it could pose to their families should General Pad Man get wind of their failure.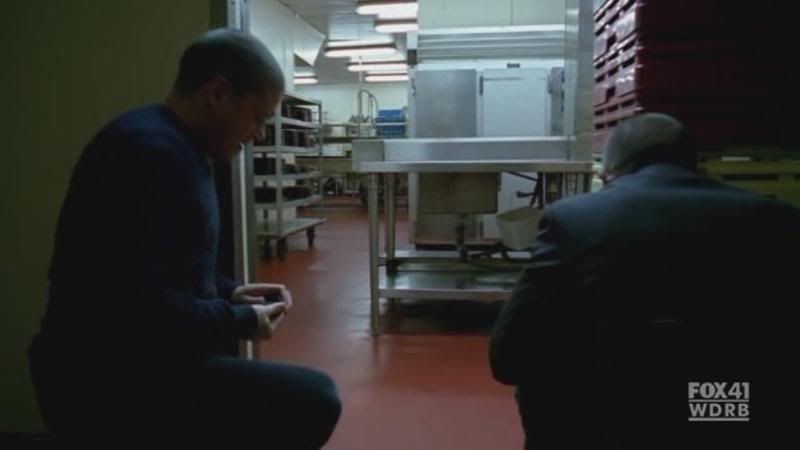 Hiding in the kitchen, watching police go by, Michael decides to call Mahone to ask him the best way out of the hotel without being seen.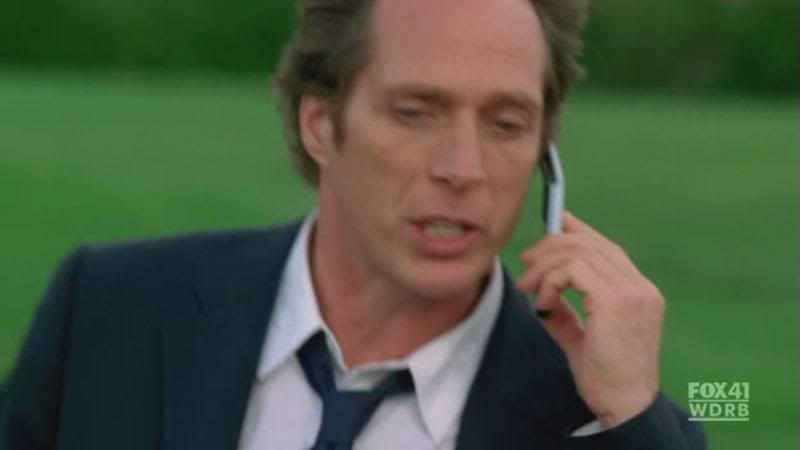 Mahone says that there isn't one, what with the cops swarming all over the place. He is also very unhappy to hear that not only did they get set up for murder, they still don't have Scylla and takes the opportunity to remind Michael how much they NEED this thing and how much their lives will suck if they don't get it.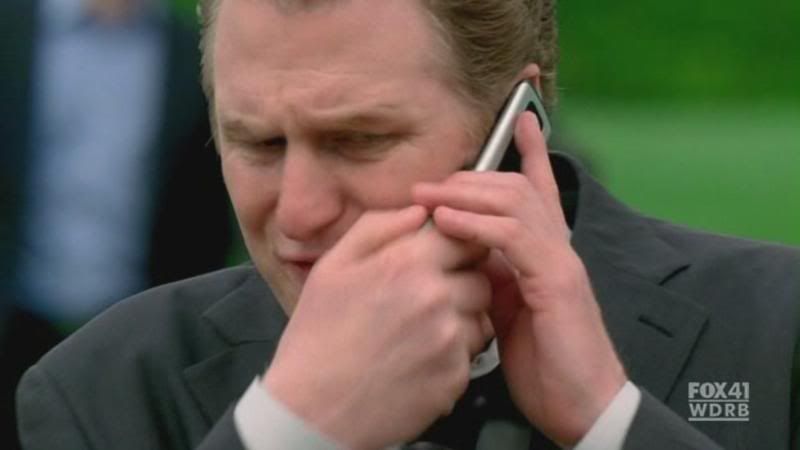 With Mahone not being helpful to the current situation, Self grabs the phone and takes over.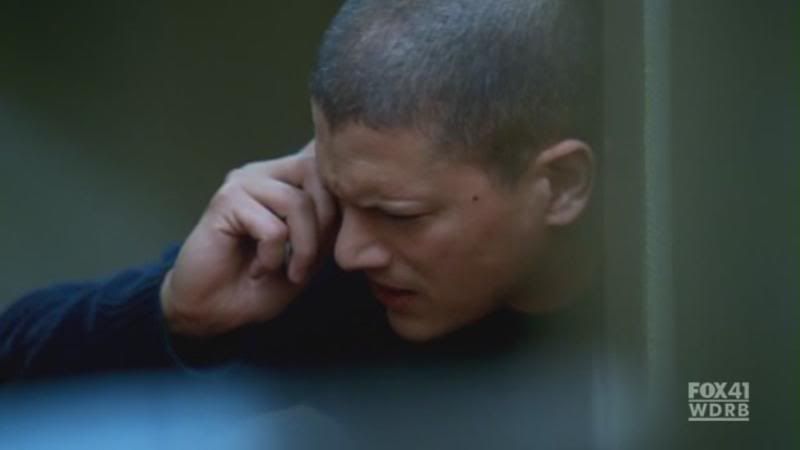 Michael is not impressed to hear his voice. I'd forgotten that Mike had been away when Self became part of the group again.

Anyway, Self tells him that the southwest loading door is not considered to be a good getaway exit and thus only has one cop on it, who Self can take out. Unfortunately it's on the other side of the hotel to the kitchen, so getting there will be fun.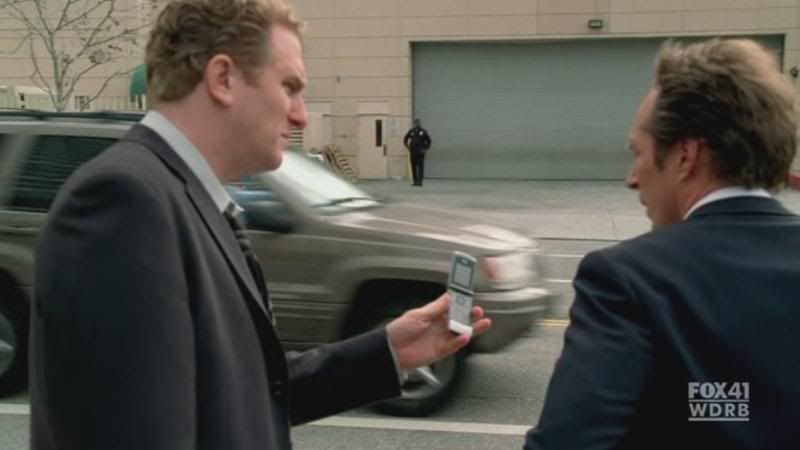 Michael asks to be put on speaker so he can tell Mahone to go to the condo where Dr Sara is holding Christina Rose hostage and get her to tell them where Scylla is. Linc butts in to tell Mahone to do whatever he has to to get her to talk.

~*~

Location: Miami Hotel Room




General Pad Man is watching the news. He is not happy to hear about how Lincoln Burrows and his mastermind brother Michael Scofield have just assassinated the son of the prime minister of India.

Or maybe it's the tainted ground beef story scrolling across the bottom of the screen that's upset him so.

No, it's the fact that Christina Rose sandbagged them all.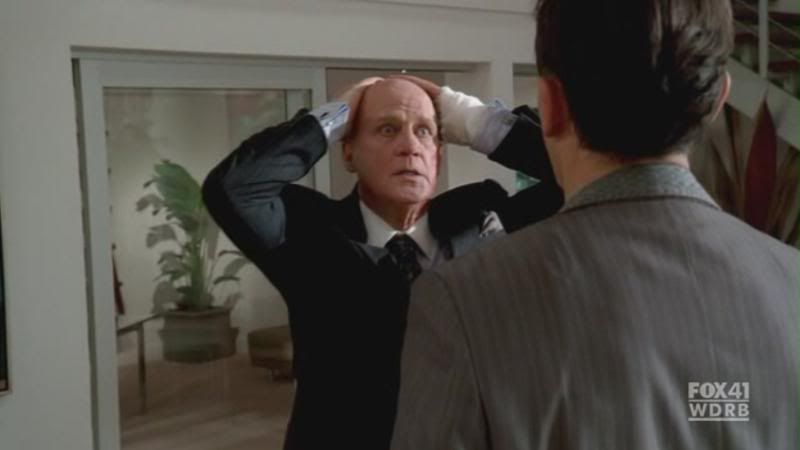 General Pad Man is going a bit crazy. Uh oh.

He orders Ralph to the hotel to see that Michael and Lincoln get away safely and without talking to any police officers. T-Bag offers to go instead but, as General Pad Man put it, "This is not an Alabama coon hunt, Teddy!"

Yep, crazy.

T-Bag points out that, despite all evidence to the contrary, he is more than a snitch. He did run an entire prison gang syndicate and General Pad Man would do well not to underestimate him.

~*~

Location: Energy Conference Hotel




A helpful employee has left their card lying around. Michael swipes it and the boys head towards the roof, easily escaping their police pursuers into an upper level corridor.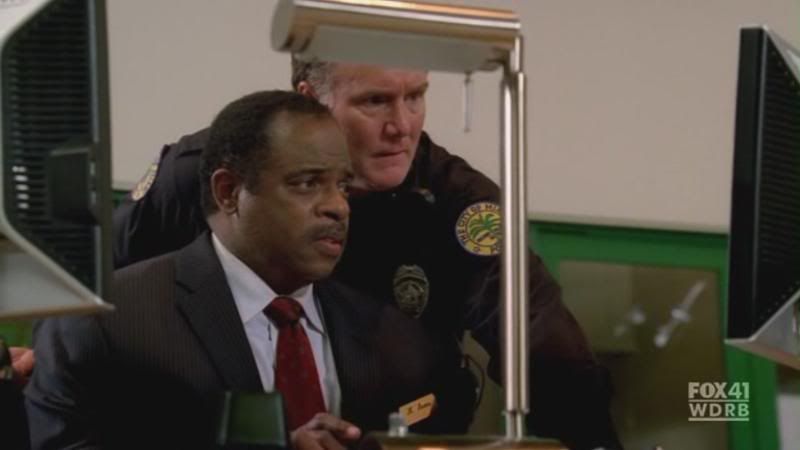 Downstairs, the police chief orders the hotel manager to lock all the doors, which is easily done now everything is electronic.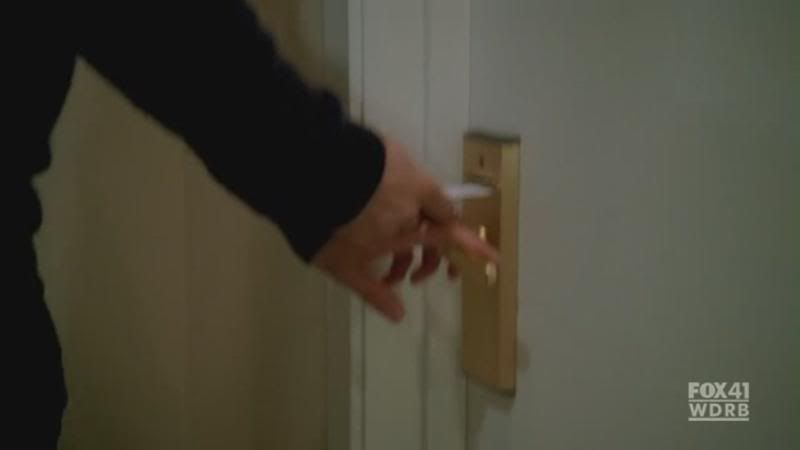 Blissfully unaware of this, Michael explains how the plan is to get into the air ducts above the top rooms and out onto the roof that way.




Oh dear. They're trapped.

~*~

Location: Christina Rose's Hotel Room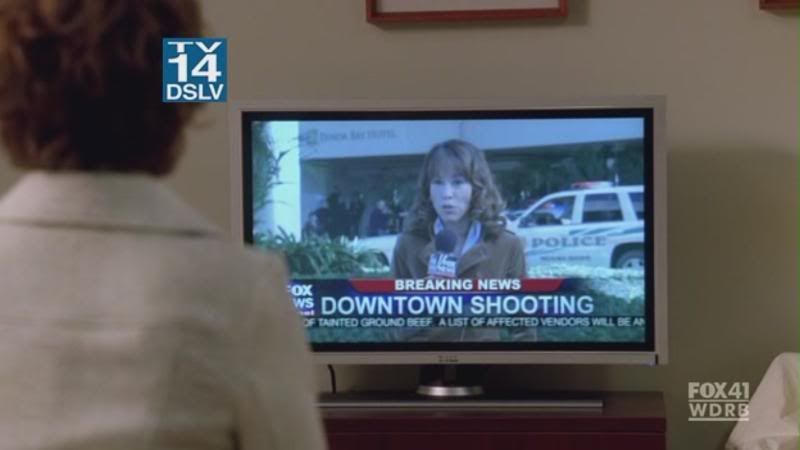 Christina Rose is watching the latest update on the news. Apparently an anonymous source has provided documents showing a wire transfer from Chinese operatives to Michael and Lincoln.




Andy comes in with some flowers (he's such a good son) and tells Christina Rose that the Indian prime minster wants to see her. Christina Rose compliments Andy on the Chinese documents but wishes that Michael wasn't included in the fallout.

Oh, please. This is all your doing Christina Rose. You don't get to act concerned now.

~*~

Location: Energy Conference Hotel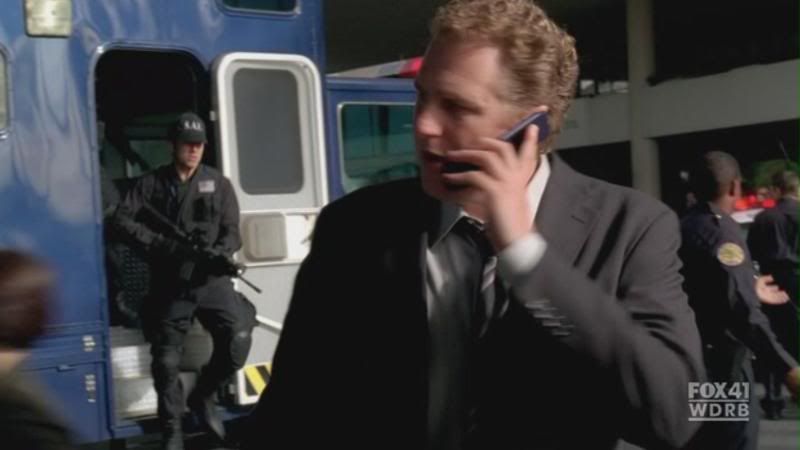 Self is helpfully telling Michael about the shitloads of cops who've just arrived and will surely be arresting his ass in a matter of minutes. Michael orders him to find out what their plan is.




So Self flashes his magic badge and demands to know what's going on. As is usual on these kind of shows, the policeman doesn't appreciate a government official butting in and interfering with his job, but explains that they plan to knock the brothers out with a colourless, odourless gas.

~*~

Condo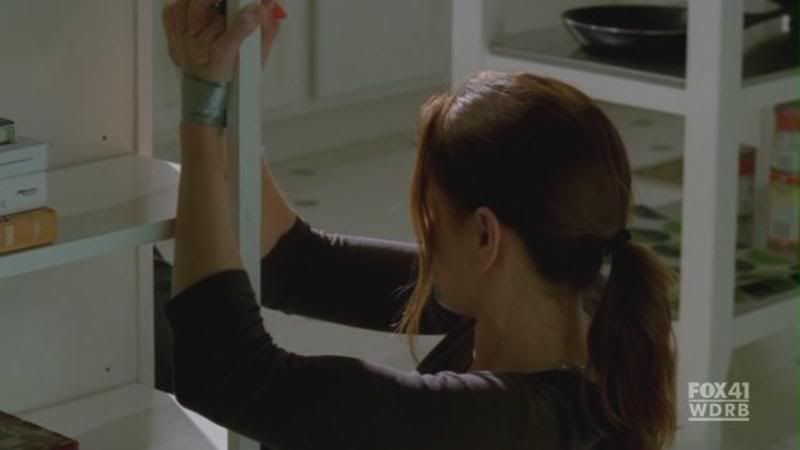 Dr Sara figures that she's spent a lot of time around her genius boyfriend and saving herself can't be too much trouble. She's not having the greatest amount of luck with opening that drawer with her foot though.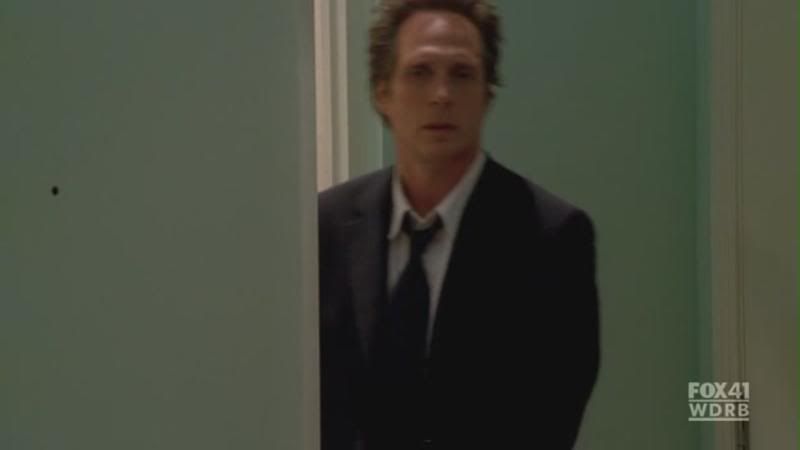 Fortunately, Mahone is here.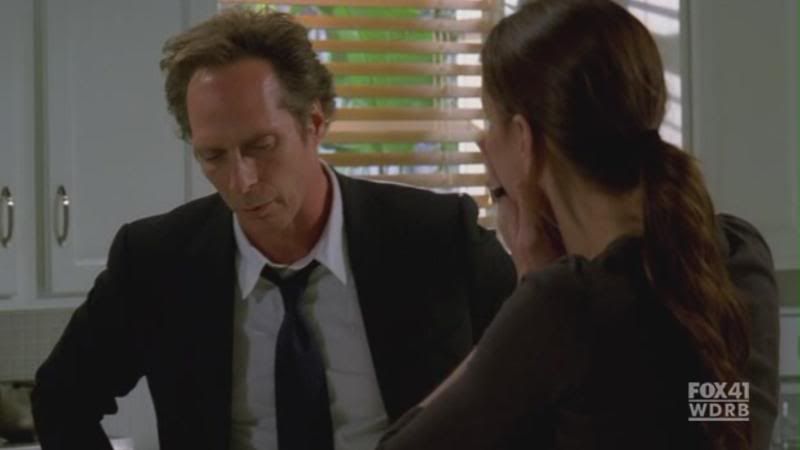 He unties her and explains that Christina Rose has Scylla and she set the brothers up for murder. Dr Sara immediately announces she has to go to the hotel and help.




Mahone doesn't think that would be the best idea, considering the amount of police there. He says that if he could run without fearing for the safety of his wife, he would. Dr Sara does not appreciate the suggestion that she should abandon Michael. She agrees not to go to the hotel but will wait in the condo for his return.

Also, apparently Mahone and Sara don't like each other. Huh. I didn't realise that

~*~

Location: Christina Rose's Place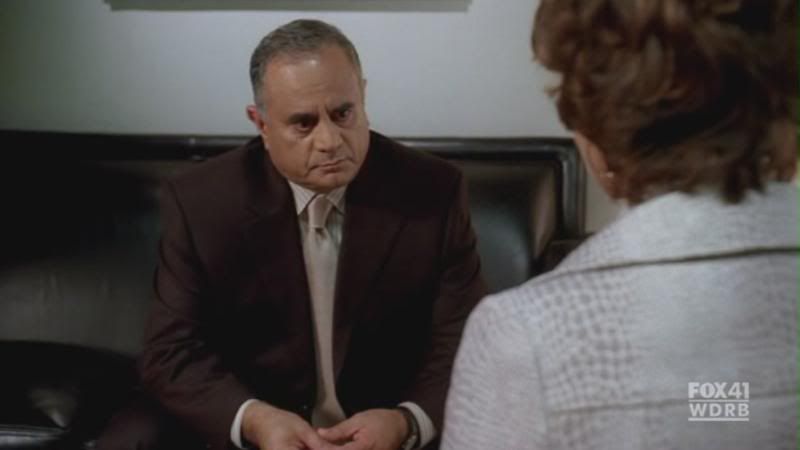 Christina Rose is meeting with Nandu Banerjee, prime minister of India and grieving father. She lies about losing a son herself when he was just a child and sympathises with Nandu's loss.

Nandu doesn't want sympathy. He wants revenge. He wants to buy Scylla and use its awesome technology to make all of China regret its miserable little existence forever and ever.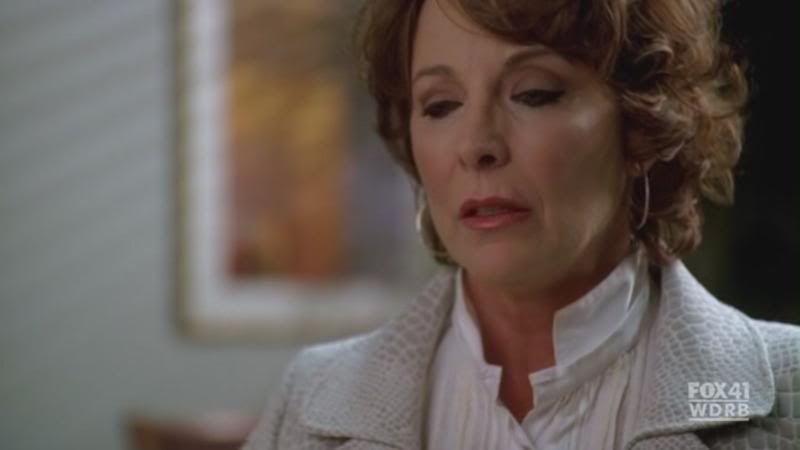 Christina Rose is shocked. Shocked I say! She and Naveen only planned to use the awesome technology for humanitarian efforts. She never would have dreamed of turning it into a weapon!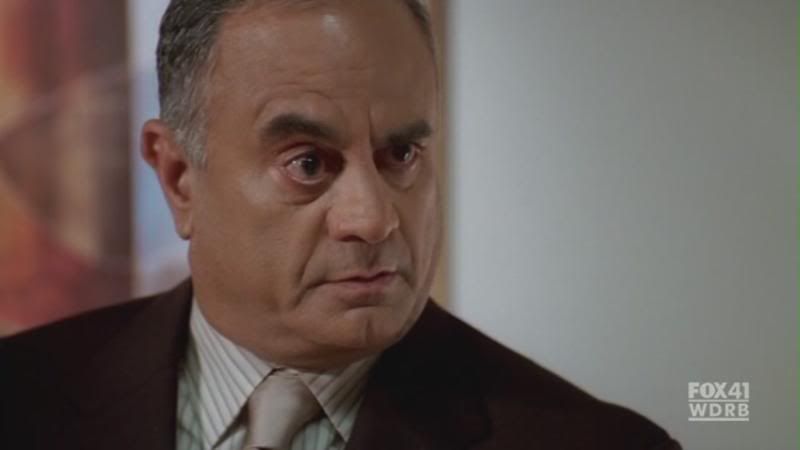 Nandu is insistent. Christina Rose is a seller, he is a buyer and he wants to buy Scylla. Christina Rose "reluctantly" agrees, asking Nandu to think about the ramifications of what he's proposing.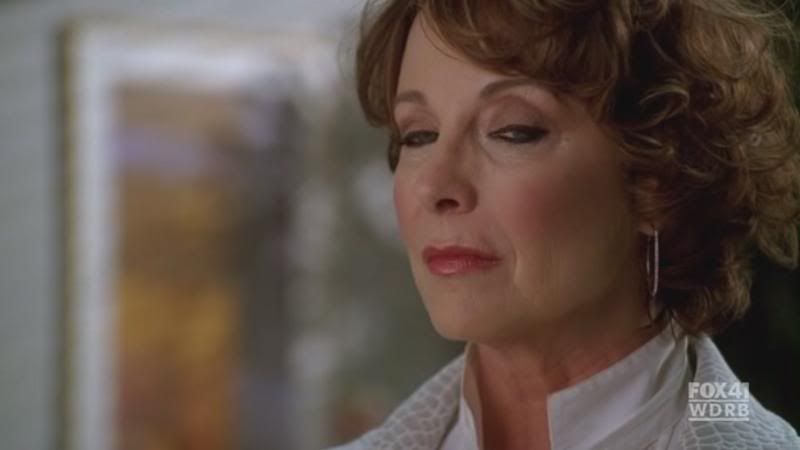 You manipulative bitch.

~*~

Location: Energy Conference Hotel




The gassing has begun. They're going floor by floor from the ground up, so Michael and Linc will have a while to come up with a plan.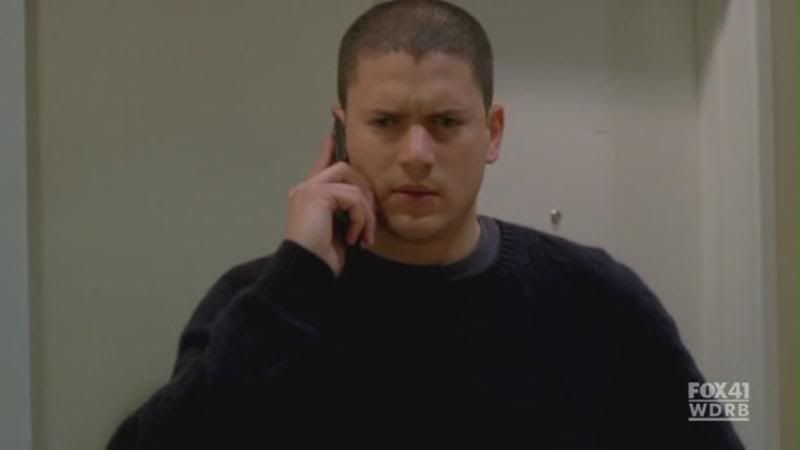 Self calls Michael to tell him about the gas plan. Michael is annoyed that Self is only telling him this now, which is a bit unfair. Was Don supposed to take a couple of steps away from the police, whip out his phone and go "Hey, Michael. Yeah, they're planning to gas you."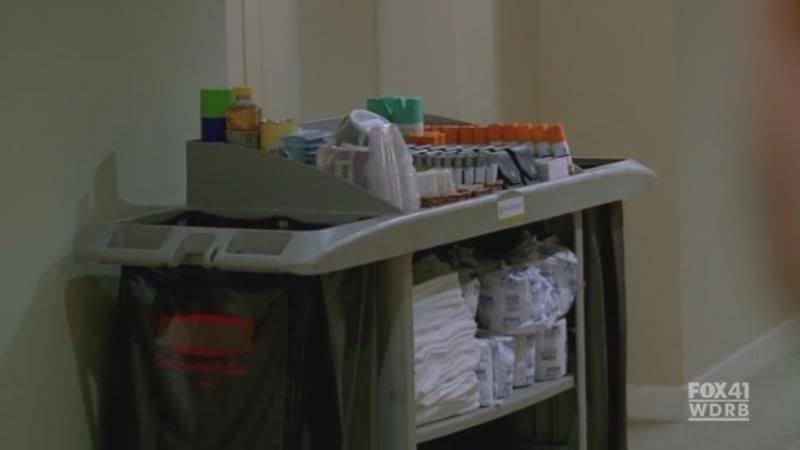 Michael spots a maid's cart and his genius brain comes up with a plan of his own.




He needs Lincoln to help him, but Linc is too busy being emo about the fact that he's such a loser he gets set up for two high profile assassinations in five years.




Outside, Darrin Hooks from Homeland Security has arrived and is surprised to hear that one of his guys is already there. One Don Self.

This arouses Hooks' suspicions and he calls his office to ask if that agent killed in LA recently was named Don Self.

~*~

Location: Miami Hotel Room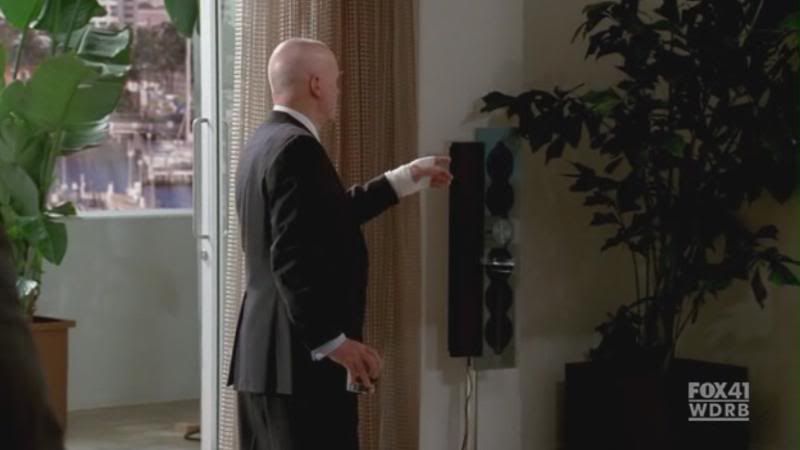 Just in case we didn't understand what was going on, General Pad Man helpfully exposits it to the audience by explaining it all to a plant. He says that this is exactly how Christina Rose planned it, she's trying to reignite the 1962 China/India border war, which ended in a uneasy truce, and set off a military conflict which will last for decades and never be resolved.




Mahone pops in to ask why General Pad Man, with his own evil ways, didn't do it first.

General Pad Man explains that involving India will involve Pakistan, which will involve Russia, which will involve Europe, which will involve the United States, which will result in it all culminating in one giant apocalypse in which everyone loses. And Christina Rose has always been too prideful and unstable to accept that.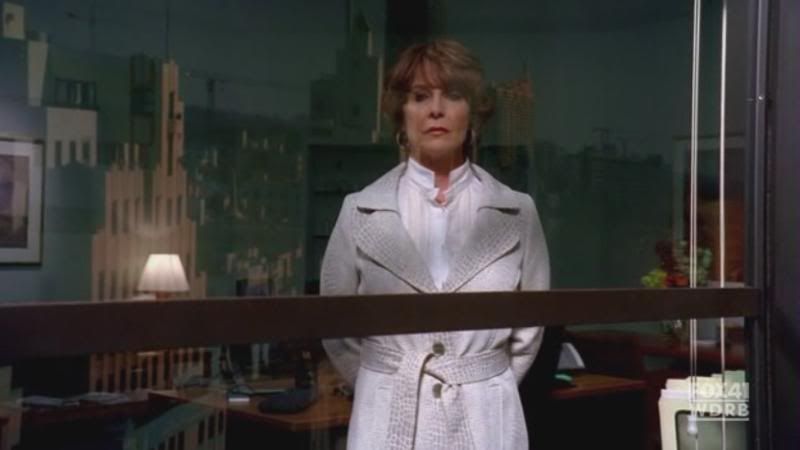 This woman? Unstable? Never!

~*~

Location: Energy Conference Hotel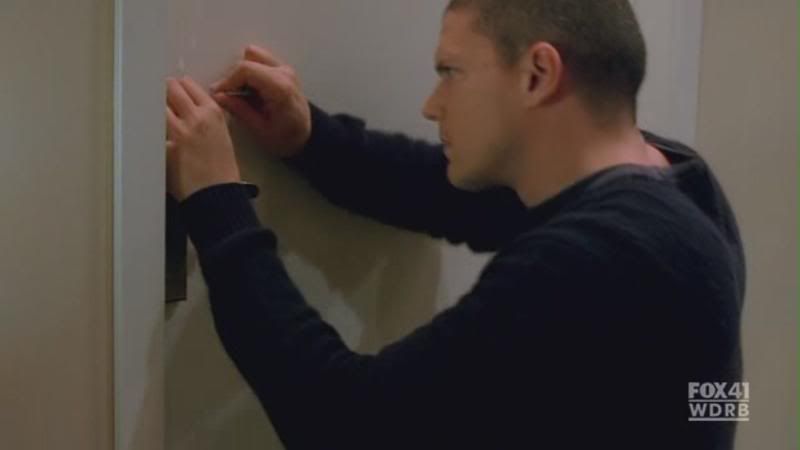 Michael is fiddling with the door's electronic lock.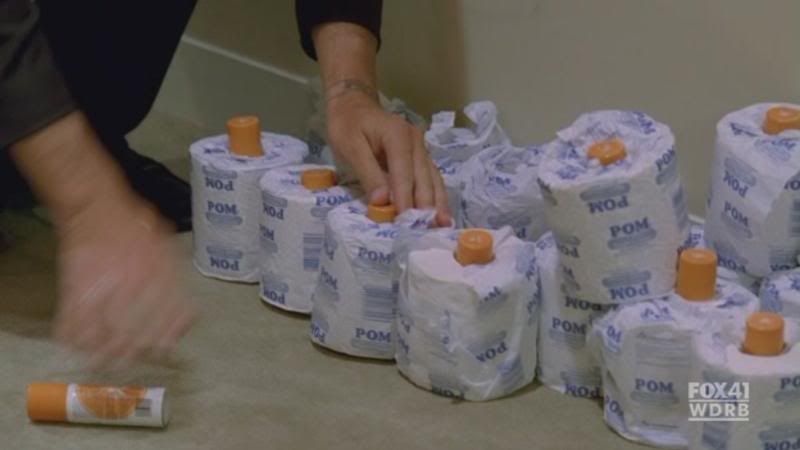 While Lincoln is...making toilet roll bombs?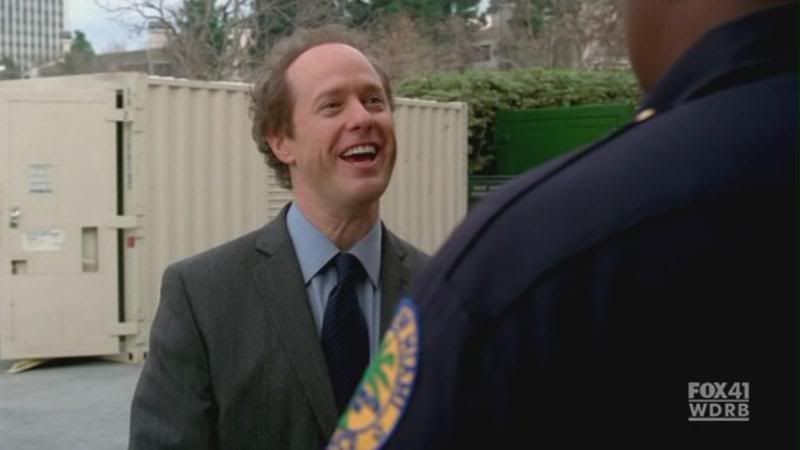 Outside, Ralph is saying hello to the single policeman on the southwest loading door.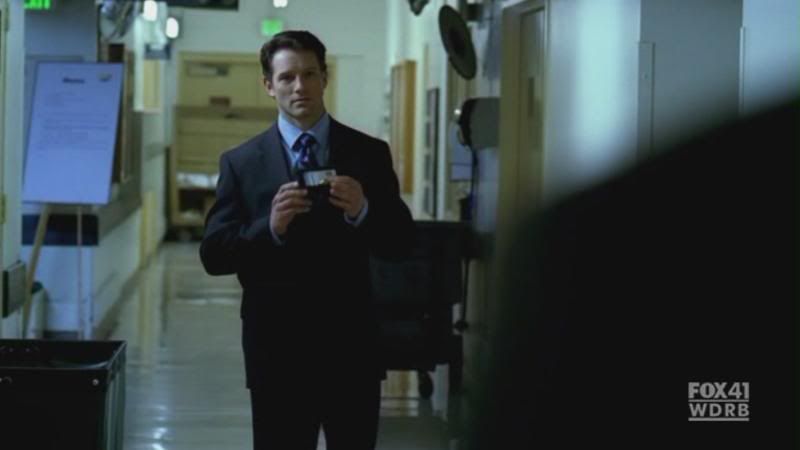 And somewhere downstairs, Agent Hooks is introducing himself to Agent Self.




Self is shocked that Hooks would pull a gun on a fellow agent. Hooks says this is something he does when supposedly dead agents are found in hotels with the guys who killed them.

Self says that he's covert ops and had to fake his death as part of the mission but Hooks doesn't believe him. Self says that the brothers have been set up and I'm shocked by this nugget of truth from Don Self. Can he be a good guy after all?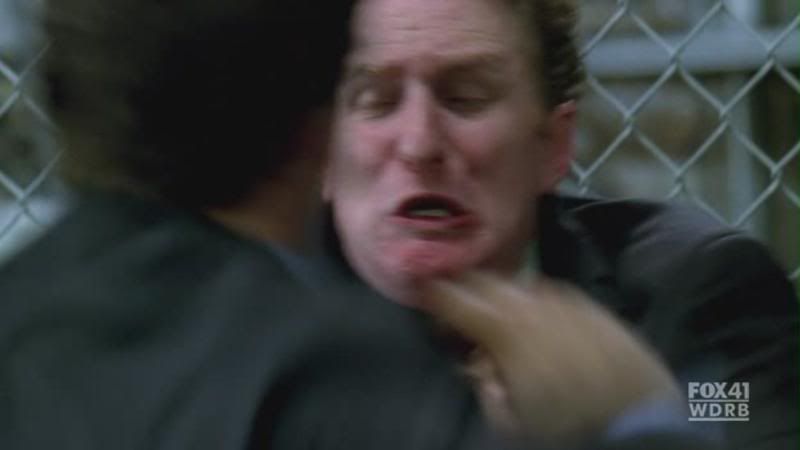 The guys get into a fistfight.




And Hooks ends up with a knife in the chest. Guess not.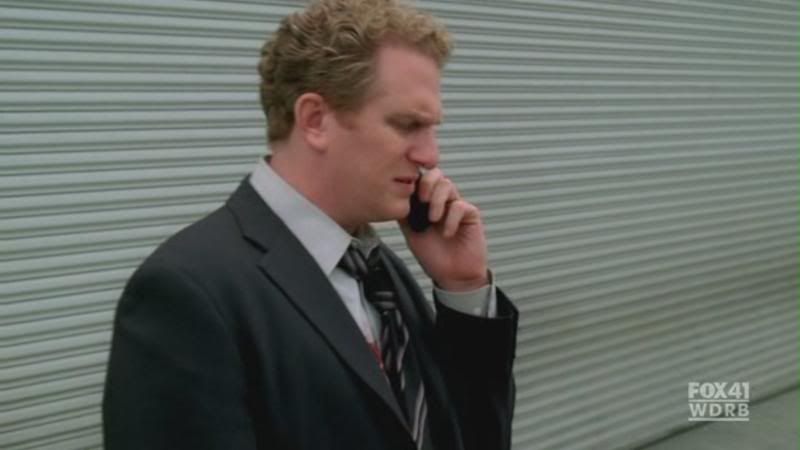 Self continues on and discovers a pool of blood where the policeman at the southwest loading entrance used to be. He calls Michael to tell him that someone other than the police is inside looking for them.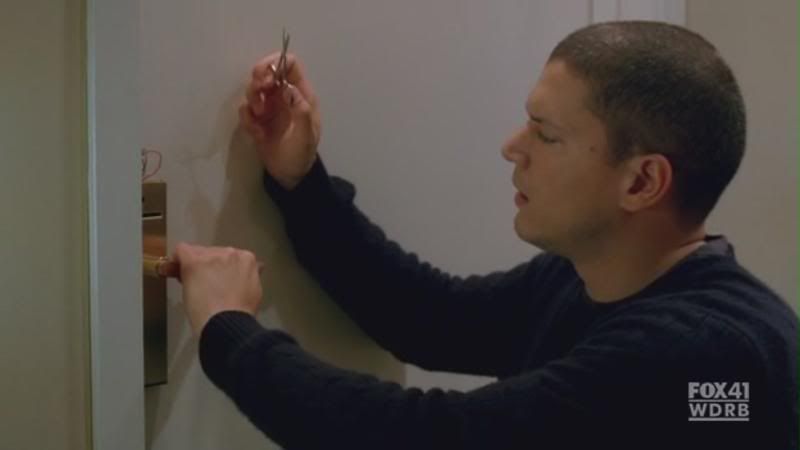 Michael manages to break into one of the rooms...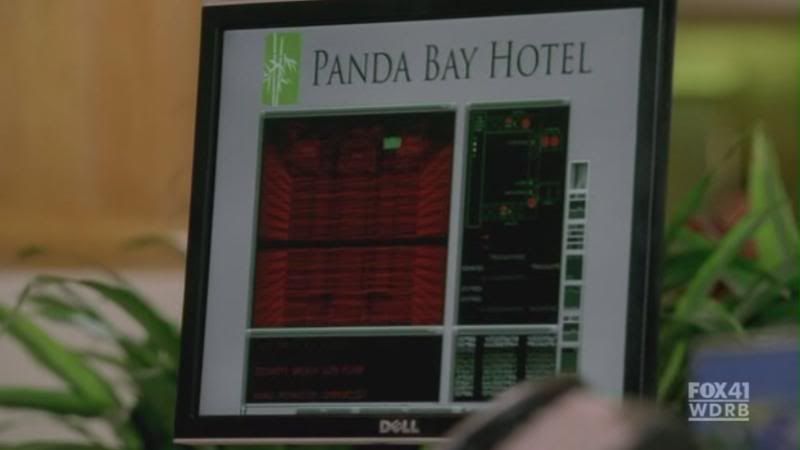 Which immediately alerts the manager and police downstairs to their location. The police chief orders his men up to the 16th floor.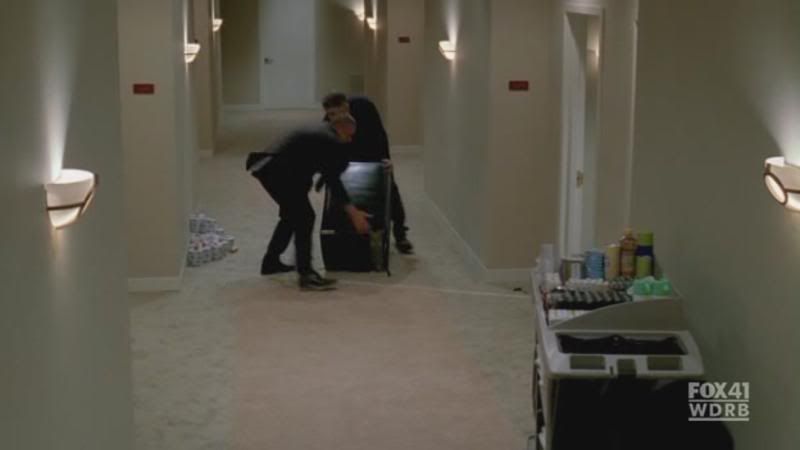 Where Michael is busy setting up the next part of his plan, which involves a mini fridge...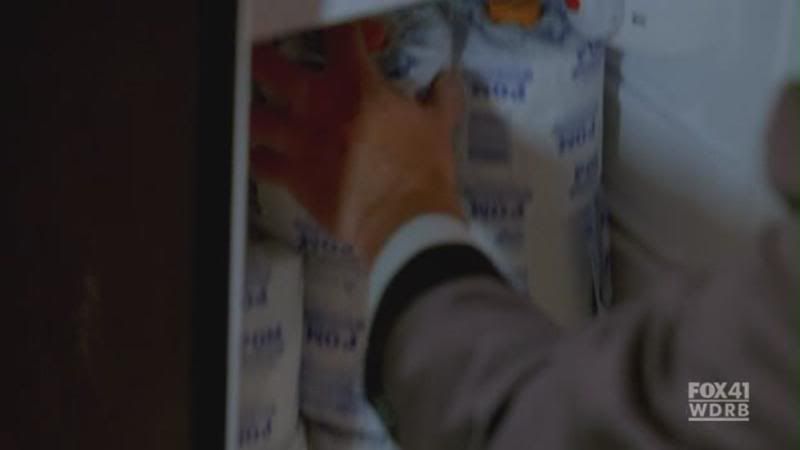 Stuffed with toilet rolls with delicate aerosol centres.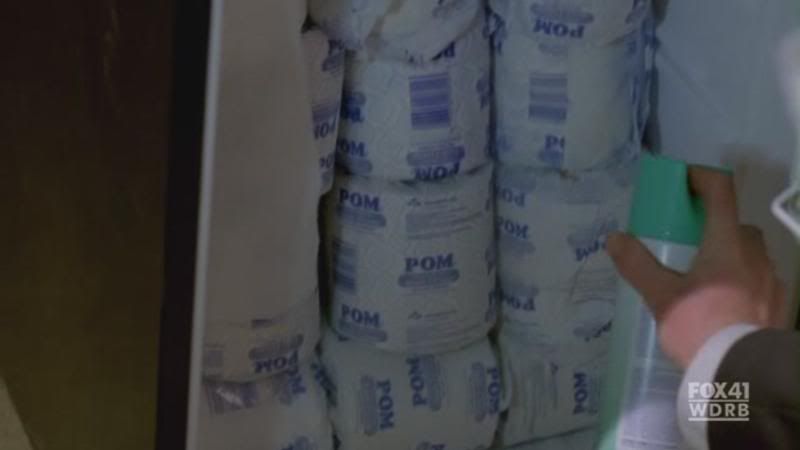 A spray of air freshener...




And a lit match.

The fridge is closed and the brothers run for cover.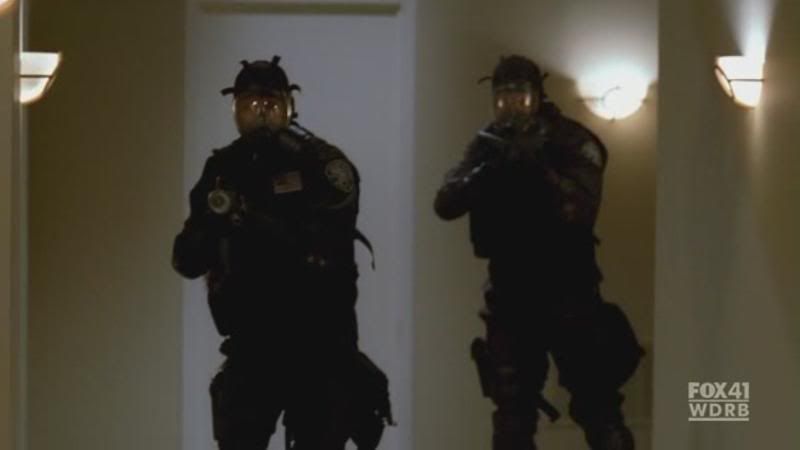 When the police and their gas arrive...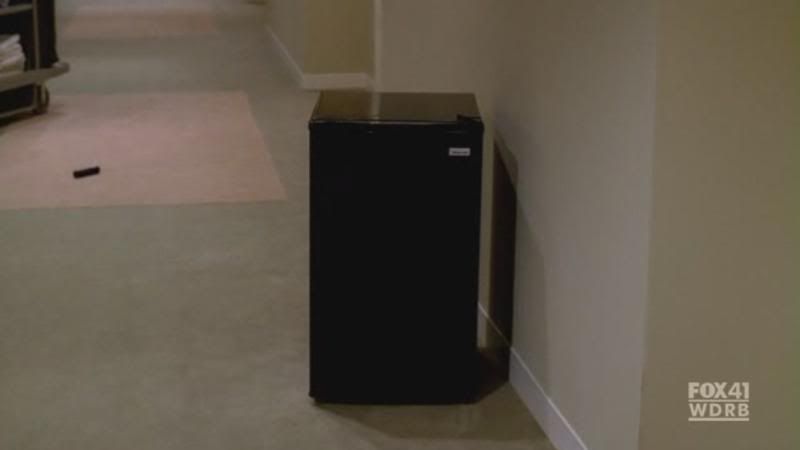 They are greeted with this.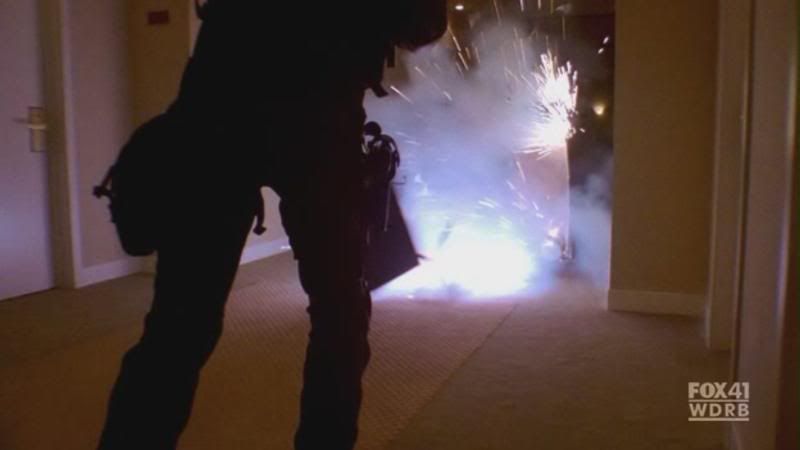 Which soon becomes this.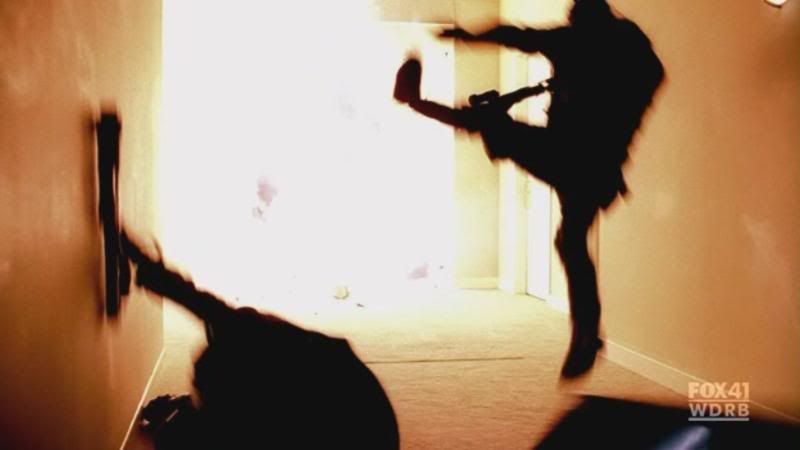 Ouch.




As the next wave of cops hurries upstairs, these two give them the news that Scofield and Burrows set a trap and escaped up to the roof. But they can't stay and chat cos they need to get their buddy to the hospital.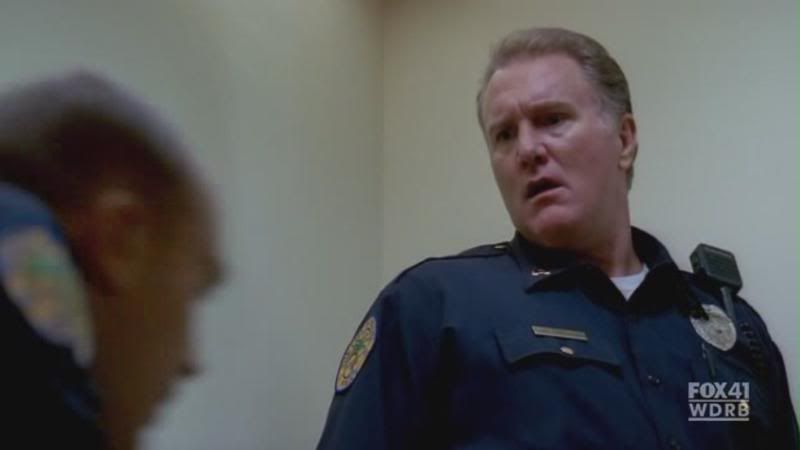 While the rest of the cops continue up, the chief grows suspicious and heads back down to stop the two who just passed them.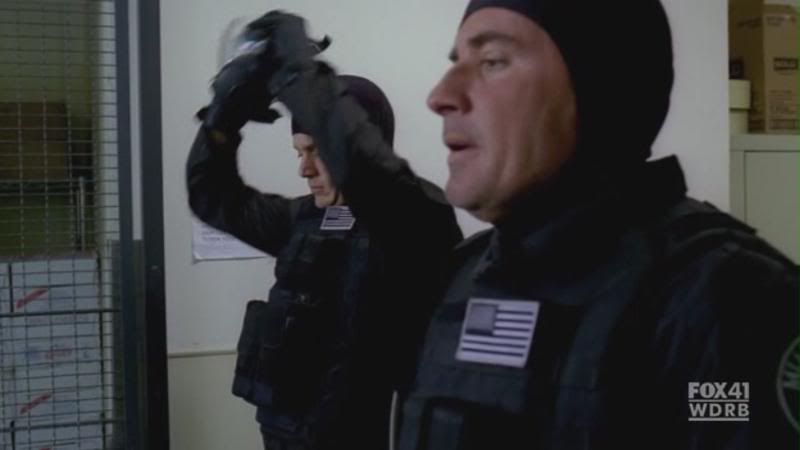 Which is a good call on his part, cos the two cops are indeed Michael and Lincoln, trying to get out that way.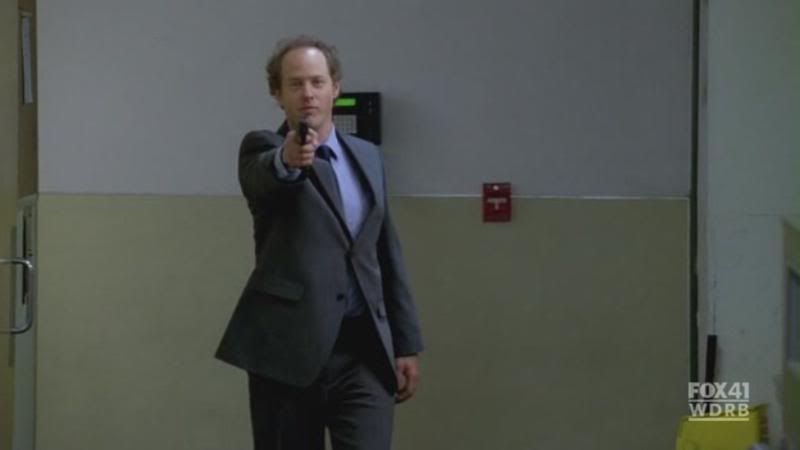 But look who else is here! It's Ralph! Who kills the chief and informs Michael and Lincoln that General Pad Man requests the honour of their presence back at the Miami Hotel Room.

~*~

Location: Miami Hotel Room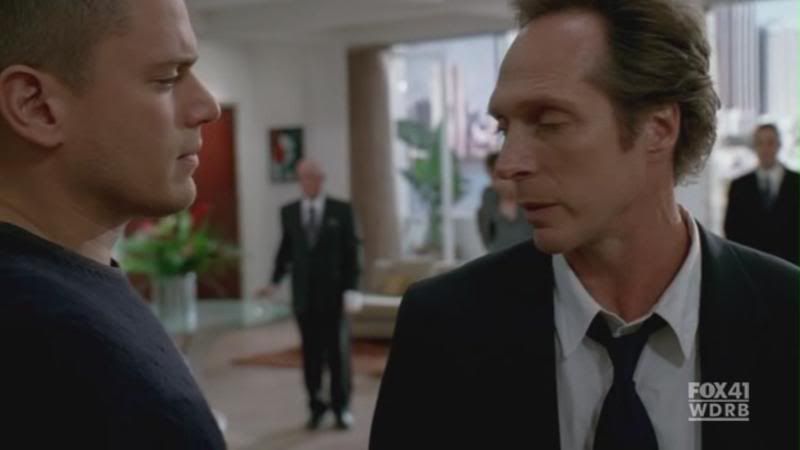 The group converges back at the hotel. Mahone tells Michael that Christina Rose has escaped but Dr Sara is ok.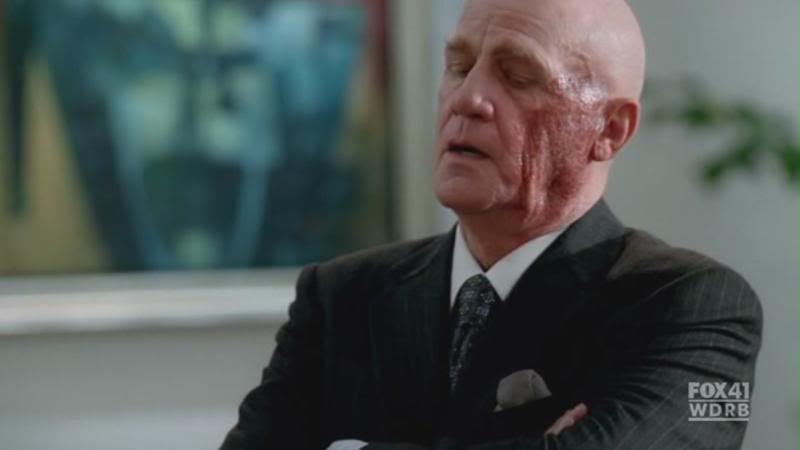 General Pad Man tells them all how deeply disappointed he is in their failures. He ignores Lincoln's protests that they were set up and explains that he made promises, and he would be a bad Head of an Evil Corporation if he didn't keep his promises.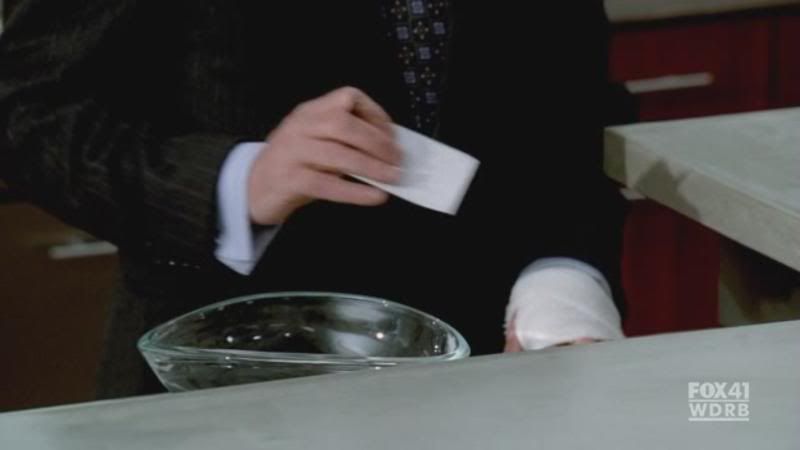 One of those promises involved certain envelopes sent to the guys. General Pad Man writes on a few pieces of paper and puts them in an empty fruit bowl.

Mahone begs him not to do this. Self has no idea what's going on.




So who is the lucky winner?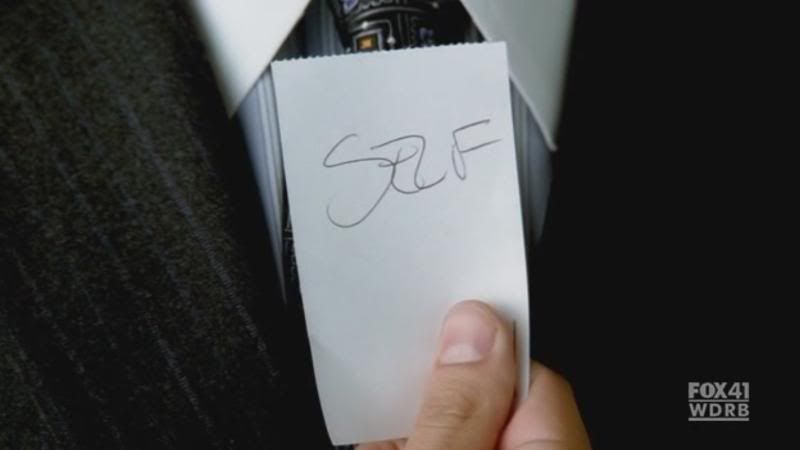 It had to be, really. We need to find out the mystery of the beautiful woman he was sent.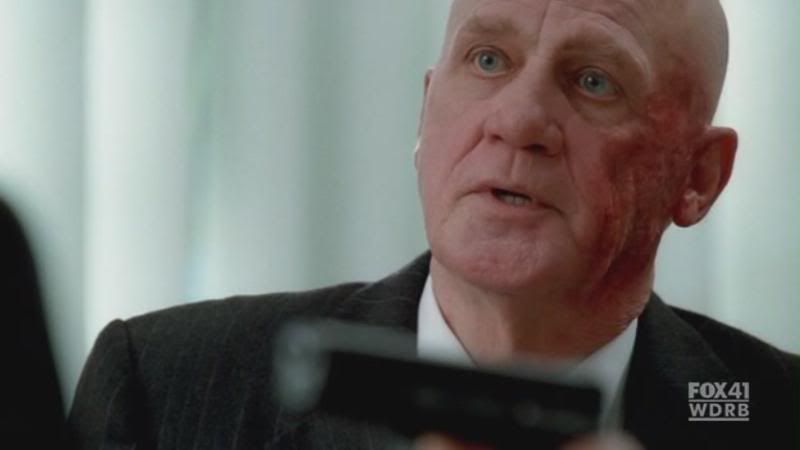 General Pad Man calls his man in Queens, while explaining to the rest of the group how Self turned his young wife into a vegetable by drink driving and that he stole Scylla because the government benefits he was receiving were only enough for a county facility.




Self begs General Pad Man to kill him instead, but his pleas fall on deaf ears they hear the operative on the phone announce that he has the target in sight. General Pad Man gives the order and Self gets to hear his wife being shot over the phone. I don't like the guy, but that is cold.

General Pad Man then decides to honour Self's wish from a few seconds ago and orders him killed as well.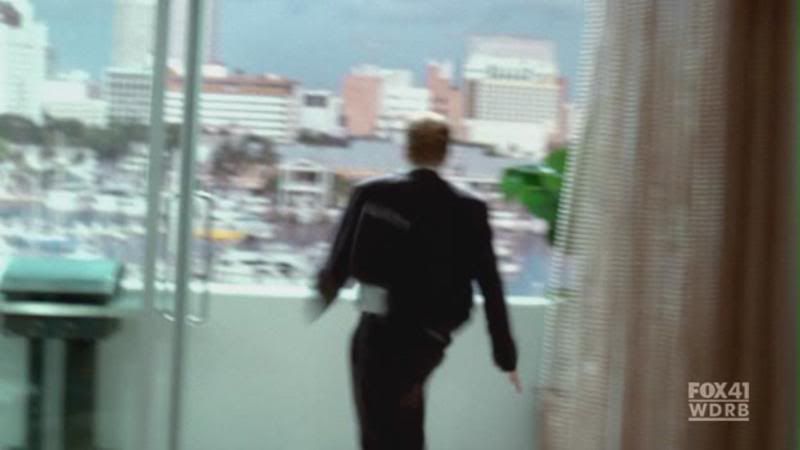 Self responds by running out of the room and jumping off the balcony.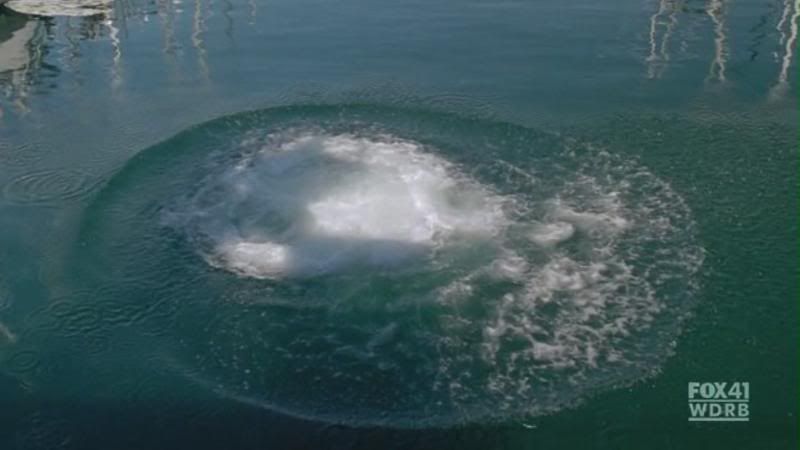 He doesn't resurface and this is Prison Break, so he'll be back later.




General Pad Man: Now boys, I hope we've all learned an important lesson about disappointing me,

~*~

Location: Christina Rose's Hotel Room




Christina Rose is just about to get $750 million richer thanks to the good people of India. She promises Nandu that the data will be delivered in 24 hours.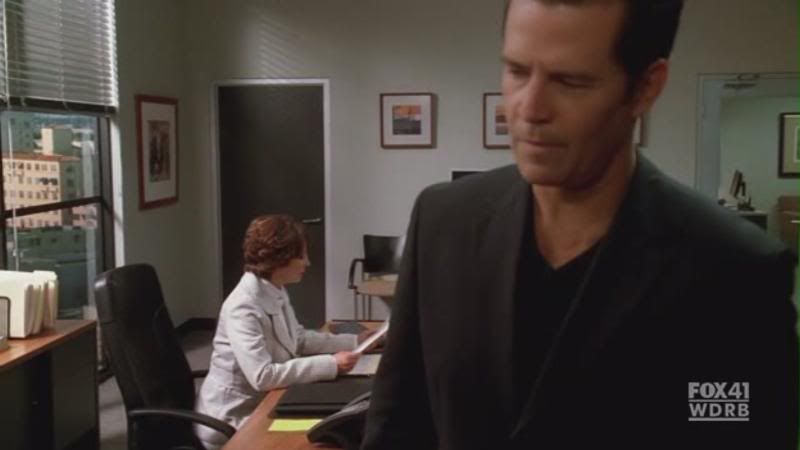 Christina Rose tells Andy to contact China and see if they're interested in what she has to offer. Andy advises against playing both sides of the coin but, as we've already seen, Christina Rose isn't one to take other people's advice.

~*~

Location: Miami Hotel Room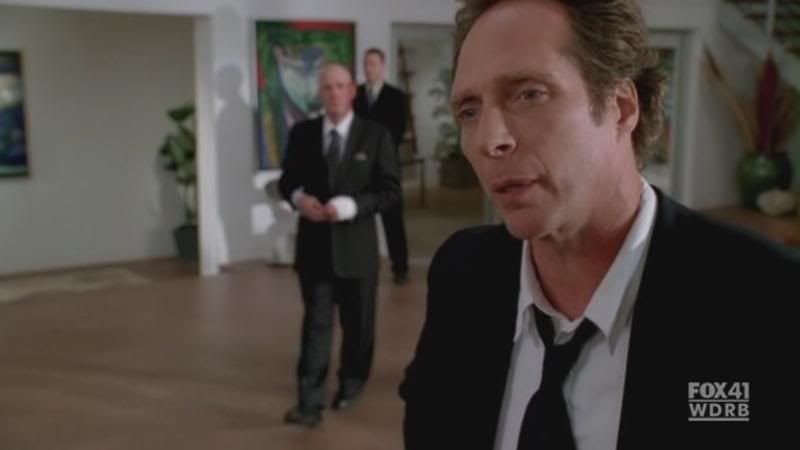 Mahone realises that Christina Rose is going to want to meet with one of India's emissaries today, while emotions are still running hot. Michael realises that she'll have already done it and now her focus will be on the money. He thinks she'll want to withdraw a few grand to confirm it's there. Find the money and you find Christina Rose.

We're then taught about international wire transfers. They normally take three days to clear but if the bank is a Federal Reserve signatory it's immediate.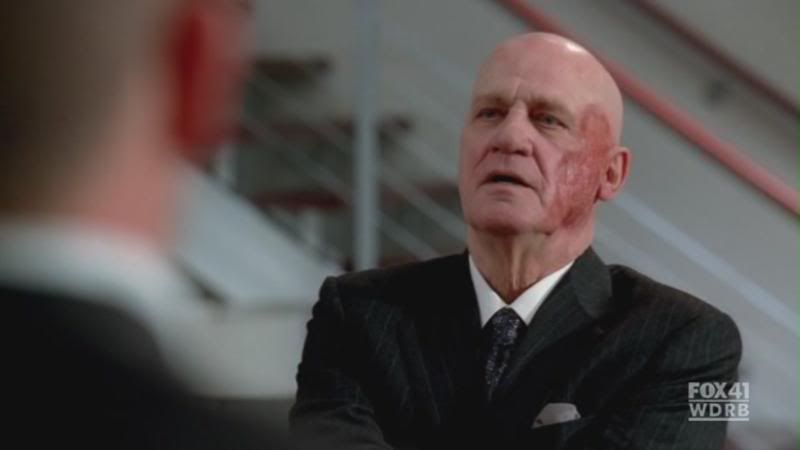 General Pad Man is impressed and says that's why he didn't put Michael's name in the bowl. Because, unlike the others, Michael is irreplaceable. He's so glad Michael works for him.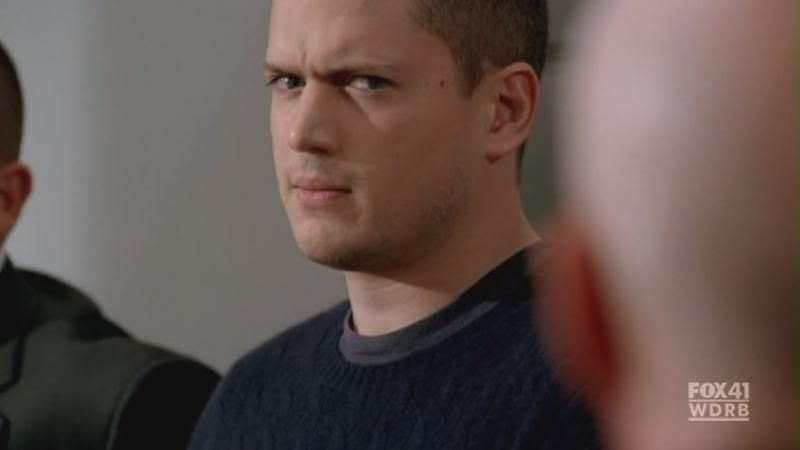 Michael does not appreciate that suggestion.

~*~

Location: The Only Federal Reserve Bank in Miami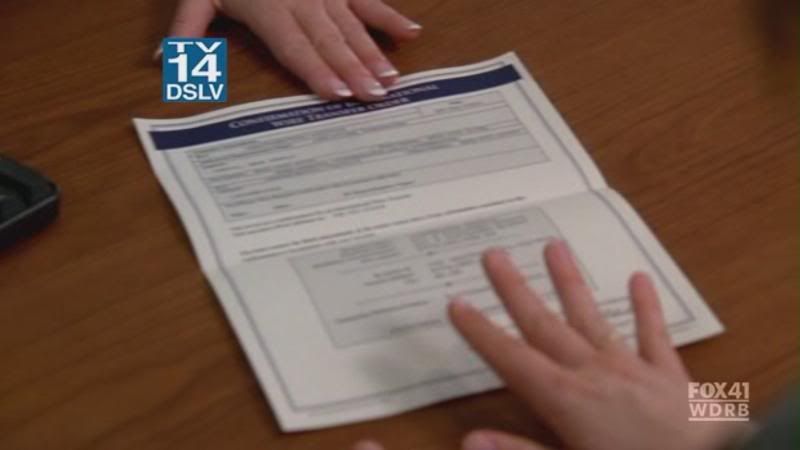 Just as Michael predicted, Christina Rose is withdrawing $10,000 to make sure the money is where it should be.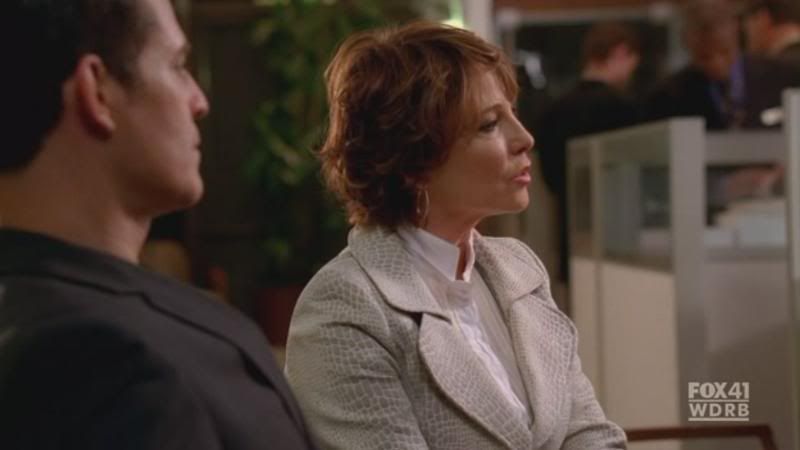 Andy is at his place by his pseudo-mummy's side.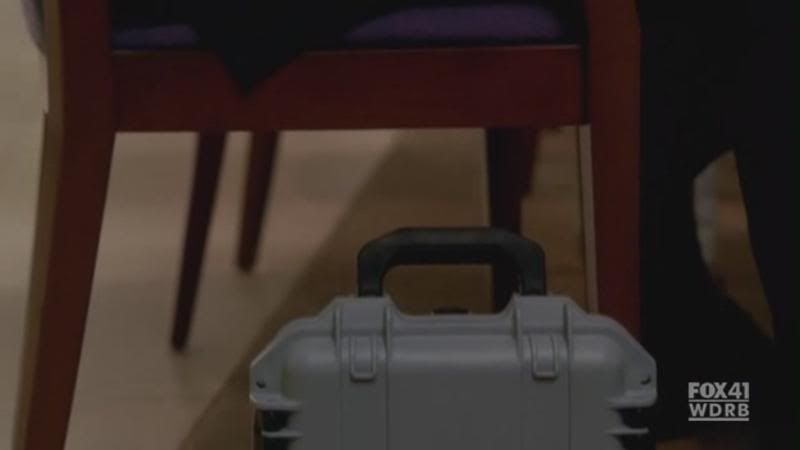 And Scylla is... just sitting on the floor beside him. If I had something worth $750 million I would not let it out of my hands!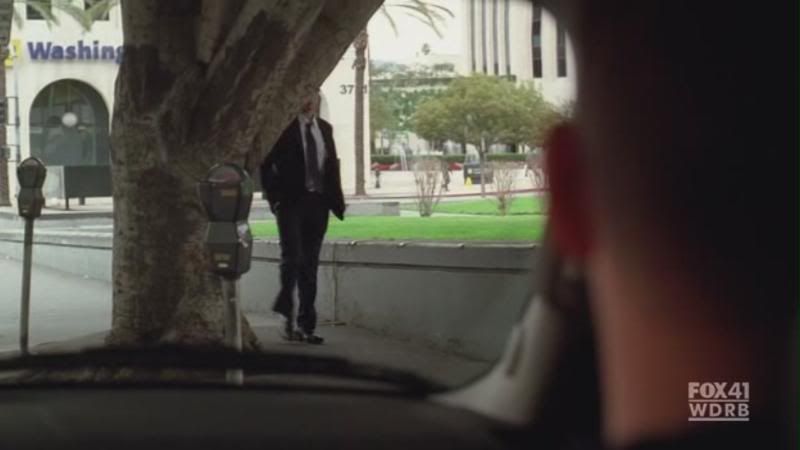 Outside, Michael and Lincoln are waiting in a car. Mahone has gone for a walk around and returns back with the intel that Christina Rose and Andy are indeed in the bank.

As they're trying to work out how to get Scylla without a swarm of security agents descending on them like locusts, Mahone points out that, last time he checked, Lincoln and Michael disagreed about what to do about Scylla once they got it.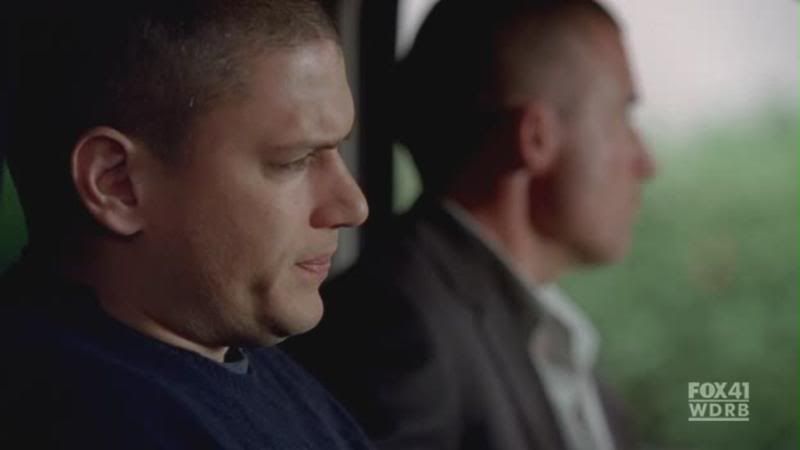 Yeah, they still don't agree.

Lincoln suggests just going into the bank and grabbing Scylla. Michael points out that they'll be shot as soon as the guards see their faces. Mahone suggests that maybe they shouldn't see their faces.

~*~

Location: The Wharf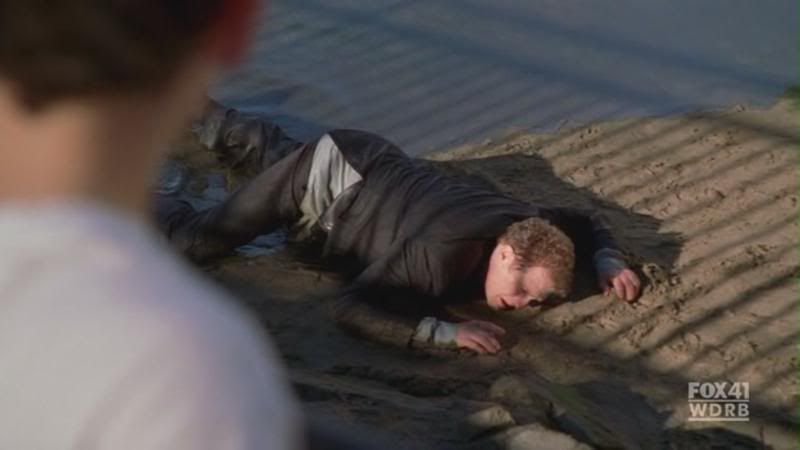 See, I told you he wasn't dead.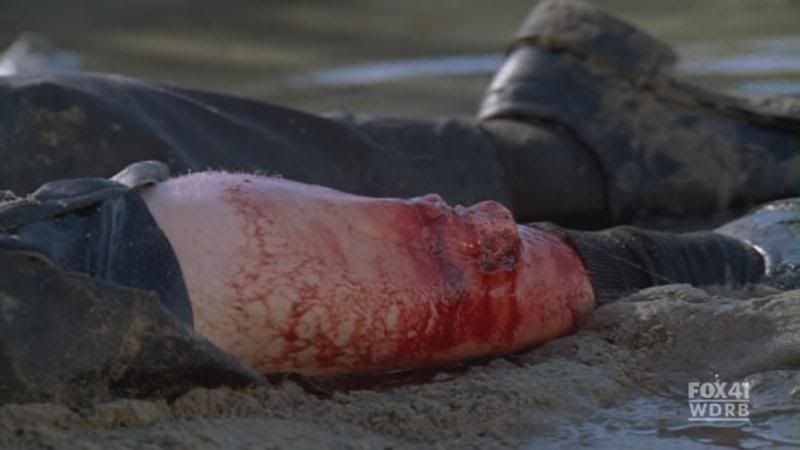 Ow. That looks painful.

~*~

Location: Miami Hotel Room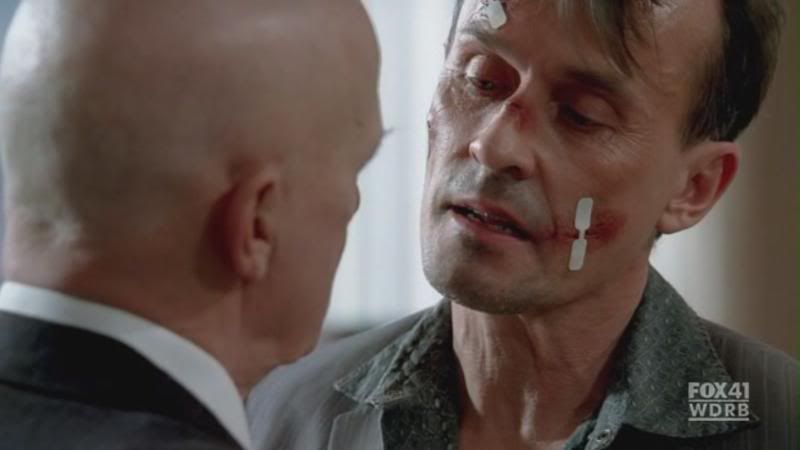 T-Bag does his best to turn General Pad Man against Michael, pointing out that the man thinks like a cub scout and will probably do his best to stop an evil organisation from having awesome technology again.

General Pad Man realises that T-Bag is right (It's official, the world is doomed) and decides he needs something Michael wants so he'll have leverage.

And, once again, T-Bag has anticipated this need, having overheard Michael and Mahone earlier and therefore knowing that the location of the lovely Dr Sara will be on Mahone's GPS. See, this is why you shouldn't rely on GPS systems. They put your friends' girlfriends in danger from business card-coveting psychopaths.

~*~

Location: The Only Federal Reserve Bank in Miami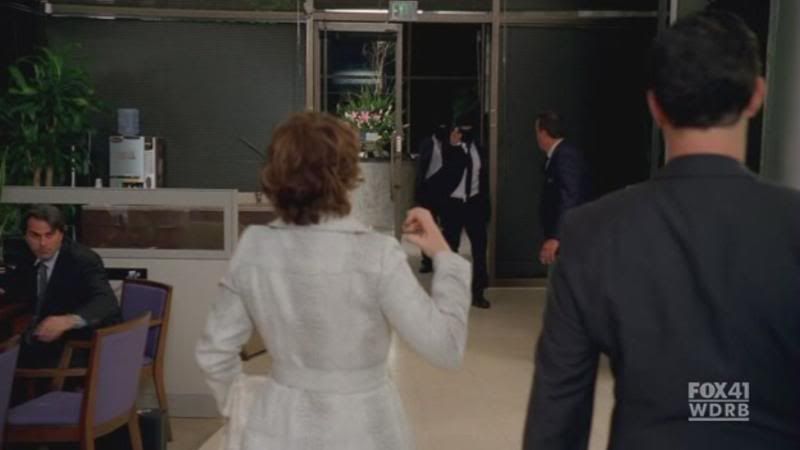 It's a bank robbery! Michael, you have truly come full circle.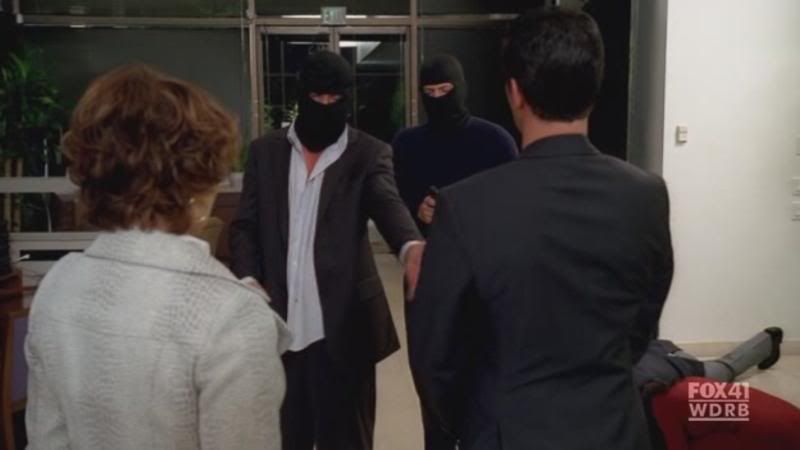 The mysterious robbers take Christina Rose's bag of money and Andy's bag of Scylla.

Just as they leave, Lincoln delivers a deadpan "Hi, Mom." Which is awesome, but possibly not the smartest thing he could have done.




Andy calls their goons outside to let them know the situation.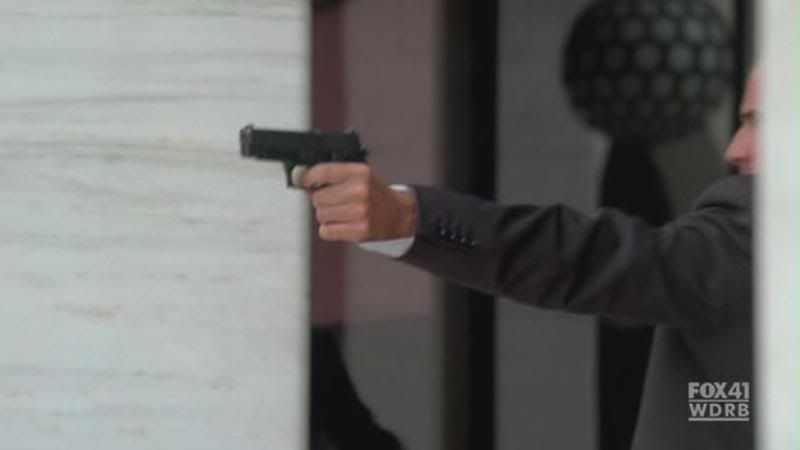 Which results in even more shooting and running. Lincoln sends Michael and Mahone off with Scylla while he keeps the goons at bay.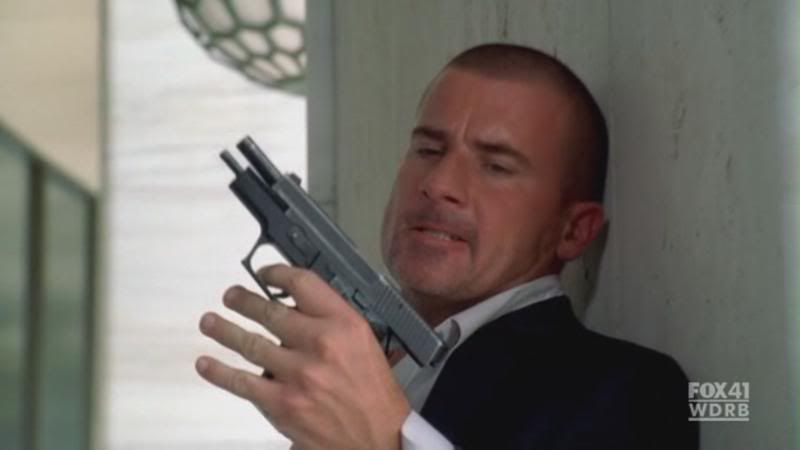 Until his gun runs out of bullets, that is.

~*~

Condo




Dr Sara stops watching the news to go investigate a strange noise. I am hopeful that, with that knife, she'll be able to overpower T-Bag.




Alas, it is not to be. Dr Sara is quite disgusted at having T-Bag all over her, and I can't say I disagee. Ew.

~*~

Location: An Alley Nearby the Only Federal Reserve Bank in Miami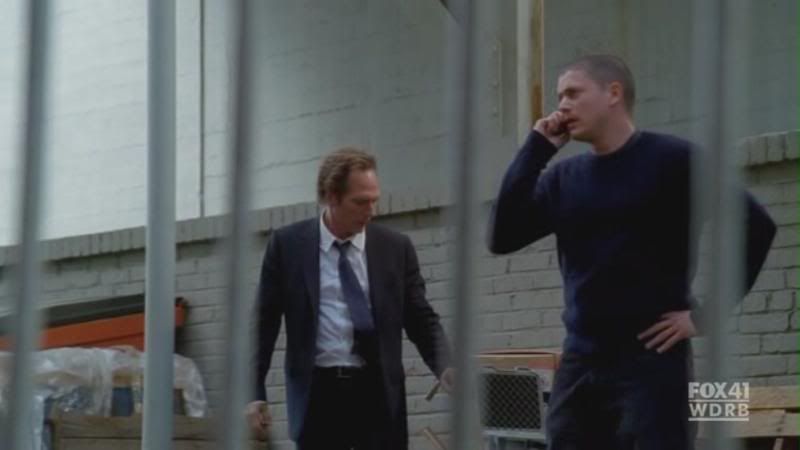 Michael and Mahone have escaped with Scylla but there's no sign of Lincoln and he's not answering his phone.

When Michael stops trying, he gets a call of his own. But it's not Lincoln.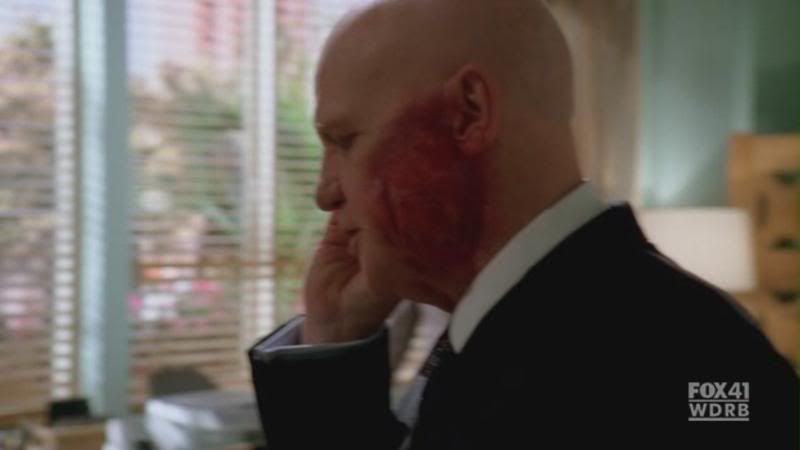 It's General Pad Man, who heard about the bank robbery and wants to know about Scylla. Michael lies that they're close and will tell him when they've got it.

But General Pad Man has someone here who wants to say hello.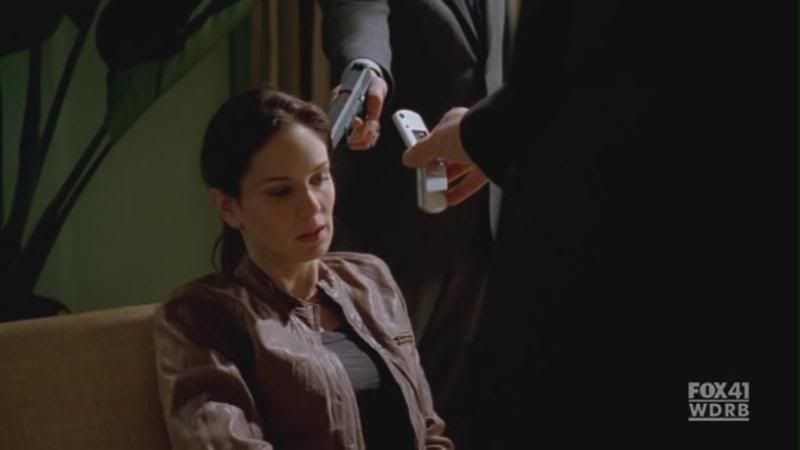 Dr Sara says that they're in the apartment. General Pad Man gets back on the line to warn Michael that if he doesn't bring Scylla, this time Sara's death will not be faked.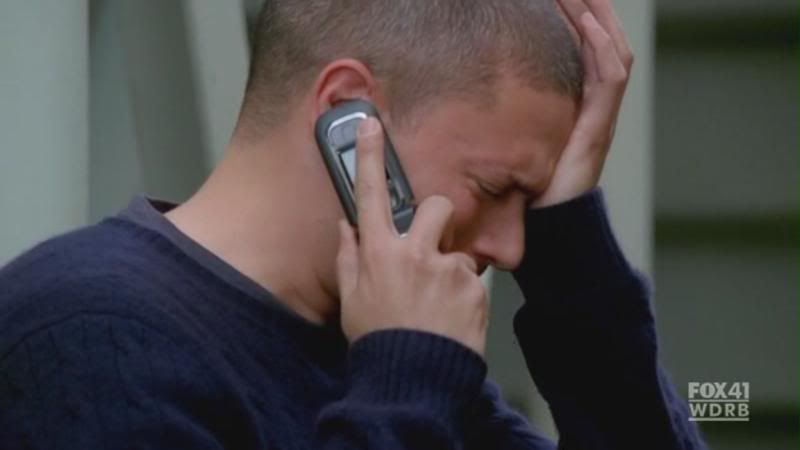 Poor baby.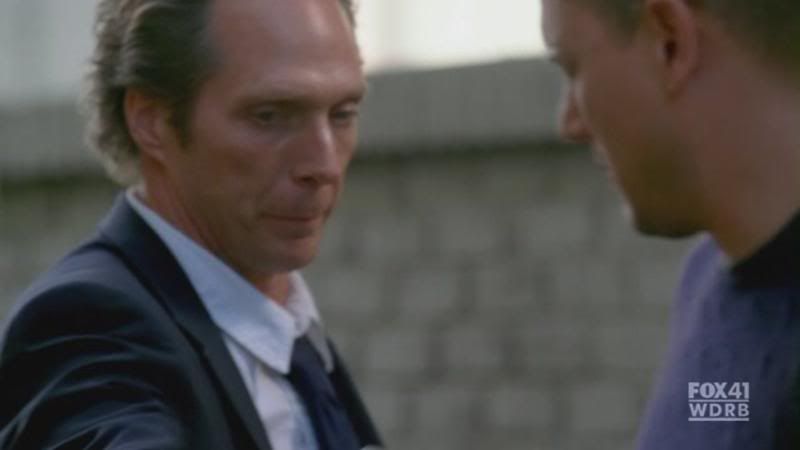 Michael tells Mahone that General Pad Man has Sara. Mahone hands over Scylla and tells him to take it. We love Mahone.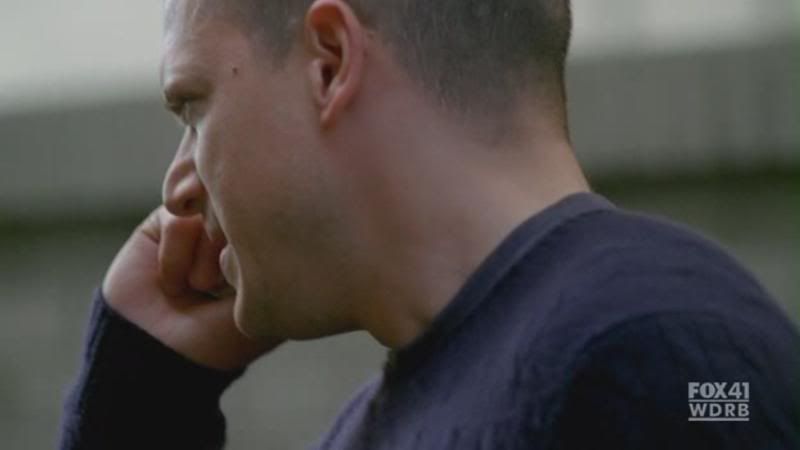 Michael's phone rings again, but this time it's not General Pad Man.




It's Christina Rose, who says she has something Michael wants, although she'll never really understand why. This woman really doesn't understand family at all.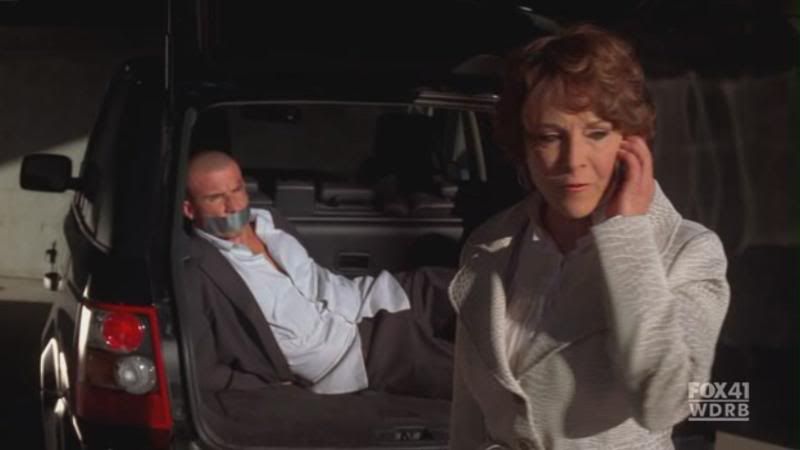 Christina Rose calmly tells him that she's going to shoot Lincoln through his right rib cage, grazing the lower quadrant of his lung, which will kill him in five hours without medical treatment. Despite Michael's begging, and his even calling her Mom, she goes through with her threat, thus proving herself forever to be an irredeemably heartless bitch.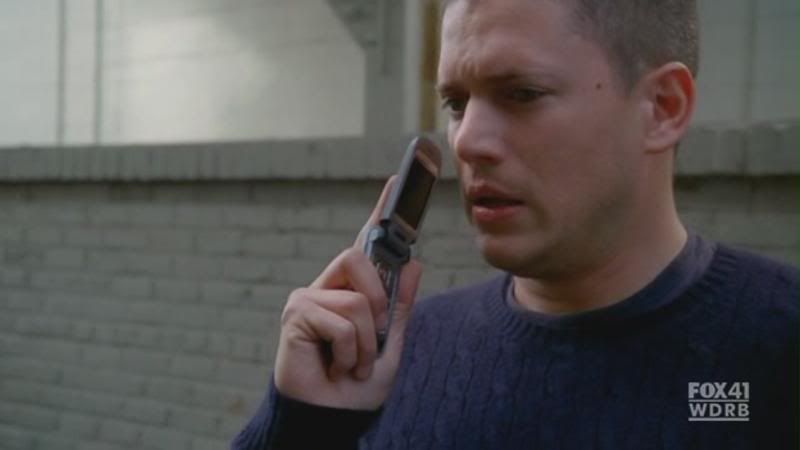 And now Michael is torn, as Christina Rose lays out the situation for him: Scylla or someone he loves.

~*~

Dun dun dun! So dramatic! But it's Michael. He'll find a way to save both of them, he has to.

Screencaps by
sky_angel22