Well, yesterday was a horrible day at work and I was annoyed at how I felt so bad about it I couldn't enjoy the fact that it was the last day before my four day weekend. I'm feeling better today though, which pleases me.

I'll probably spend some time today on the Prison Break recaps. In fact I have the next one ready now:

Episode 4.19 SOB



Location: Miami Hotel Room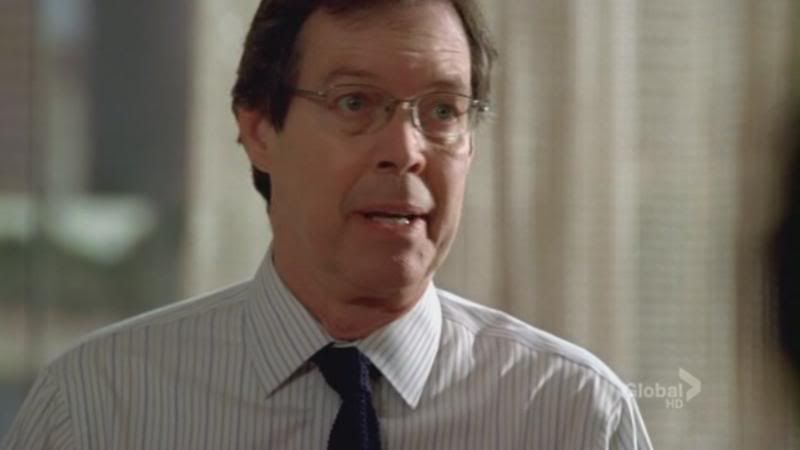 The not so good Dr Sandinsky is continuing to protest his complete ignorance of all things Christina Scofield.

Interrupting the discussion is Lincoln's phone...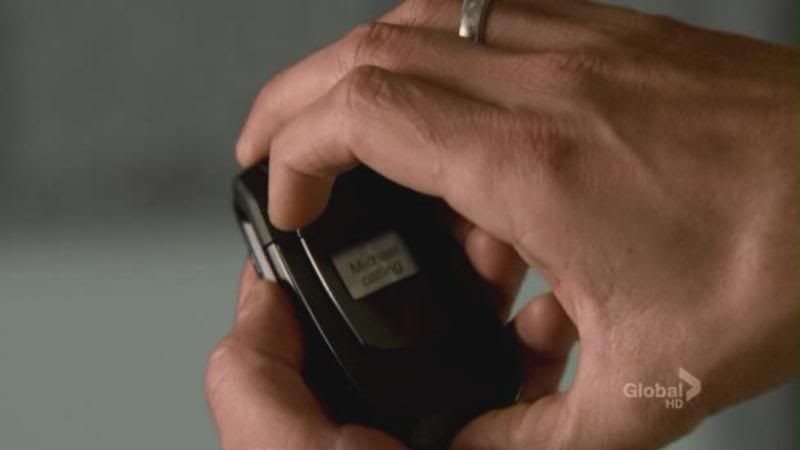 Michael calling!

Michael informs Lincoln that Sandinsky has been in regular contact with Christina Rose and they have a plan, although he doesn't know what it is yet.




Lincoln does not like being lied to. He wants to know where Scylla is. NOW!

~*~

Location: An Industrial Park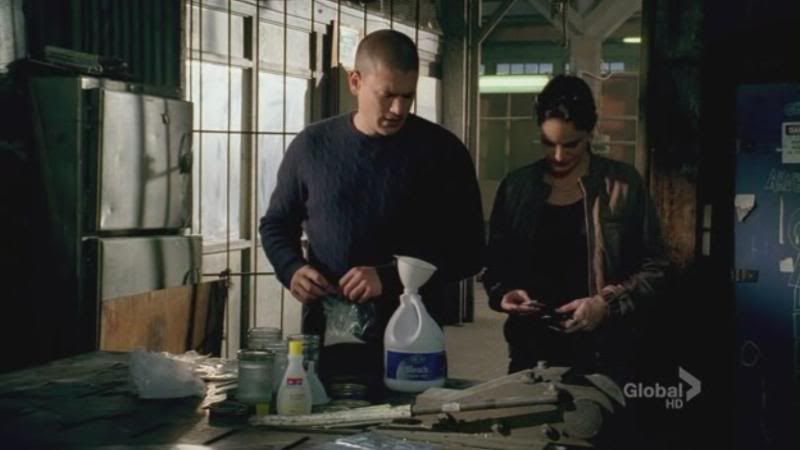 Michael has apparently set up his own drug den and has been making white powder and pouring it into a clear bag. Dr Sara has been fiddling with Sandinsky's phone and sets it down on the table. Clearly they have a plan.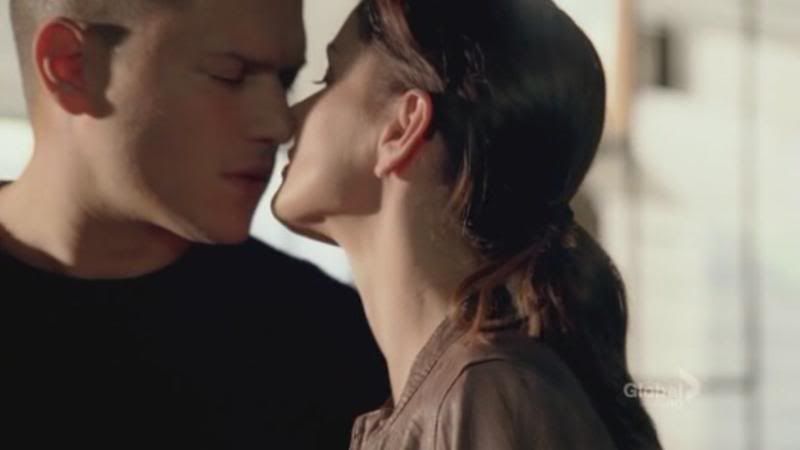 A quick good luck kiss and they're set.

~*~

Location: Christina Rose's Place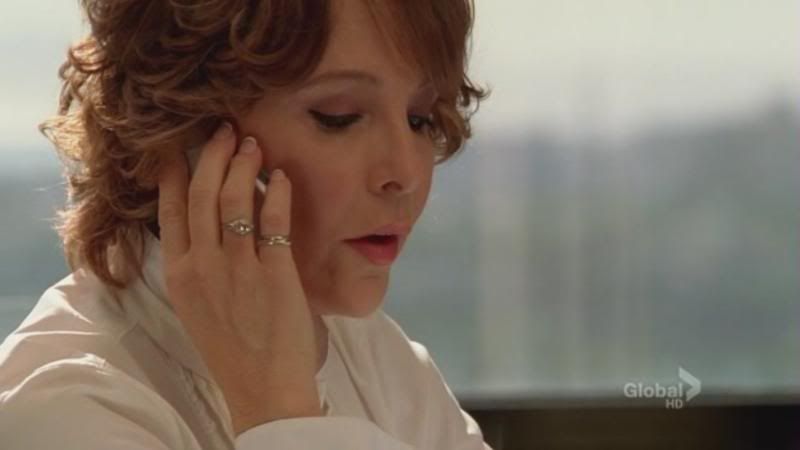 Christina Rose gets a phone call on Sandinsky's phone from her son. They chat for a while and Christina Rose suggests a meeting. Michael's only interested if she plans to bring Scylla with her.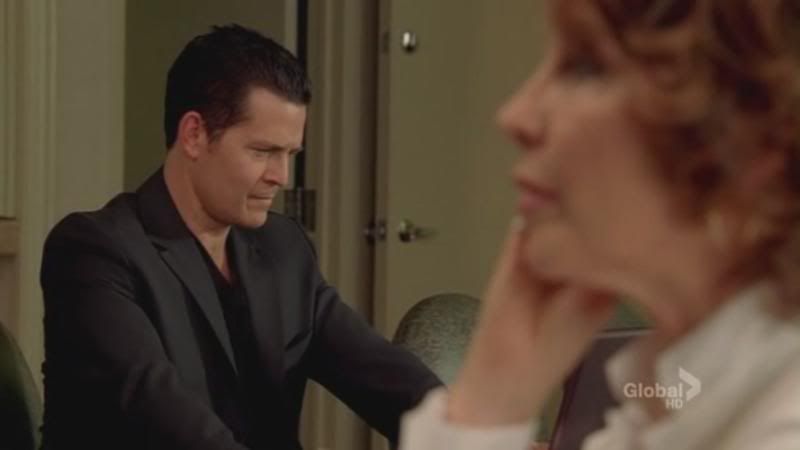 While this has been going on, Andy has been diligently tracing the call and now knows where to find them. Yeah, like Michel wouldn't have thought of that.

~*~

Location: Miami Hotel Room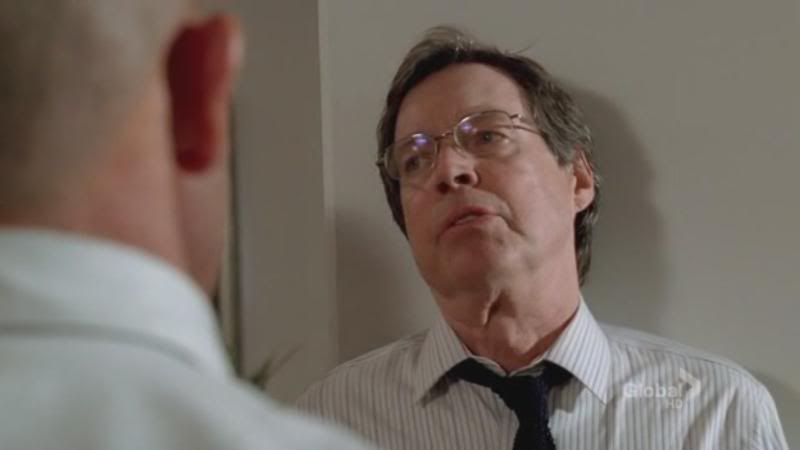 Lincoln would like some real answers from Dr Sandinsky and he would like them now. Vincent continues to insist that he's never worked for the Evil Company. T-Bag points out that those are six words that never prove true.




Lincoln's patience has worn out. Not even the logical argument that dead guys can't answer questions will deter him.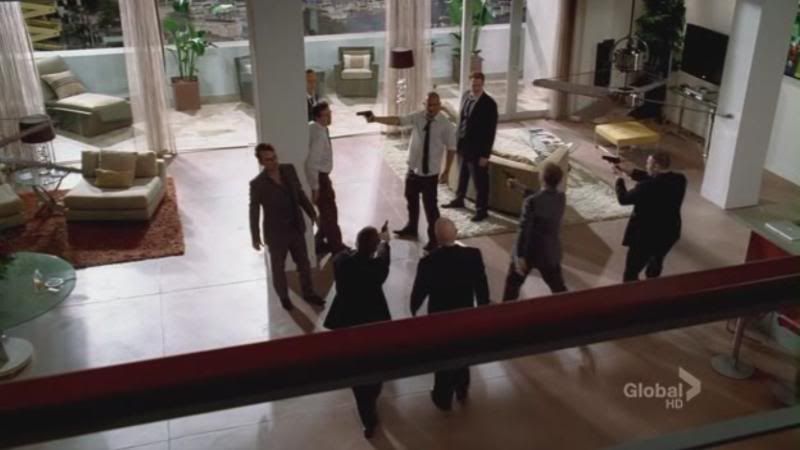 General Pad Man, on the other hand, does.




General Pad Man would like a little chat with Dr Sandinsky, who has been an Evil Company agent for 21 years. Impressive!

With the help of a little finger breaking courtesy of Ralph, Dr Sandinsky admits that he's working with Christina Rose.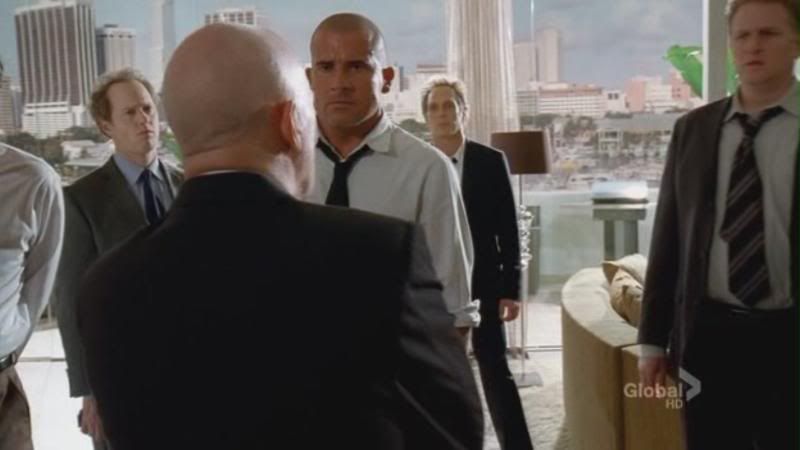 General Pad Man is upset that Lincoln neglected to mention that his mother was behind all this. He makes to execute the guys, except T-Bag who he describes as the only competent one in the group. I have to say, if T-Bag is the most competent one in your group then you're really screwed.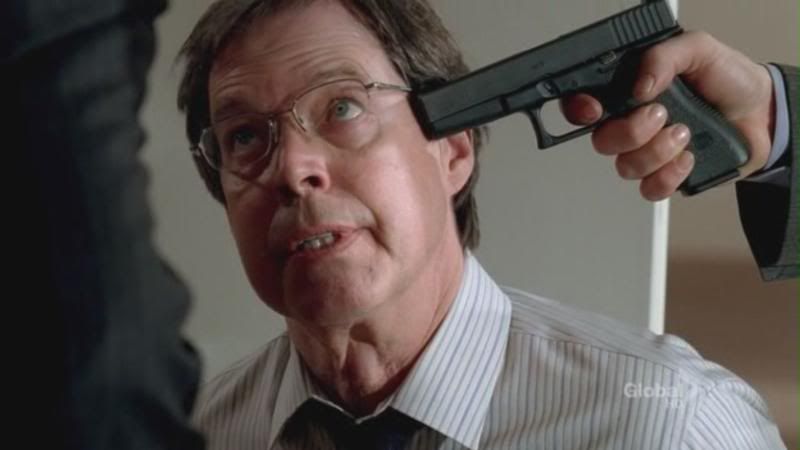 But wait! Although he doesn't know the location of Scylla, Dr Sandinksy can tell you where to find Christina Rose.

General Pad Man gives Linc and co one day to find her and finish this.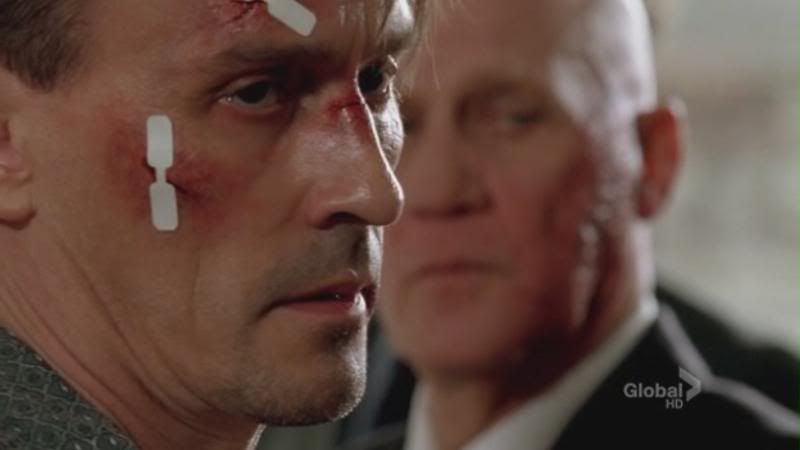 Except for T-Bag, who gets to stay behind cos he's the good kid.

~*~

Location: An Industrial Park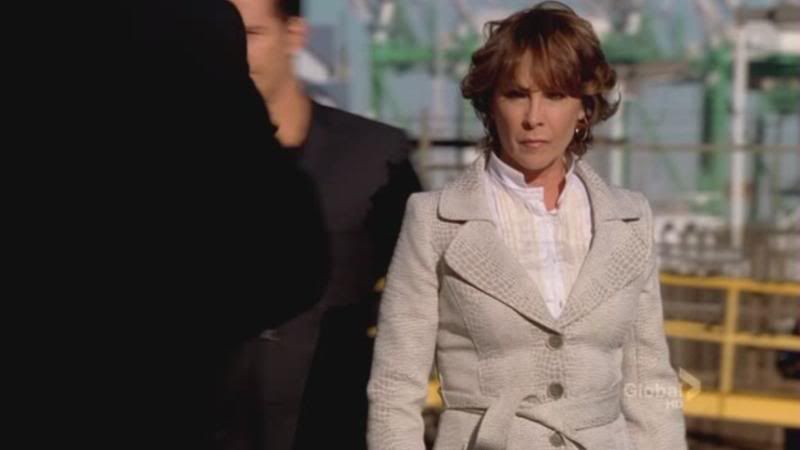 Christina Rose and her goons arrive to pick up Michael. Good old Andy is at his place by Christina Rose's side. I think given the choice he would be her real son.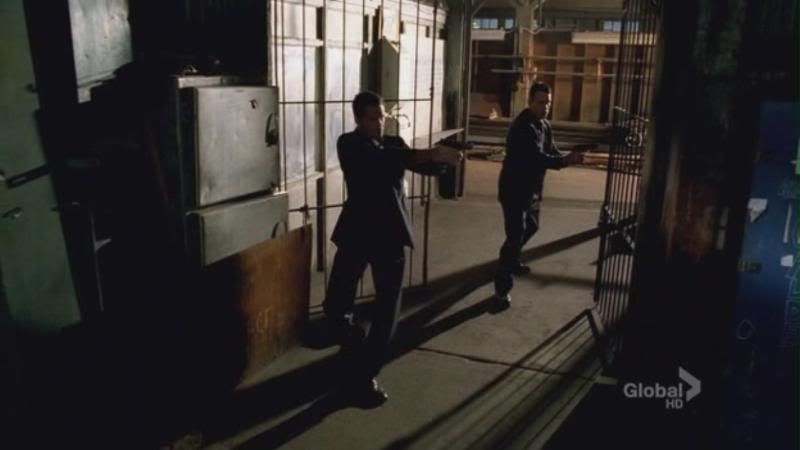 The goons enter but there's no sign of Michael or Dr Sara.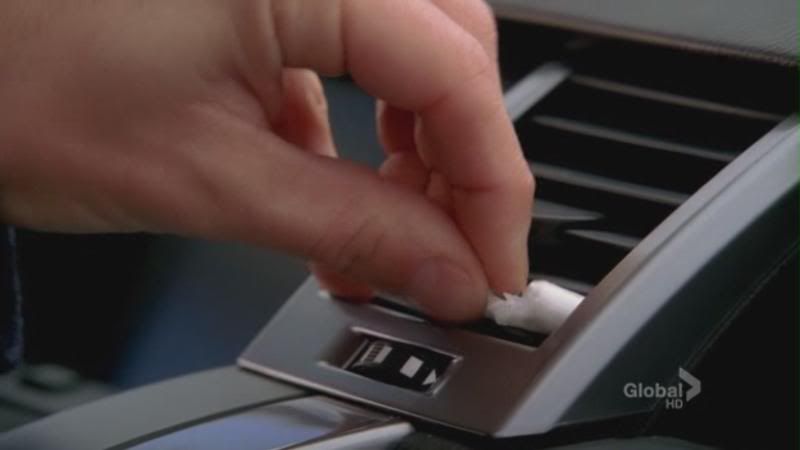 That would be because Michael's outside, spiking Christina Rose's car's air vent and turning the AC up to full.

His car squeals out of there, alerting the goons that something's up. They run back out and hop into their own car.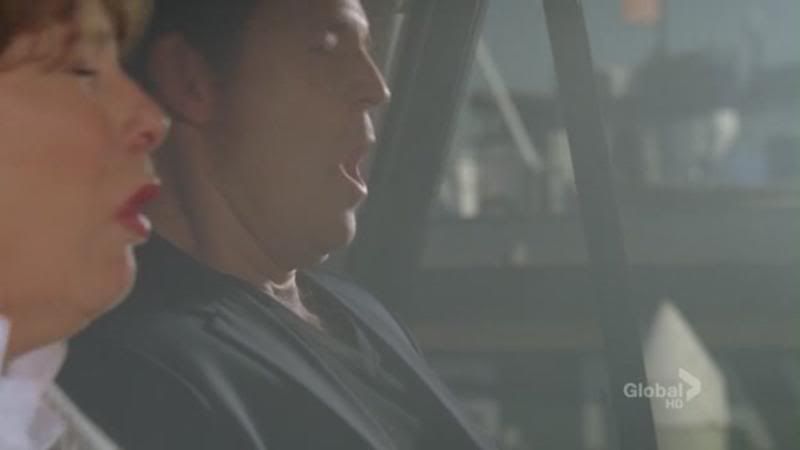 Which now comes complete with incapacitating drug mist.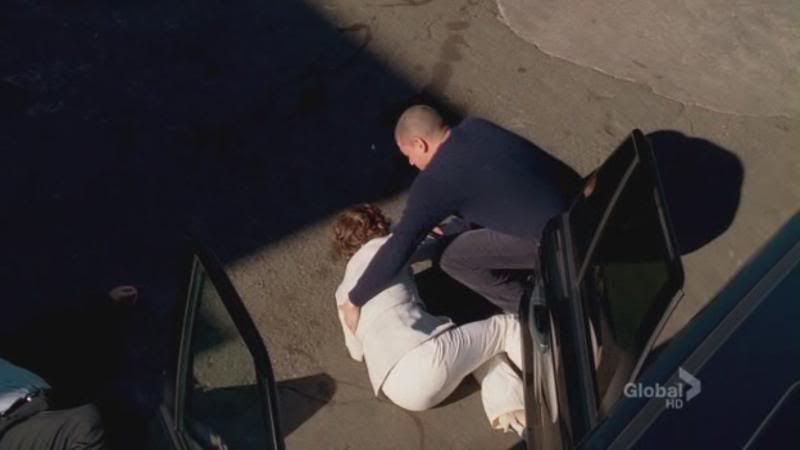 Michael grabs his mother.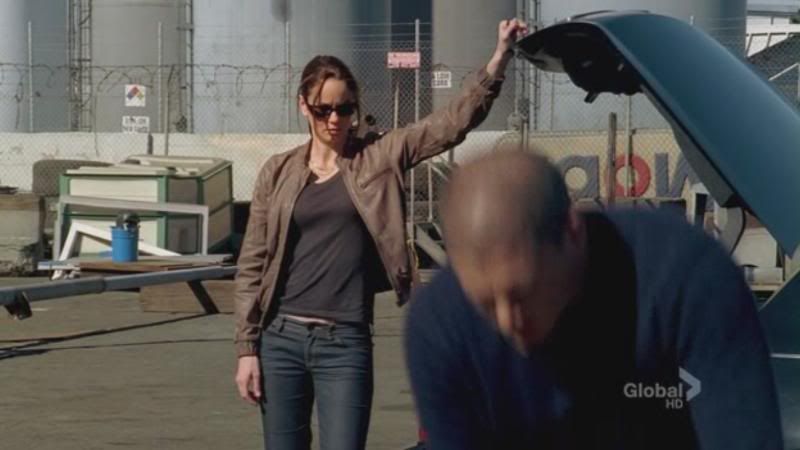 And they haul her in the boot of their car. Also, Dr Sara is more awesome than you.

~*~

Location: Condo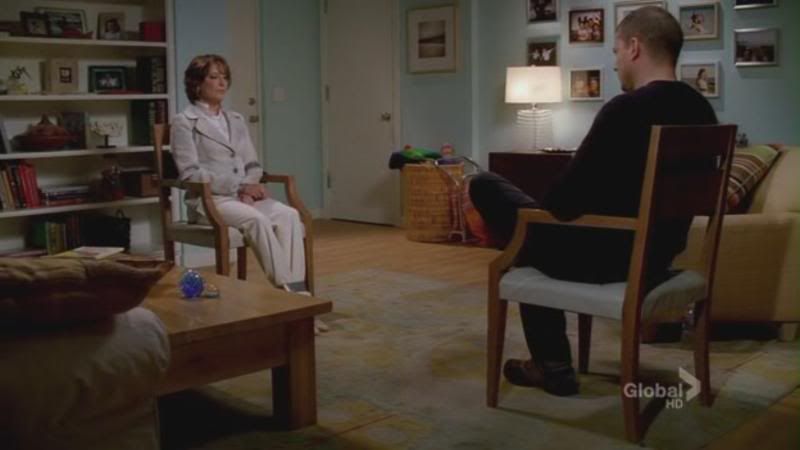 Michael decides to have a chat with Mummy Dearest. She tells him that Lincoln has been a bad influence on him, but she approves of Dr Sara.

Michael doesn't appreciate her badmouthing the man who raised him after she abandoned them. He just wants Scylla. Christina Rose suggests a partnership. Michael is not receptive to this suggestion. Christina Rose points out that she knows him and he can't manipulate her like he does everyone else cos they're too alike.

~*~

Location: Christina Rose's Hotel Room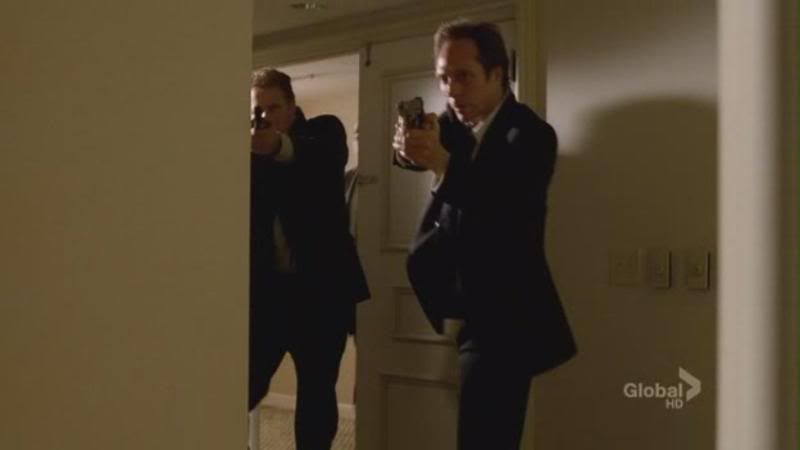 Lincoln, Mahone and Self break in to see what they can find.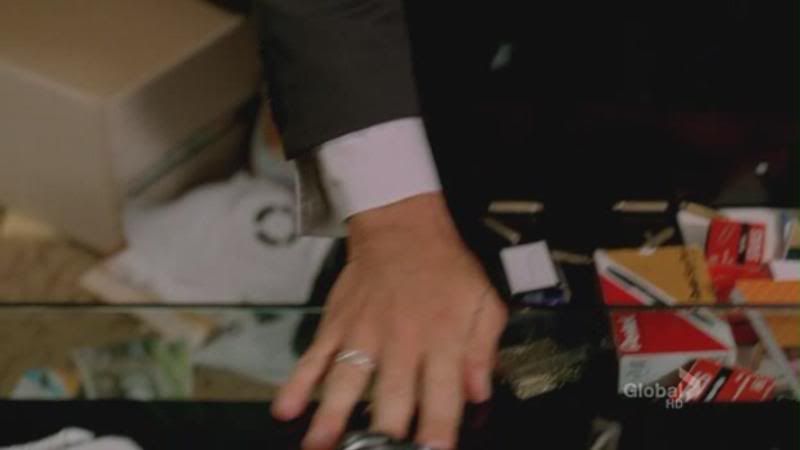 Lincoln spends a long time fingering some bullets, which I'm sure will be significant later.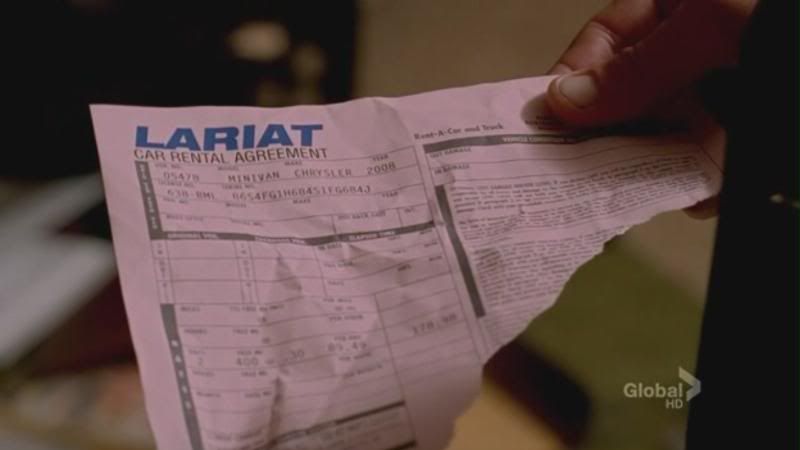 They also find part of a car rental receipt.




And a DMB envelope with 6468 written on it. How convenient.

~*~

Location: Miami Hotel Room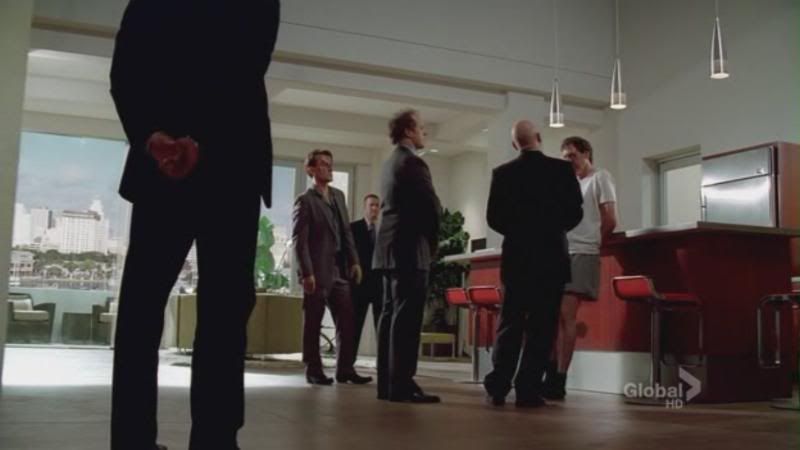 Dr Sandinsky is not having a good time. Ralph keeps punching him and for some reason they've taken off his trousers.

Dr Sandinsky says that Christina Rose asked him to come down and speak at a conference with promises of scientific interest. General Pad Man tells him that Christina Rose's interest is purely financial and a year ago she came to him with the idea that, instead of building their organisation around Scylla, they sell the technology to nations that would appreciate better defence systems in this modern age of violence and uncertainty.

Sandinsky says that Christina Rose's way is totally better and General Pad Man thinks too small.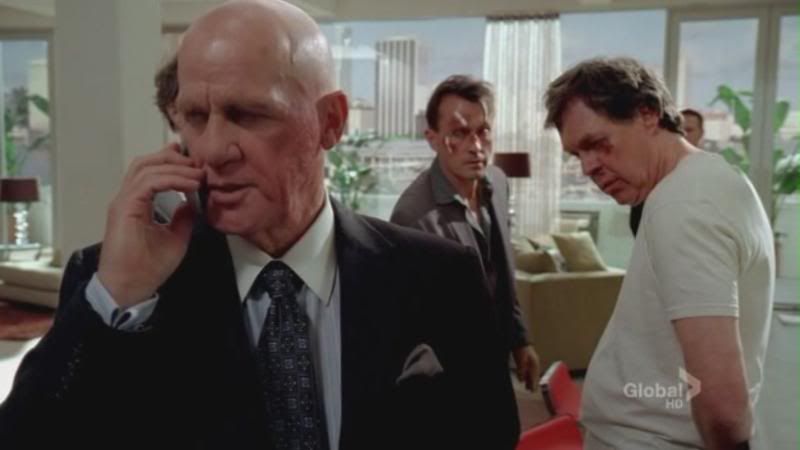 Lincoln phones up to ask if Dr Sandinsky knows what the letters DMB mean. Dade-Miami Bank, apparently.

~*~

Location: Condo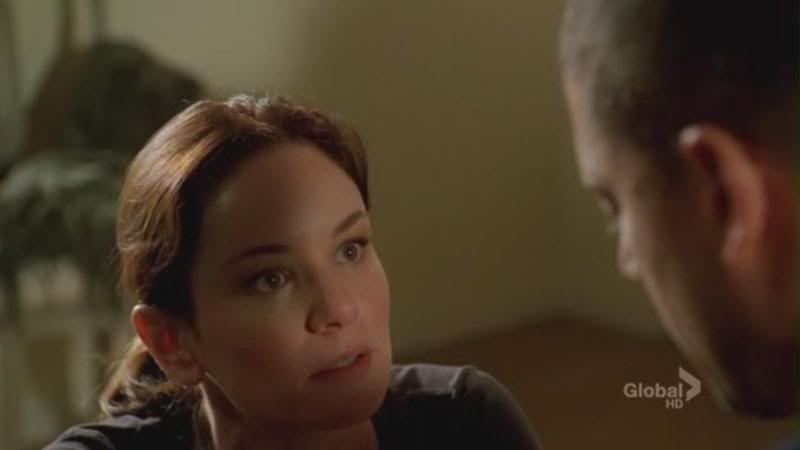 Dr Sara is comforting Michael after his little chat with his mother. She suggests that she have a go, not having the emotional baggage of being abandoned when she was six and all.

There is a lot of Michael/Sara touching and kissing in this episode. I approve.




Dr Sara goes out for her own chat, but Christina Rose quickly gets the upper hand by working out from her body language that she's pregnant. And that Michael doesn't know.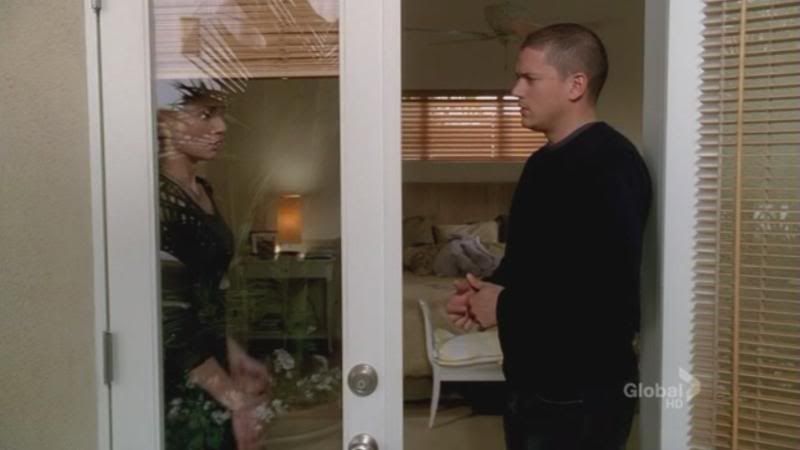 Dr Sara returns to Michael and this is really the point where she should tell him the news, so that Christina Rose doesn't have an advantage over her. But she doesn't. I know it's not the perfect time to break the news that your boyfriend is going to be a father, but really Dr Sara, it's the best you're gonna get.

~*~

Location: Miami-Dade Bank




The guys go in and Self flashes his badge to try and get the lady to allow Lincoln to access his mother's box. Does Don Self even know what Homeland Security does or does he just think they're the magic police who can do everything?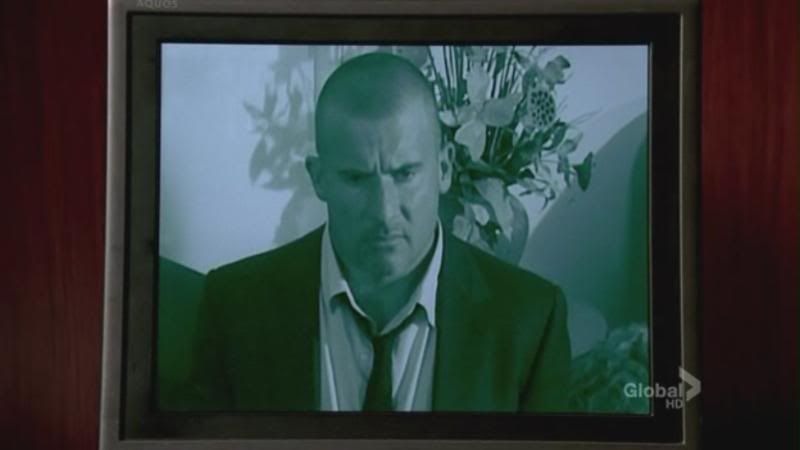 The lady says no, and the programme makes a point of showing us how Lincoln is being caught on the security camera. This is going to end badly.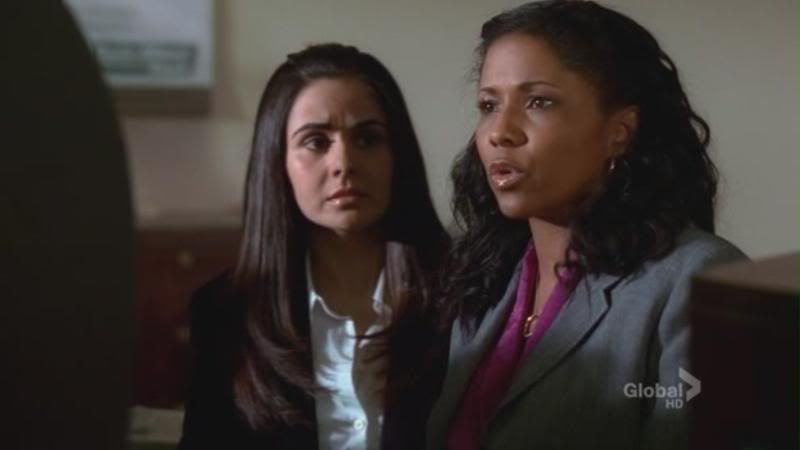 Another employee overhears and says that the box they want was just accessed by the man with the silver briefcase leaving now.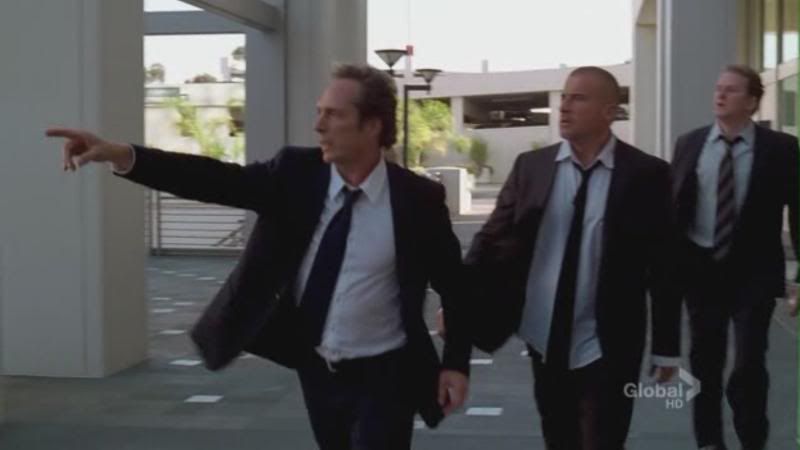 The guys follow and see Andy get into a car. They quickly jump in their own and give chase.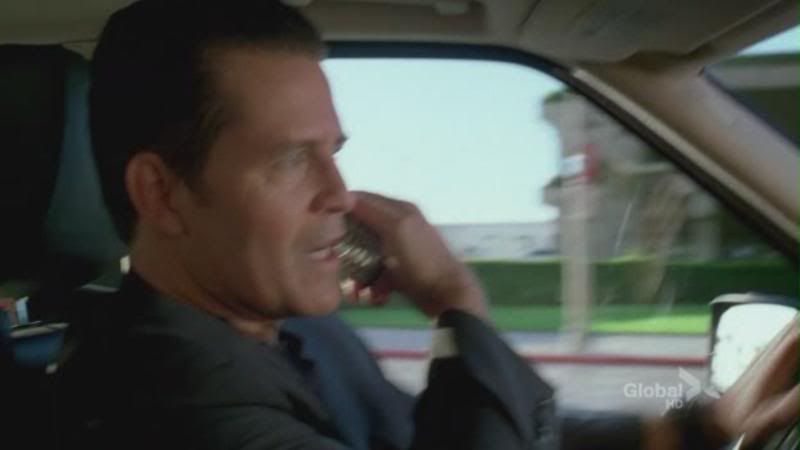 Andy gets a call from Naveen who wants to speak to Christina. Andy lies that she's in a meeting and Naveen says if he doesn't speak to her before five the deal is off.

~*~

Location: Condo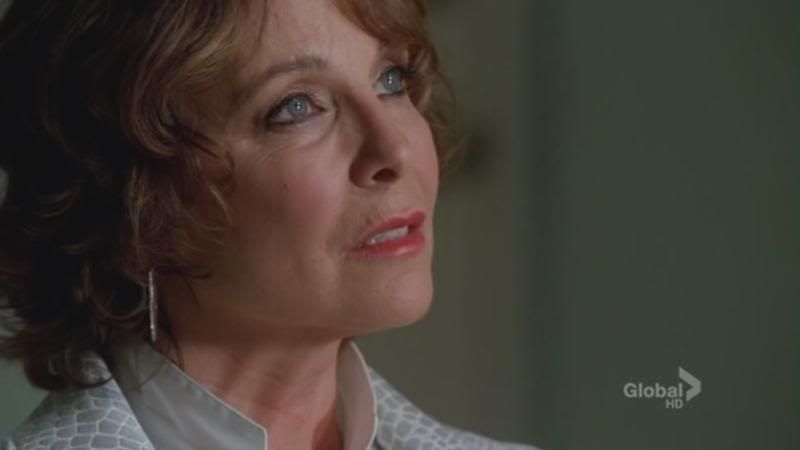 Michael goes in for another round with his mother. He offers to let her walk if she takes him to Scylla.

Christina Rose says that Lincoln won't allow that. Then she points out how different the two brothers are. Michael is blue-eyed and intelligent and subtle whereas Lincoln is green-eyed, a bit thick and thinks all problems can be solved by hitting them harder.

Her point is... They're not brothers.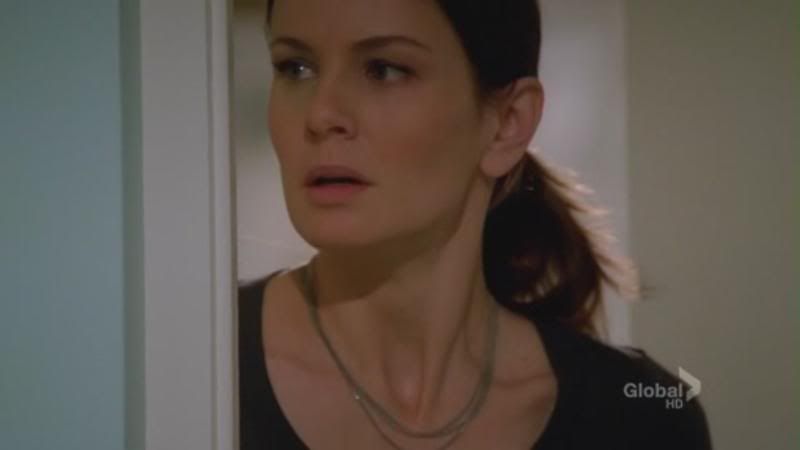 Dr Sara is eavesdropping on this shocking revelation.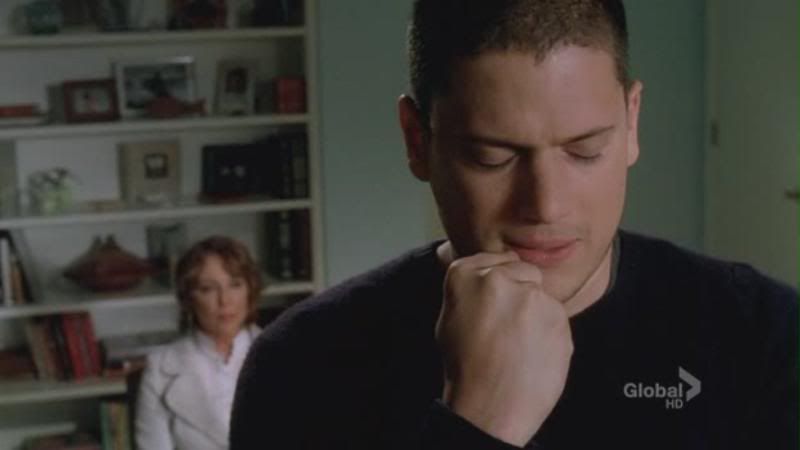 Christina Rose explains that Lincoln's parents were Company agents who were killed and Aldo adopted him when he was three. Christina never really bonded with the boy and always liked Michael better.

Michael insists that Lincoln was more of a brother than Christina ever was a mother, what with raising him and keeping him safe and putting him through school. Christina Rose says she doesn't want to see Michael throw his life away for Lincoln.

Christina Rose, you are such a bitch.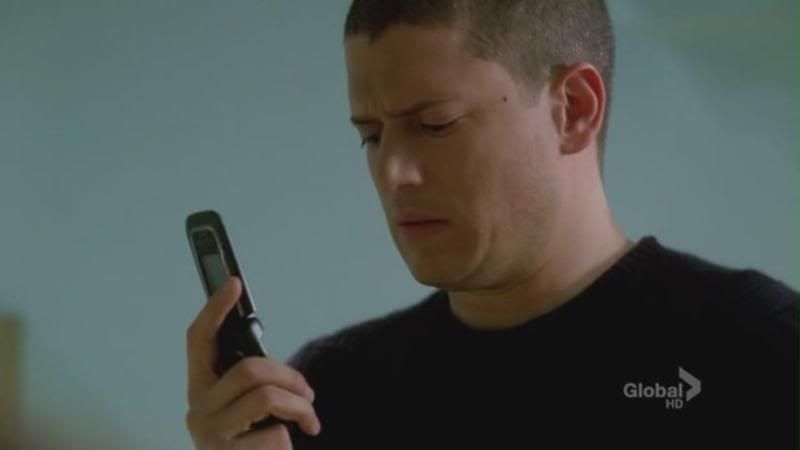 Michael tries to call Lincoln to find out where he is but he doesn't answer, on account of trying to keep up with Andy while Self nags him from the back seat.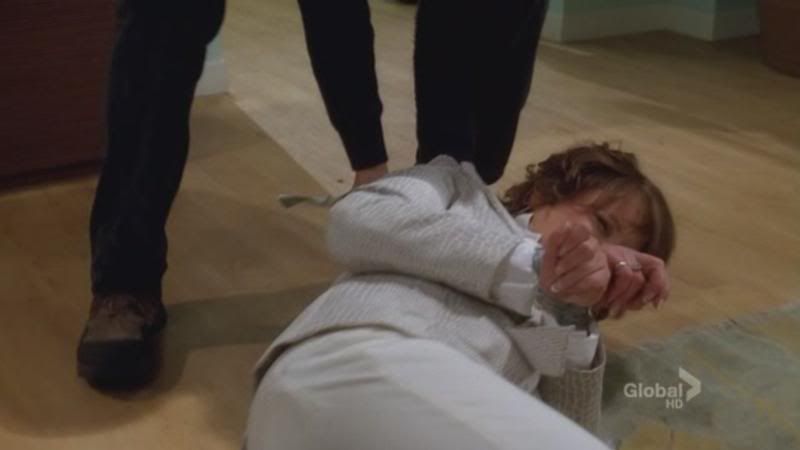 Michael's had enough and decides to drag his mother into the bathroom to get the information out of her another way.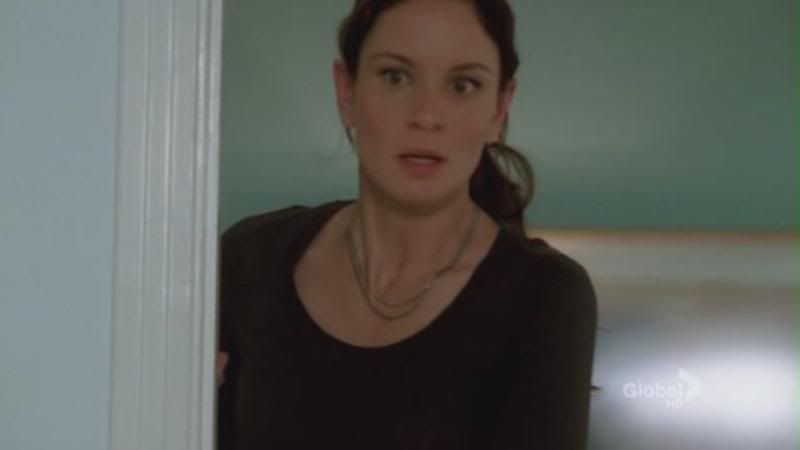 Dr Sara is a bit wary of this, having been on the receiving end of bath-based torture herself, but doesn't try to stop him.




Christina Rose cracks and tells Michael that Lincoln will be at the energy conference at the Panda Bay hotel in an hour.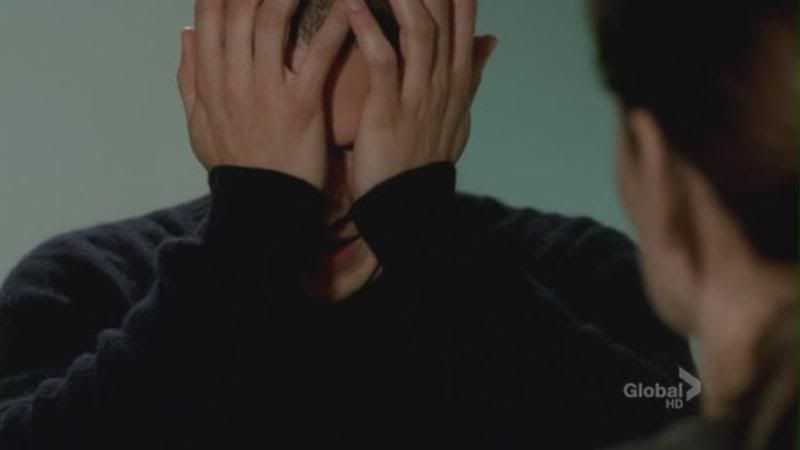 Michael has a bit of a mini-crisis over everything, but fortunately Dr Sara is there to comfort and support him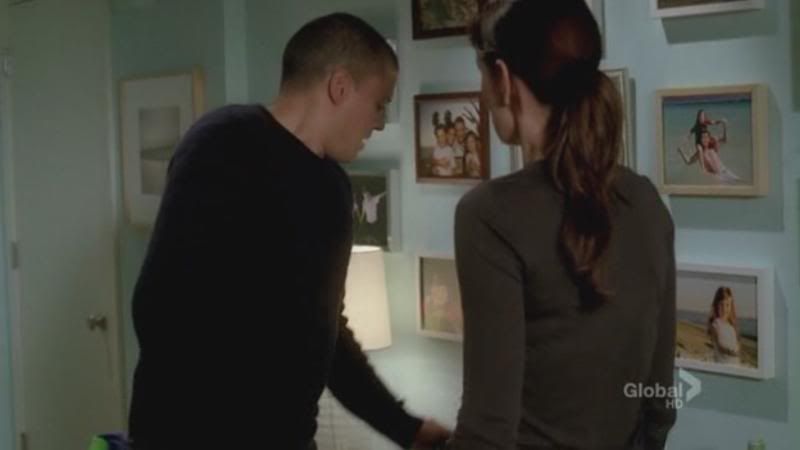 Michael heads off to find his brother, leaving Dr Sara with a gun to guard Christina Rose, pointedly telling her to use if it his mother gives her any trouble.

Ok Michael, I may have to revoke your genius card. In the last few episodes we've all been reminded time and time again how similar you and your mother are. If you were left alone in a bathroom, tied up with only tape and just one person guarding you outside the door, how long do you think it would take for you to escape? Exactly.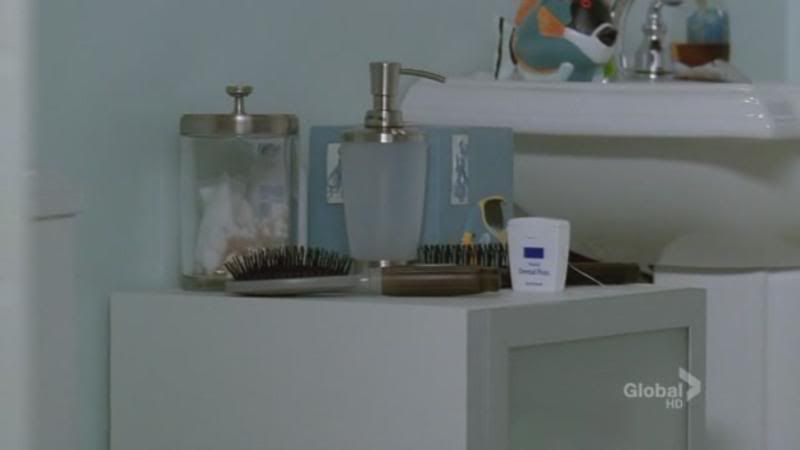 Christina Rose is already eyeing up all the helpful goodies in the bathroom she could use.

~*~

Location: Miami Hotel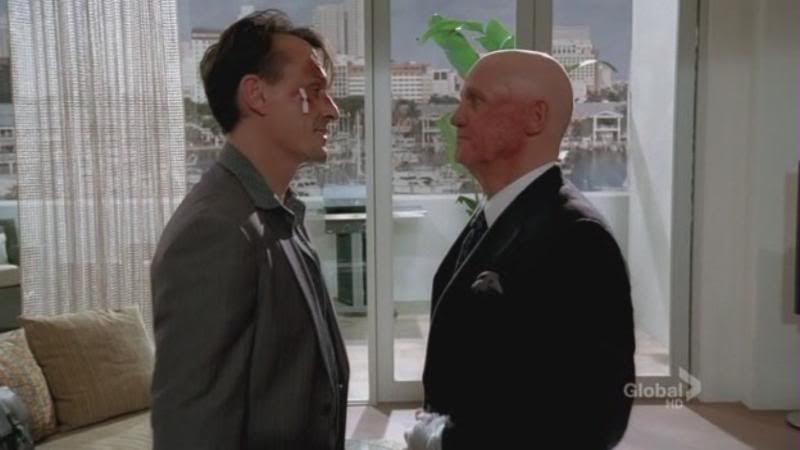 General Pad Man is congratulating T-Bag on all his good work so far. There's just one more thing he needs to do before he can claim his business card reward. Once Lincoln returns with Scylla, T-Bag has to shoot him.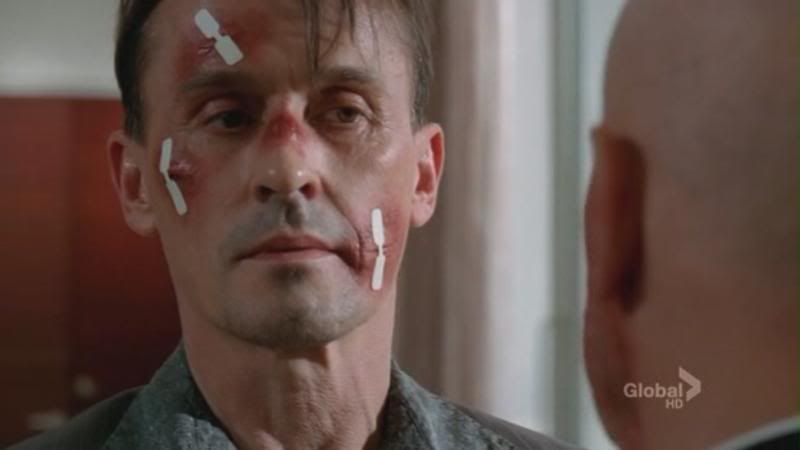 I can't tell if he's happy about this, or worried by the fact that most people who try to kill the brothers do not meet happy endings.

~*~

Location: Condo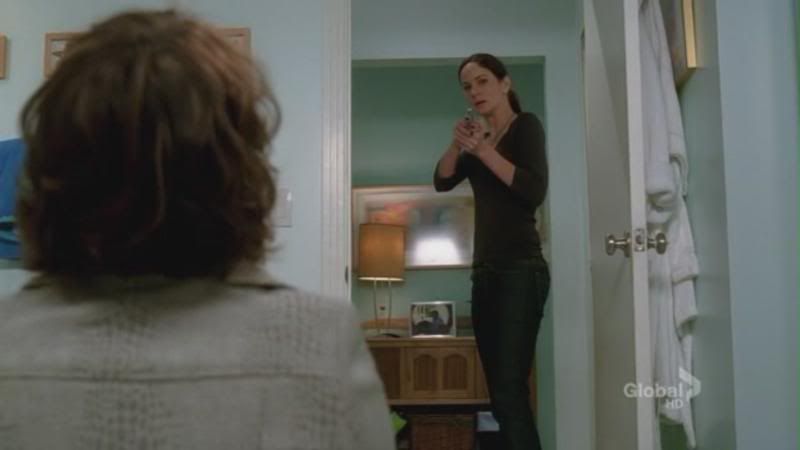 Christina Rose has been making a lot of noise in there, so Dr Sara decides to go check on her. No, Dr Sara. Just leave the bitch. Christina Rose taunts Dr Sara about her drug addiction, which Dr Sara handles very well I feel.




Ok, so this screencap sucks but basically what's happening here is that Christina Rose tied dental floss to the door handle and the doorstop on the wall, so when Dr Sara slams the door, it pulls the doorstop away, revealing the screw end.

~*~

Location: Condo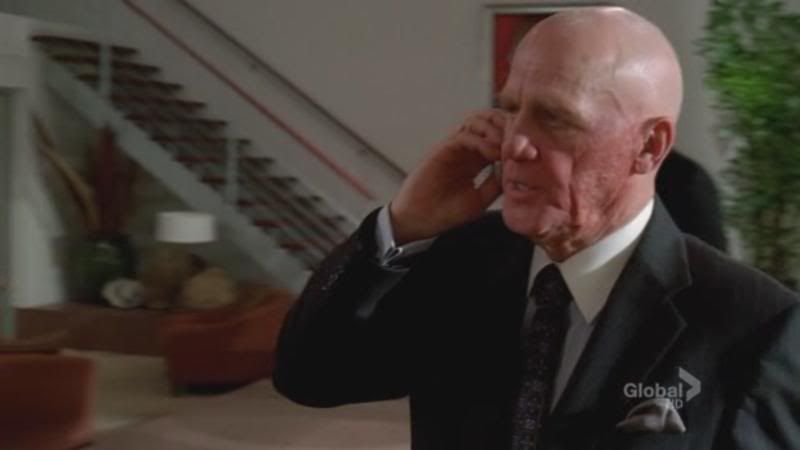 General Pad Man is barking orders. One of the things he wants is a list of names of everyone attending that conference.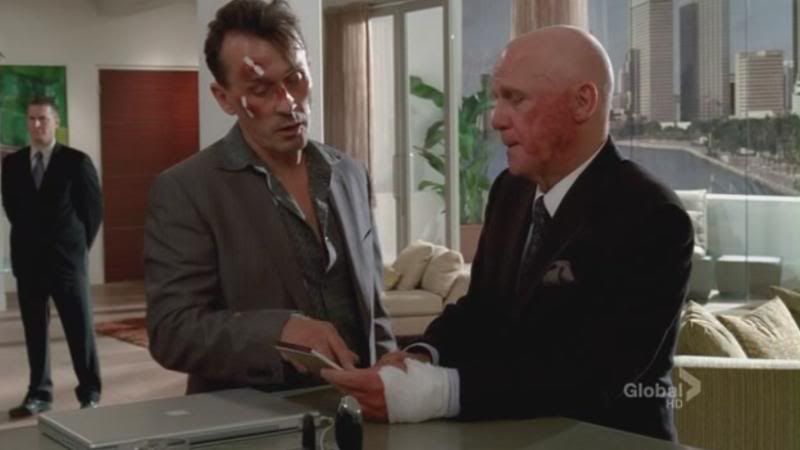 But T-Bag has taken the initiative and already called the hotel's front desk, pretending to be from a newspaper, and got the list of names. It's really scary that T-Bag is so good at this.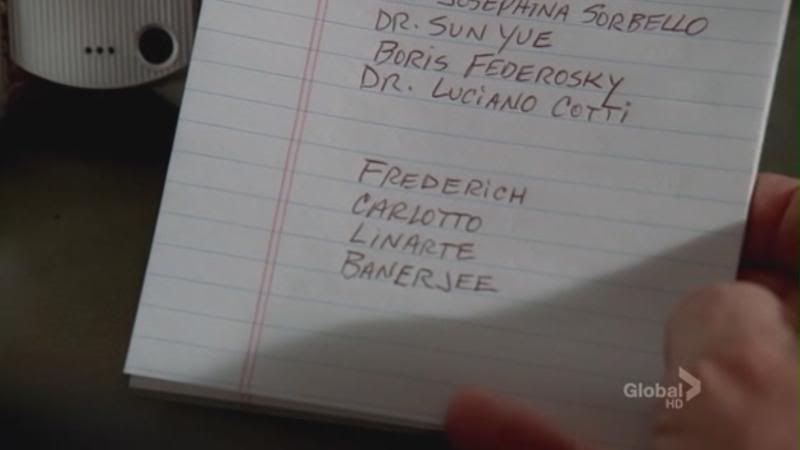 General Pad Man is particularly interested in the name Banerjee. As in Naveen Banerjee. Son of the Indian prime minister.

~*~

Location: Miami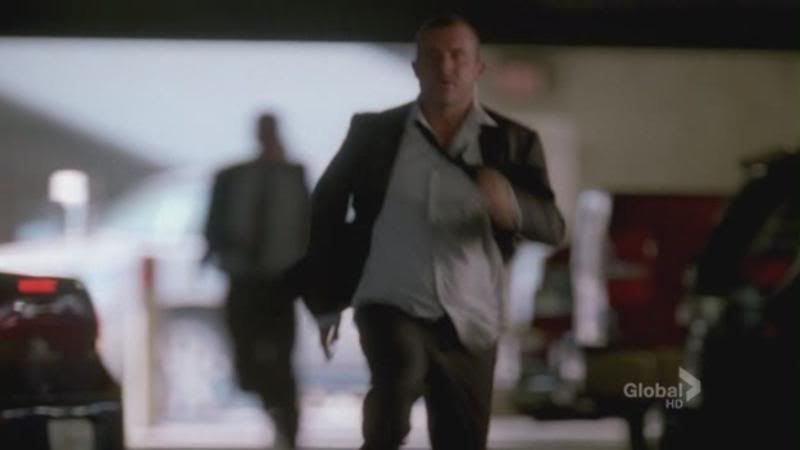 Lincoln, Mahone and Self are still chasing down Andy. That's why Linc 's isn't answering Michael's phone calls.

~*~

Location: Condo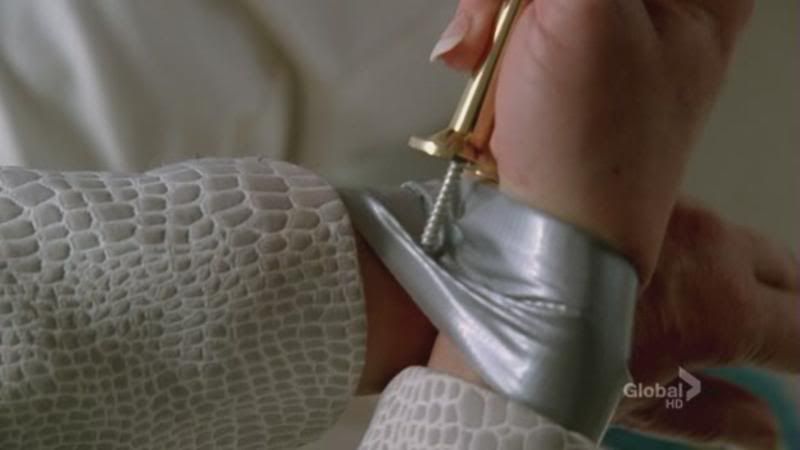 Christina Rose the Genius is using the doorstop to cut the tape from her wrists.




Dr Sara goes to investigate the noise.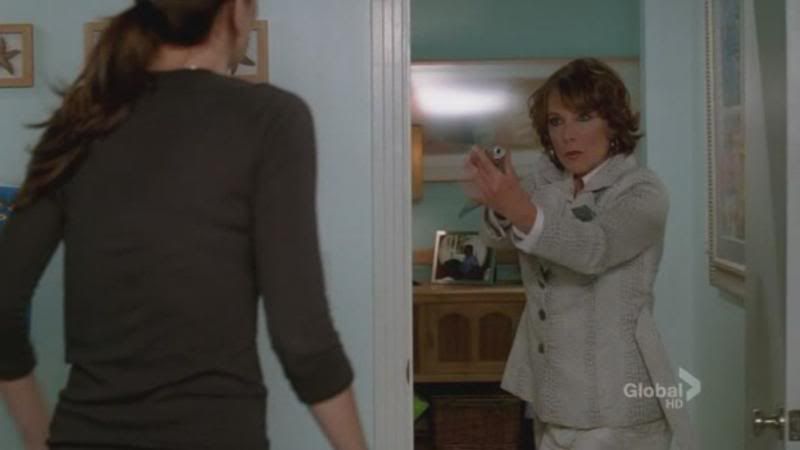 And ends up on the wrong end of the gun.

~*~

Location: Miami




The guys chase Andy all the way to a hotel. Mahone realises that it's the same hotel where the energy conference is taking place.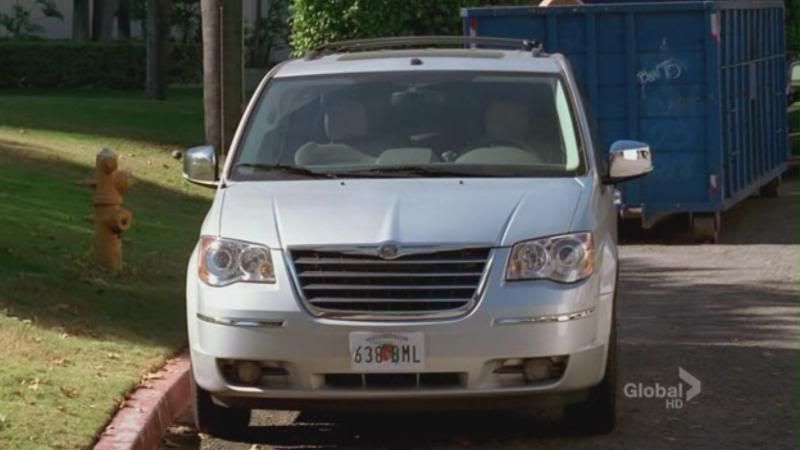 And there's a silver minivan waiting outside, the same one that they found the receipt for.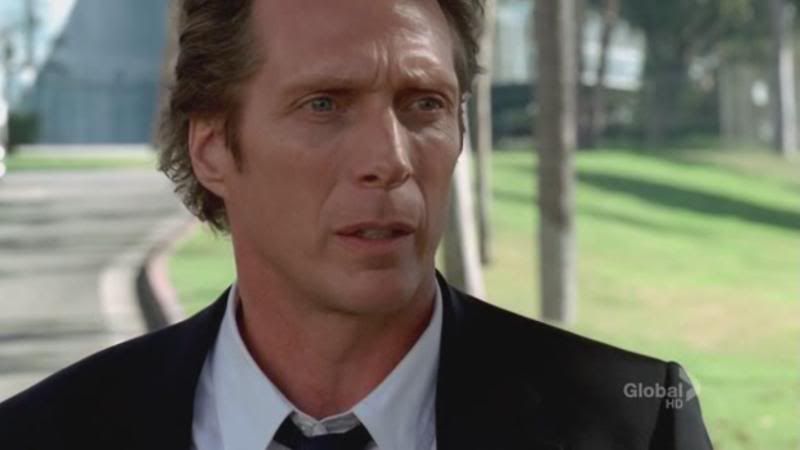 Mahone realises that this is a trap and Andy led them here on purpose. He shouts at Lincoln to stop.




Lincoln listens not to reason and logic. Lincoln runs in head first and uses one of the security passes they swiped from the Little Havana church to get past the guard.

~*~

Location: Condo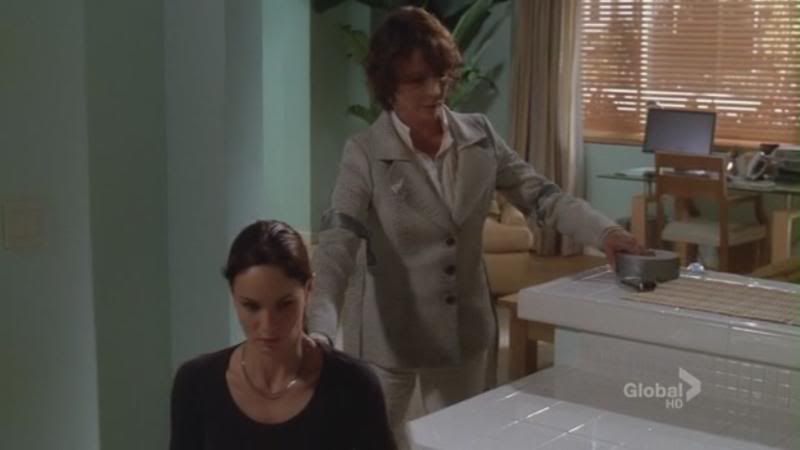 Christina Rose forces Dr Sara down by the counter and duct tapes her hands round it.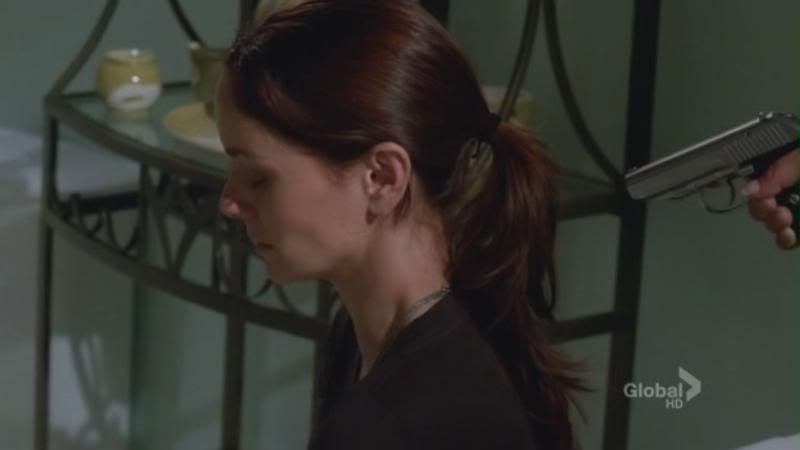 Dr Sara quite rightly points out to Christina Rose that Michael will never forgive her for this.




Christina Rose shows some humanity after all and doesn't shoot Dr Sara. Before she leaves she says she hopes she can meet her grandson someday. What, already deciding gender Christina Rose? Would a granddaughter not be good enough for you?

~*~

Location: Energy Conference Hotel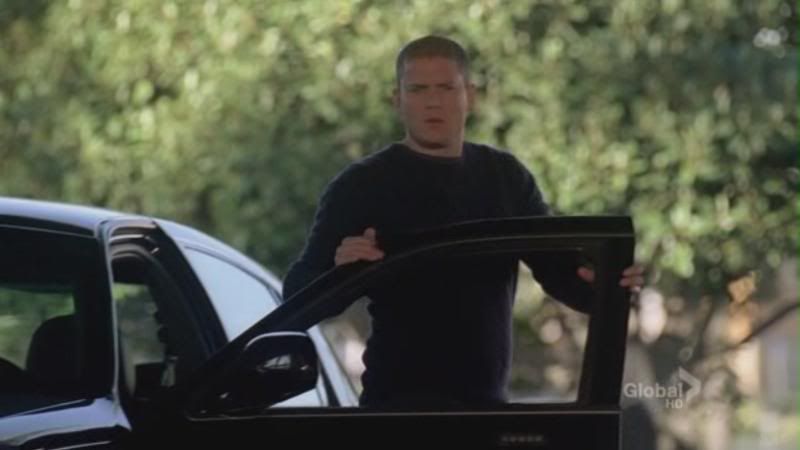 Michael has arrived to save the day!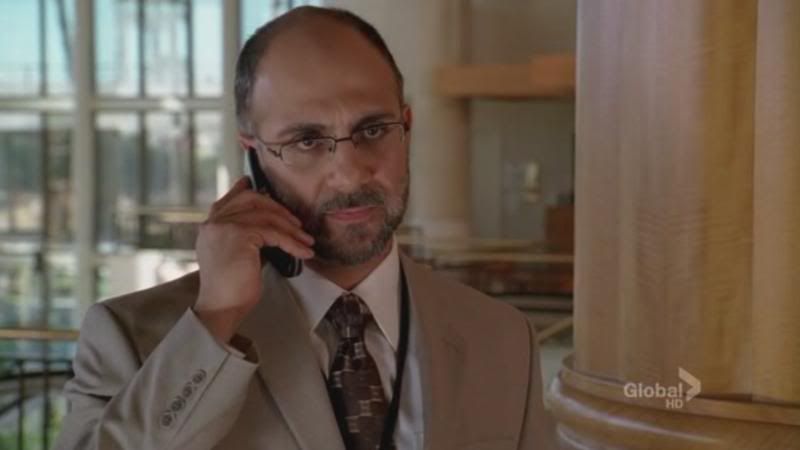 Also, Naveen is still not convinced about the awesomeness of this new technology and would like to propose a new deal – a million dollars for exploratory research.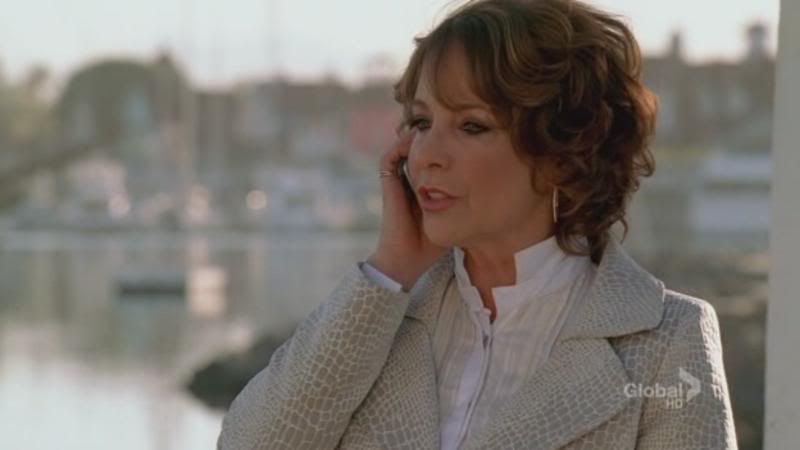 Christina Rose is all 'yeah, sure, youbetcha.'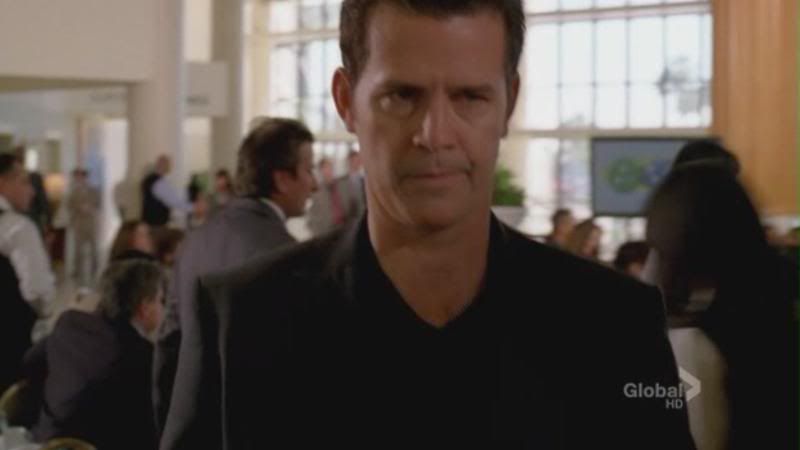 Inside, Andy has arrived at the conference.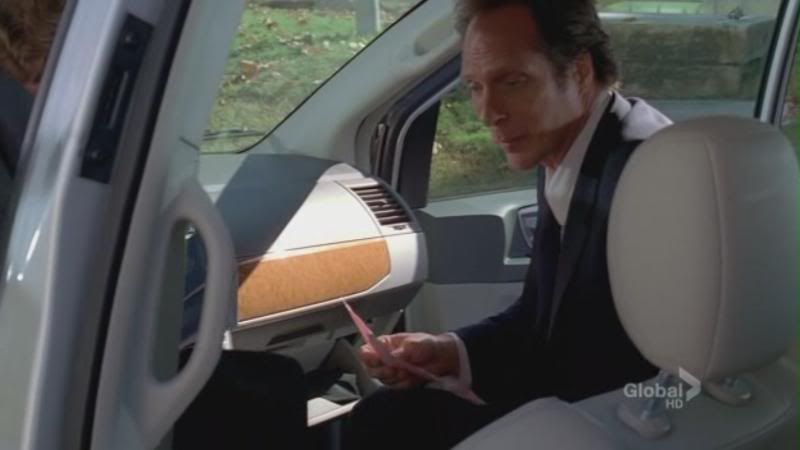 Outside, Mahone and Self are investigating the rental car. They find the rest of the rental receipt, showing that it was rented in Lincoln's name.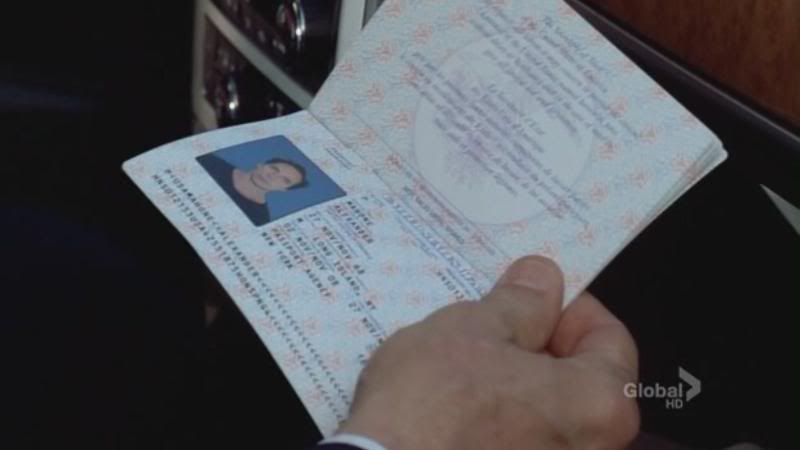 And passports for their group. Which can only mean one thing...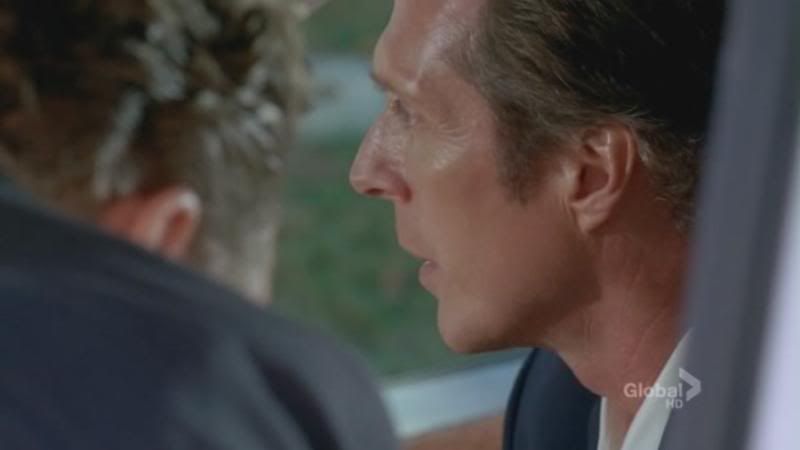 It's a set up!

~*~

Location: Miami Hotel Room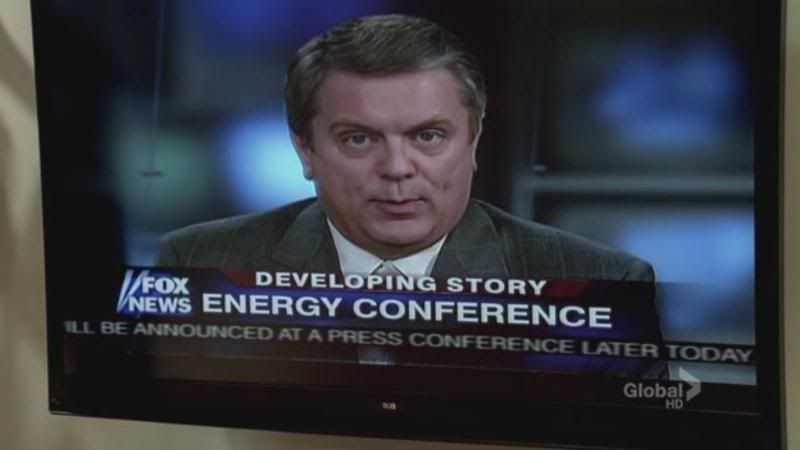 General Pad Man and co are watching the news report on the energy conference going on in Miami today.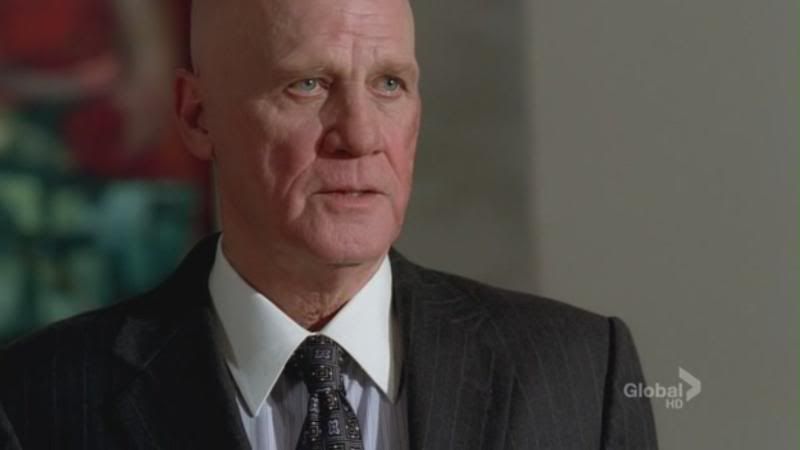 General Pad Man realises that Christina Rose's plan is to spark an international incident and sell the awesome Scylla technology to both sides. Oh Christina Rose, you so evil.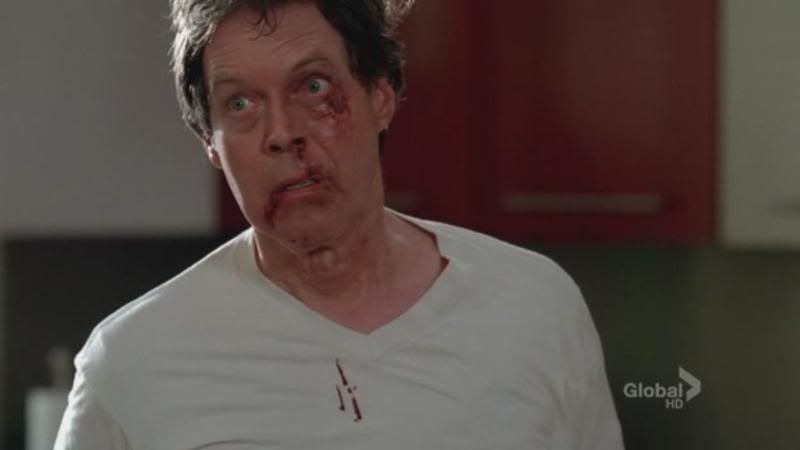 Since they no longer have any more use for Dr Sandinsky, General Pad Man orders T-Bag to kill him.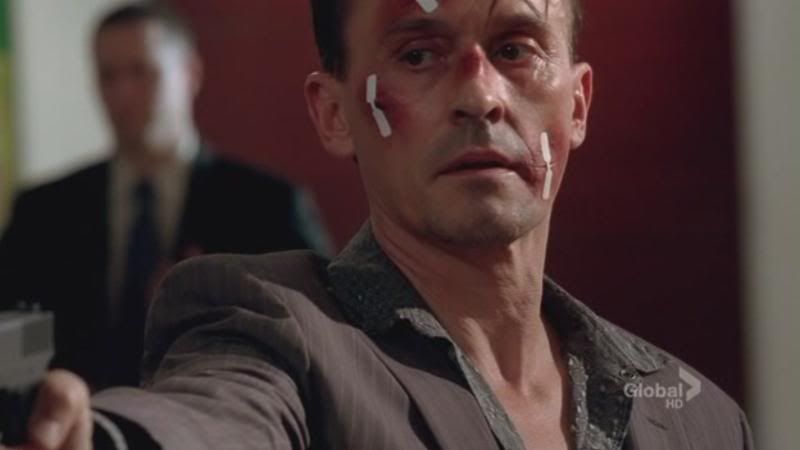 T-Bag does so. He really wants those business cards and a little thing like murder isn't going to stop him.

~*~

Location: Energy Conference Hotel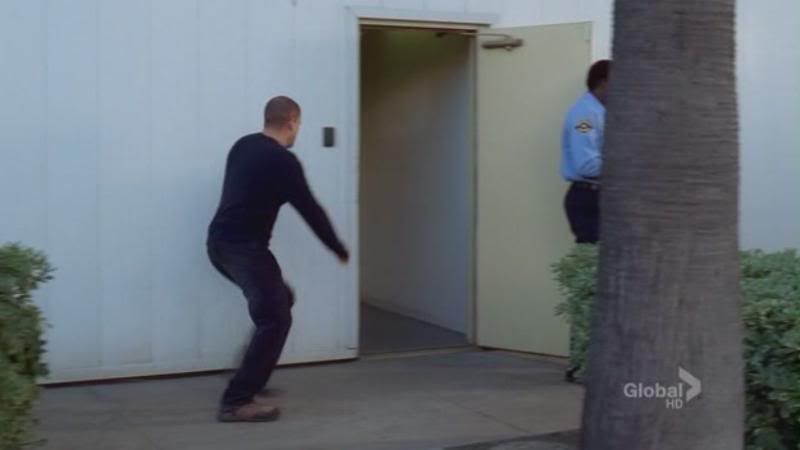 Michael runs in past the most useless security guard ever.




Who just watches him go.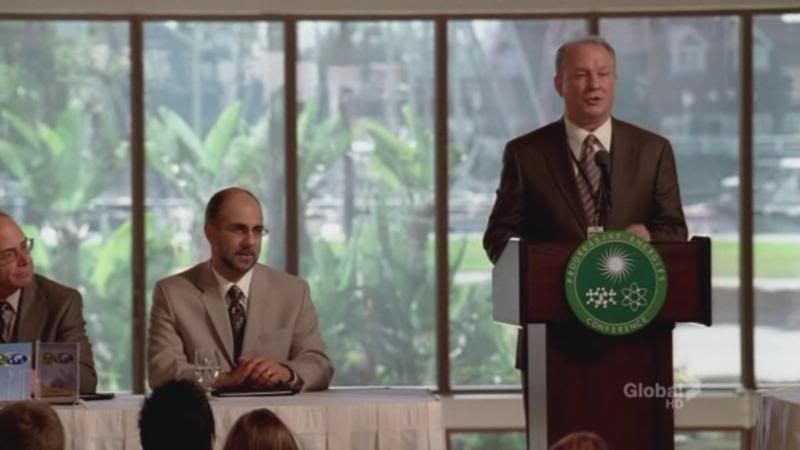 Inside, the conference has begun. It's all terribly exciting. Well, not yet cos they're talking about energy, but just you wait.




Lincoln chases Andy up an escalator to the mezzanine overlooking the conference. Andy goes through a door which Linc finds himself locked out of.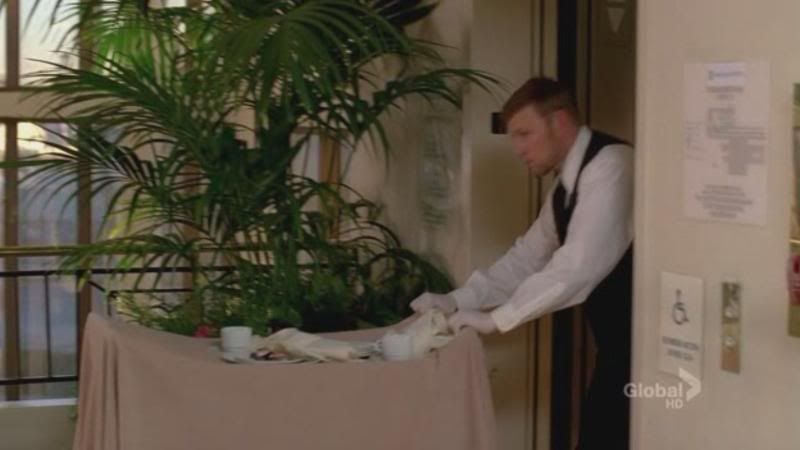 This guy then appears from the lift.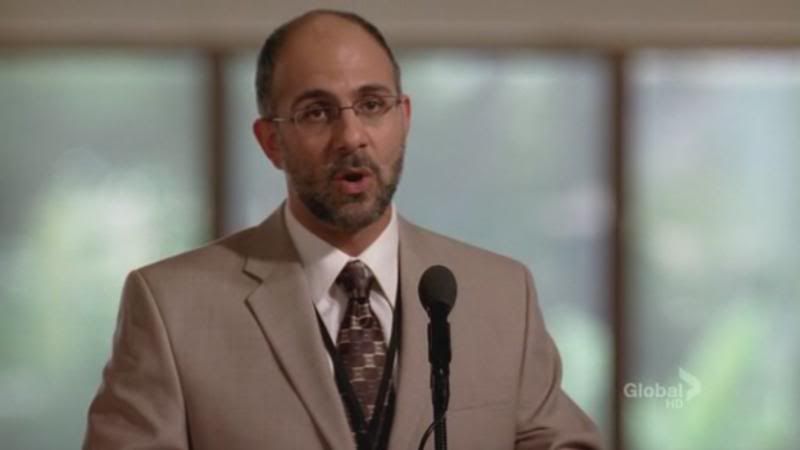 Naveen takes the podium.




But doesn't get to speak for long.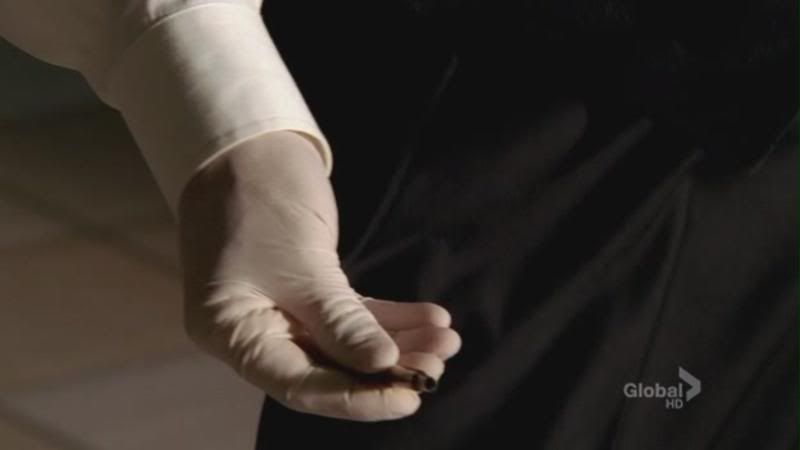 The assassin drops some shells and makes a quick exit. Handy flashbacks remind us of how Lincoln was fingering those same shells with his bare hands earlier.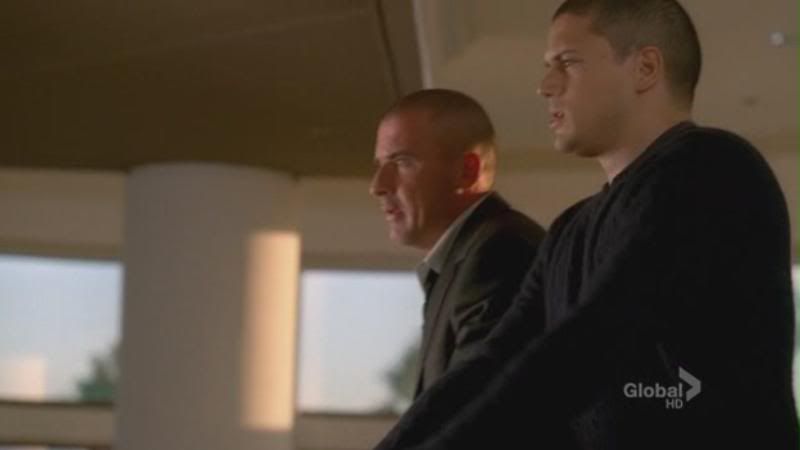 Michael runs up to tell Lincoln that Christina Rose set this whole thing up. Unfortunately he is too late to do anything other than join his brother on the mezzanine of assassination.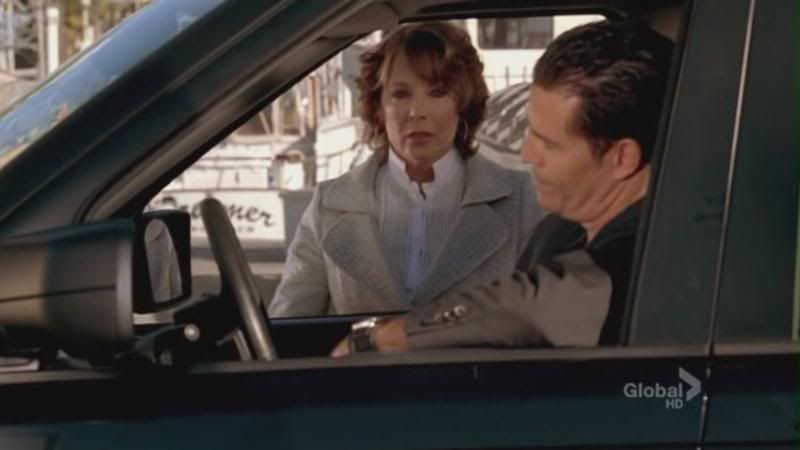 Outside Christina Rose and Andy drive away. Andy is pleased to note that everything went according to plan. It's just a shame about Michael.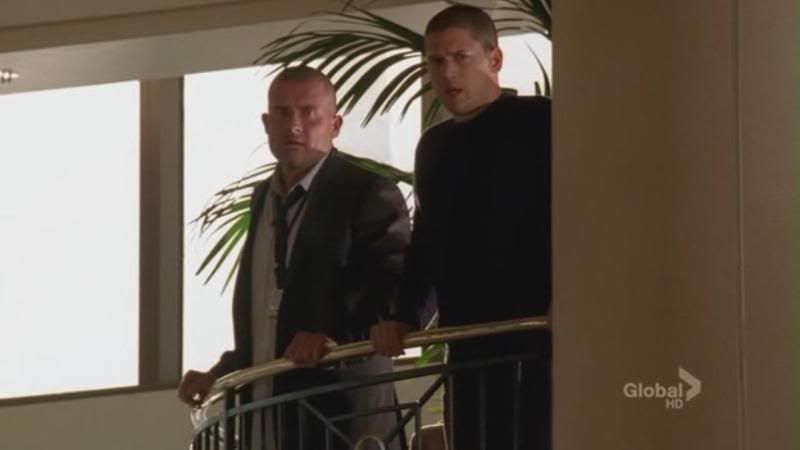 Oh boys, you are so screwed.

~*~
~*~

My Thoughts

I don't know if Christina Rose is telling the truth about Lincoln not being Michael's biological brother. It seems a bit of a weird move for a show which has always been about a man who will go to extreme lengths to save his brother. Or maybe they've done it to make a point about how blood doesn't make a family. I'm still not convinced she's not lying in order to manipulate Michael. It would be a pretty shitty thing for her to do, but I think she's proven herself to be a pretty shitty human being.

But whether she's telling the truth or not, Michael and Lincoln are brothers. They always have been and they always will be and nothing Christina Rose says can change that. So there.

screencaps by
sky_angel22