Not many episodes to go now! It's all very exciting.

Episode 4.18: Vs



Location: Plaza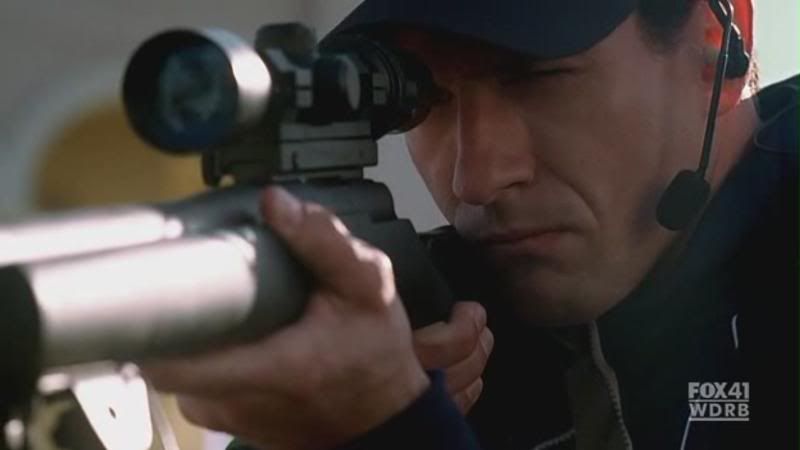 Christina Rose has just ordered a sniper to put a bullet in her eldest son's brain. Bad mother, bad.




Fortunately for Lincoln, he wanders past a well placed tree.

Don Self notices the sniper on the roof and the chase is on. As is customary with this show, there is much shooting and running.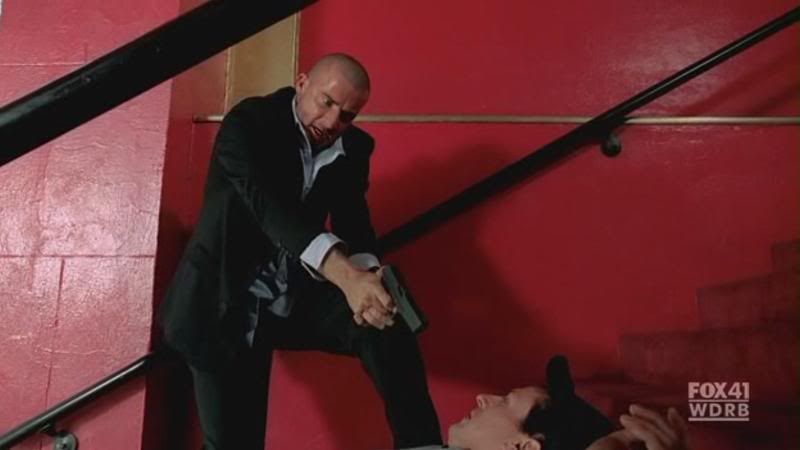 Lincoln gets his man and nicely asks him if he would be so kind as to divulge the location of Christina Rose.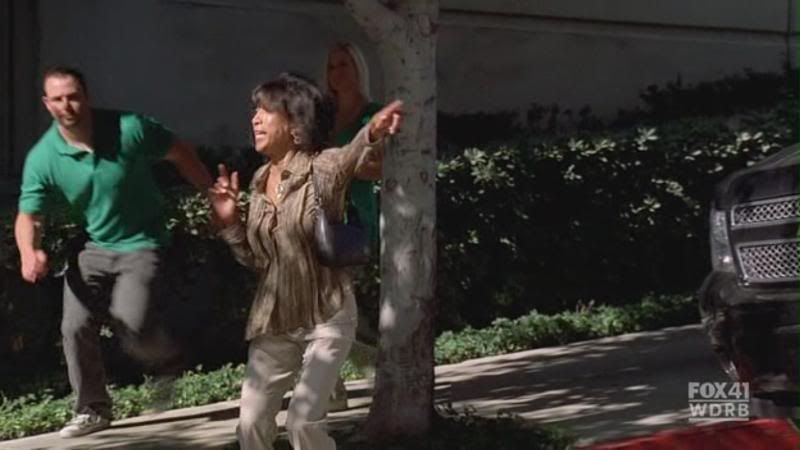 Unfortunately the general public tend to panic when men shout and wave guns around. There is more confusion, the sniper manages to knife Linc in the arm then gets hit by T-Bag driving a car and the group decide running away would be the smart option right about now.

~*~

Location: Condo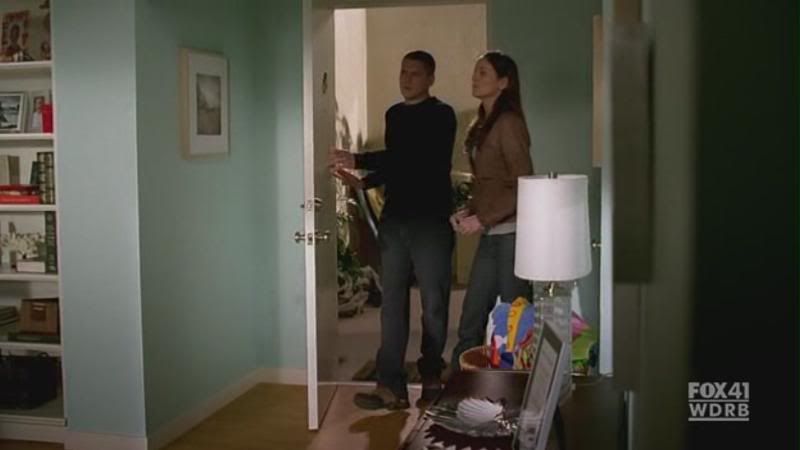 The good thing about friends is you can break into their beach apartments when they're not in town.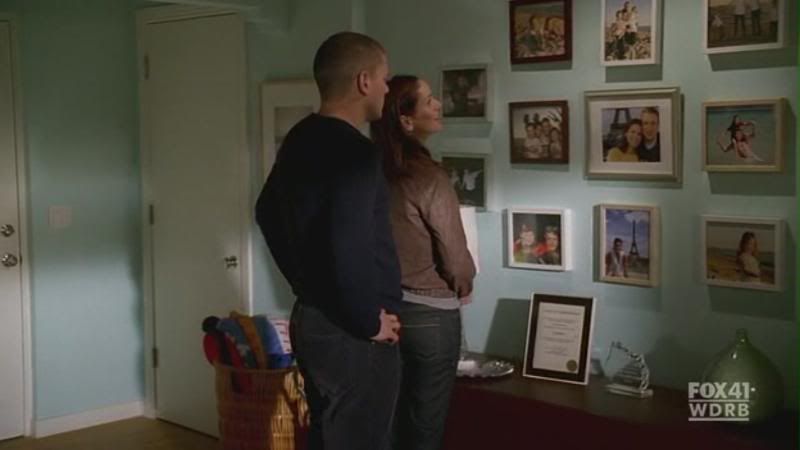 And gaze longingly at their pictures of a happy, normal family.

Michael tells Sara that they can have this one day, the sun, sand and cheesy matching outfits. Please don't do that last one.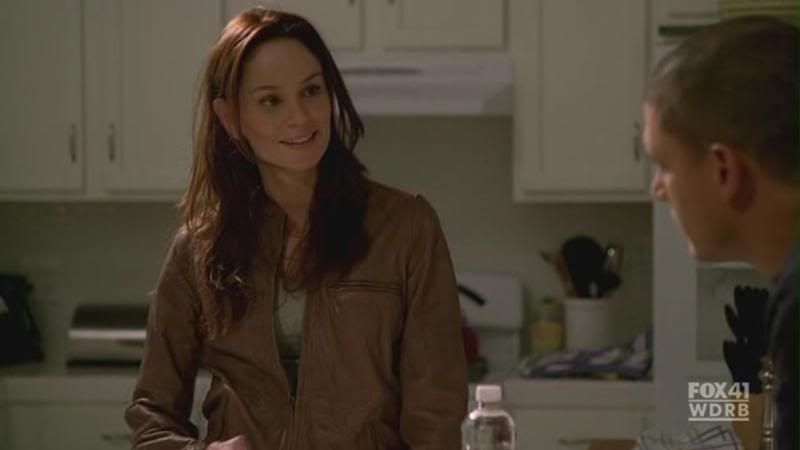 Dr Sara looks quite pleased by this idea.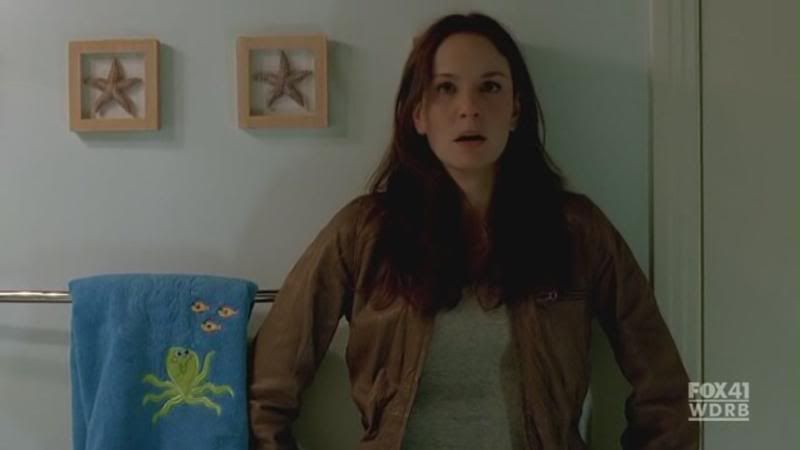 Or maybe not, as she shuts herself in the bathroom.

She begins rooting through the medicine cabinet. Are we supposed to think it's for drugs? Has life on the run got to her and she's relapsing into her old ways?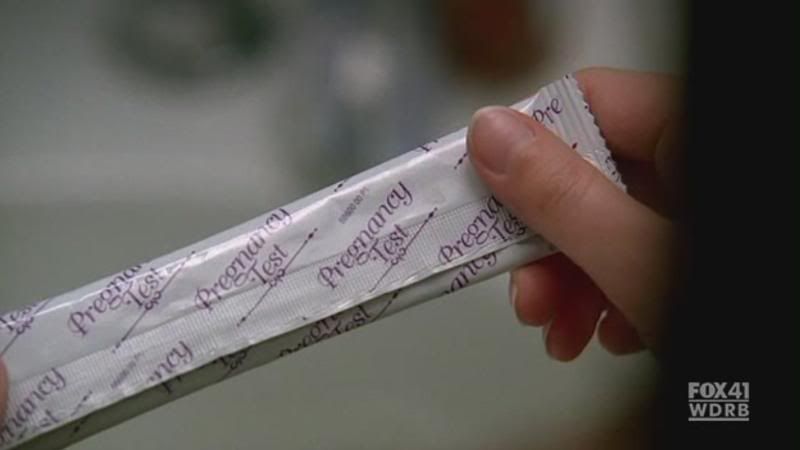 Oh.

Well, now we have an answer to the online debates as to whether Michael and Dr Sara have actually slept together yet.

~*~

Location: General Pad Man's Office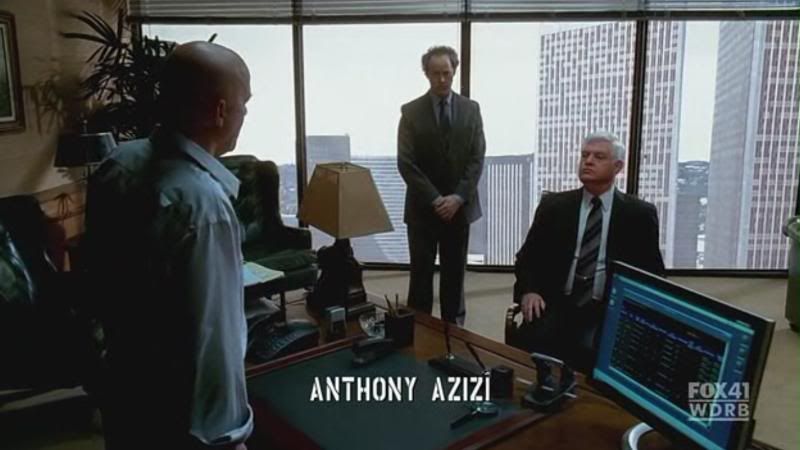 General Pad Man has called in Cardholder Tuxhorn to discuss the situation of cardholders turning against him. He has noticed quite a few phone calls between Tuxhorn and an unknown party and would like to know who has Scylla.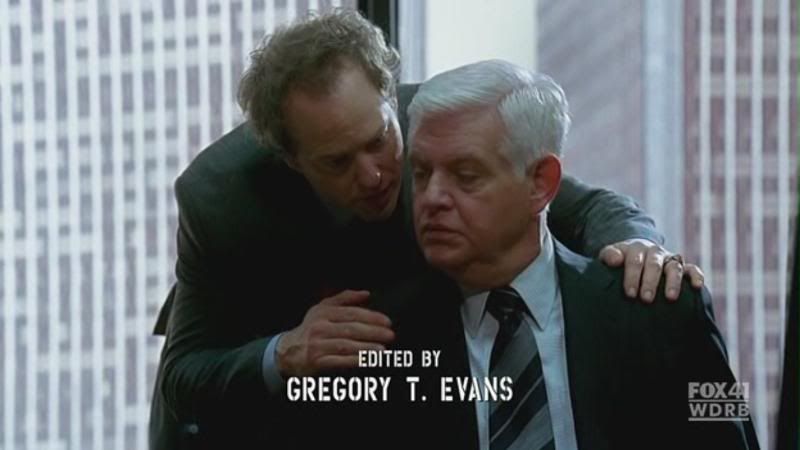 Tuxhorn protests his ignorance so General Pad Man sets his rather slimy looking goon on him. I was going to give the goon a funny name, but I've just looked it up and he's called Ralph and I don't think I can do better than that. So Ralph it is.

~*~

Location: Miami Hotel Room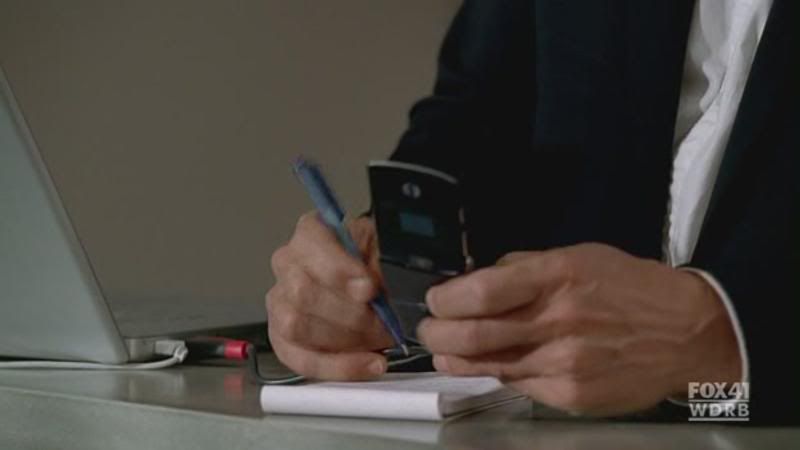 Mahone is going through the sniper's phone, which they took from him after T-Bag hit him with a car. He finds a lot of calls from a blocked number, which raises their suspicions.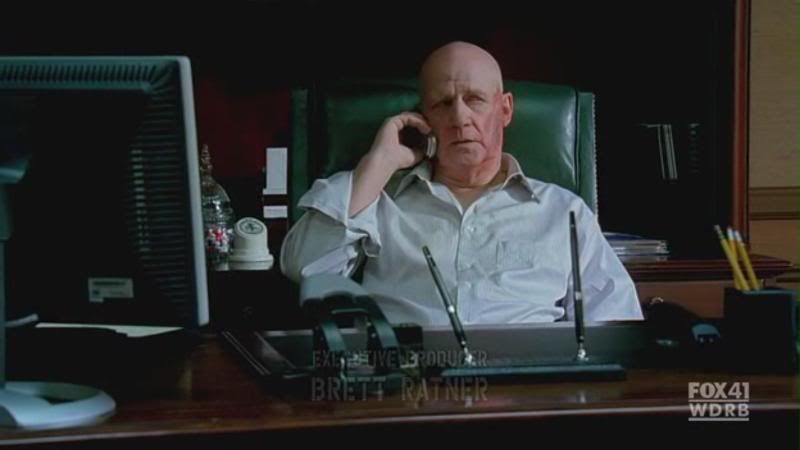 But before they can be too suspicious, General Pad Man calls for an update. He is upset that the sniper is dead rather than tied to a chair and giving them all the information they need. Lincoln tells him to chill out and let them handle it.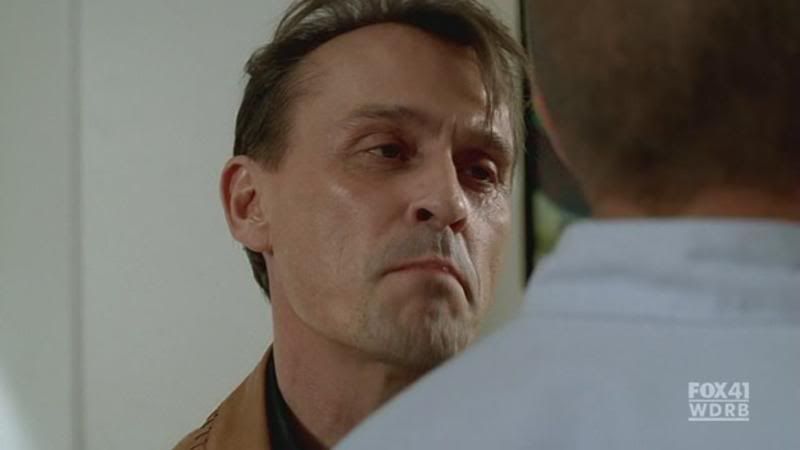 After Lincoln hangs up, T-Bag confronts him about leaving out the rather important detail of Christina Rose being the one with Scylla. He questions whether Lincoln is protecting his mother at the expense of the team.

Mahone points out that if General Pad Man knows Christina Rose has Scylla he may decide that this little group of convicts no longer has any use to him. And that would be bad.

~*~

Location: Condo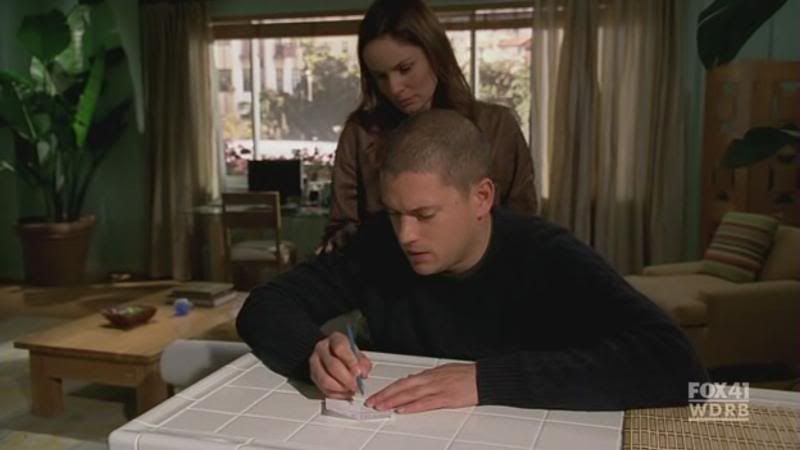 While Sara has been in the bathroom stealing supplies, Michael has been working on the piece of paper they found on the guy who tried to kill them last episode.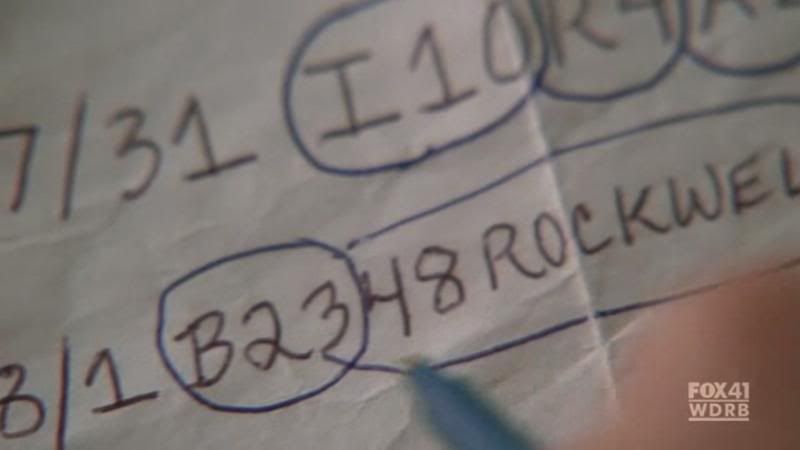 The top line refers to where he found Michael and Sara (Interstate 10, off route 4 in Arizona). So what can the bottom line mean? Dr Sara goes off to Google Rockwell.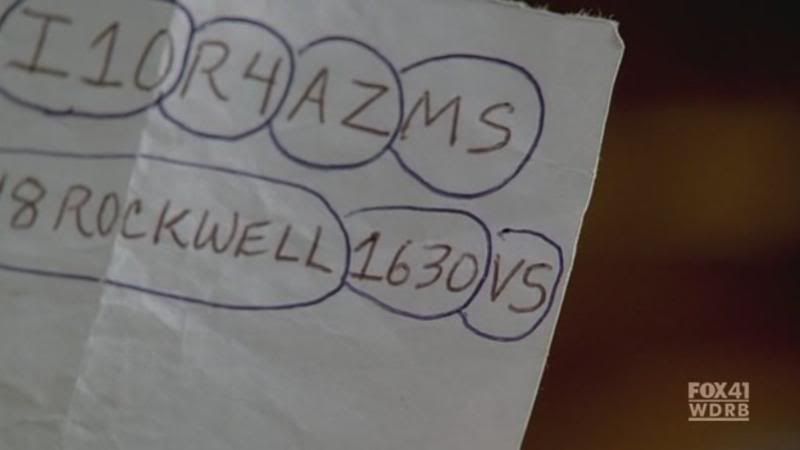 And if the letters at the end of the first line refer to Michael Scofield, who is VS?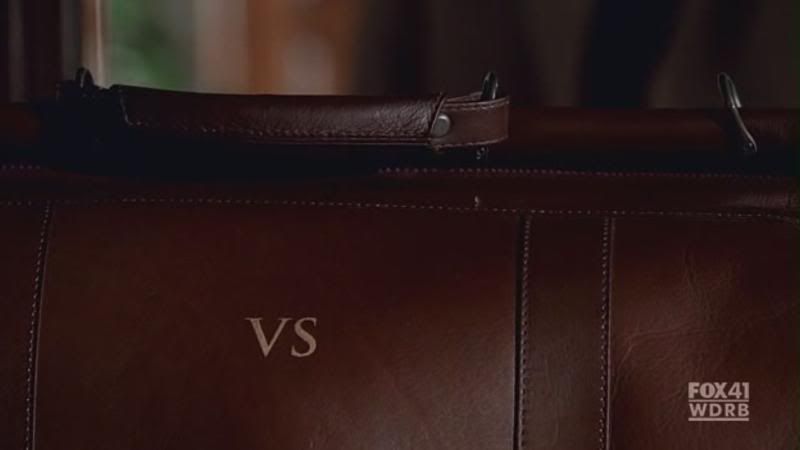 Presumably...




This guy.

~*~

Location: Christina Rose's Hotel Room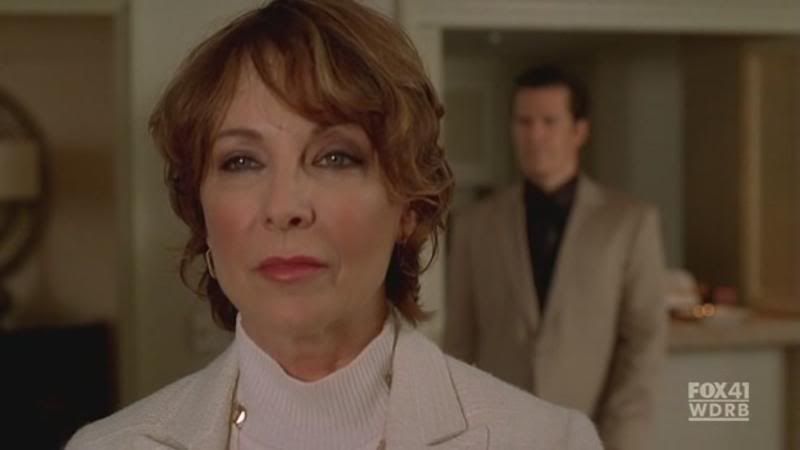 Christina Rose is practicing her Bengali when Andy comes in to tell her that Linc got away.

She decides to be cryptic and go on about how rare and powerful supernovas are. She rambles for a while,but her point is that they're a day away from something so powerful it'll eclipse everything else. And no one, not even that death-cheating son of hers, will stop her.

~*~

Location: Miami Hotel Room




Mahone and Self are sending the Evil Company the information from the dead sniper's phone in the hopes that they can identify the blocked number. It's going to take an hour, which doesn't please Linc who wants Scylla now. Now, now, now, now, NOW.

He doesn't even want to wait a day for the event on those security badges they stole.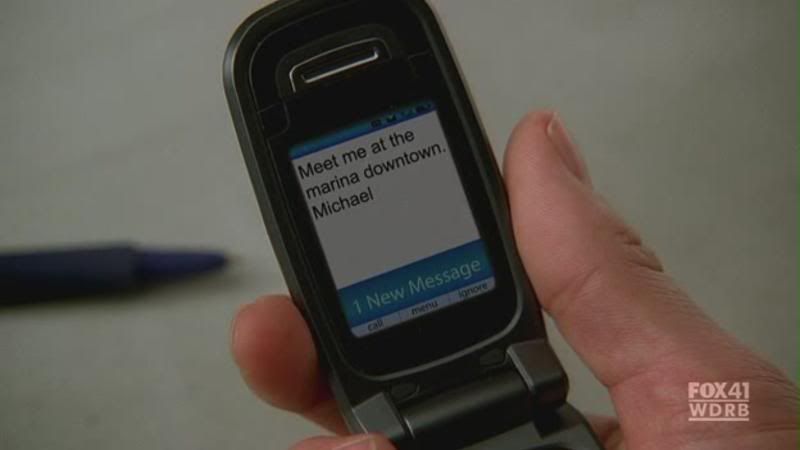 Then Lincoln gets a text from Michael, asking him to meet. Linc flashes back to seeing Michael in Fox River in the first episode and tells Mahone he's not going.

~*~

Location: Marina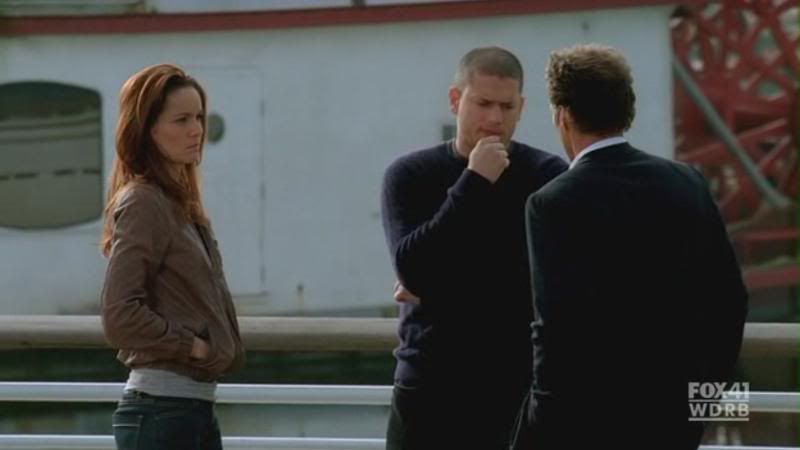 Michael and Sara are met by Mahone, who tells them that Lincoln isn't coming. He also explains that Christina Rose has Scylla and won't hesitate to kill Michael if he gets on her bad side.

Mahone says that they're still planning to bring down the Evil Company and Michael just needs to trust them and tell them any information he has. Michael says no, HE'S going to bring down the Evil Company. So there. :P

~*~

Location: Condo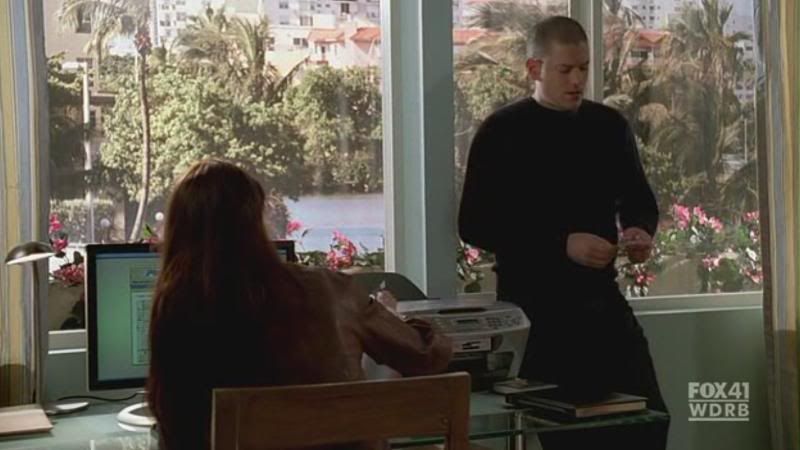 Michael is trying to look on the bright side of discovering that his mother is behind all this by pointing out that she didn't try to have them killed, just transported somewhere. Clearly she likes Michael more than Lincoln.

Dr Sara, meanwhile, has been Googling and found Rockwell Avenue, South Miami.

~*~

Location: A Car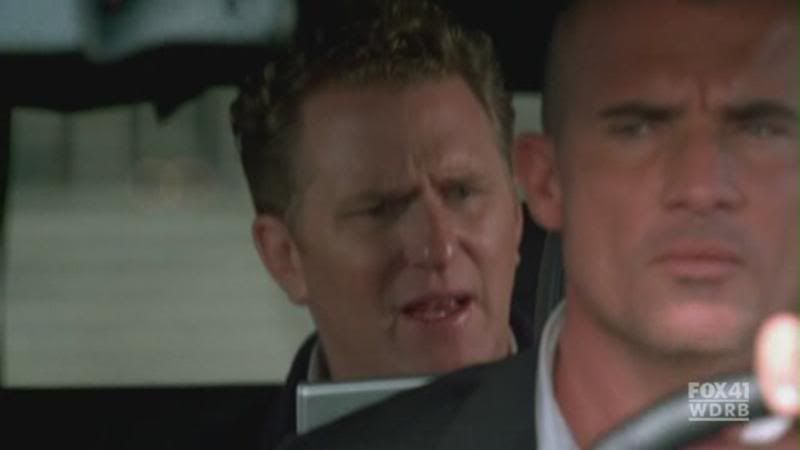 Lincoln is driving as Self directs him to the location of the phone calls to the sniper's phone.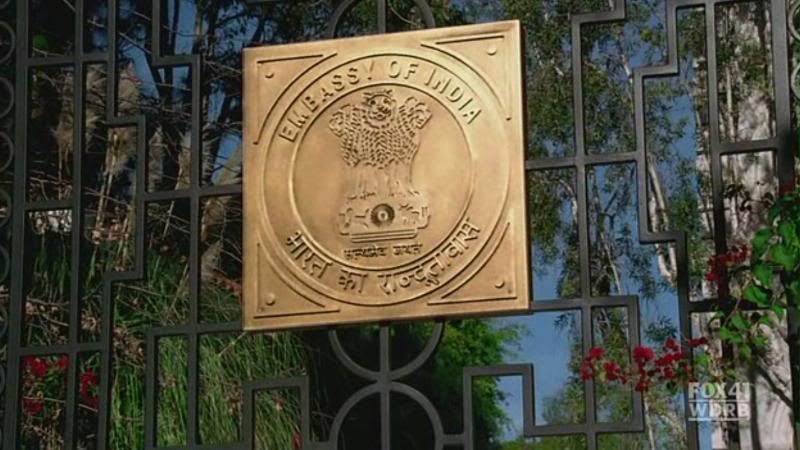 The Indian embassy!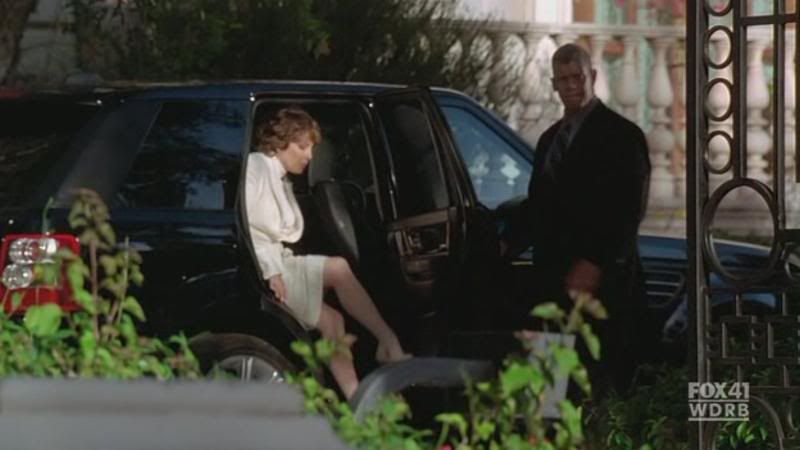 The guys see Christina Rose go inside. Self suggests patience, pointing out that anything that goes in has to come out again. The others disagree, knowing from experience that this isn't always true, and decide they need to get inside.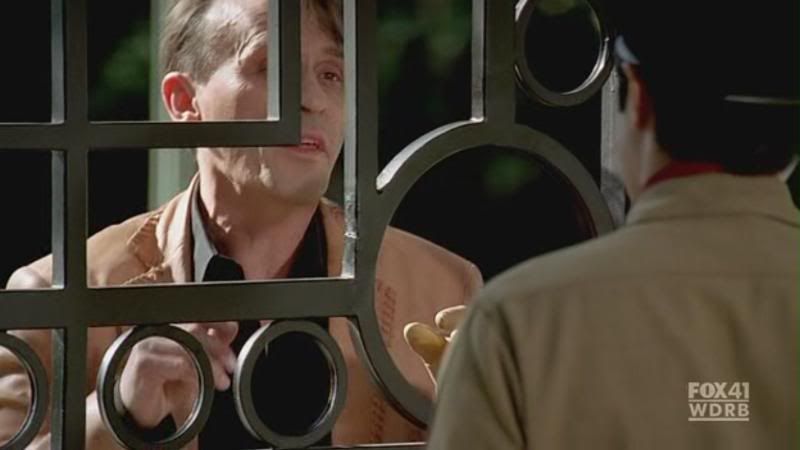 T-Bag gets the job of Distraction. He is outraged at how elephants are mistreated in India. Outraged I tells you!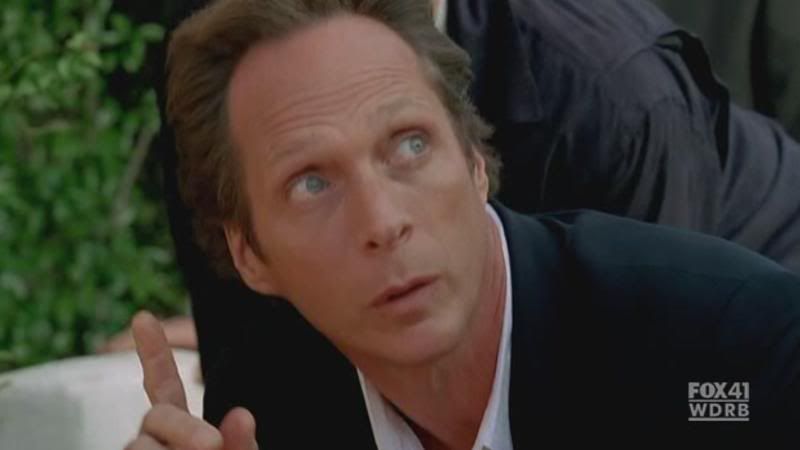 The other three sneak around the back.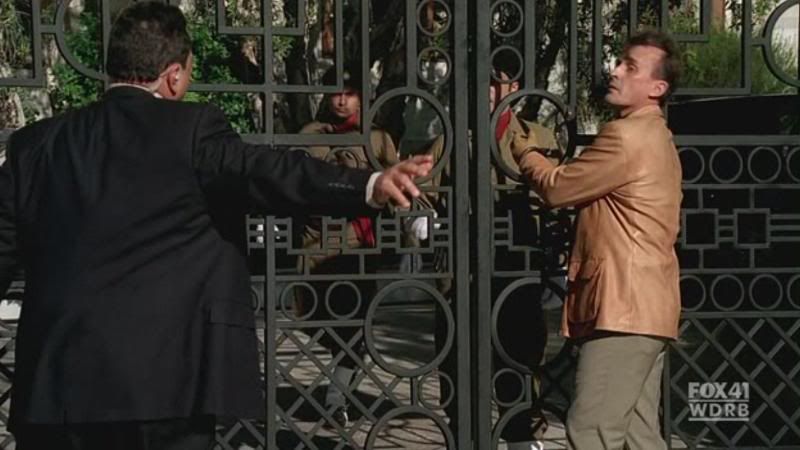 A security guard has come to direct T-Bag back to American soil. But T-Bag will not be moved. He continues to lament the plight of the noble elephant with some dubious "facts". The Indian officer on the other side of the gates points out that a lot of what he's saying is, in fact, elephant dung but T-bag is instant.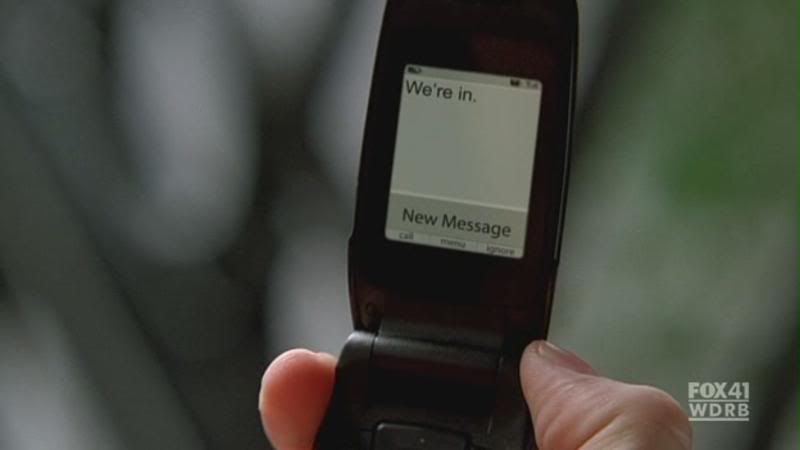 Once the others are safely inside, T-Bag has a change of heart and announces that, you know what, who cares about the elephants anyway?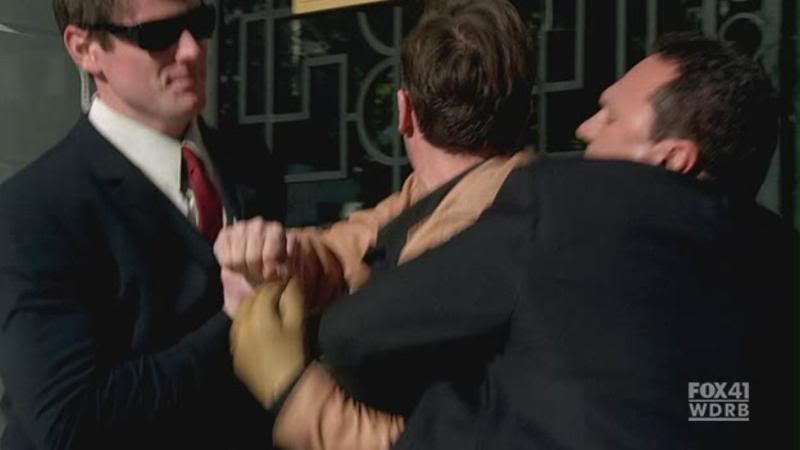 Too little, too late, as far as these guys are concerned.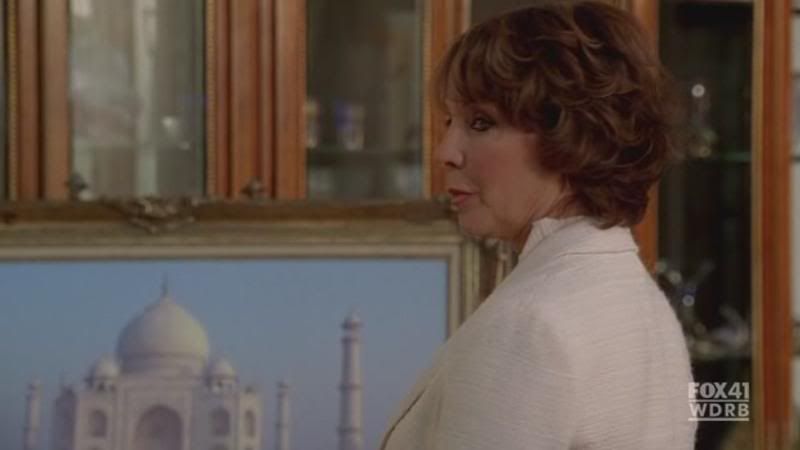 Inside, Christina Rose is having a conversation about the Taj Mahal. She explains how it was built by the Shah Jahan for his favourite wife and I'm very pleased by the link to season one and Michael helping Pope build a Taj Mahal for his wife.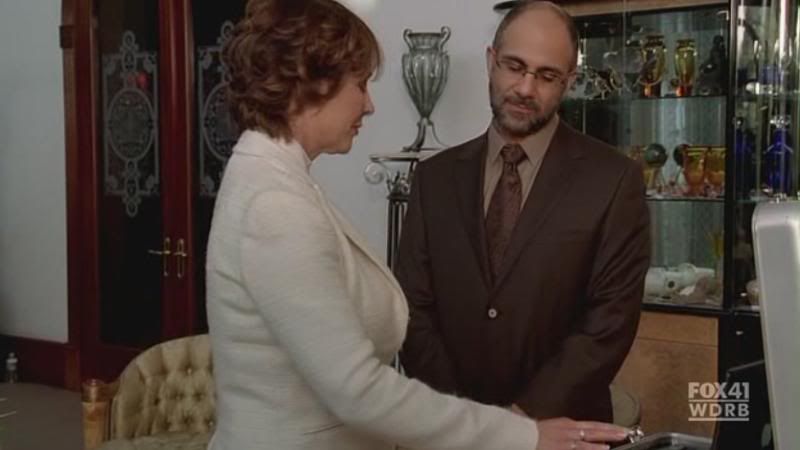 Then the meeting begins. This guy is Naveen Banerjee and Christina Rose offers to sell him the awesome solar power, desalination techniques, bioengineered crops and vaccines that come with Scylla. The only condition is that he present it as his own work at the Progressive Energies conference tomorrow.

Naveen says that Dr Vincent Sandinsky's research doesn't support the claims of awesomeness and he would rather wait to see what the good doctor has to say about it tomorrow.

Christina Rose responds with the classic, 'your father would have taken it so if you don't you're a wuss' argument.

As Naveen takes a moment to think about this, Andy passes Christina Rose a note: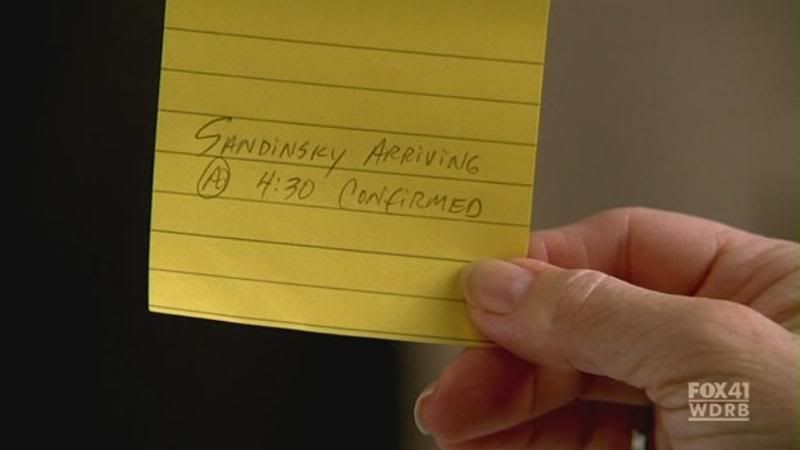 ~*~

Location: Parking Garage on Rockwell Avenue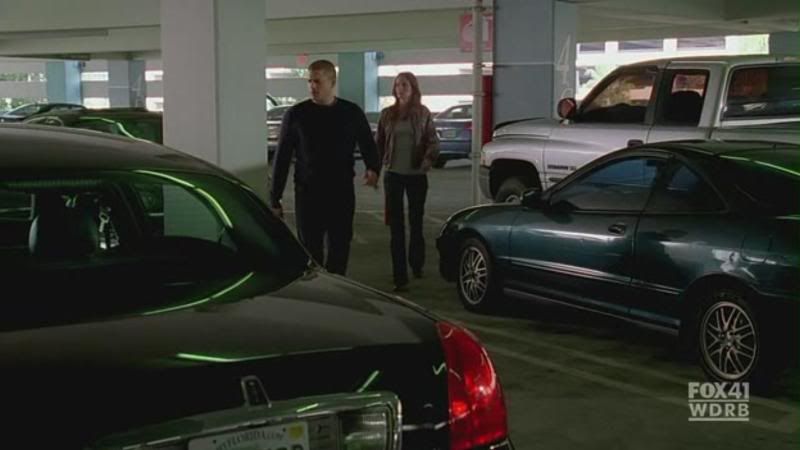 Using the numbers and letters on the paper, Michael and Dr Sara find a car waiting for them in spot B23.




Michael breaks into it, prompting Sara to comment that Fernando was a great influence on him. So cute. I miss you, Sucre. Come back to us! Once this is all over you, Maricruz and Leila can live in a beach house next door to Michael and Sara and spend time in the sun, sea and sand all together. No matching outfits, though.

Anyway, they hop into the car and discover...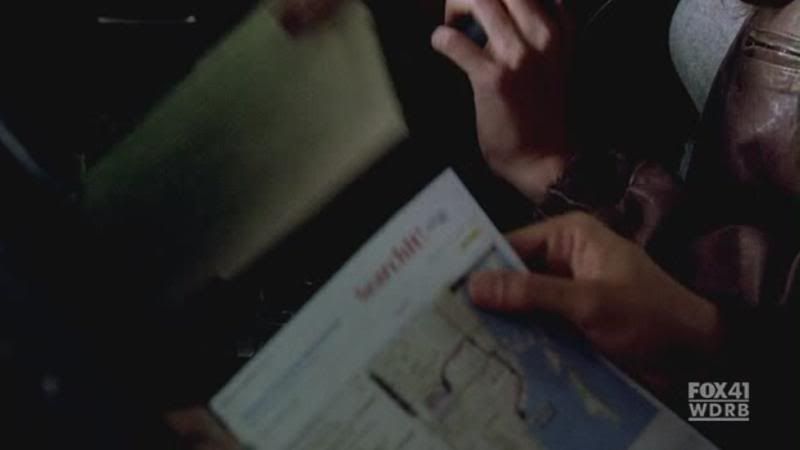 A map to the airport. Along with a gun and the keys to the car.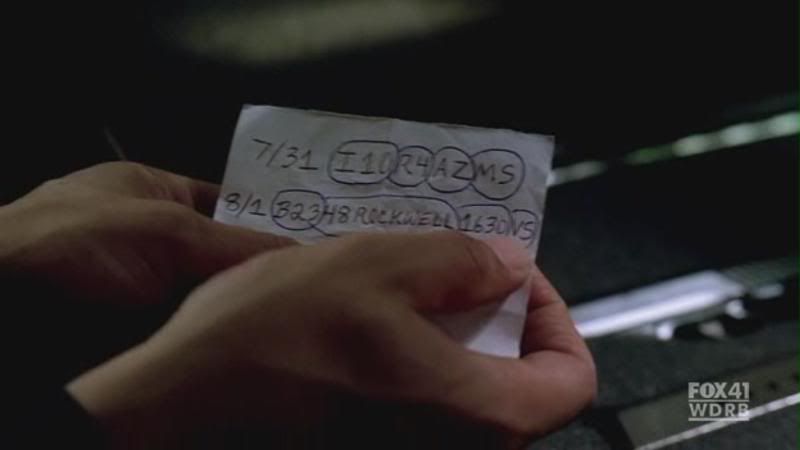 Michael deduces that VS will be flying in at 1630, which he helpfully explains is military time speak for 4:30pm. I still find it weird that Americans don't use the 24 hour clock in their everyday lives.

~*~

Location: Indian Embassy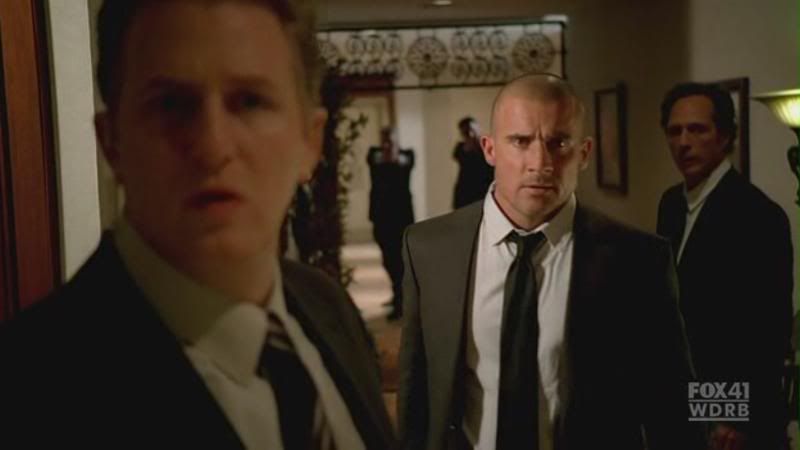 The guys get themselves caught. I am not surprised since they just walked around with impunity apparently working on the assumption that these men don't know each other well enough to recognise new faces in their midst.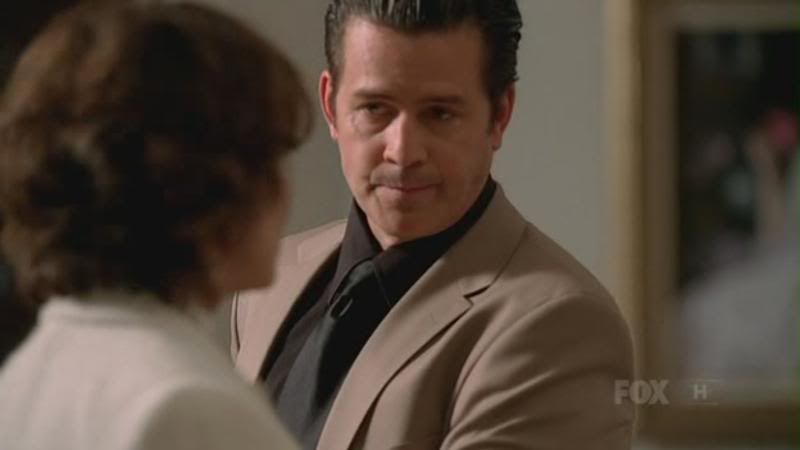 Andy tells Christina that Lincoln is in the building. She does not appreciate the interruption of her important grown-up time talk and tells him to handle it.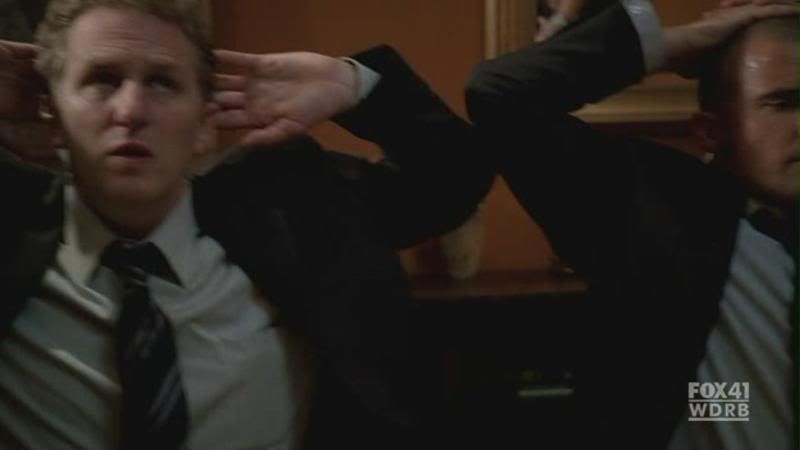 Our heroes are taken to a room and told to kneel with their hands above their heads and stay there, lest they get their brains blown out.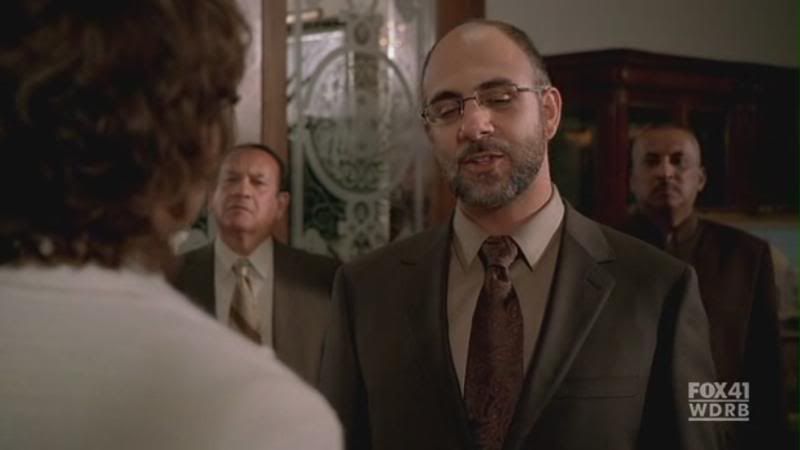 Naveen returns to tell Christina Rose that he'll take her deal. She thanks him and leaves.




Leaving her little note from Andy behind.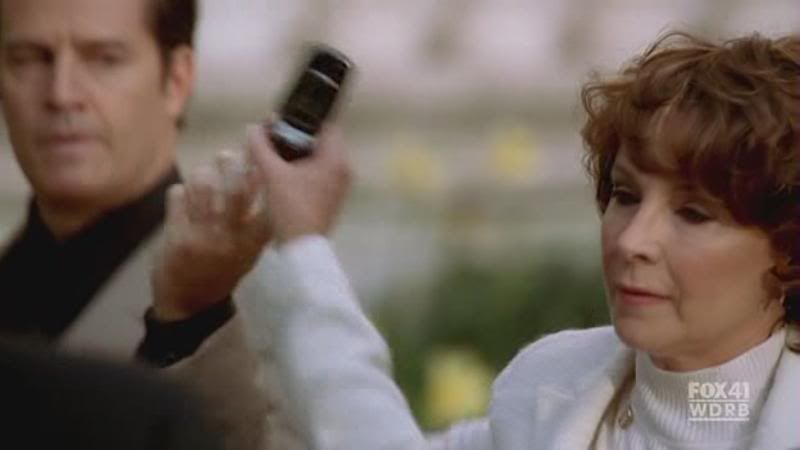 Once outside, Christina Rose decides to call her man and see how he's coming along with the Sandinsky nabbing.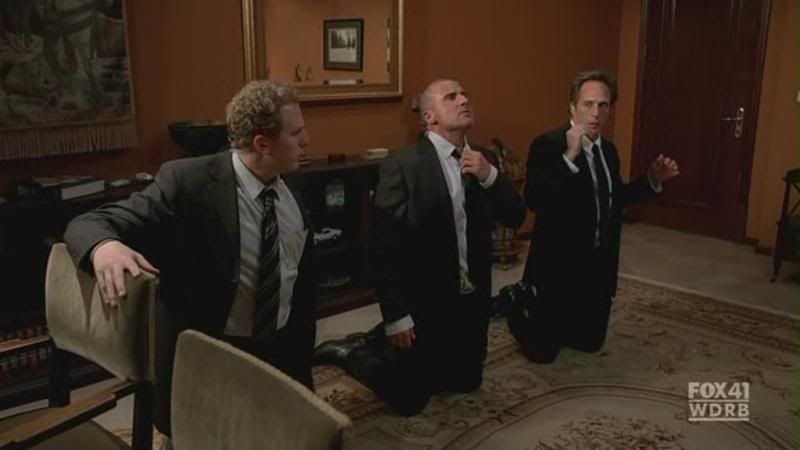 Back inside, the guys realise that this is an embassy and nobody's going to shoot them here without causing a major international incident.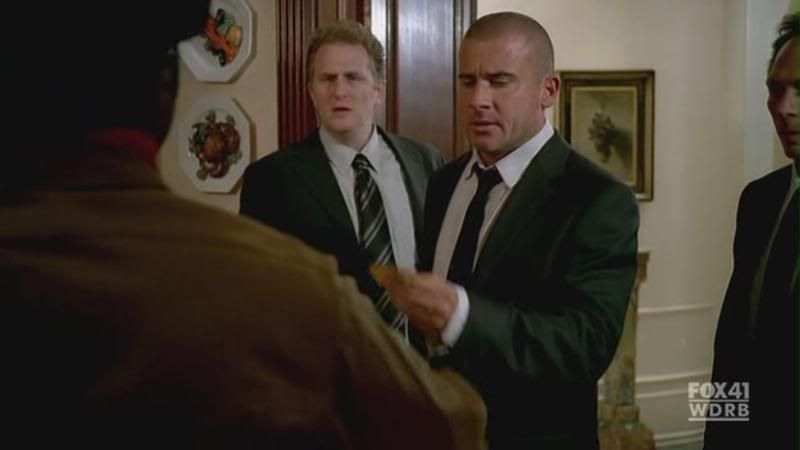 As they leave they are stopped by a guard, but tell him they're part of Christina Rose's group. The guard hands them the piece of paper she so carelessly left behind.

~*~

Location: Car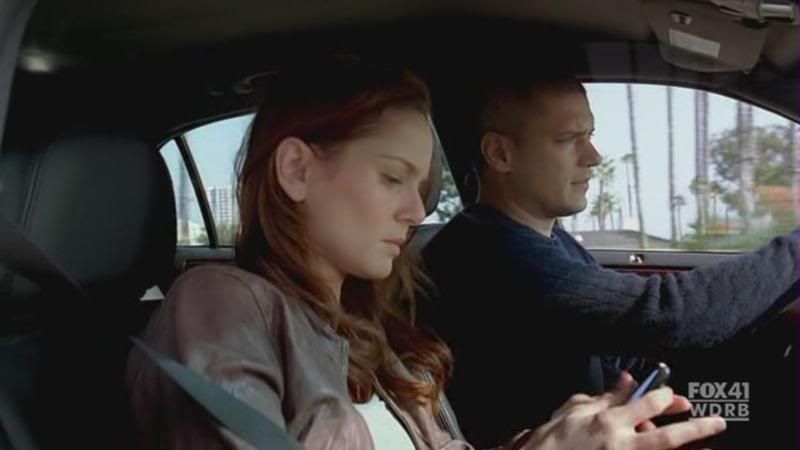 Michael and Dr Sara are on their way to the airport when the phone in the briefcase starts ringing.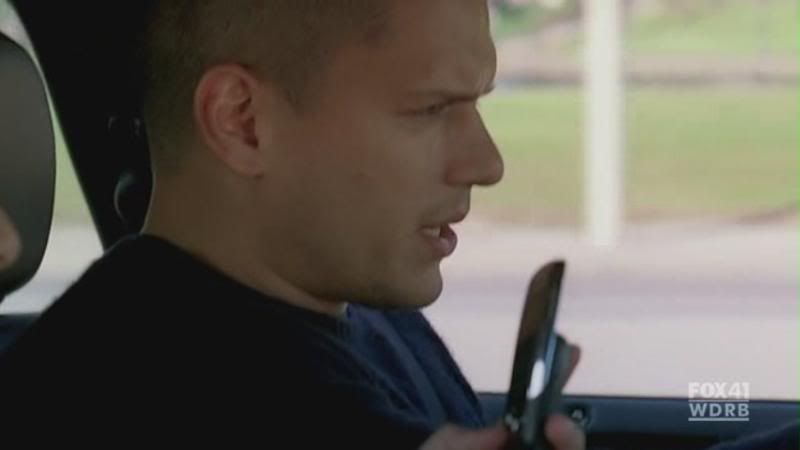 Michael answers. With Dr Sara holding the phone, of course, cos Michael is a safe driver.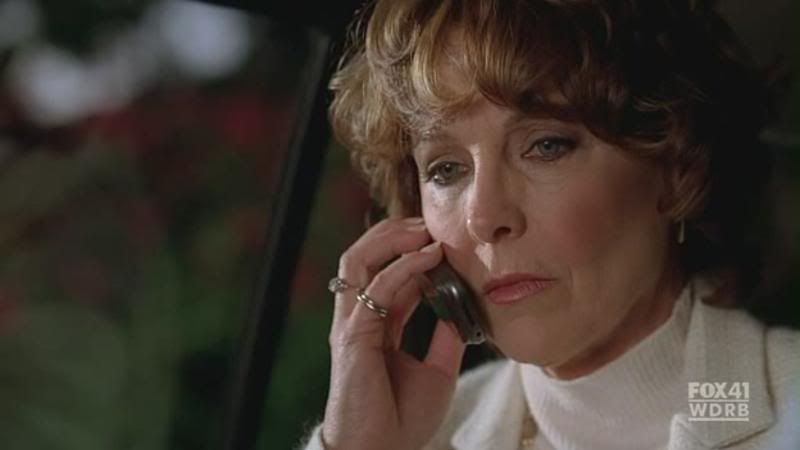 Christina Rose gasps his name then hangs up.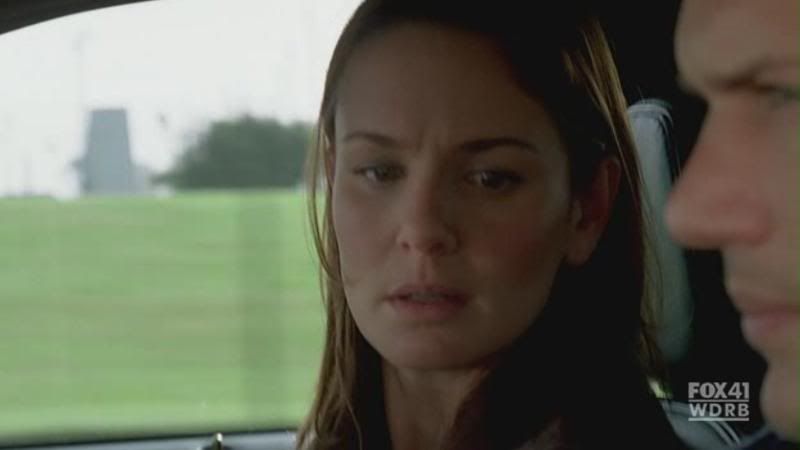 Dr Sara offers her sympathies.

~*~

Location: Miami Hotel Room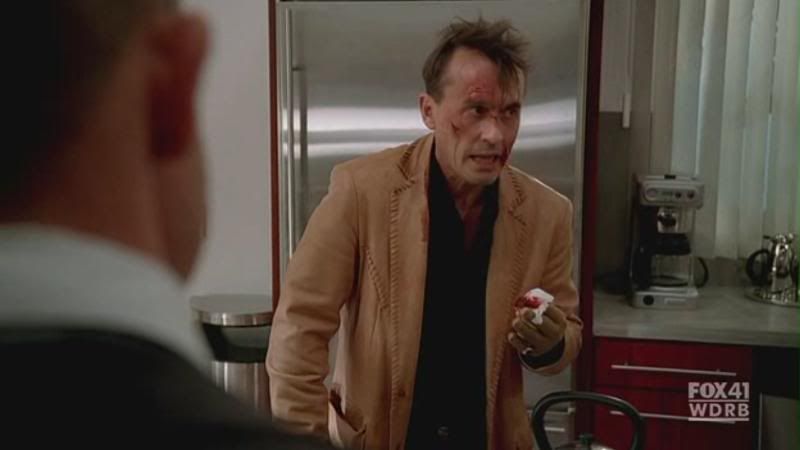 The guys return to find a badly beaten T-Bag waiting for them. He wants to see the coveted prize that he suffered for and they surely returned with.

Uh, no. But they do have a post-it note!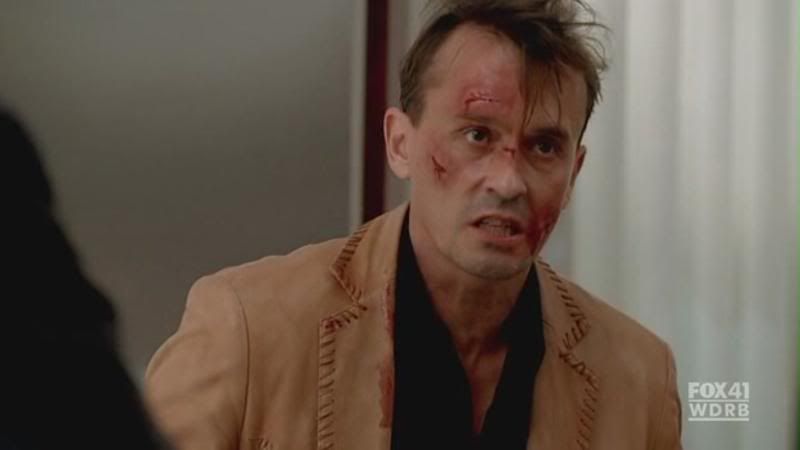 T-Bag is not impressed.

~*~

Location: Airport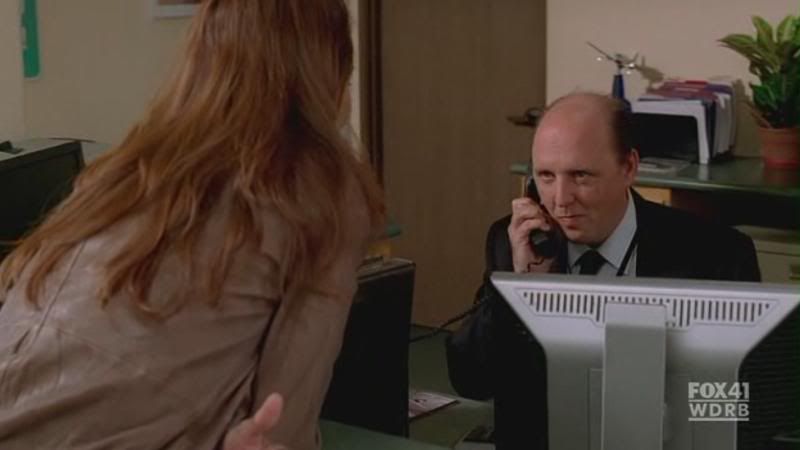 After a quick bathroom break, Dr Sara turns on the charm and distracts the man at the desk, giving Michael the opportunity to swipe the flight log.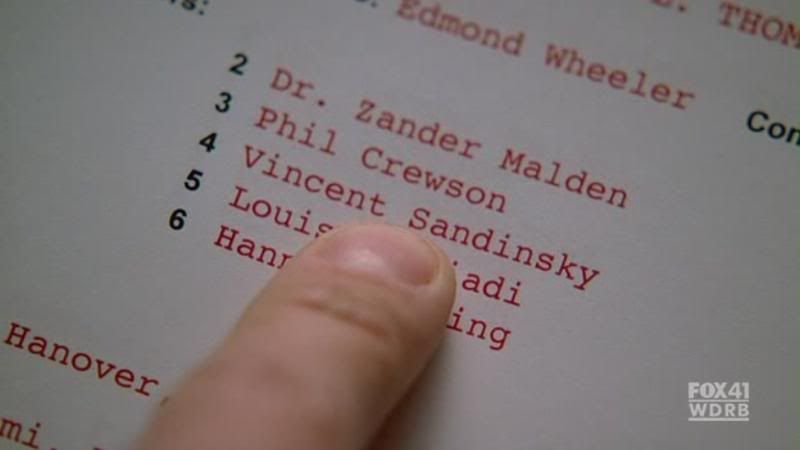 He finds the information he is looking for.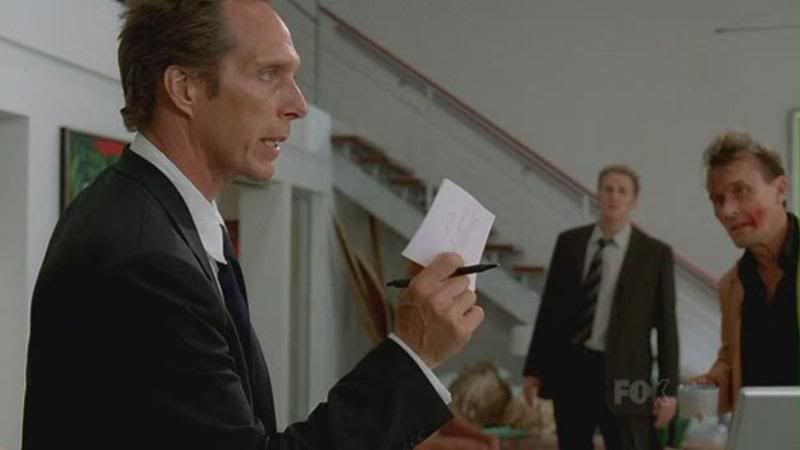 As does Mahone.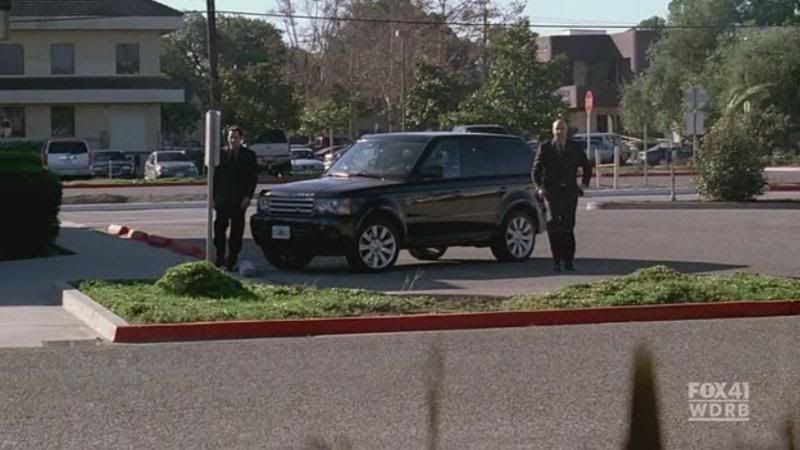 And these guys already knew it.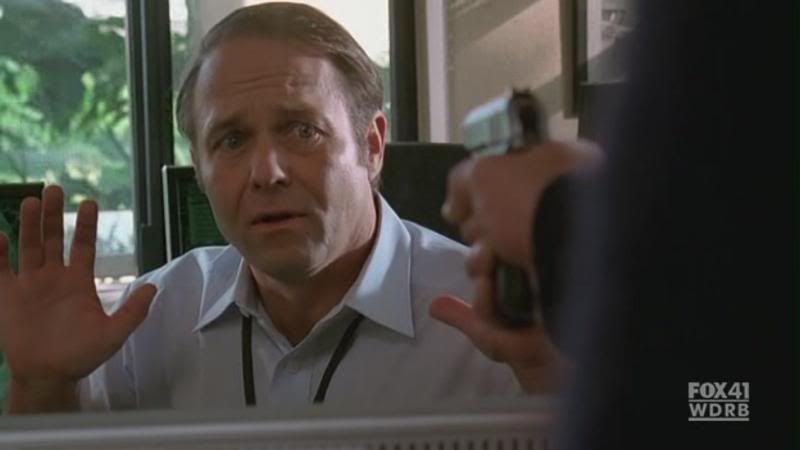 Back inside the airport, Michael heads into the operations office and pulls a gun on the poor, innocent man there. He tells him to instruct the plane to land on the north tarmac and allow Dr Sara Tancredi out there to meet them.

The man warns Michael that they could send him to prison for this. Michael smirks and asks which one. Cute, Michael.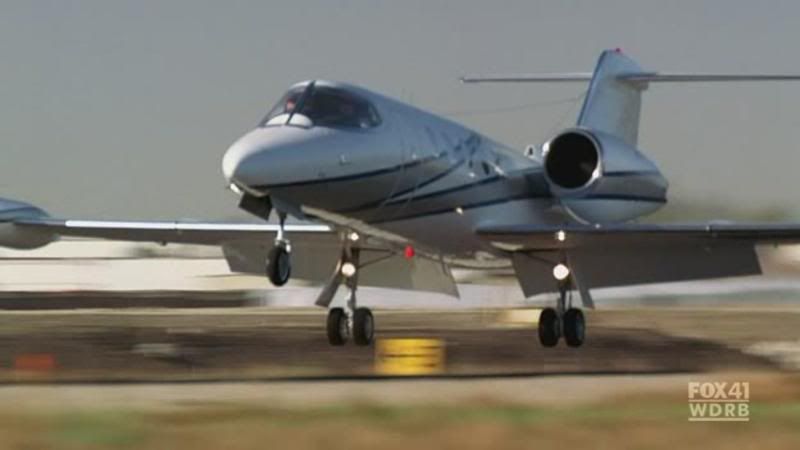 The plane lands, not where Christina Rose's goons were expecting it to be.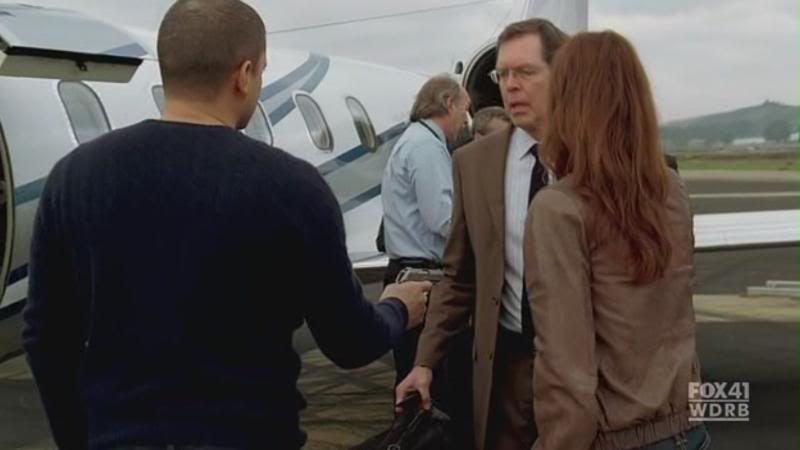 Dr Sara tells Dr Sandisky that she has some concerns about health risks he might have been exposed to on the flight and asks him to come with her. Michael opts for the more direct approach of pulling a gun on him.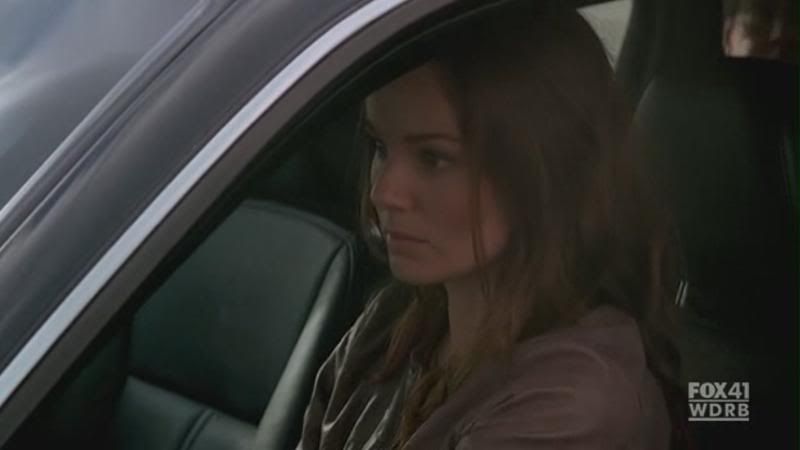 They attempt to make their getaway with Dr Sara driving, Michael in the back asking questions and Sandinsky next to him begging that they don't hurt him. He says he has no idea who Christina Scofield is.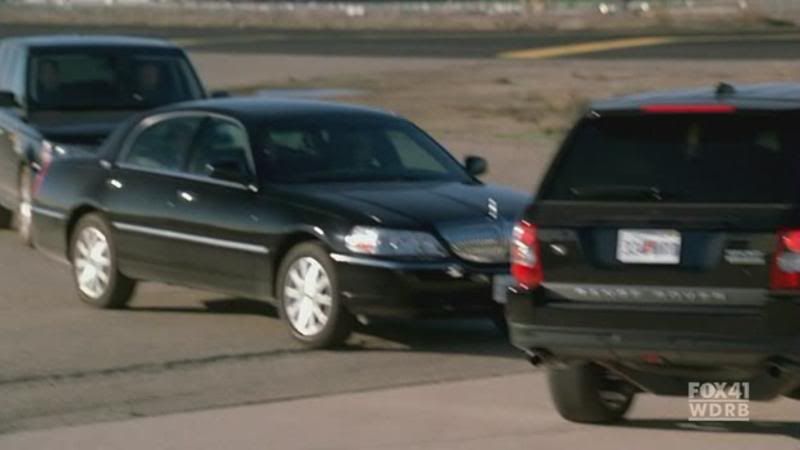 Unfortunately for Michael and Dr Sara, the goons have more cars than they do and cut them off.




Sandinsky is ushered into a goon car and just as all seems lost for Michael and Sara.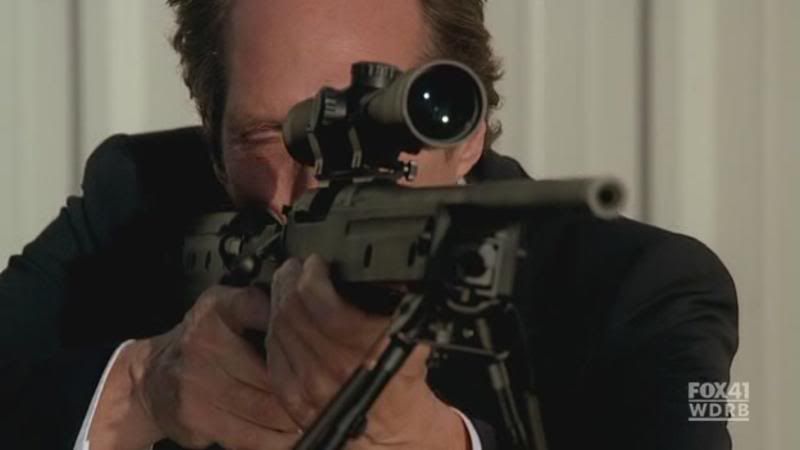 Mahone proves himself to be an awesome shot, quickly dispatching the two goons who were about to shoot our favourite couple. He then takes out the rest of the goons and Sandinsky is pulled away yet again into another car. Poor man must be quite seasick by now.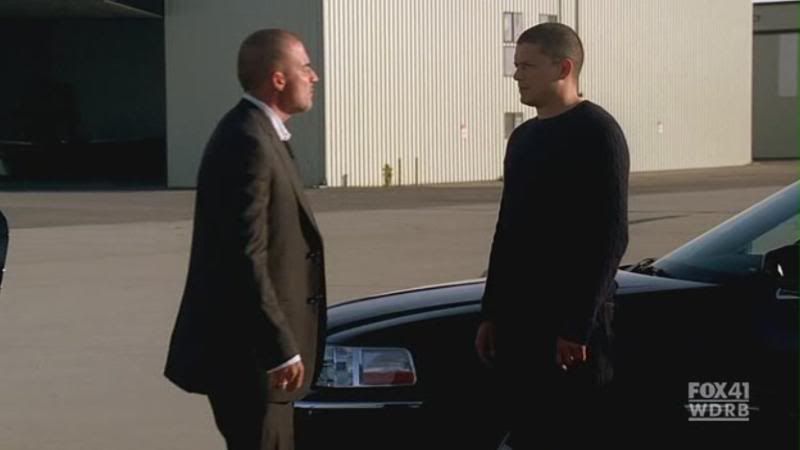 Lincoln tells Michael that he warned him not to come and reiterates that he's doing this for them. Michael isn't satisfied and says it isn't over.

~*~

Location: Miami Hotel Room




T-Bag is having deep, philosophical thoughts about the right thing to do.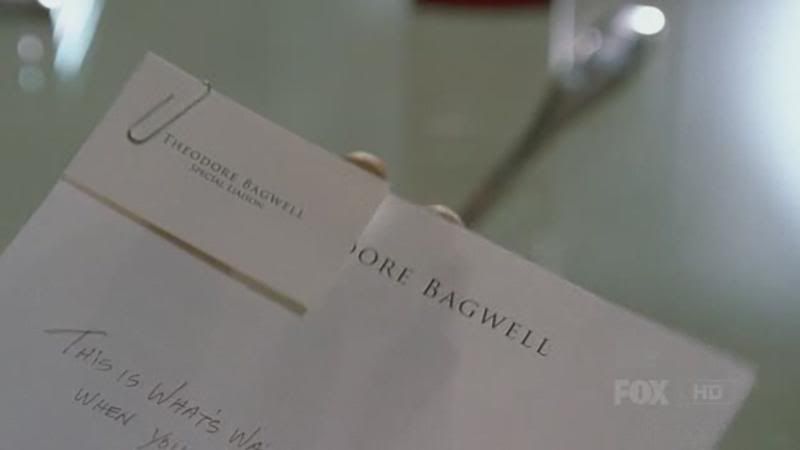 This is what he's been promised is waiting for him when he returns. Really, all you have to do is dangle a business card in front of this guy and he'll roll over and do whatever you want.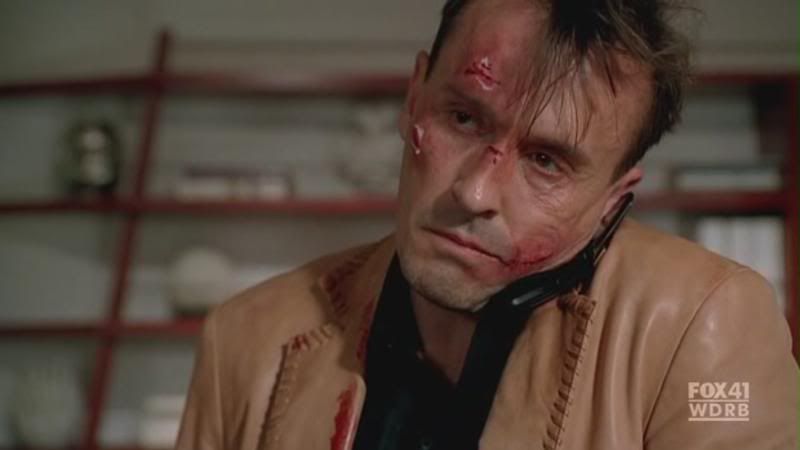 He calls General Pad Man to tell him that Christina Rose has Scylla. General Pad Man decides a trip to Miami is in order.




Meanwhile, the others are having a little chat with Dr Sandinsky.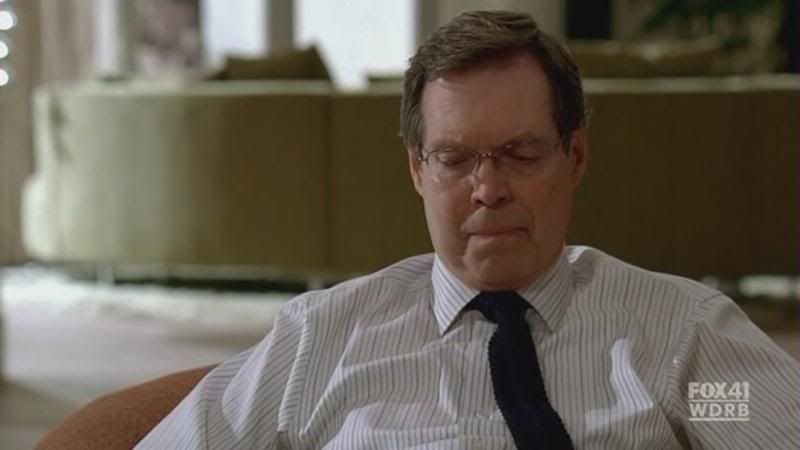 He insists he has no idea what they're talking about. He's never heard of Christina Rose or the Evil Company or Scylla. He's a professor at Dartmouth who's in Florida to speak at the Progressive Energies Conference tomorrow.

Lincoln asks where his mobile phone is. Sandinsky says it's in his jacket pocket.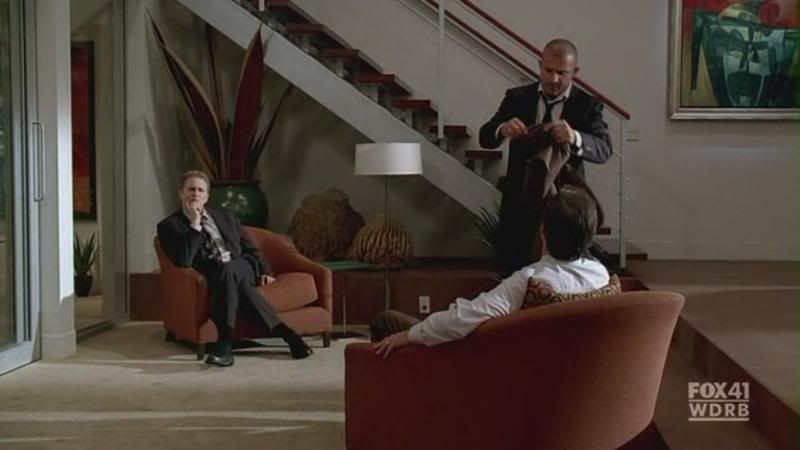 Uh, no it's not.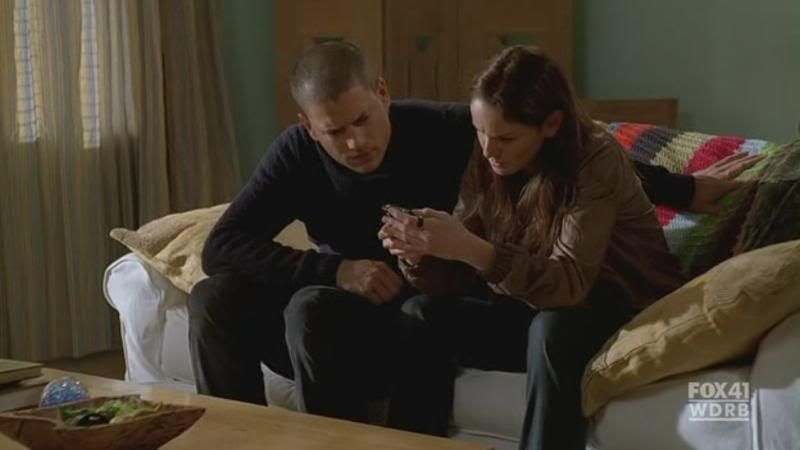 That's because Michael and Dr Sara had the forethought to swipe it earlier. I will say this for the characters, they are all very good at taking mobile phones.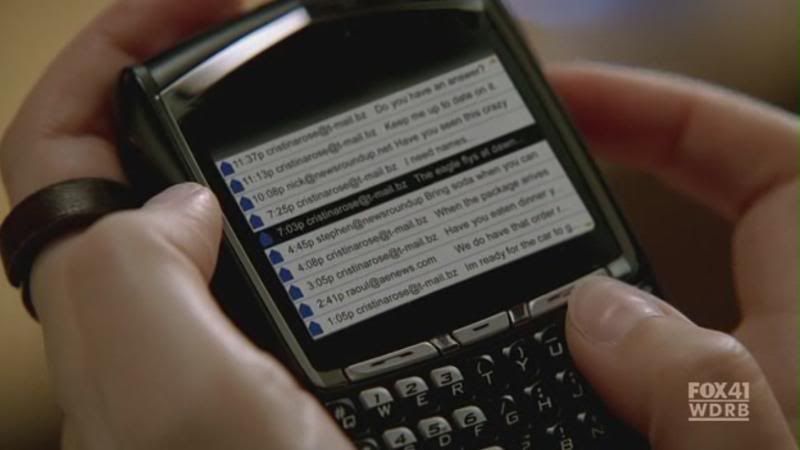 Turns out that for a man who's never heard of Christina Rose, they sure email each other a lot. And is it me or does that email highlighted say "The eagle flys at dawn"? For an evil genius, Christina Rose sure is a shitty speller. Unless this is some super secret code that I'm just too stupid to crack.




Dr Sara excuses herself to run to the bathroom again and pulls her out pregnancy test...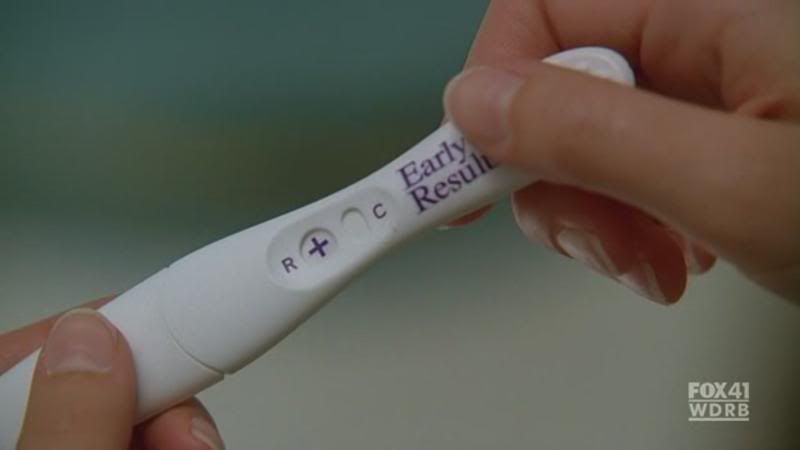 !!!

There's going to be a baby Scofield! Another little genius to foil conspiracies and save the world.

~*~

Location: Christina Rose's Hotel Room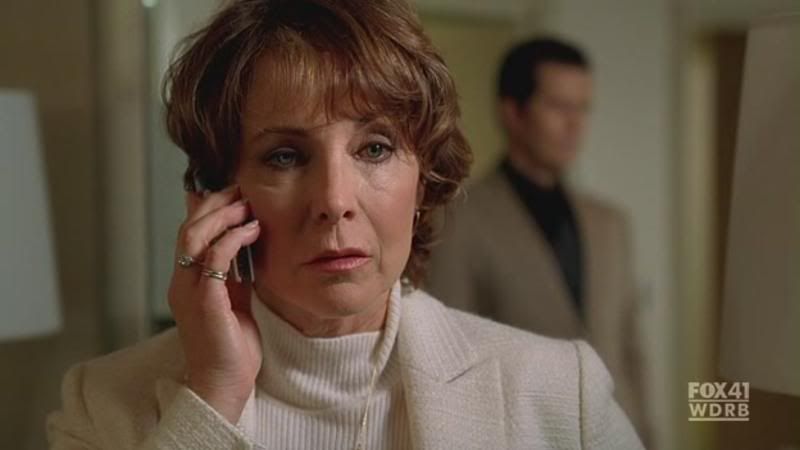 Christina Rose gets a call from Sandinsky's phone. It's Michael, asking her how bad she wants "him". Christina Rose tries to get her son to listen to her but he hangs up, promising he'll be in touch.

~*~

Location: Miami Hotel Room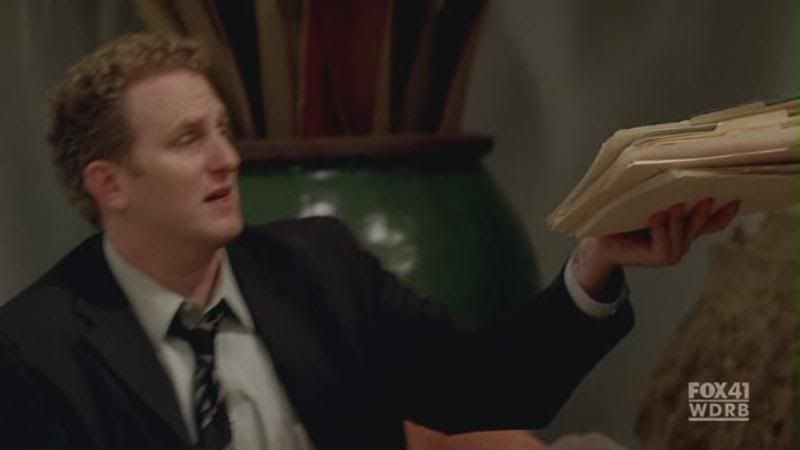 Don Self announces that Sandinsky checks out. He is indeed the innocent professor he claims to be.

Personally I think this was the clincher: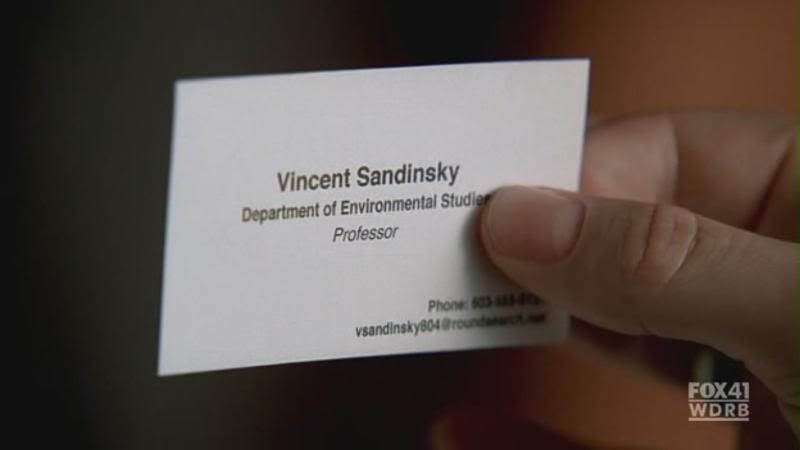 Business cards prove everything.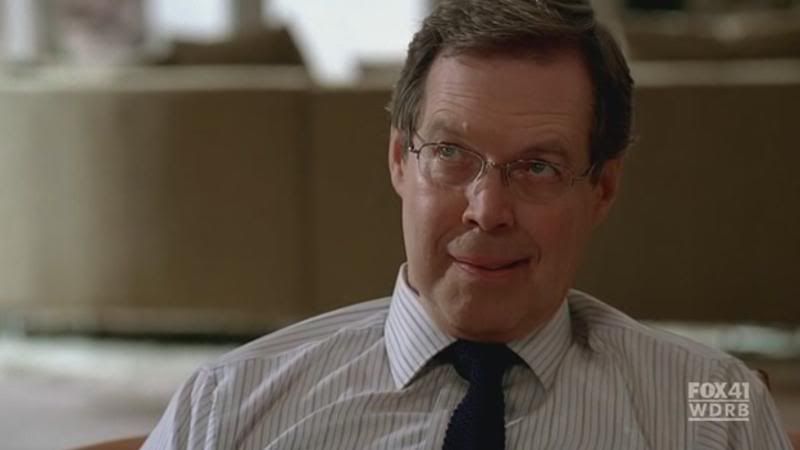 Yes, this is the face of innocence. Totally.

~*~
Screencaps from
sky_angel22