These recaps seem to be getting longer every time I write one. Oh well, not many episodes to go.

4.17 The Mother Lode



Location: Miami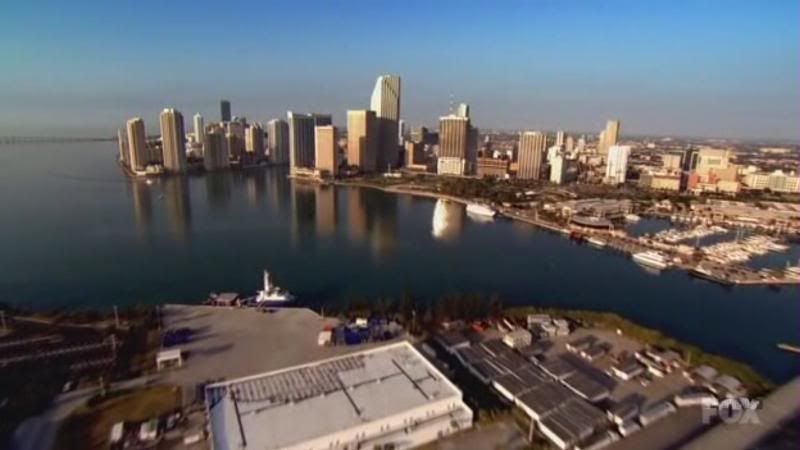 See, Miami.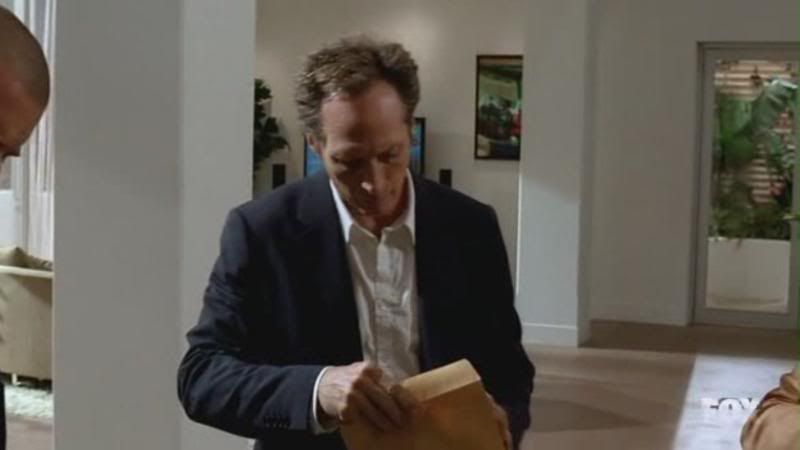 Lincoln, T-Bag, Mahone and Self all receive envelopes with pictures of their loved ones inside in a not so subtle threat from the Evil Company. Lincoln gets a picture of LJ, T-Bag a picture of his mother and Mahone a picture of Pam.

Self gets...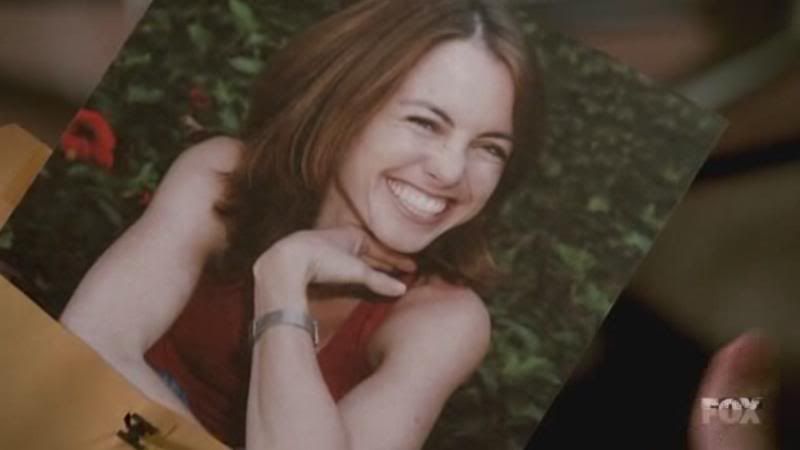 Who could she be? Another clue to the mystery that is Don Self in a desperate attempt to make this character somewhat interesting?

Anyway, Lincoln doesn't appreciate being treated this way and phones up General Pad Man to lodge a formal grievance.




General Pad Man cares not. However he does inform Lincoln that there is a new competitor in town for Scylla. Linc is confident they can handle him.

General Pad Man informs them that it's Michael and that his men have orders to shoot him on sight if they find him.

Lincoln is shocked that Michael isn't still resting comfortably at the Evil Company Rehabilitation Centre. It's like he's never met his brother or the Company before.

~*~

Location: Central Arizona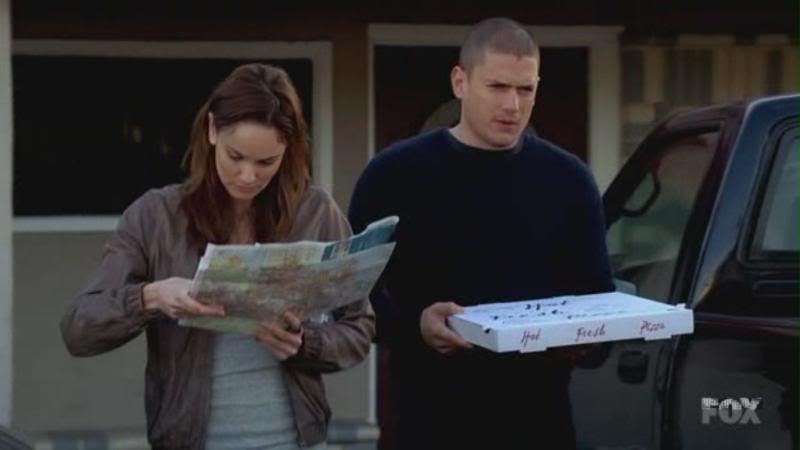 Michael and Sara have stopped for pizza on their cross country journey to Miami. Good for them.

Sara wants Michael to forgive Lincoln, pointing out that she probably would have taken the same deal if it meant saving Michael's life. Michael says that in that case she'd be wrong too.

Not wanting a tense car journey for the next 2000 miles they agree to forget about it for now. This is helped by having more important things to deal with...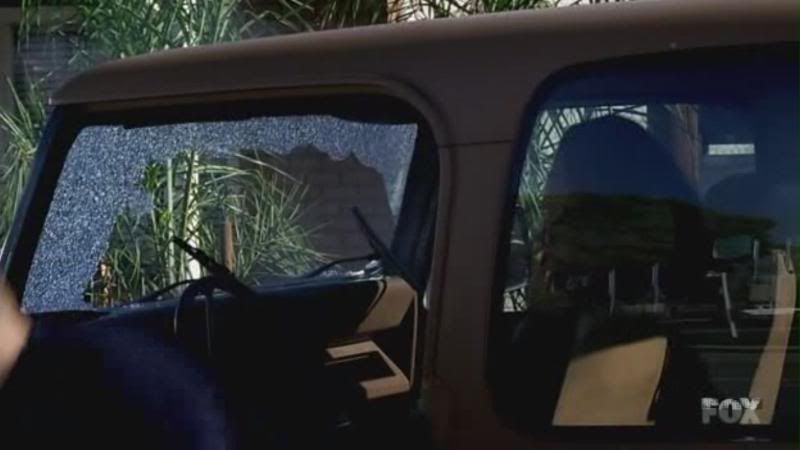 Like a gunman shooting out their windscreen.

~*~
Credits




I would just like to point out that this is the return of the series after weeks of hiatus and they would have had plenty of time to take Amaury Nolasco out of the credits. Does this mean Sucre is coming back? I really hope so. He can't just leave like that.

~*~

Location: Still in Central Arizona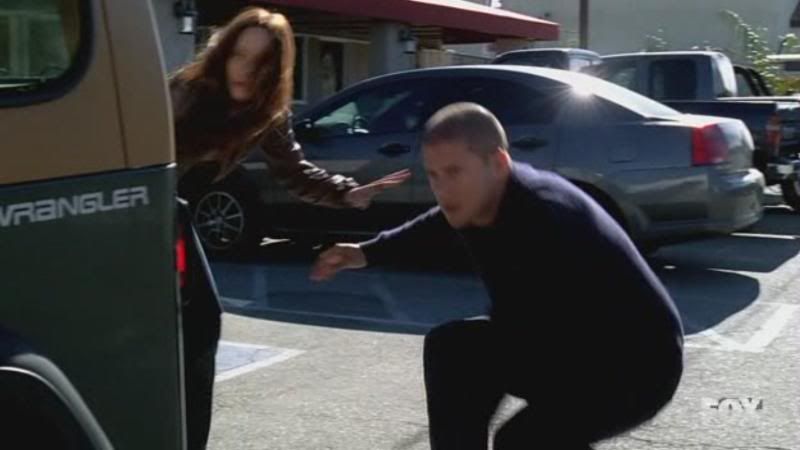 Fortunately car parks have plenty of useful vehicles to hide behind while evading Evil Company agents.

~*~

Location: Miami Hotel Room




Apparently after they killed the Buyer in the last episode they raided his pockets for spare change and keys.

Super-fabulous computer chip keys that cost $500 each. Self points out that only people who have something very important to protect would spend that much money on keys.

~*~

Location: Christina Rose Scofield's House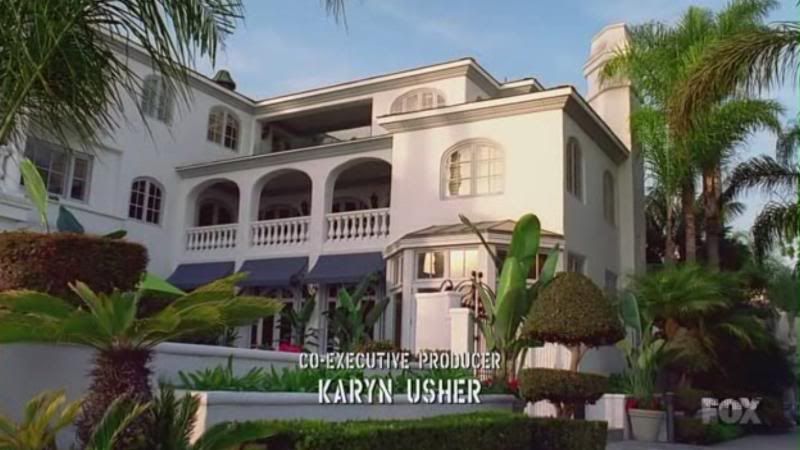 Doing pretty well for herself, isn't she?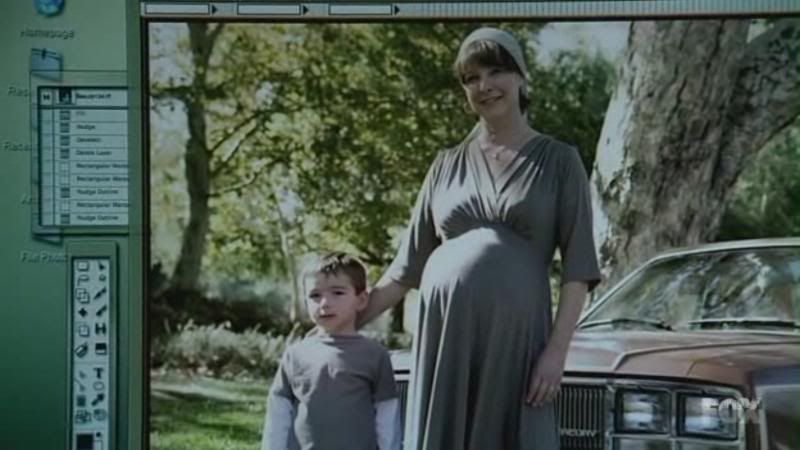 Christina Rose is looking at a picture of herself with Lincoln and unborn Michael. Feeling maternal, Christina Rose?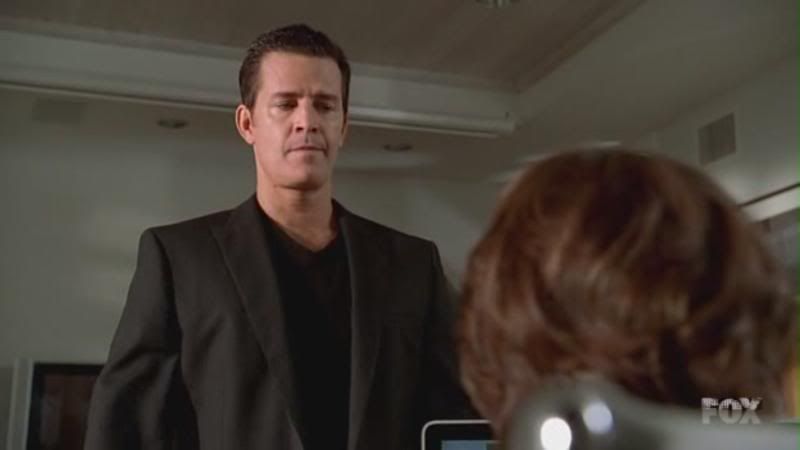 A goon, who I think is played by TW King so I'll call him Andy, comes in to tell her that someone has been accessing the information about the super-fabulous computer chip keys, but he doesn't know who or what they found out. So helpful, Andy. .

Also, there's an issue with Christina Rose's son. No, not Lincoln, the other one. Aren't children annoying?

~*~

Location: Central Arizona




Michael and Sara have evaded certain death with the help of a friendly minivan driver. But they still have no way to get to Florida. Dr Sara suggests that Michael suck it up and call Lincoln.

~*~

Location: Miami Hotel Room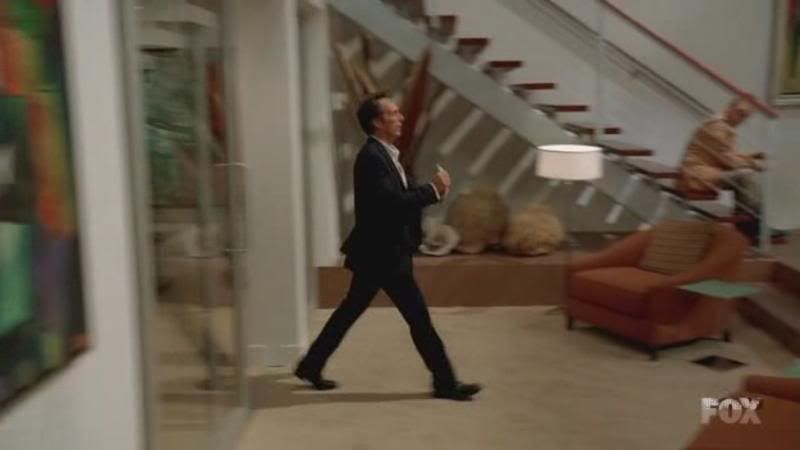 Mahone is striding purposefully because he has successfully tracked down the locks for the super-fabulous computer chip keys. One is in Little Havana and the other is by the water. He sends T-bag and Self to check out the former while he and Lincoln will go down to see the waterfront.

But before that can happen...




Lincoln's phone rings.

It's Michael. Lincoln is unhappy that his little brother has ruined all his plans by not staying put like a good little boy. Michael does not respond by telling Linc all about the planned zombification, which I would have thought would have been important for him to know.

What Michael does say is that he will stop at nothing to keep General Pad Man from regaining Scylla. Also, mom is alive.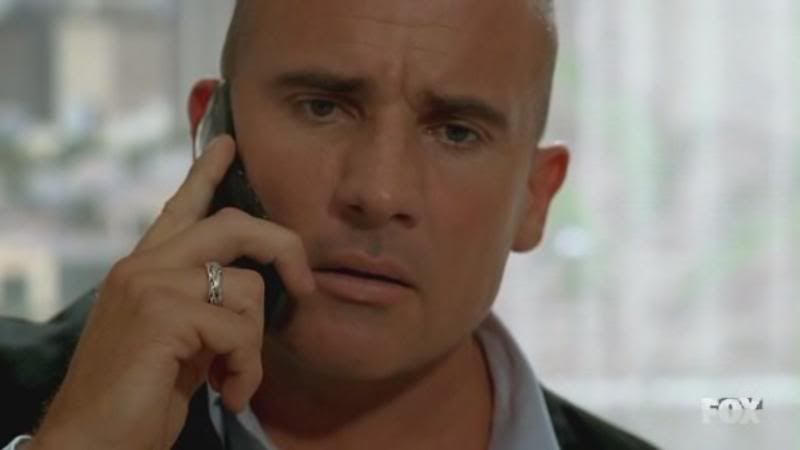 ...

~*~

Location: Central Arizona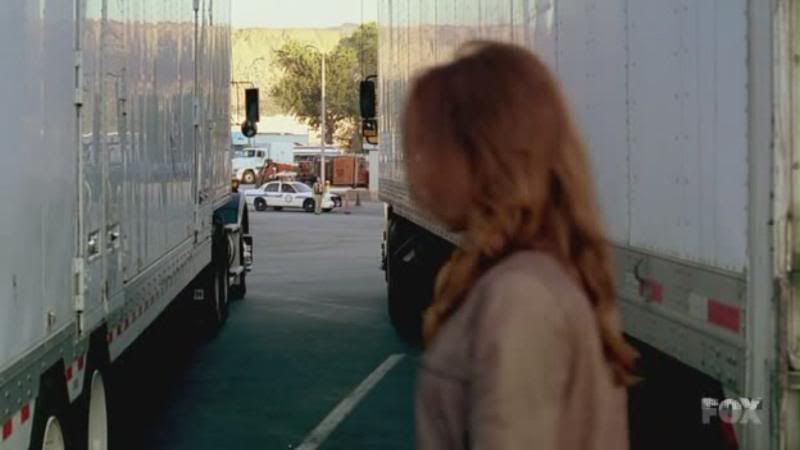 Before Michael can elaborate on this bombshell a patrol car arrives, necessitating that he and Sara skiddadle sharpish.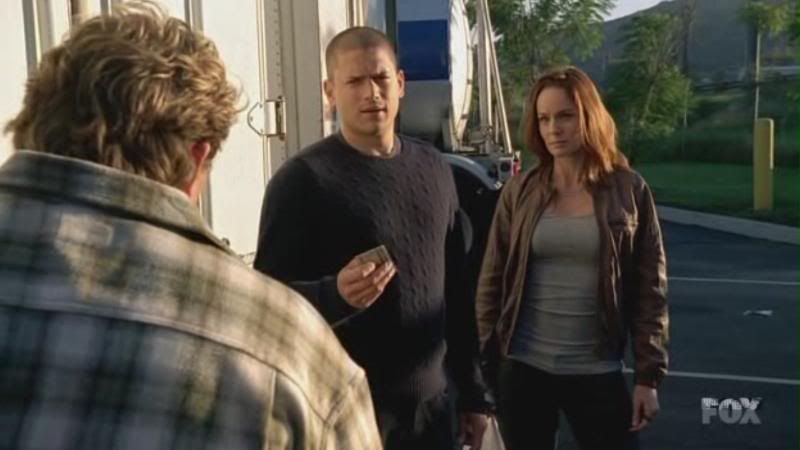 They find a trucker on his way to Dallas and hitch a ride. Since there's no room in the cab, they'll be riding in the back.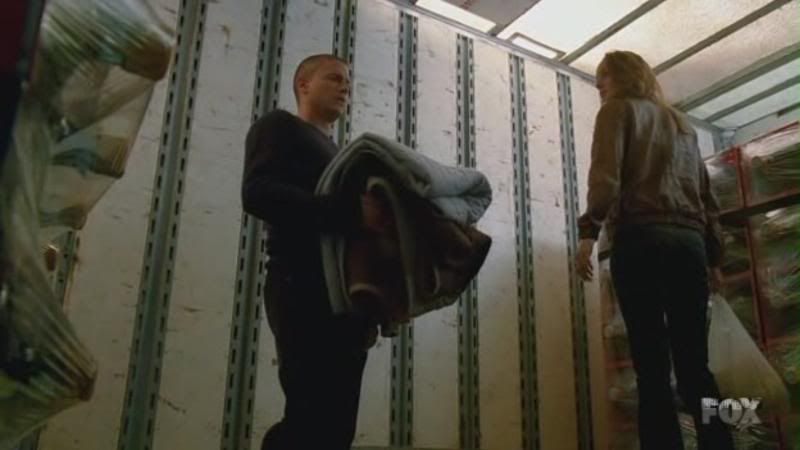 Not the most romantic of locations, but think of the possibilities.

~*~

Location: The Waterfront.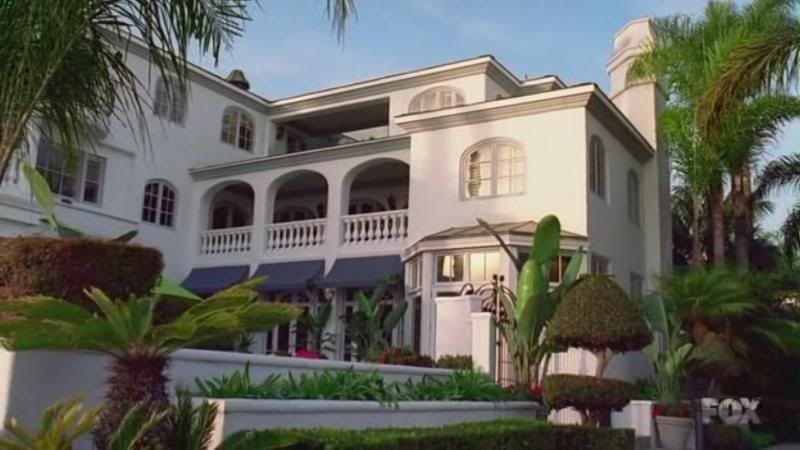 Hey, we've seen this place before! Looks like the super-fabulous computer chip key is for Christina Rose's house.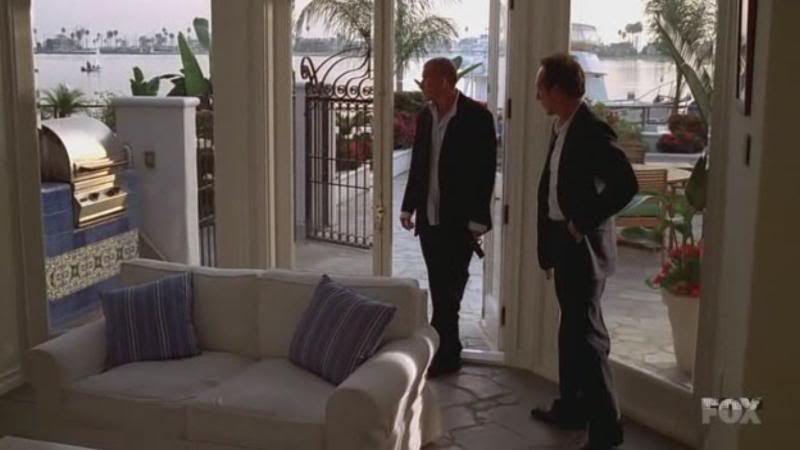 The key lets them in, but the house is empty.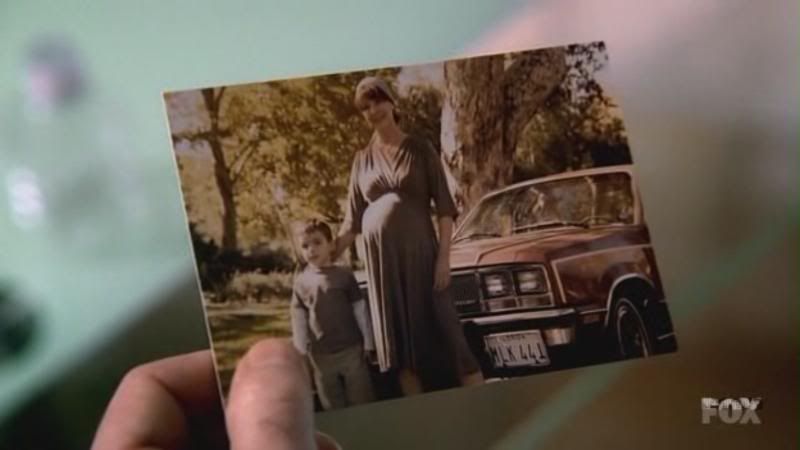 Except for this picture, left on the table for Lincoln to find.

Looks like Michael was right, Lincoln. Mahone realises that Christina Rose most likely has Scylla.

~*~

Location: Somewhere between Central Arizona and Dallas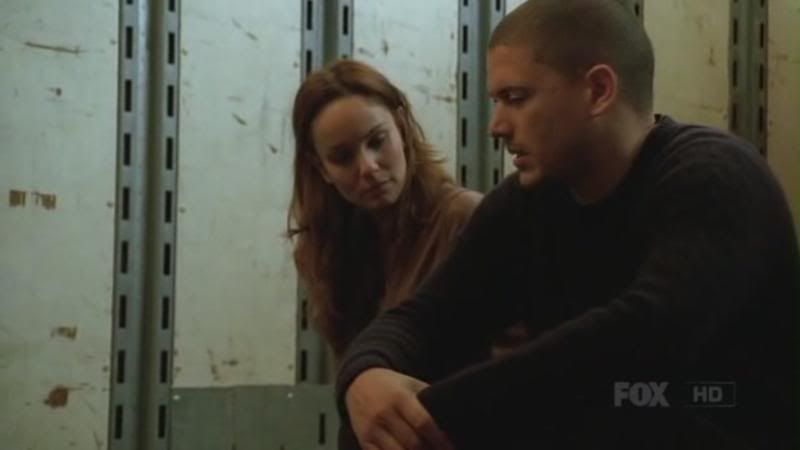 In the truck of too much talking and not enough touching, Michael is wondering how his mother could be an Evil Company agent when she was so good at making cookies and playing kickball.

He also reveals that she was the other patient the Evil Company treated for the same type of brain tumour that he had. Just another way in which the two are so alike.

~*~

Location: A Limo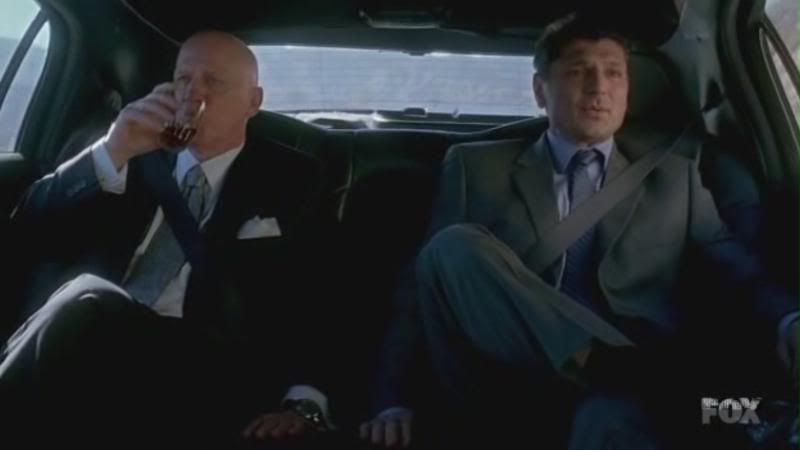 General Pad Man is telling Cardholder Oren how awesome it would be to have Michael on their side. Cardholder Oren isn't particularly interested though and tells the driver to pull over cos his ride is here.

General Pad Man is understandably confused. But his stuck seatbelt soon clues him in that this is indeed an assassination attempt.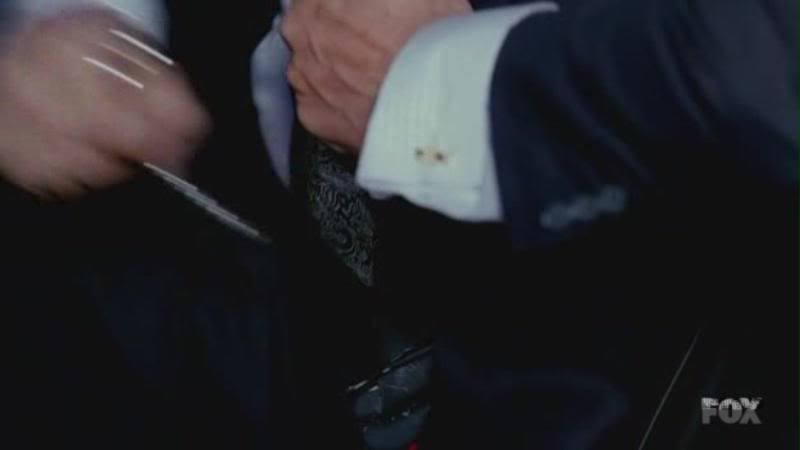 As General Pad Man frantically stabs at his restraints with a corkscrew, Cardholder Oren and the driver head off in their new car. Once they have travelled a safe distance, Cardholder Oren presses his button of boom.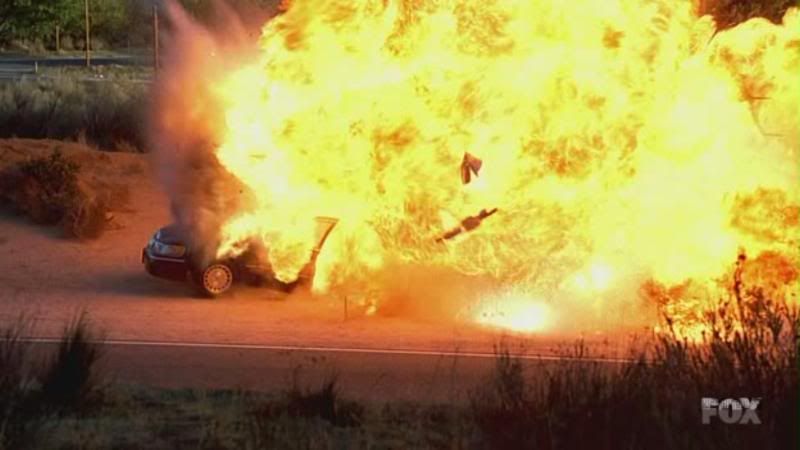 Oh dear.

Is this the end for General Pad Man? Considering the conspicuous amount of time between the last shot of him and the explosion of the car, I'm going to say no.

~*~

Location: Little Havava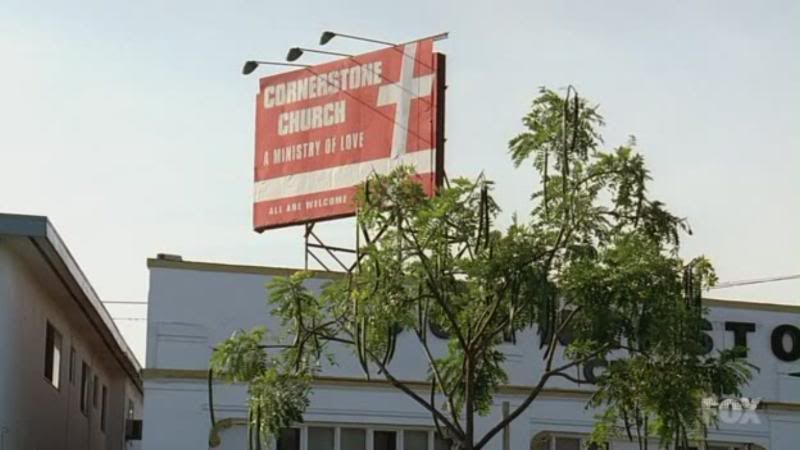 This is the location of the other lock for the super-fabulous computer chip keys. T-bag is sceptical that anything of value could be held in such a dump. Self points out that the best hiding place is where people least expect there to be anything.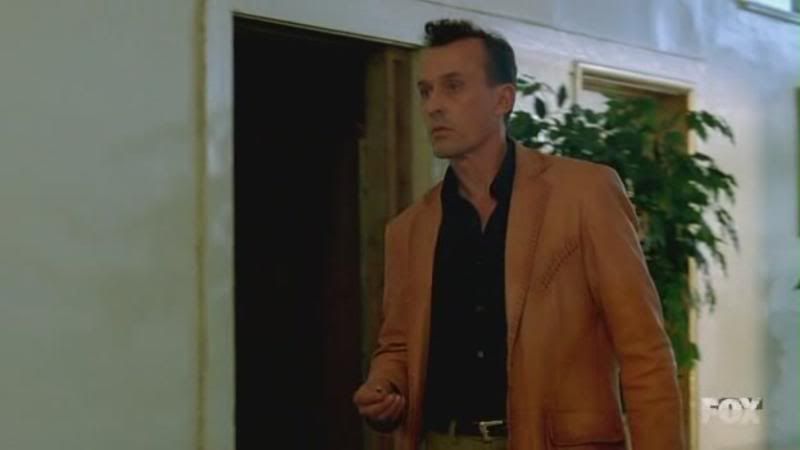 T-Bag heads inside, since Self would be far too obviously cop-like. Also he's an idiot who would probably go in there and demand they show him where Scylla is or he'll set his partner, Larry Shakespeare on them.




Once inside, T-Bag notices a super-fabulous computer chip lock that looks just right for his super-fabulous computer chip key. But before he can go and investigate further...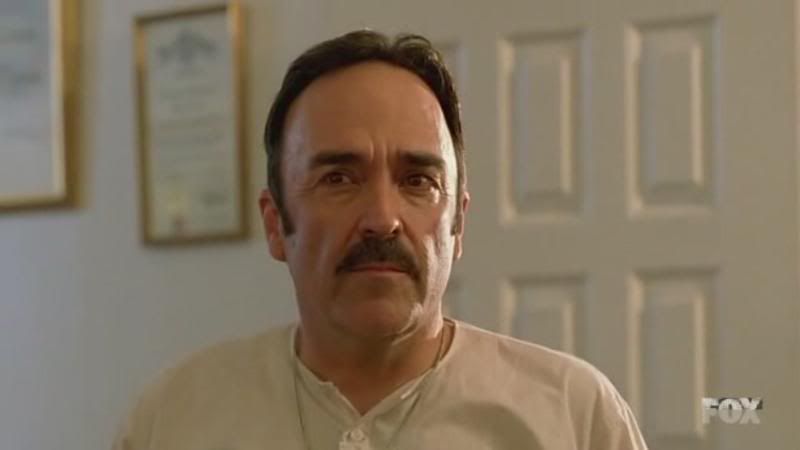 The priest appears.

T-Bag claims to be doing a study on Caribbean religions and would just like a quick look around. The priest says that that area is their sanctuary and only the pure of heart may enter, whereas T-Bag's soul is black and stained with the blood of innocents. Well, he's not wrong.

~*~

Location: Miami Hotel Room




Mahone is dusting the picture for prints because he's a big CSI fan and has always wanted to do this. Since there are no prints (apart from Lincolns, I assume) he deduces that it was left there intentionally for Linc to find.

Lincoln says he doesn't remember anything about the day the photo was taken, being four years old and all, and he doesn't care about his mother any more. As far as he's concerned she's just another person in the way of his freedom.

~*~

Location: Somewhere between Central Arizona and Dallas




Michael is sharing more of his past with Sara, who is looking particularly cute. He tells her about his sixth birthday when all he wanted was the Millennium Falcon. Sara says she had that as a kid. See, they're made for each other. Also, awesome.

Anyway, Michael didn't get the Millennium Falcon. His mother gave him a birdhouse kit instead. He says he didn't talk to her for days after that, but eventually she convinced him to build it with her and thus his lifelong love of architecture was born. Personally, I'd still be peeved about the lack of Falcon.

The point is that Christina Rose knew Michael better than he knew himself and he can't help wondering if, 23 years later, she still does.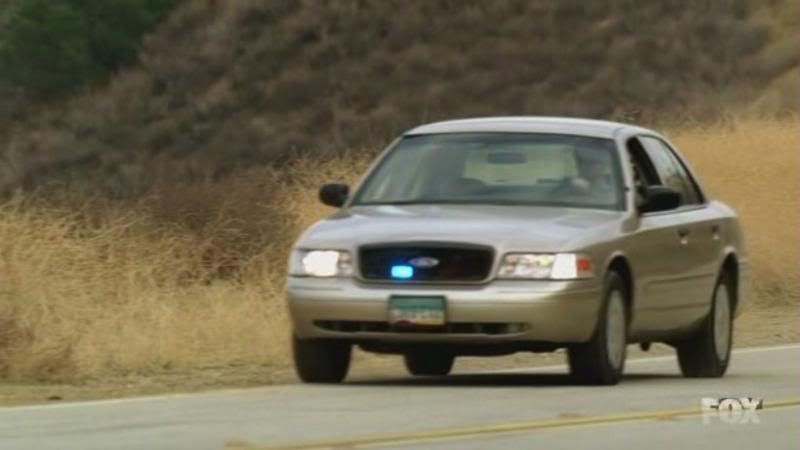 This musing is interrupted by the arrival of a cop, who pulls the truck over.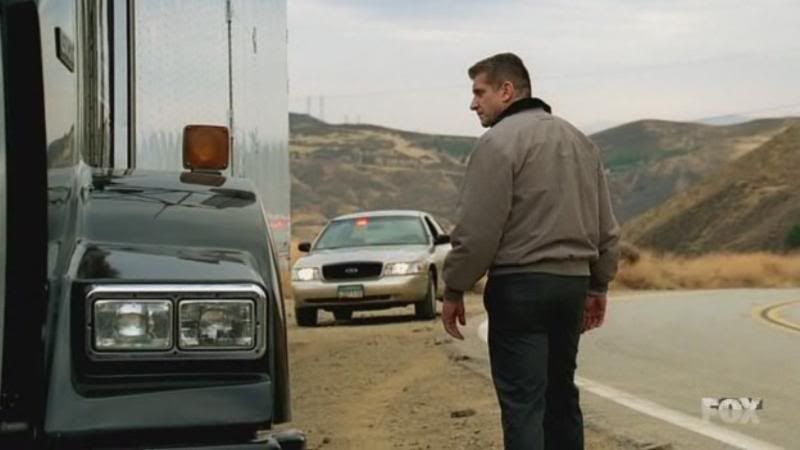 He insists on checking out the back and apparently finds nothing.




But proceeds to shoot the driver. Poor man. I hate it when people on this show do a nice thing and end up dead for their troubles.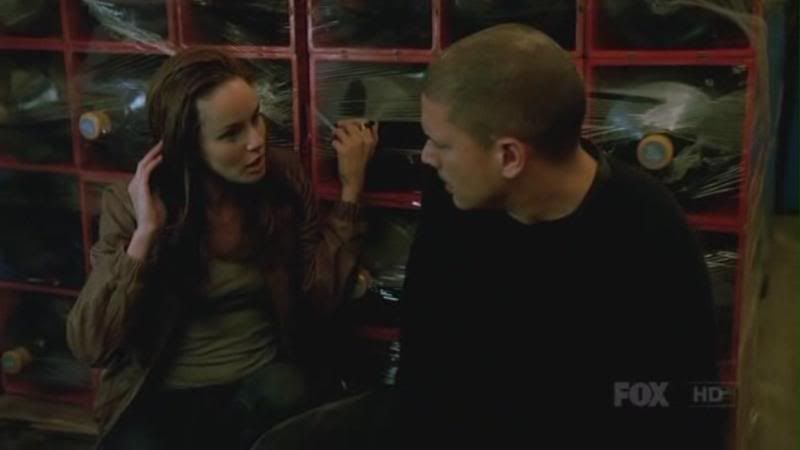 The fake-cop calls someone to let them know he has "him" and takes over driving the truck, with Michael and Sara trapped in the back on their way to who knows where.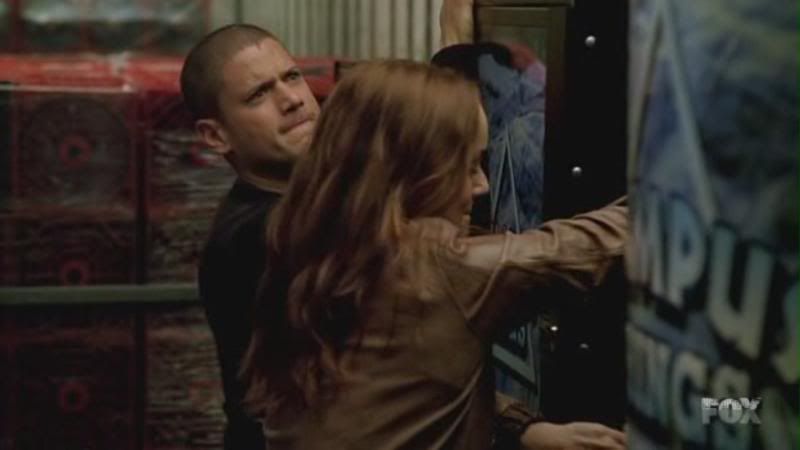 With the main door sealed and no cell phone signal, Michael and Sara try to find another way out of this place, such as a side door. They have trouble moving the vending machine though. Oh well, at least they'll be well supplied with beverages as they're carted off to certain doom.

~*~

Location: Miami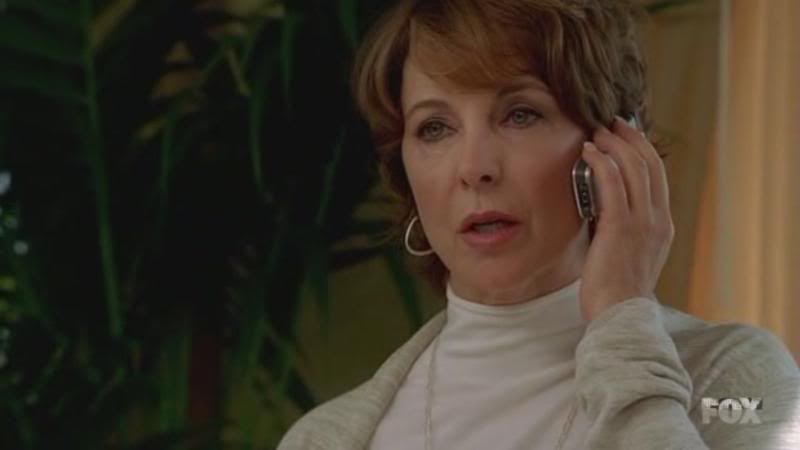 Christina Rose calls up Cardholder Oren to let him know that General Pad Man is singed but alive and she's very disappointed in him.




So disappointed that she orders the driver to shoot him. Wow, Mama Scofield is ruthless.

May I just take this opportunity to point out that Cardholder Oren really did have it coming. Not only did he insist that General Pad Man must be dead, despite giving him ample time to escape, he also put his call to Christina Rose on speakerphone at her request and didn't seem at all suspicious as to why she would want to do this. Clearly not genius material.

~*~

Location: Miami Hotel Room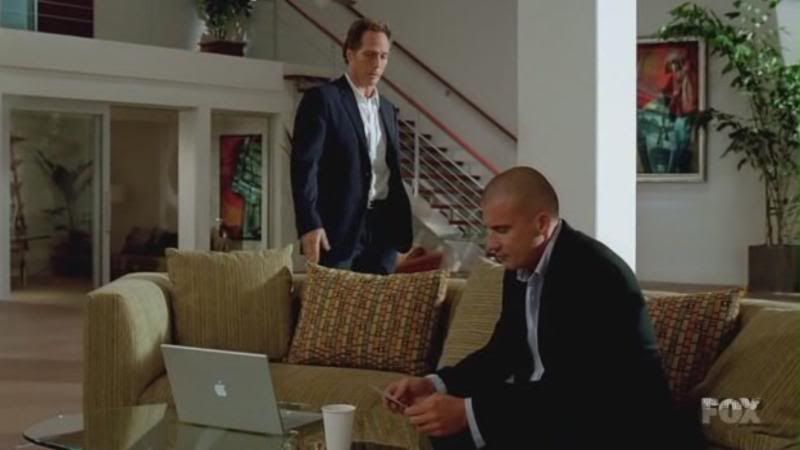 Lincoln and Mahone are still wondering about the significance of the picture. Mahone notices that the car has Florida plates and asks if the Burrows/Scofield family ever went there. Lincoln says no, but the photo's doctored anyway. The car is a '78 Zephyr but Michael was born in '76.

He says this so casually and it's Mahone who has to point out that the doctoring is a message from his mother cos only Lincoln would notice something like that.

The message being the licence plate – MLK 441. And, oh look, Martin Luther King Boulevard intersects with Route 441 right around here.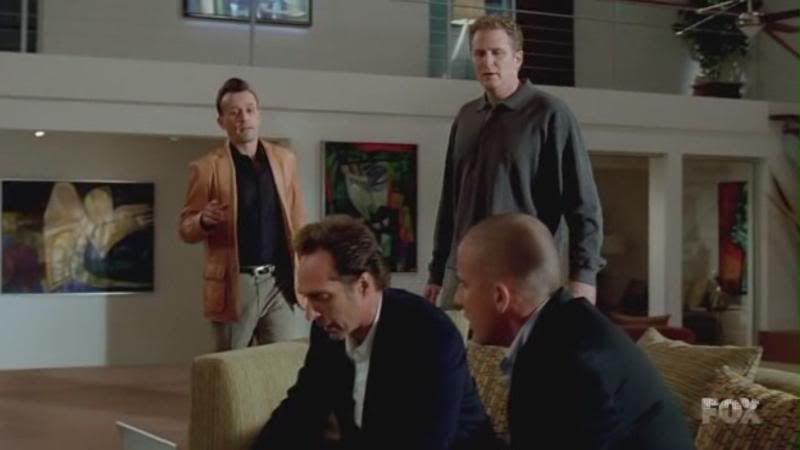 At that moment, T-Bag and Self arrive to give their report on the church in Little Havana. Lincoln says that they should take Mahone and go back while he'll be going to see what he can find on their lead. Which just happens to be his mother.

Lincoln wants to believe that she's one of the good guys trying to take down the Evil Company for noble purposes. Ah, Lincoln.

~*~

Location: In a Truck Heading to Certain Doom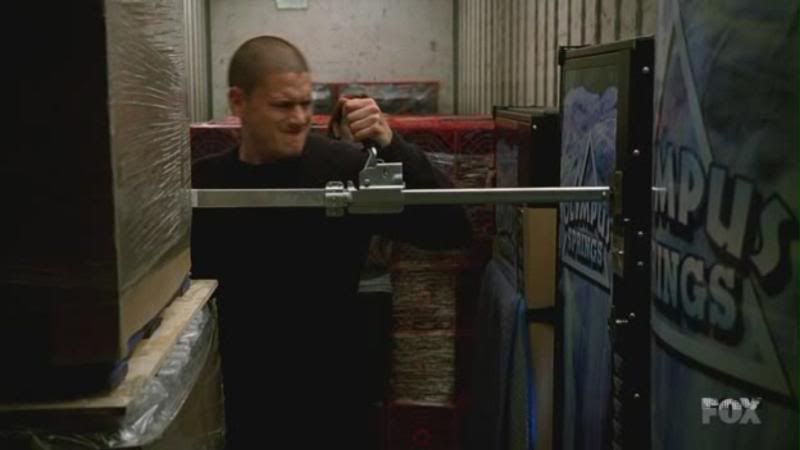 Michael the genius is busting their way out the side door to freedom.




Or not.

~*~

Location: Christina Rose's High Rise Apartment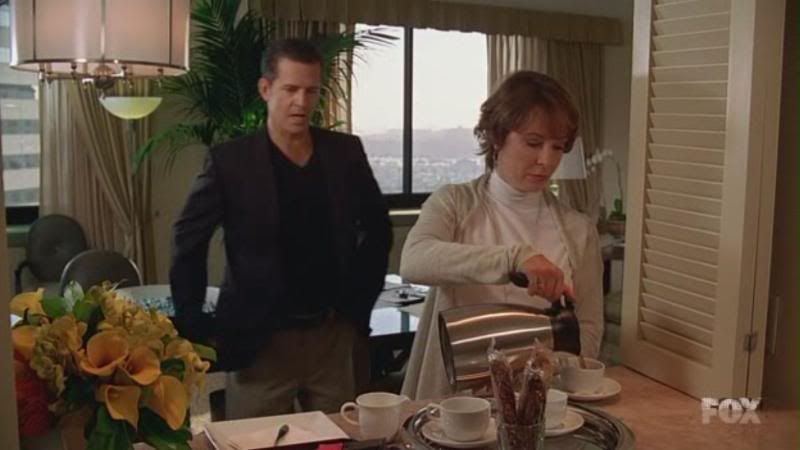 Andy is worried that things aren't going their way and thinks they need to adjust their plan. Christina Rose has no time for such foolishness, her plan is totally awesome.

Then she gets a phone call...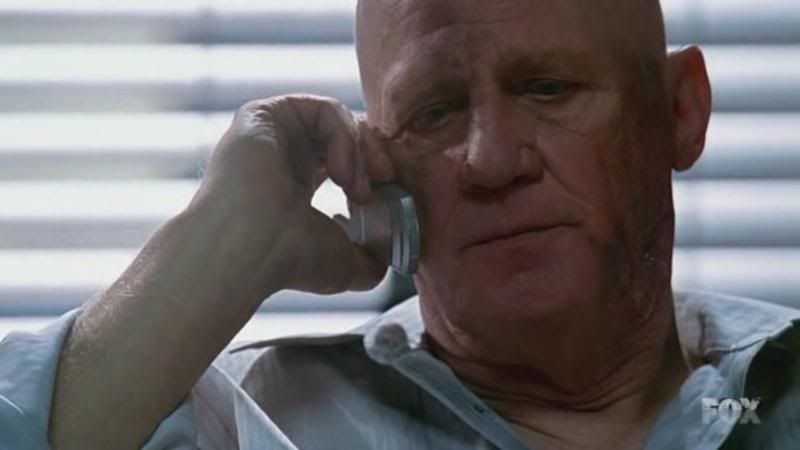 General Pad Man. Just calling to say hi, how's life in Johannesburg and oh, yes, was it you who tried to have me blown up?

Christina Rose is insulted by the very suggestion. Insulted I say!

~*~

Location: The Corner of MLK and 441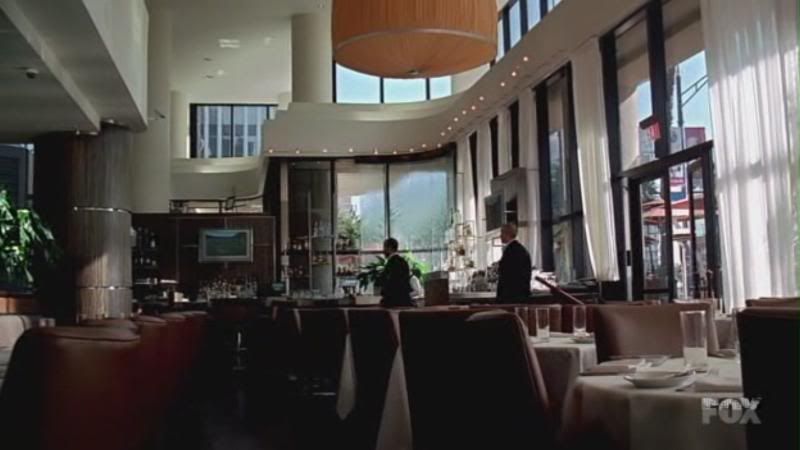 Lincoln arrives and a man comes out to usher him into a nice looking restaurant. I assume he also serves the purpose of turning away anyone else who thinks this might be a good place to have lunch.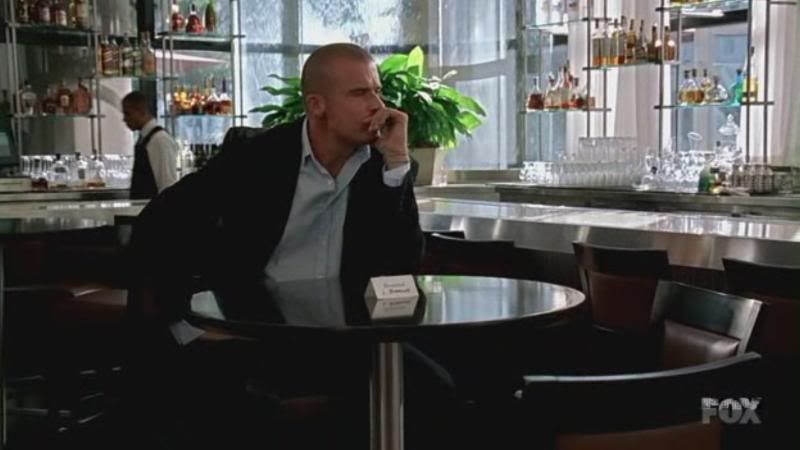 Lincoln is led to his own table. I do like the 'Reserved: L Burrows' card.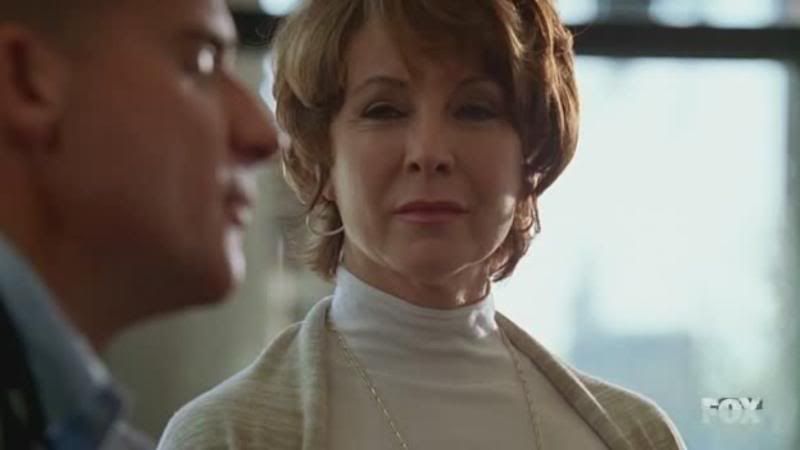 There he is joined by Christina Rose. It's strangely anticlimactic as Lincoln shows no reaction to seeing the mother he thought was dead for years. But I suppose he's used to things like this happening to him by now.

Christina Rose apologises for her cryptic message and Lincoln says at least he knows where Michael gets it from.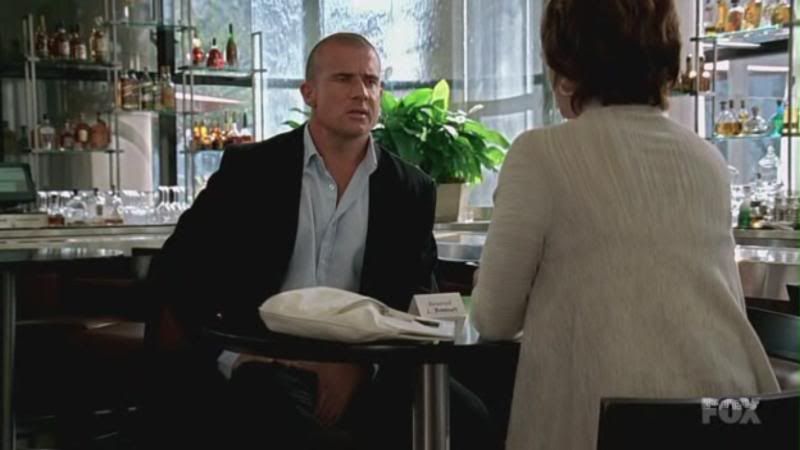 Christina Rose says she's sorry about leaving her family but she's not a monster. Lincoln thinks being an agent of the Evil Company is pretty much that. Christina Rose insists that the Evil Company is only Evil because it's led by General Pad Man. But if she were in charge it would be all rainbows and light and happily ever after for everyone.

Lincoln brings up the deal he has with General Pad Man. Christina Rose says that if leaves her alone, in two days she'll have deposed the General and they won't have to worry about their freedom any more.

Lincoln agrees and they part ways.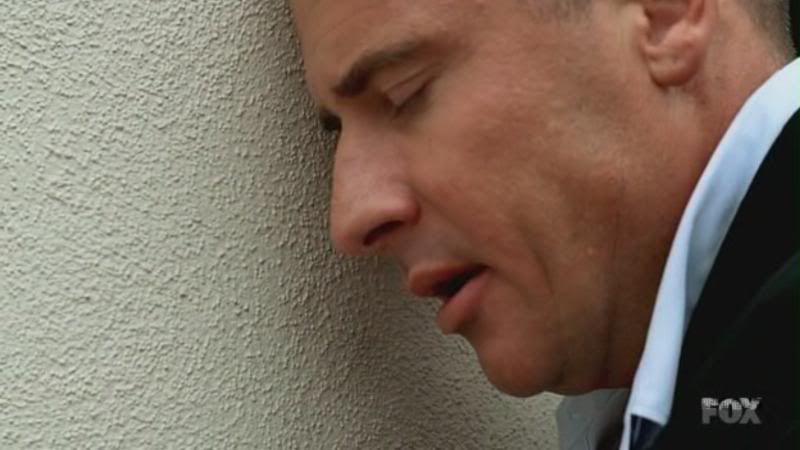 And only when he's safely away from prying eyes does Linc reveal he has human emotions after all.

~*~

Location: In a Truck Heading to Certain Doom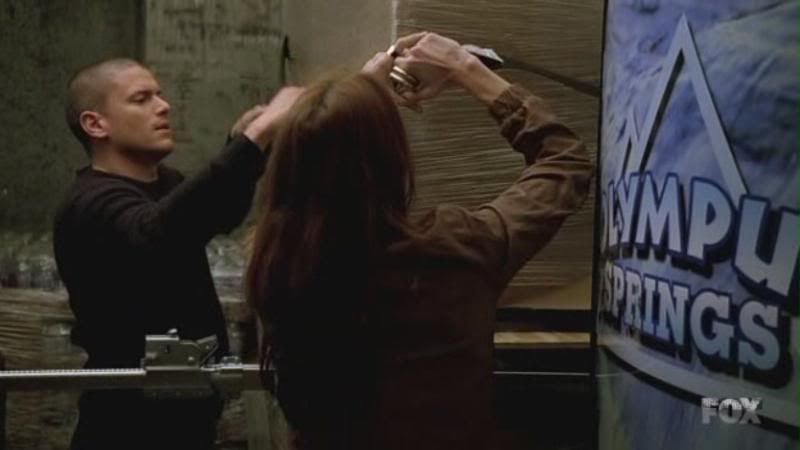 Michael and Sara work together to bust their way out of the moving vehicle.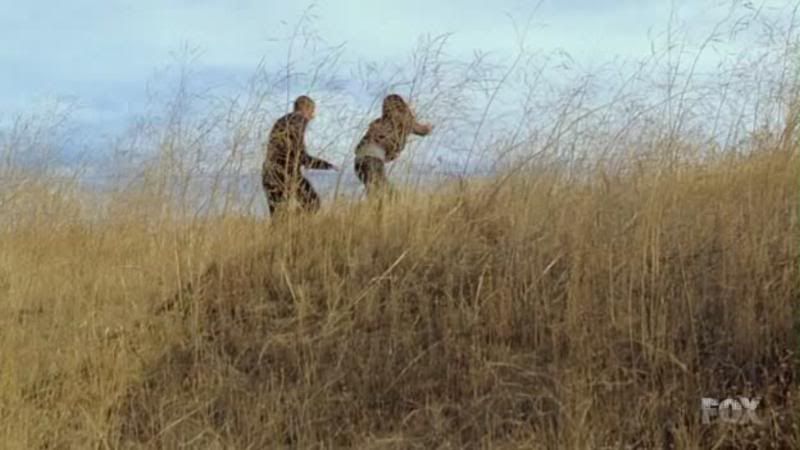 They succeed and run off into the middle of nowhere., closely followed by the fake cop.

~*~

Location: Little Havana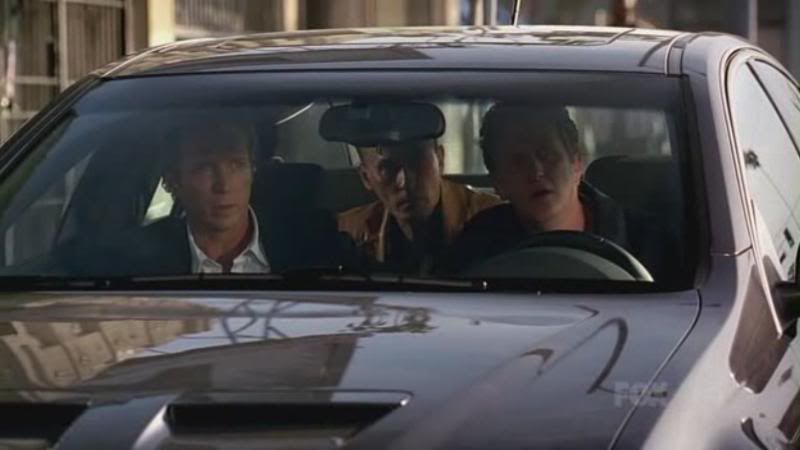 Michael, T-Bag and Self see three large men head into the church. Not liking their odds, they decide to wait it out and take the opportunity to discuss Lincoln's mother and their willingness to kill her should it become necessary.

Once the men leave the church, it's time to go in.




As they enter, Self announces that he's from Homeland Security and they're investigating a cruelty to chickens charge. Why do these people let Don Self speak?

The priest doesn't pick up on the obvious issue that Homeland Security has nothing to do with animal cruelty, but rather protests the implication that because he's Caribbean he must ritually slaughter chickens.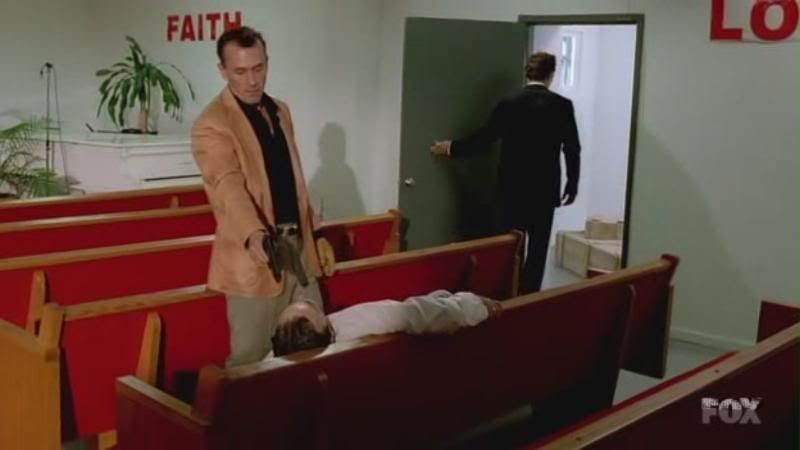 Mahone and T-Bag head back to the sanctuary with the priest, who pulls a gun but not quickly enough to beat T-Bag.

Mahone tries the super-fabulous computer chip key in the lock and hey presto, it opens.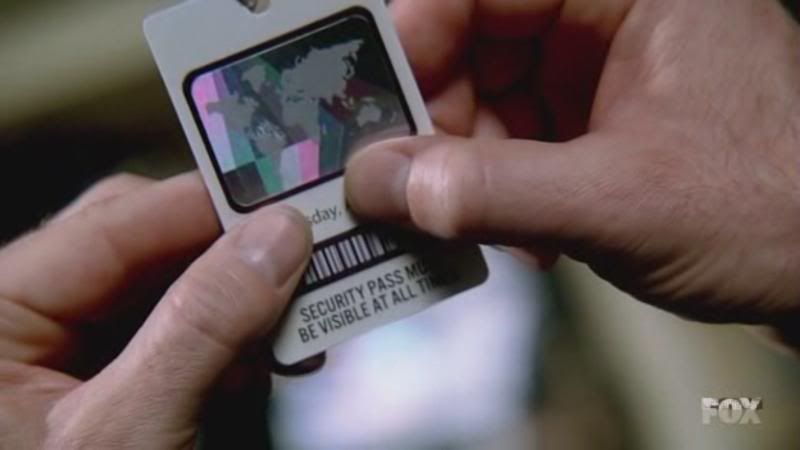 There are boxes of security badges, one of which he keeps.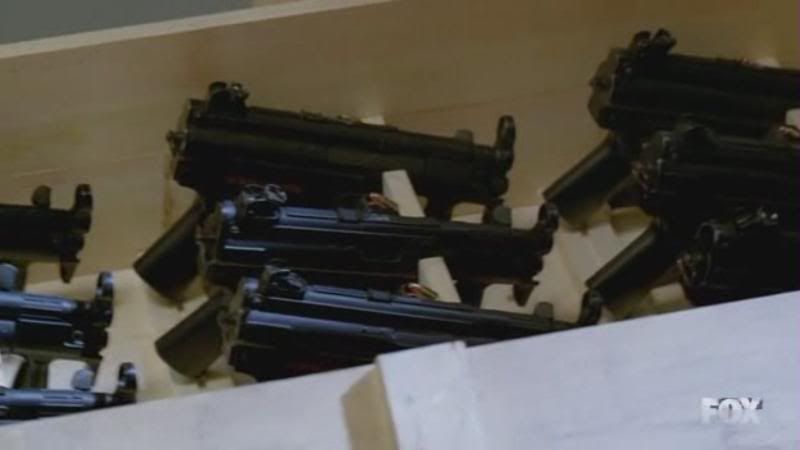 And guns. Lots and lots of guns.

The priest says that a man and a woman dropped them off here.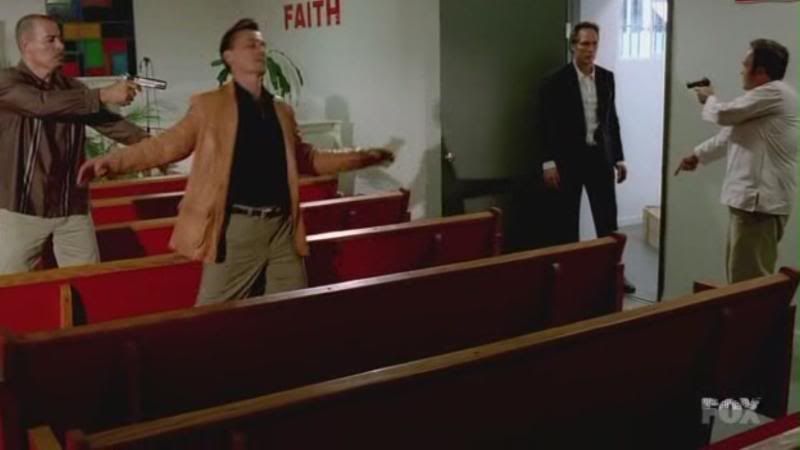 Unfortunately for the guys, another man turns up with a gun.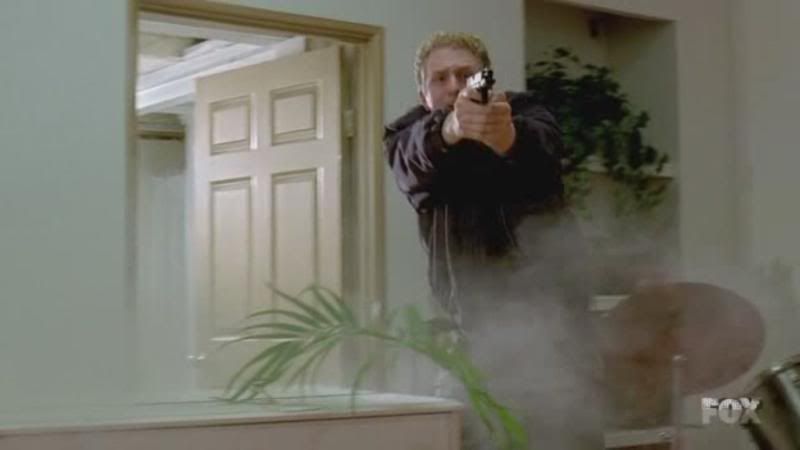 Fortunately for them, Don Self is around to save the day. But they need to get out of there quickly before another man, who ran off, returns with reinforcements.

~*~

Location: Somewhere in America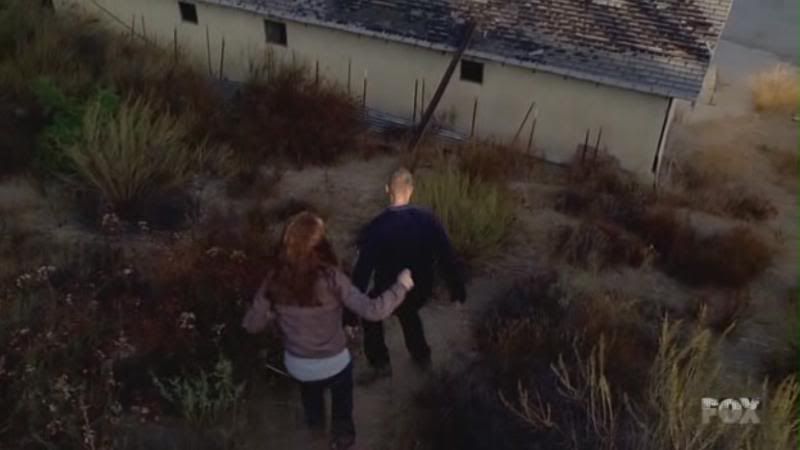 Looks like the middle of nowhere comes with an abandoned... something. Yeah, I don't know what that is. But it provides somewhere for Michael and Sara to run to in the hopes of escaping fake cop.




They break into one of the buildings, and apparently Sara has injured her left shoulder. Which doesn't surprise me when you consider that she left the moving truck like this...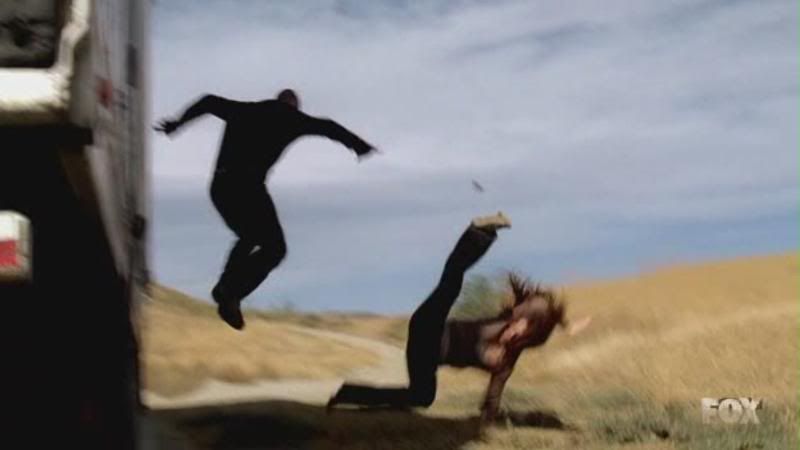 Anyway, Michael gives Sara a piece of pipe to defend herself with then sneaks around back to whack the fake cop from behind.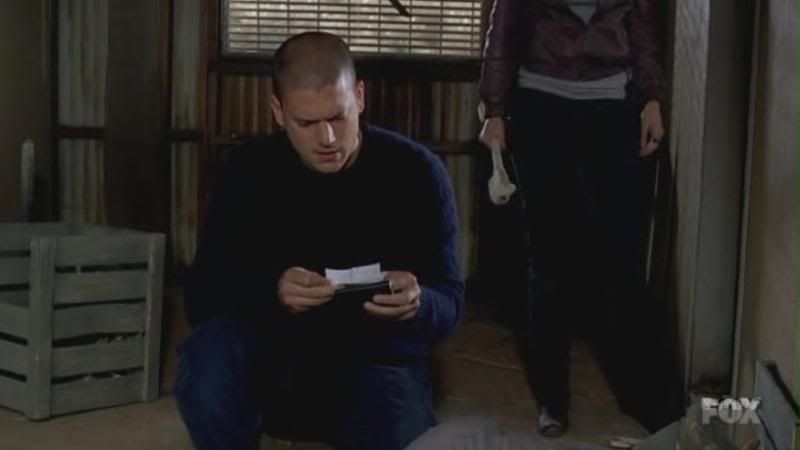 They go through the fake cop's pockets and find a cryptic piece of paper.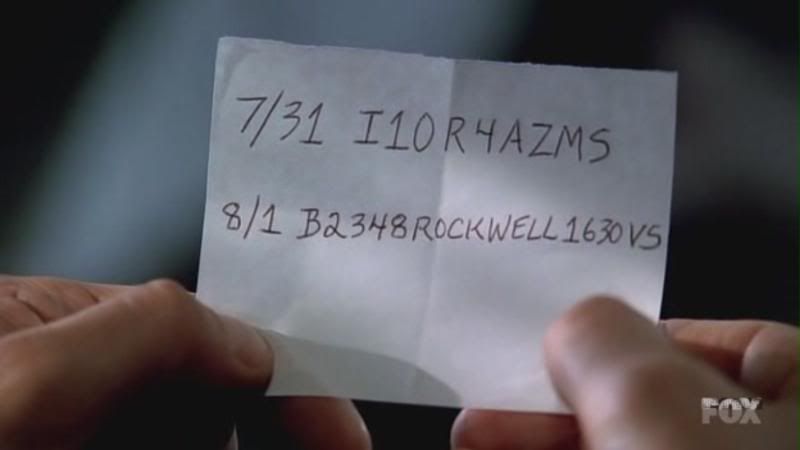 What could it mean?

Michael tells the fake cop that General Pad Man should have known better than to mess with them. Fake cop says that he doesn't work for the General, but dies before he can reveal who he does work for.

~*~

Location: Miami Hotel Room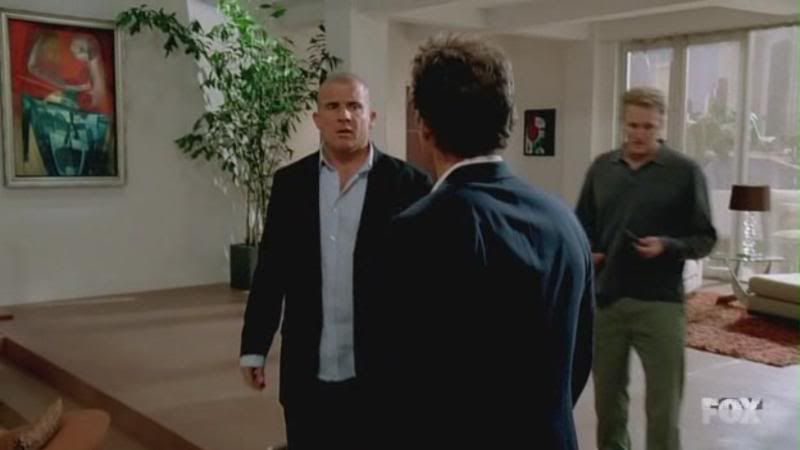 Lincoln tells the others that they're going to lay low for two days while Christina Rose does her thing and takes the Evil out of Evil Company.

Mahone, Self and T-Bag doubt Mummy Dearest's good intentions though, pointing out that they found a shit load of guns and security badges that, oh look, are dated two days from now.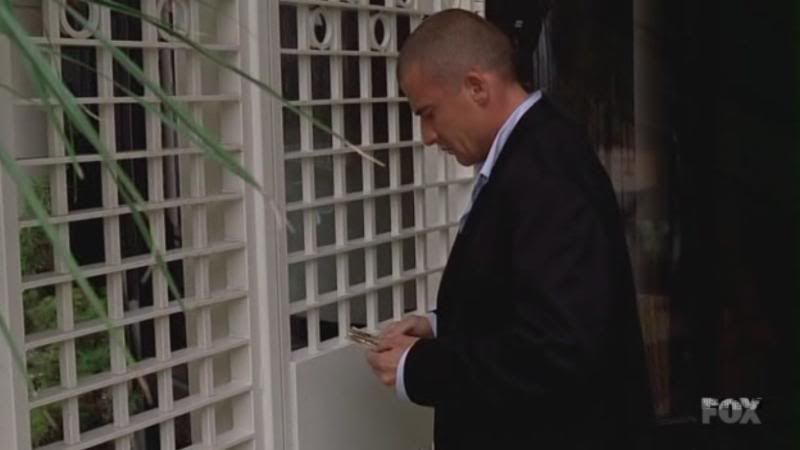 Lincoln decided to go against Christina Rose's wishes and goes back to see her again to ask if what his friends are saying about her being evil is true. But the restaurant is locked up and there's no sign of her.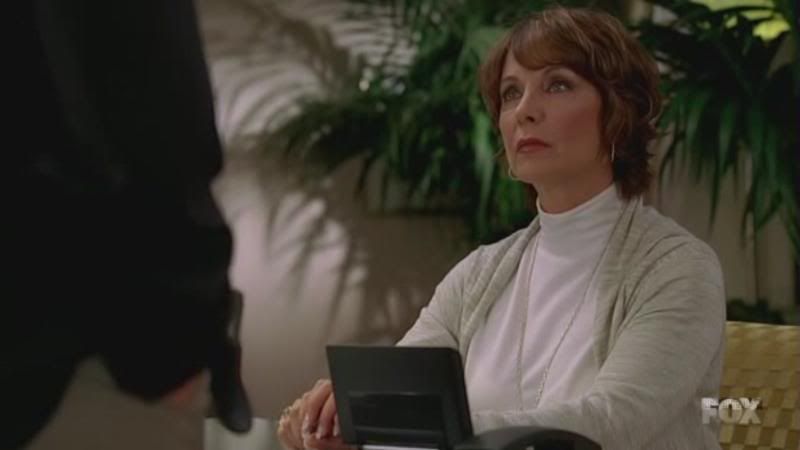 That's because she's back at her place (or one of many, I assume) listening to her goon tell her that Lincoln has returned to the plaza. He says that her son has turned out to be more of a threat than they first thought and points out that one of their snipers has a clean shot.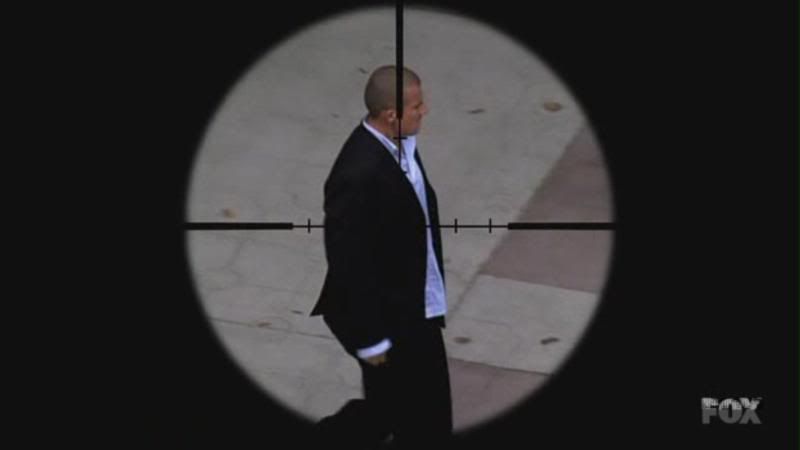 Christina Rose says take it.

Ah, motherly love.

~*~
~*~

I would like to take this opportunity to point out something I wrote after my recap of 2.22 Sona:

Or maybe it's a reference to his parentage. Maybe his parents were both spies and his mother isn't really dead after all, but is in fact a Russian agent who was send to marry his father in order to discover the conspiracy's secrets and faked her death when he was a child but will return in season three to cause problems and angsty family issues. If so I really hope she's played by Lena Olin…

Ok, so it's not exactly the same as the plot of Alias, but still. Mother still alive, part of the company, faked her death and returned to cause problems and angsty family issues. Not played by Lena Olin though.

Screencaps by
sky_angel22