As I said in my previous entry, I have returned to the recapping. But I was feeling uninspired by how I was writing them before, so I've decided to try something different. This is a Prison Break recap...with pictures!

It's a lot more work this way but I think it makes it easier to understand what's going on. I might try and continue to do them like this. There's still another episode between this one and the one on tonight, so I'll see that goes.

And now...

Episode 4.14 Just Business



Location: Warehouse of Illegal Injections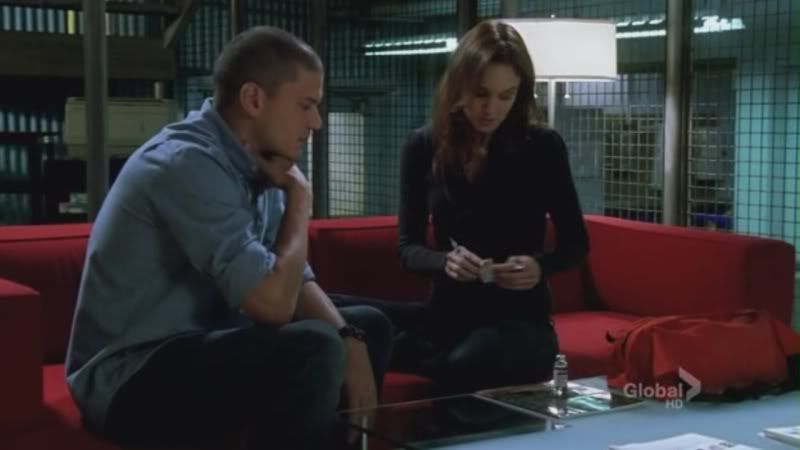 Dr Sara: You know, you really should go to the hospital

Michael: Scylla first. Life saving treatment later.

But before even that, a phone call....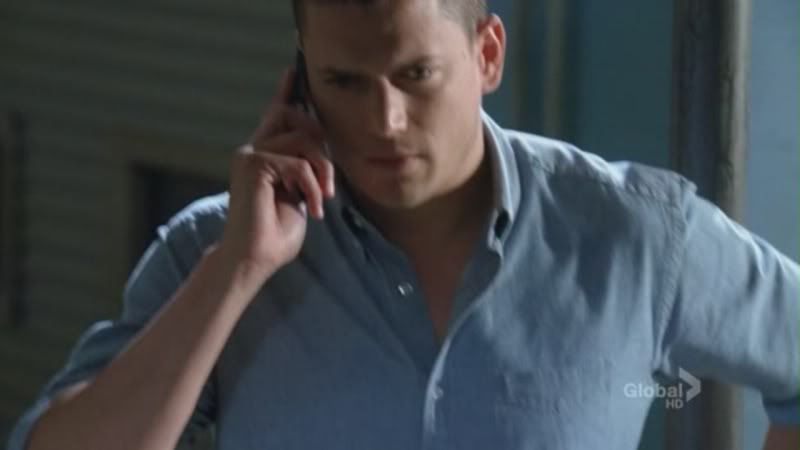 Michael: Hello?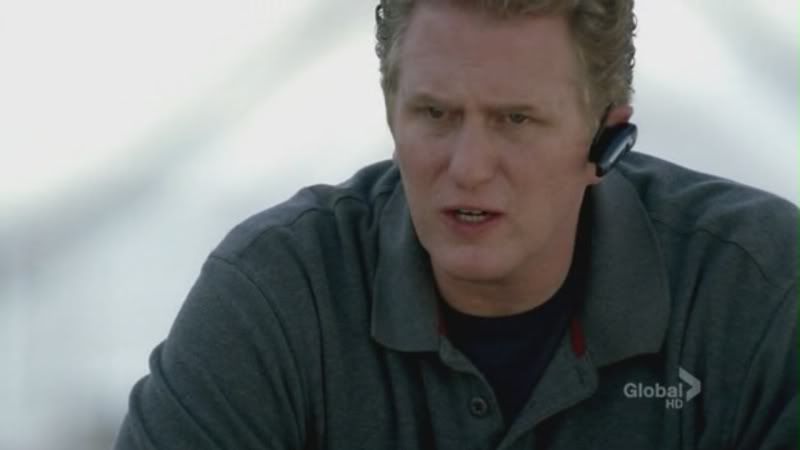 Self: Hey Michael. You gonna give me that piece of Scylla?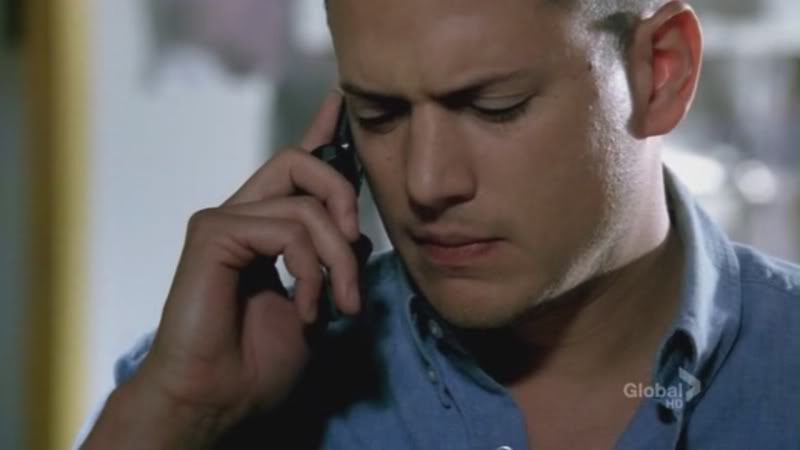 Michael: That would be no.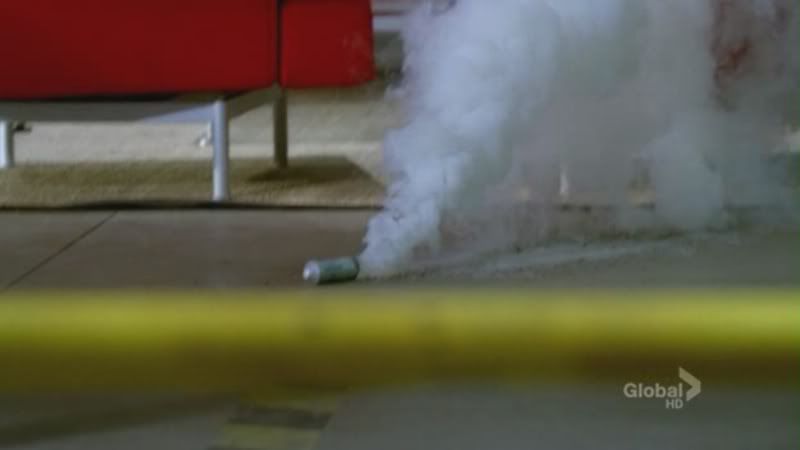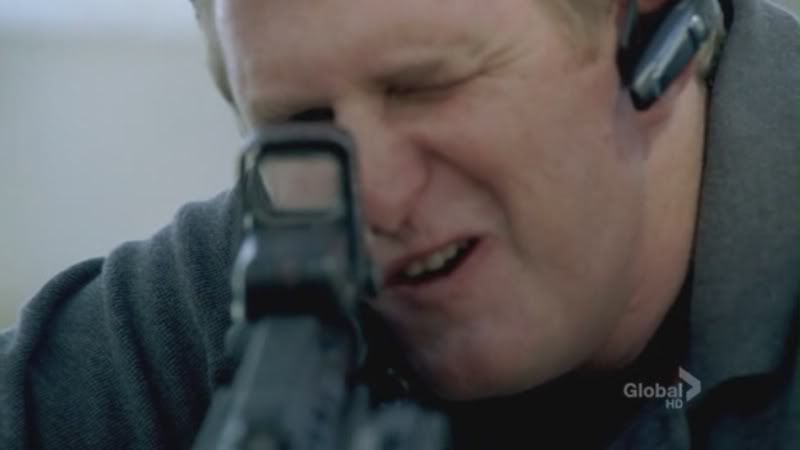 Self: How about now?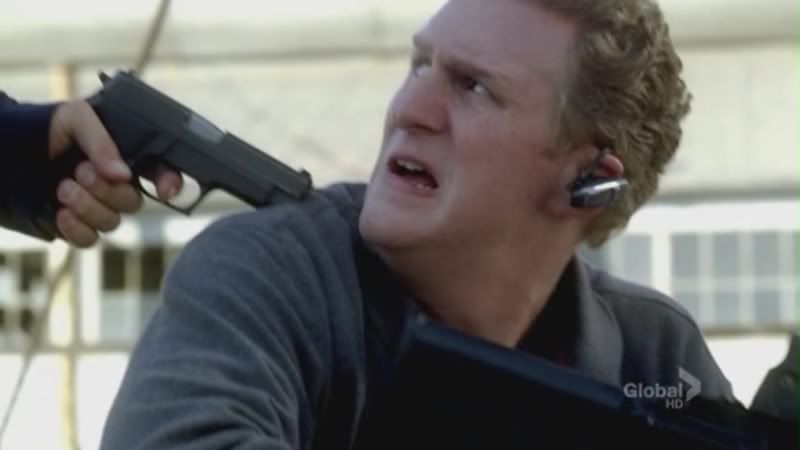 Lincoln: How about no?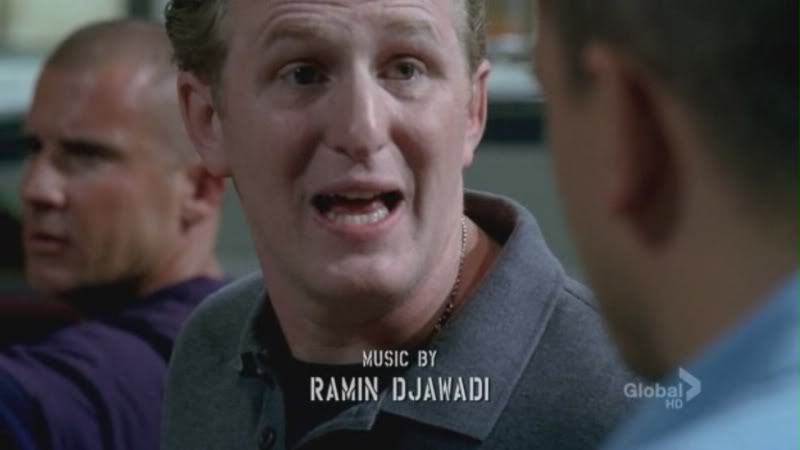 Self: Guys, guys. We're both on the same side here. If we sell Scylla the buyers will bring down the company and we'll all make shit-loads of money.

Lincoln: Shit-loads of money, you say...?

Michael: No.

But all is not lost for Self...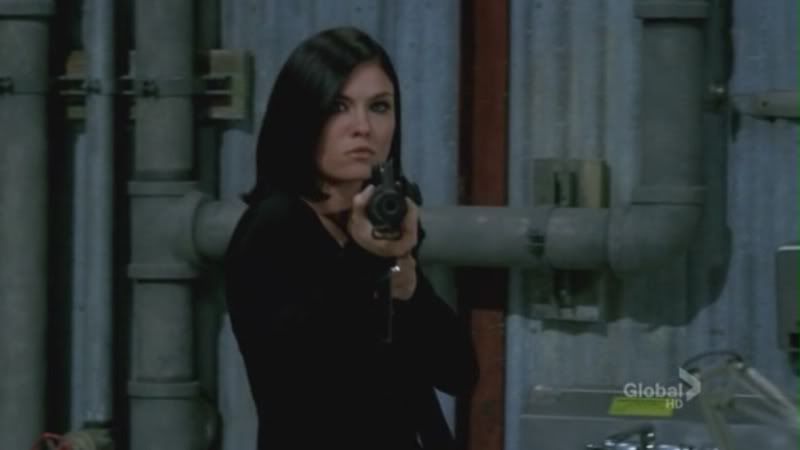 Evil Gretchen is here to pull her associate out of this impromptu meeting and go continue being evil elsewhere.

~*~

MEANWHILE!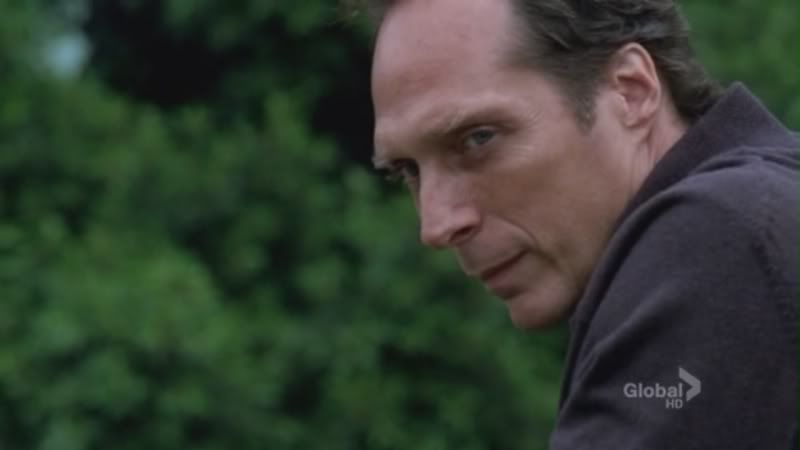 Mahone is meeting an old friend.




Heartless Bitch! Also known as Agent Lang. Can she help the cause?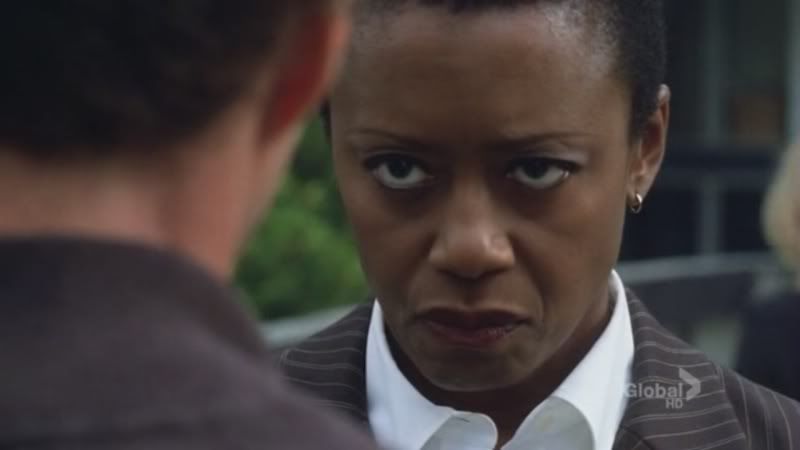 I wouldn't count on it.

~*~

Over at Rita's house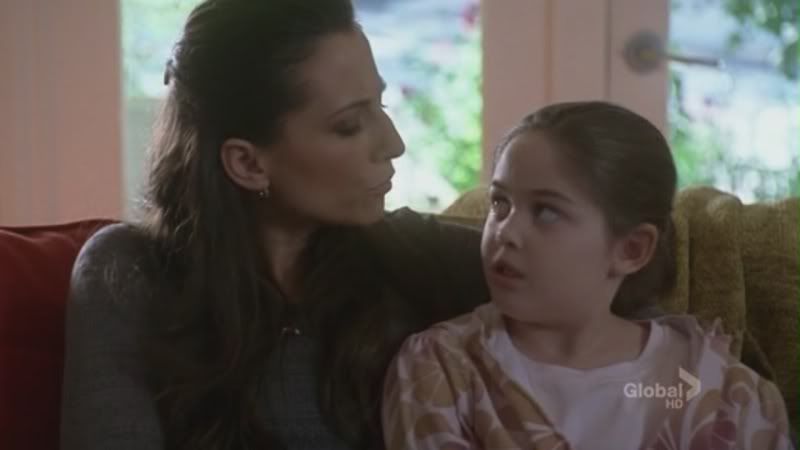 Evil Gretchen's Not-Evil sister Rita and niece/secret daughter Emily are being held hostage by T-Bag.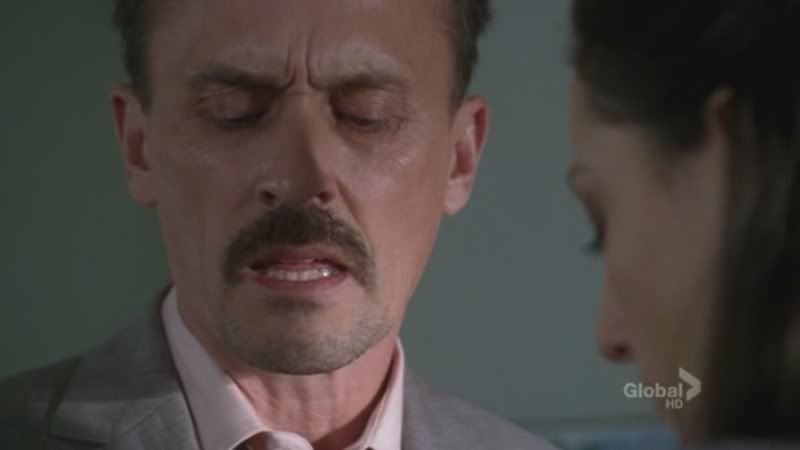 T-Bag is sad. He has lost his dreams.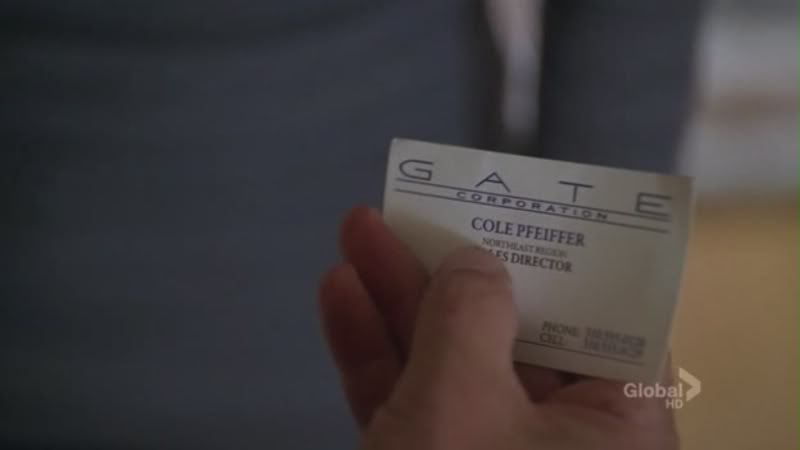 His dreams of being Cole Pfeiffer, sales director.

~*~

Location: ?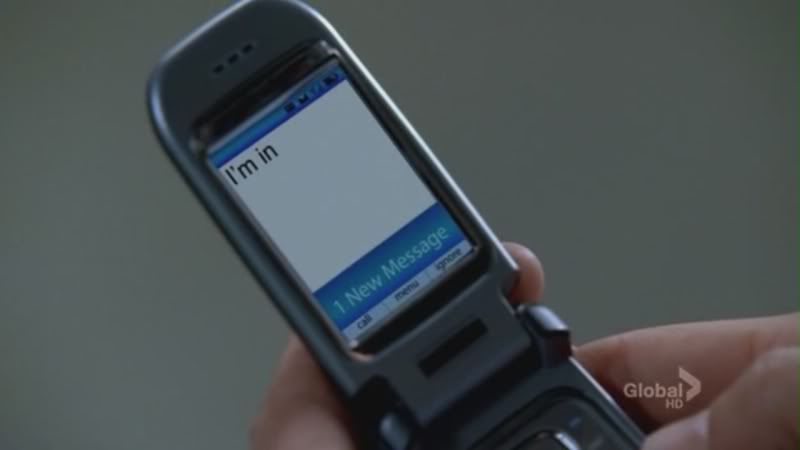 Michael gets a text message.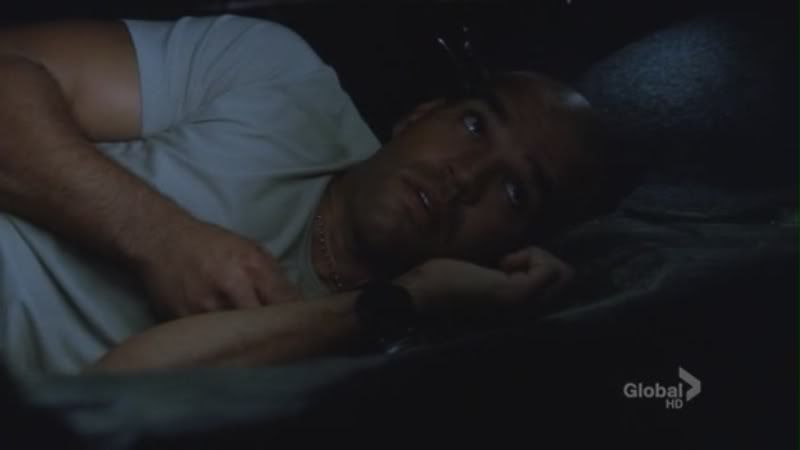 From Sucre!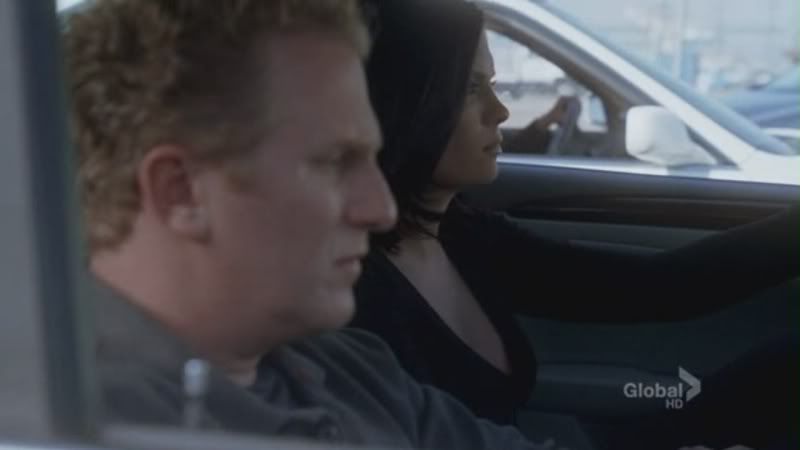 Who is in the boot trunk of Self and Gretchen's car!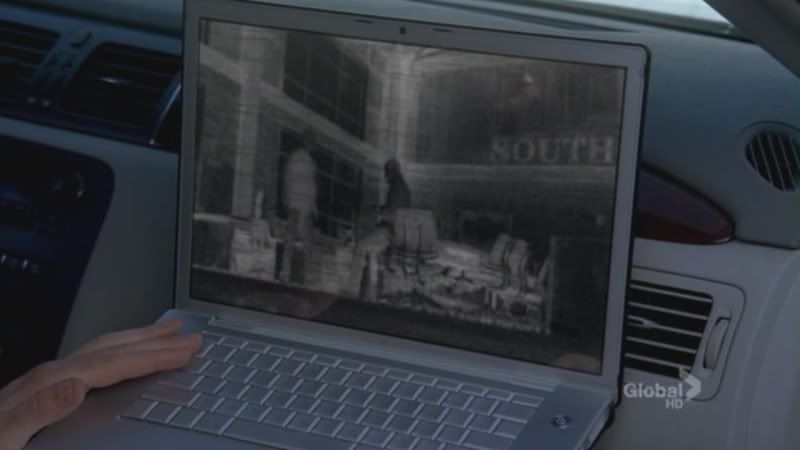 Self and Gretchen, who have a fancy device that allows them to see the goings on inside the warehouse! Goings on such as Michael hiding the part of Scylla they need.

~*~

Location: Warehouse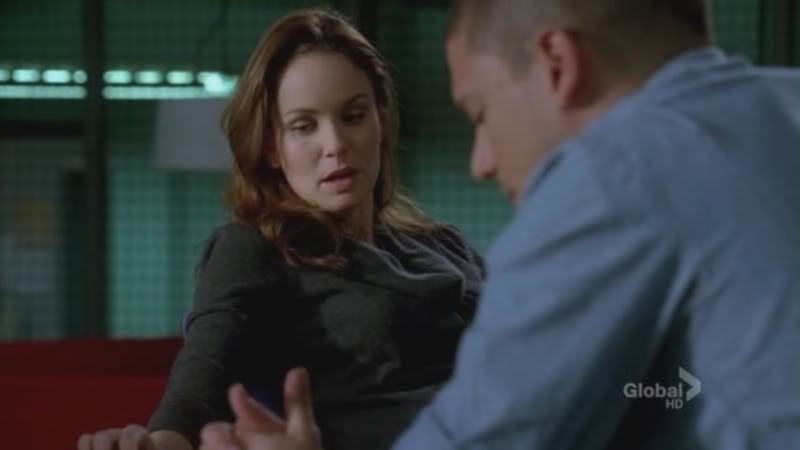 Dr Sara: You know, you really, REALLY should go to the hospital.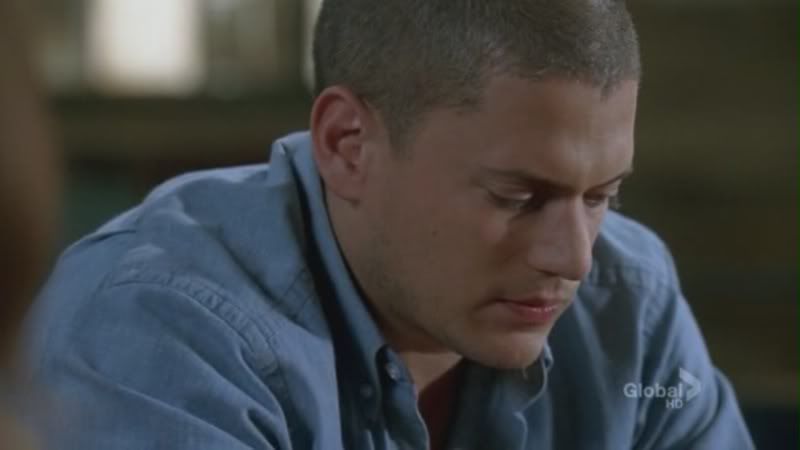 Michael: I'll be fine.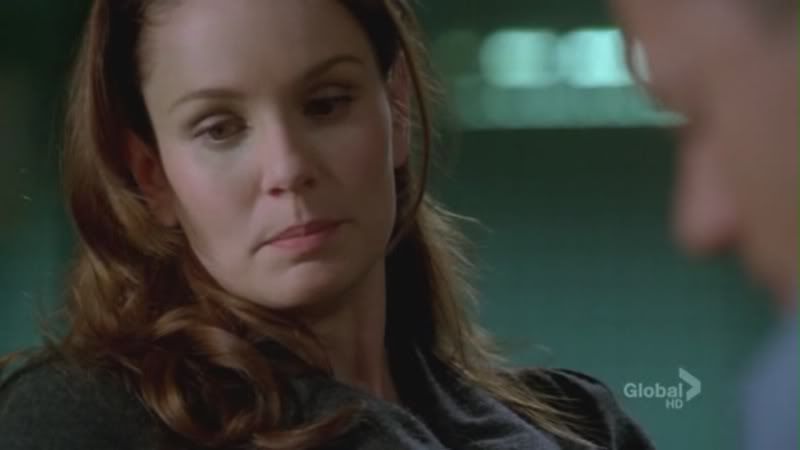 Dr Sara: OK, but don't come crying to me when you fall over dead.

~*~

Elsewhere in the city, Self and Gretchen have come to a stop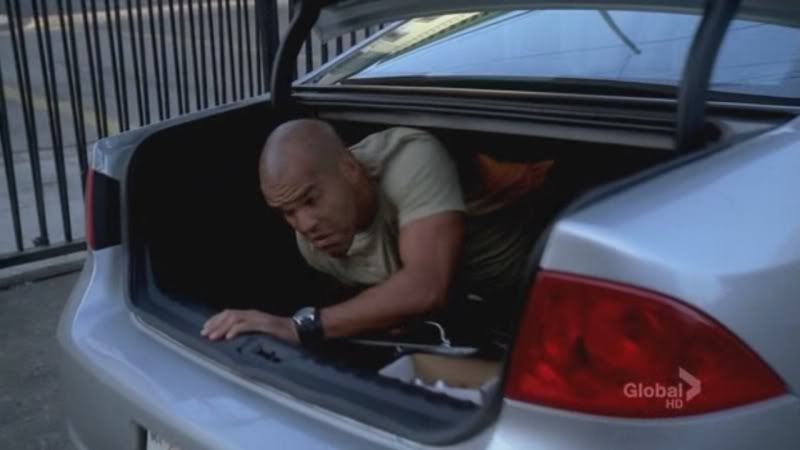 Sucre: Freedom!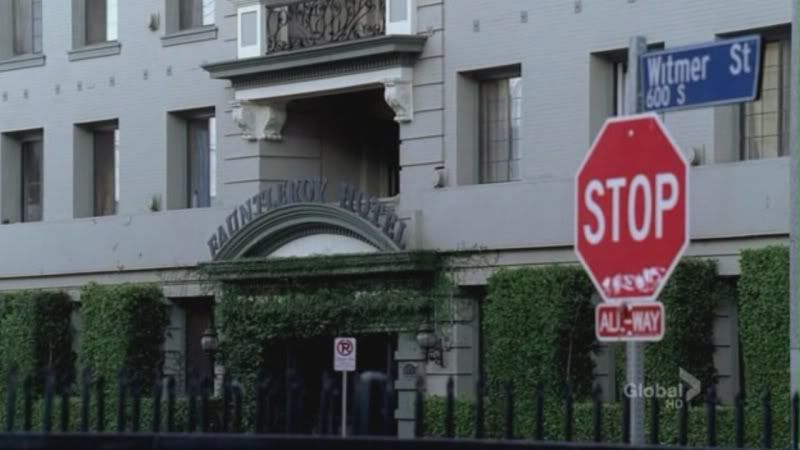 Sucre: And a location.

~*~

Location: Warehouse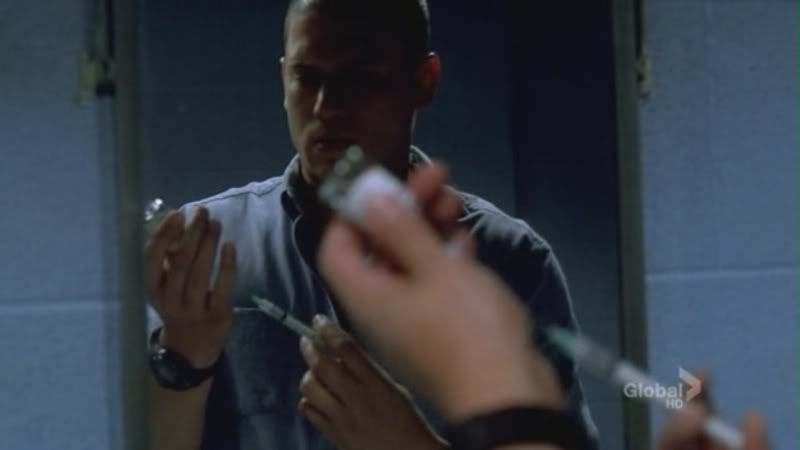 Michael is being a naughty boy and injecting himself. Silly Michael.

~*~

Location: Self and Gretchen's Hotel Room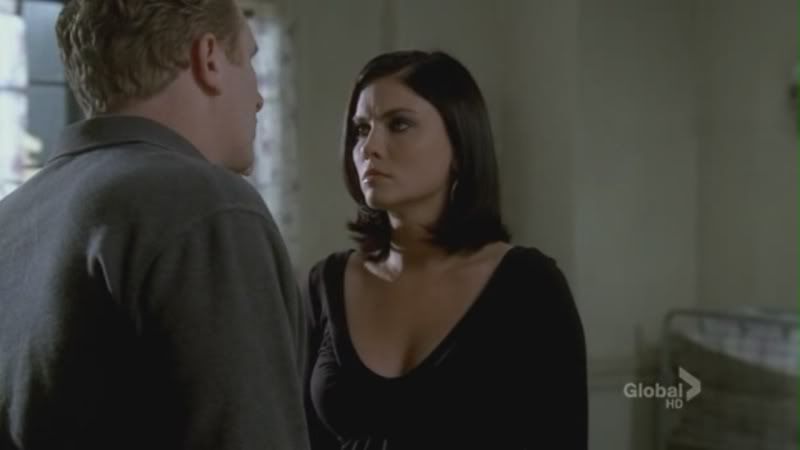 Evil Gretchen: I want to talk to my daughter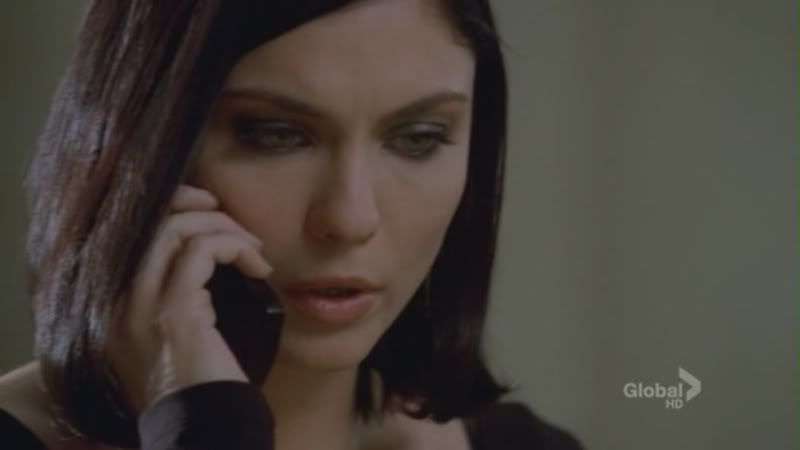 Evil Gretchen: Honey, don't worry. Auntie Gretchen will make the bad man go away.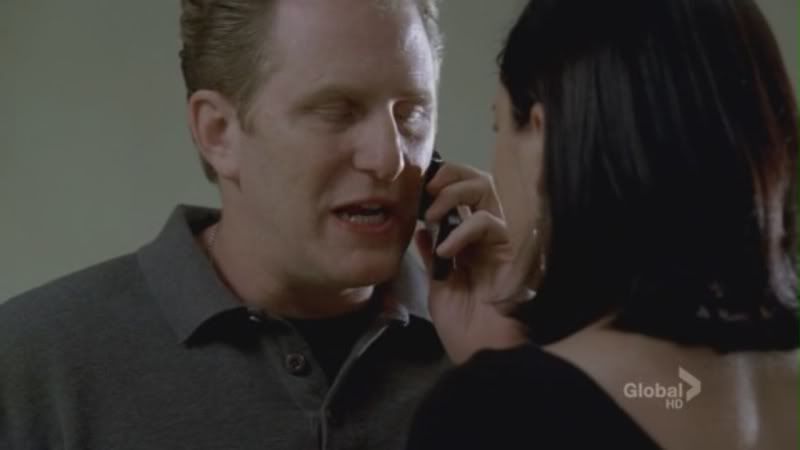 Self: T-Bag, if you don't hear from me in two hours, kill them both.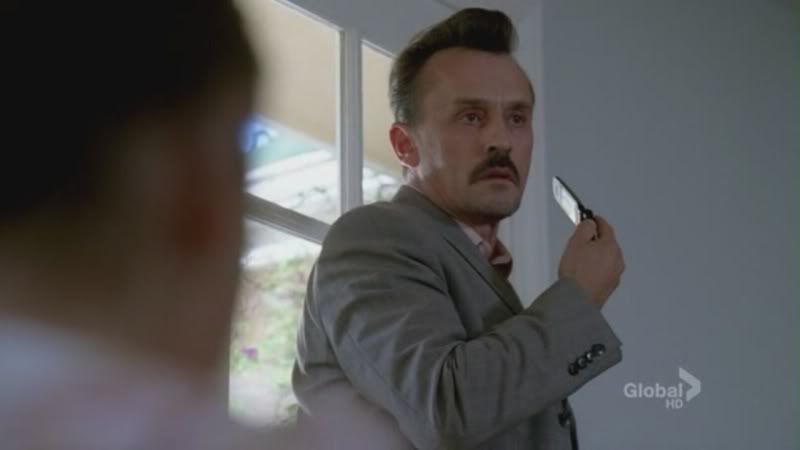 T-Bag: **MORAL CRISIS!! **

But just at that moment...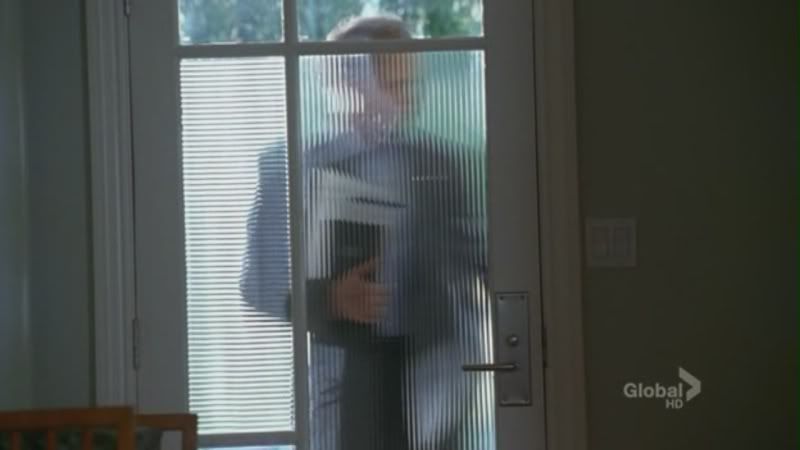 *Ding Dong*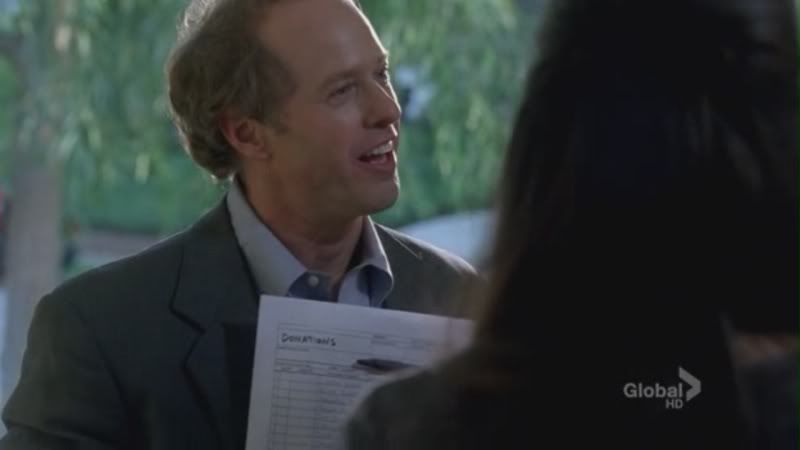 Man at Door: Hello! Have you heard the good news about our lord and saviour Jesus Christ?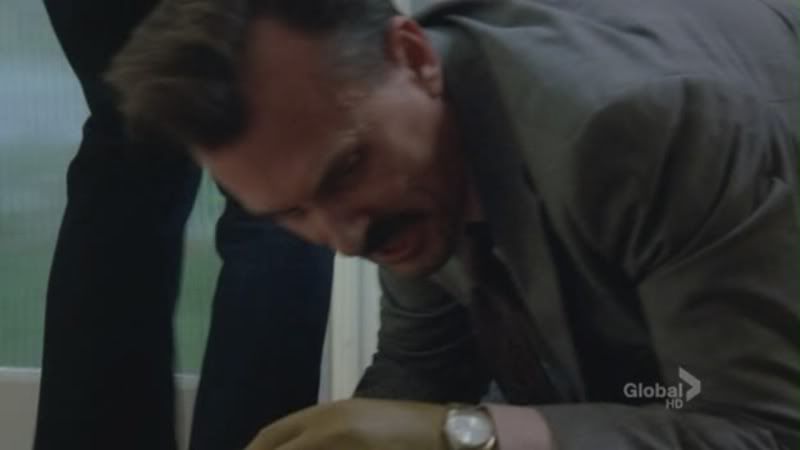 T-Bag: DIE EVIL SCUM!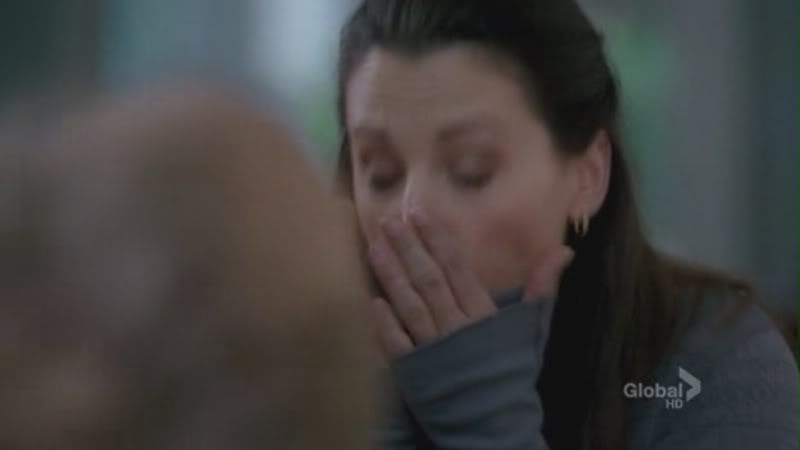 Rita: OMG, you just beat up a Bible salesman!

~*~

Location: A Cafe




Wheeler: So Alex, what can you say to persuade me not to arrest your ass right now?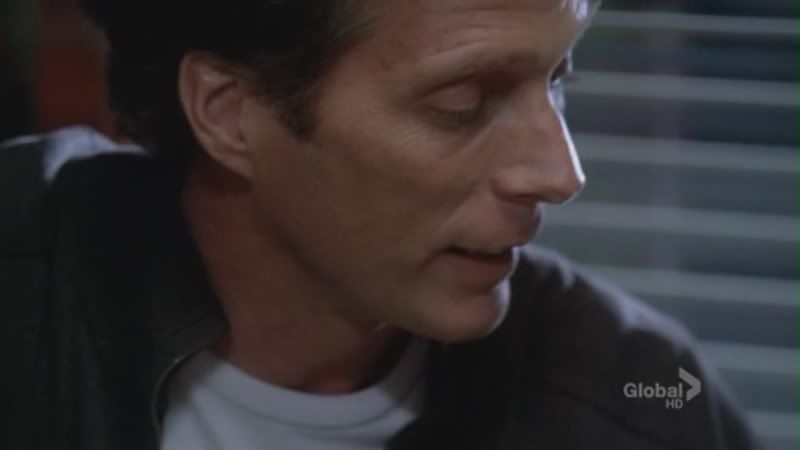 Mahone: The Evil Company is totally real and I can totally prove it.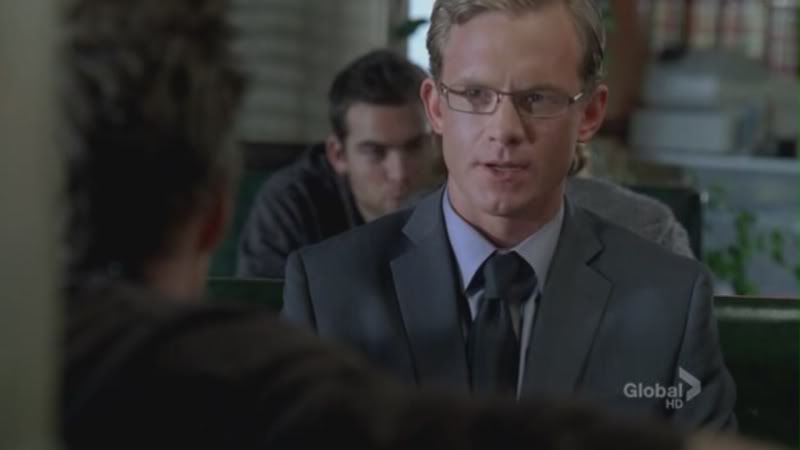 Wheeler: All right, and now I'm totally going to take you to a meeting with the Attorney General to share your evidence.

~*~

Location: Hotel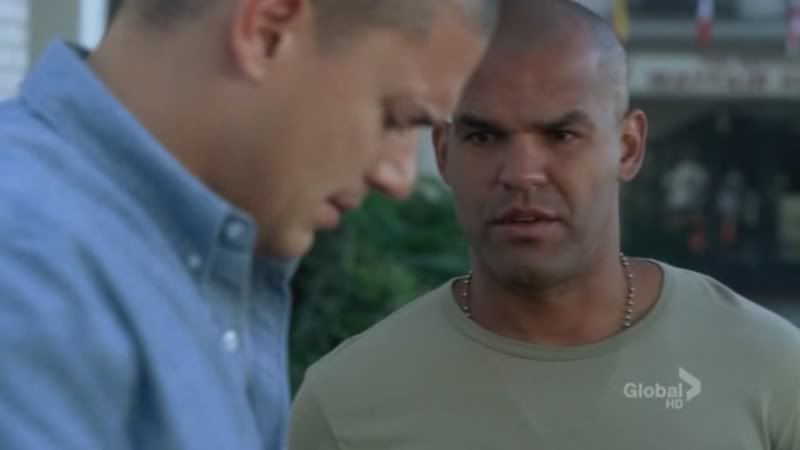 Sucre: I've found Self's smoke bombs, but we've got no way to fire them.

Michael: Please, I'm a genius. Find me some empty toilet rolls and sticky back plastic!

~*~

Location: Evil Company Headquarters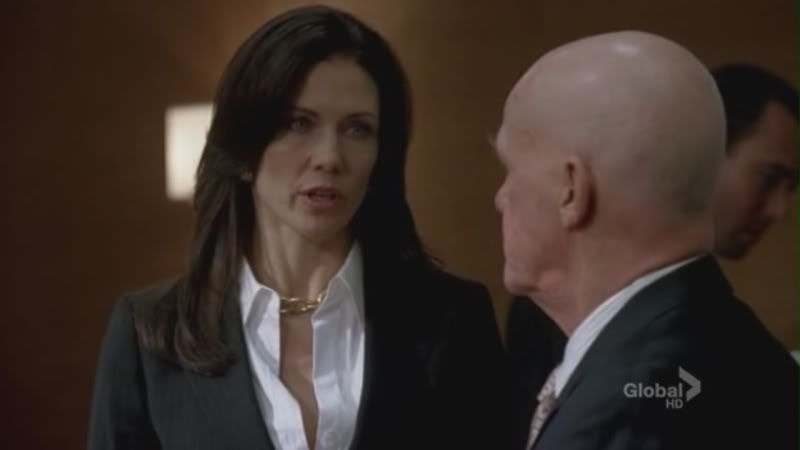 Lisa: Daddy, it has recently come to my attention that you are in fact a murderous bastard and as such I resign from your evil organisation.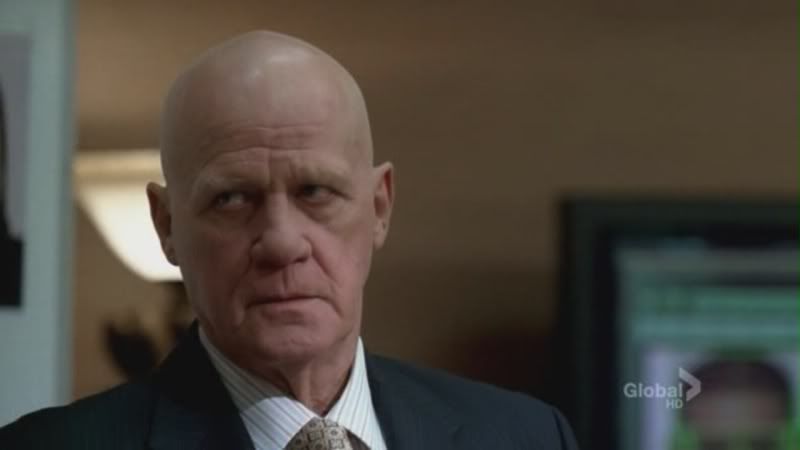 General Pad Man: I wanted a son!

~*~

Location: Rita's House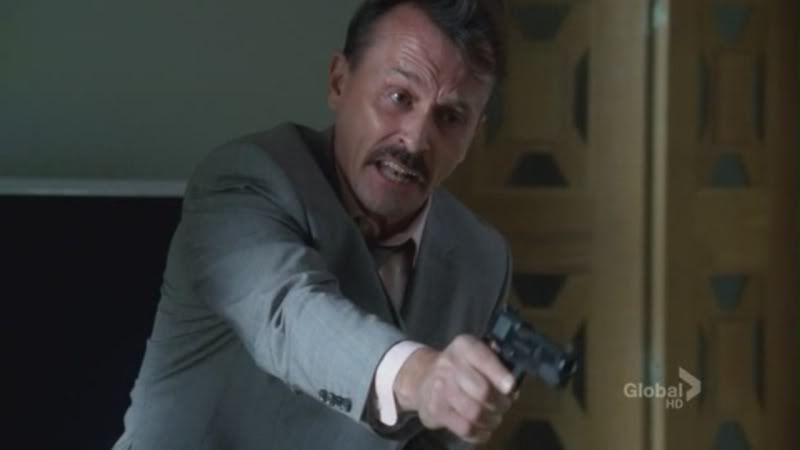 T-Bag really doesn't like Bible salesmen.

T-Bag: LEAVE ME ALONE! I KNOW YOU'RE PART OF THE EVIL COMPANY! I JUST WANT TO BE AN OFFICE MAN!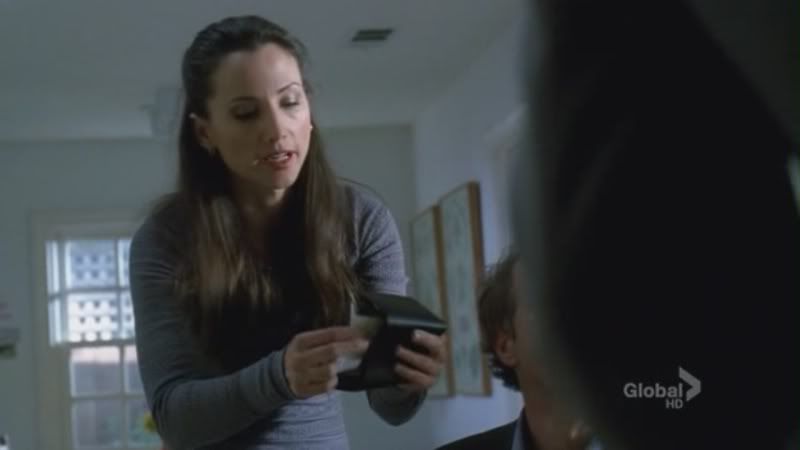 Rita: But his ID says he's a bible salesman! Therefore it must be true!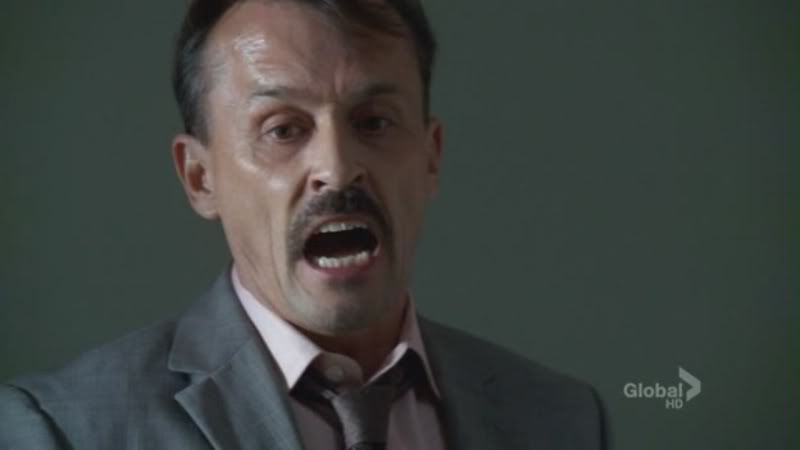 T-Bag: I DON'T KNOW WHAT TO THINK ANY MORE! LET ME CALL MY SPONSOR!

~*~

Location: Hotel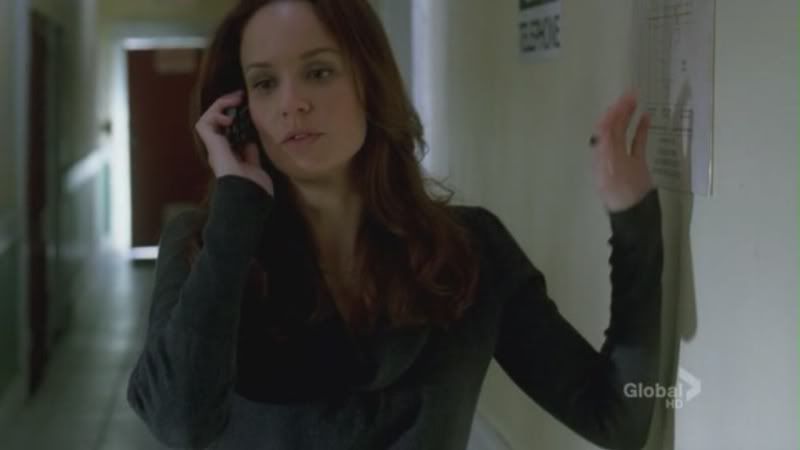 Dr Sara bribes the hotel clerk for Self and Gretchen's room number and relays this information to Michael...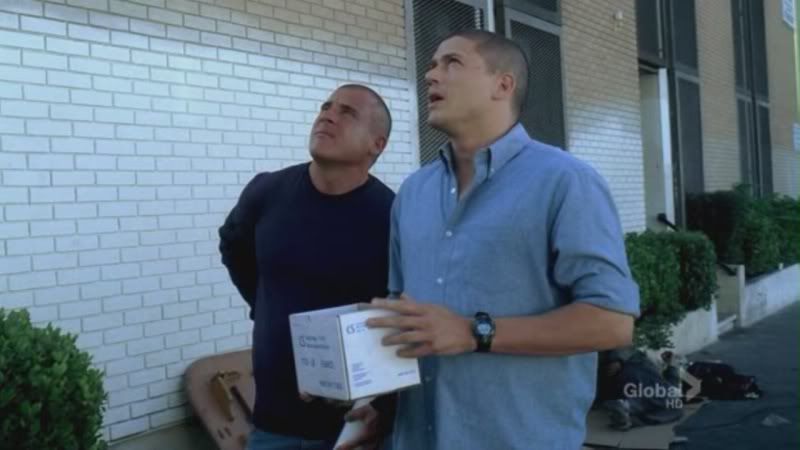 ... Who is scoping out possible locations for his home made smoke bomb launcher.

~*~

Location: Self and Gretchen's Hotel Room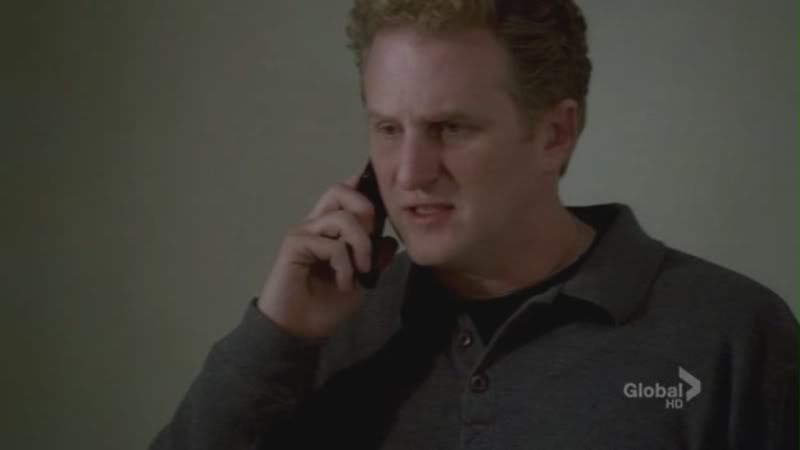 Self is on the phone to Vykin. Neither of them are very happy.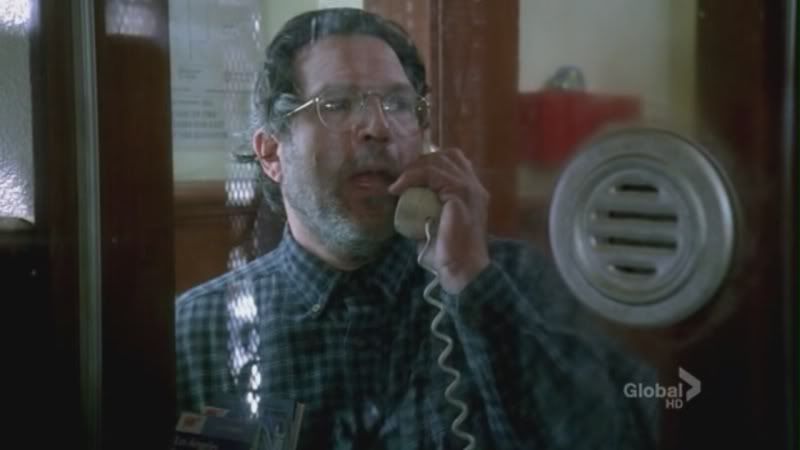 Then the clerk calls to give him a heads up about the nice redhead looking for him.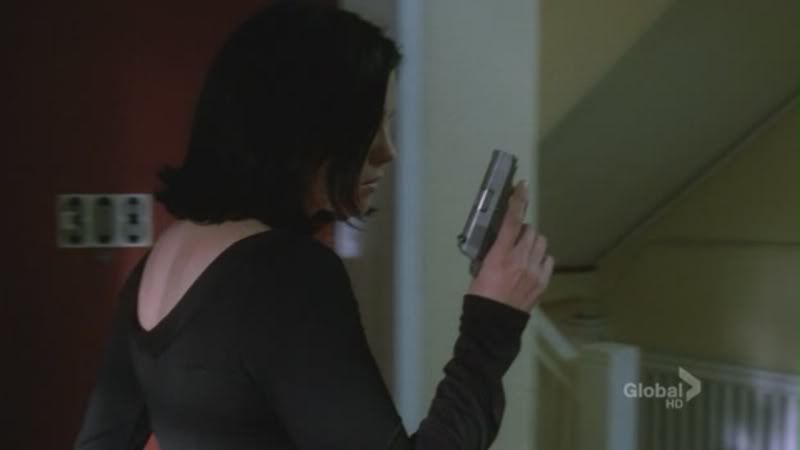 Evil Gretchen heads out to check the hallways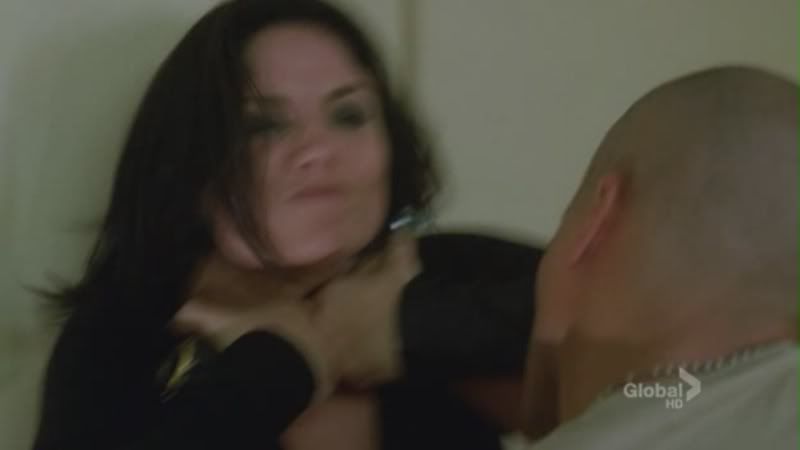 And runs into Sucre.

They fight. At one point Evil Gretchen gets the upper hand (evilly taking advantage of Sucre's prior gunshot wound) but Dr Sara shows up to push her down the stairs. Because Dr Sara is awesome.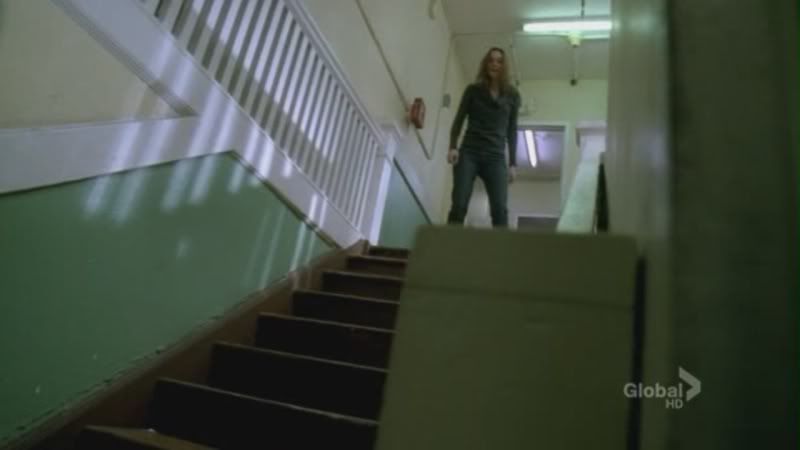 Dr Sara >>> Evil Gretchen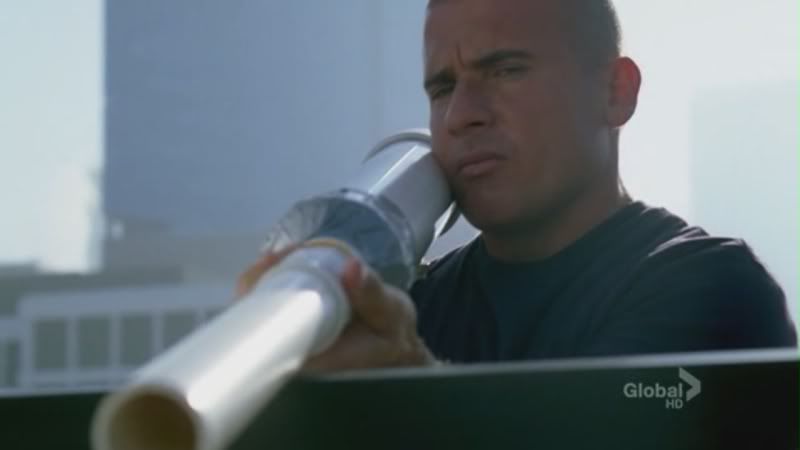 Meanwhile, Lincoln fires a smoke bomb into the hotel room to drive Self out and into Michael's waiting hands.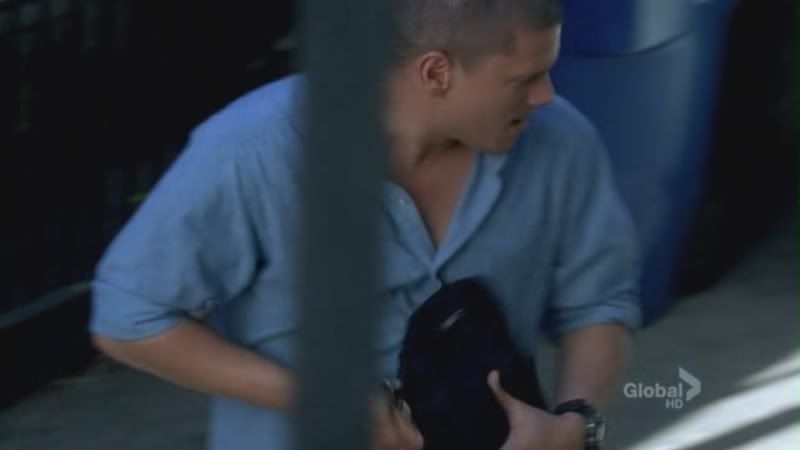 Michael grabs Scylla and makes a break for it.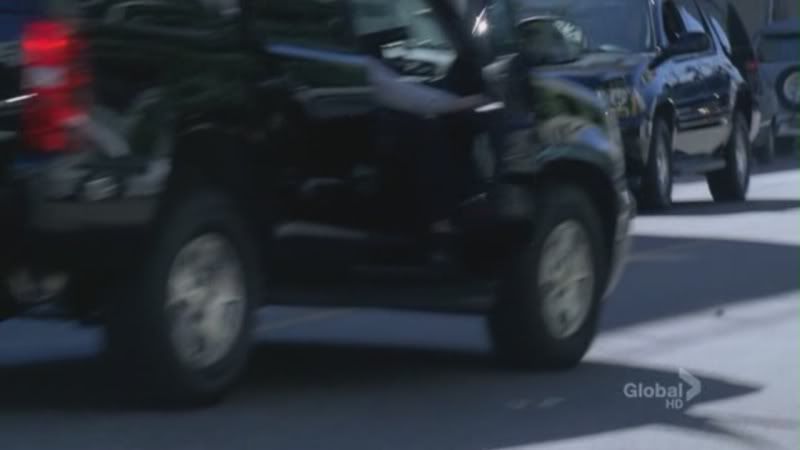 As if there wasn't enough going on, the Evil Company arrive and there is lots of shooting.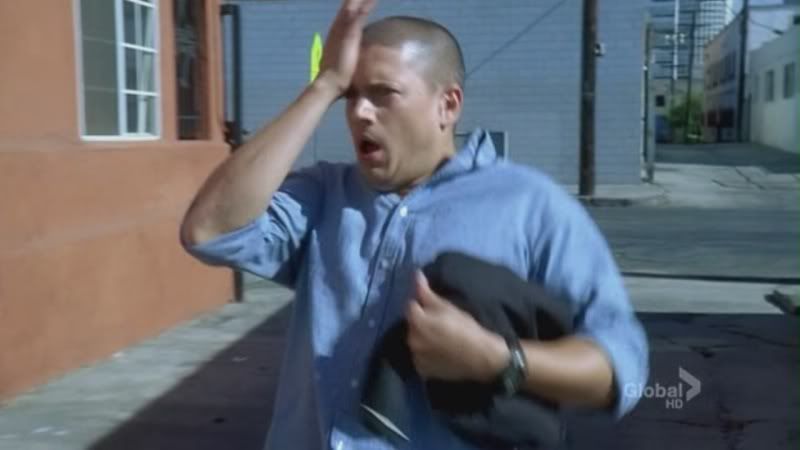 Michael runs into an alleyway and everything would be fine except for that tumour that Dr Sara has been nagging him about.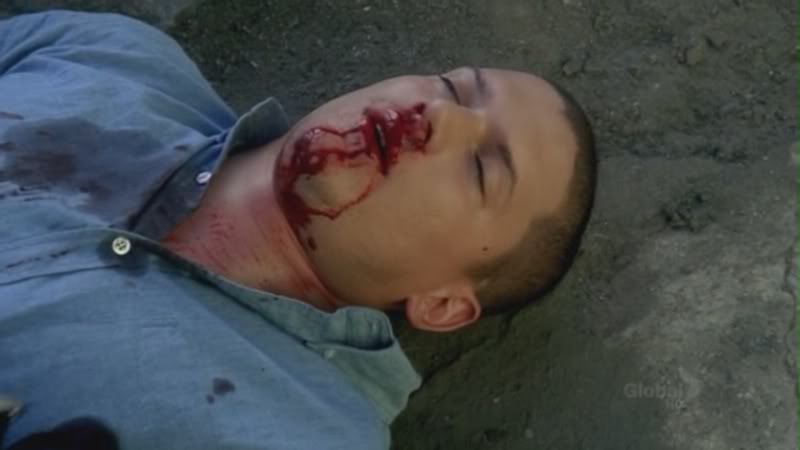 Turns out you should listen to your girlfriend. Especially when she's a doctor.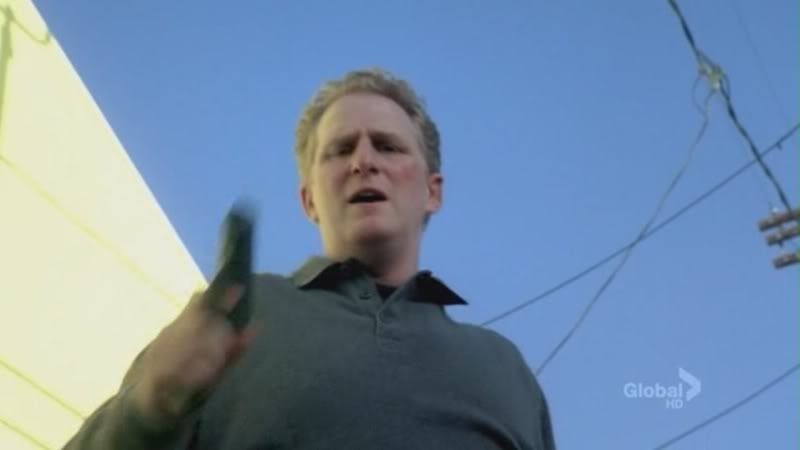 Self arrives to take Scylla back but is chased off before he can actually kill Michael or anything.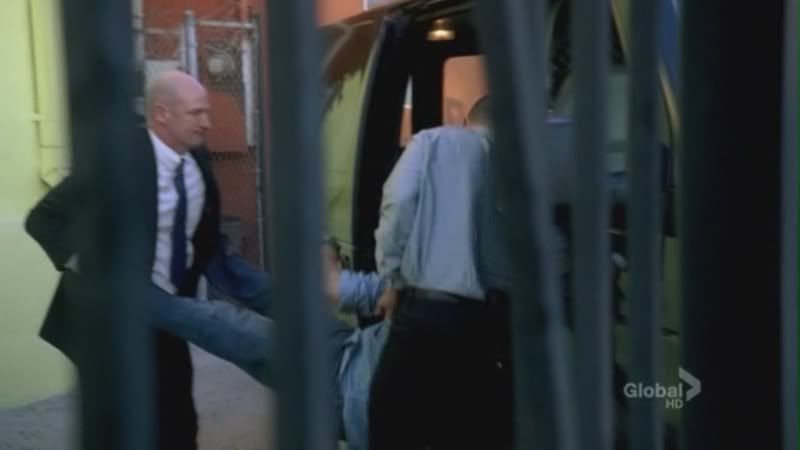 And now the Evil Company has Michael. Ooh er.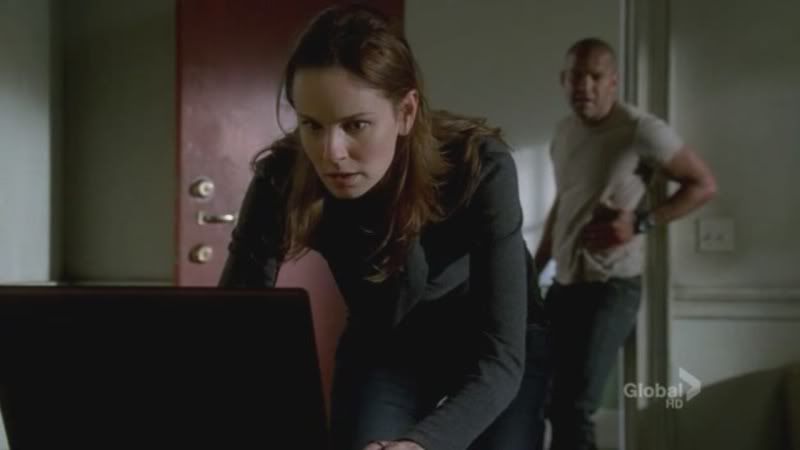 Meanwhile, Dr Sara and Sucre are in Self and Gretchen's hotel room and have discovered the warehouse feed on their laptop.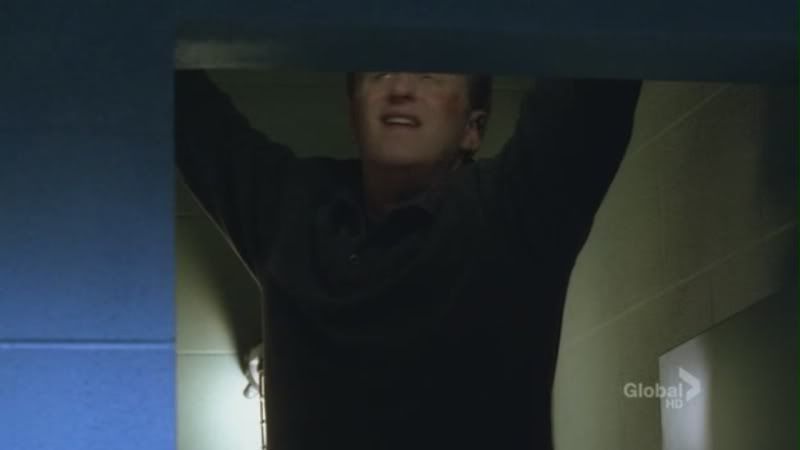 So they can watch as Self gets the last piece of Scylla and puts it all together.

~*~

Location: Somewhere Creepy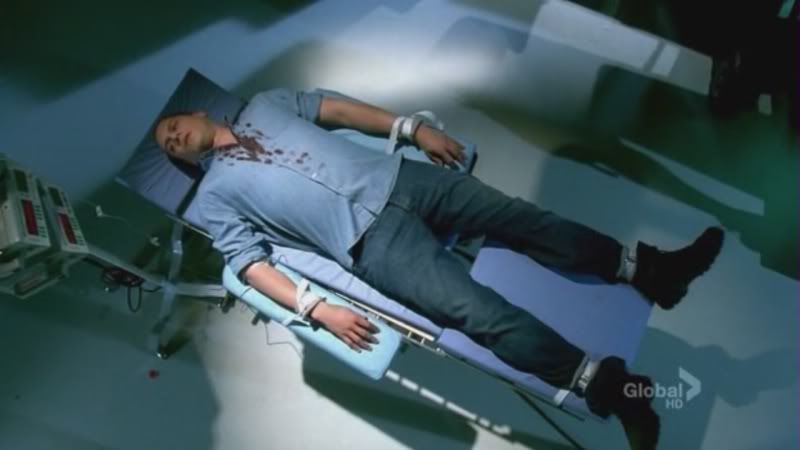 Michael is not doing well.

~*~

Location: Warehouse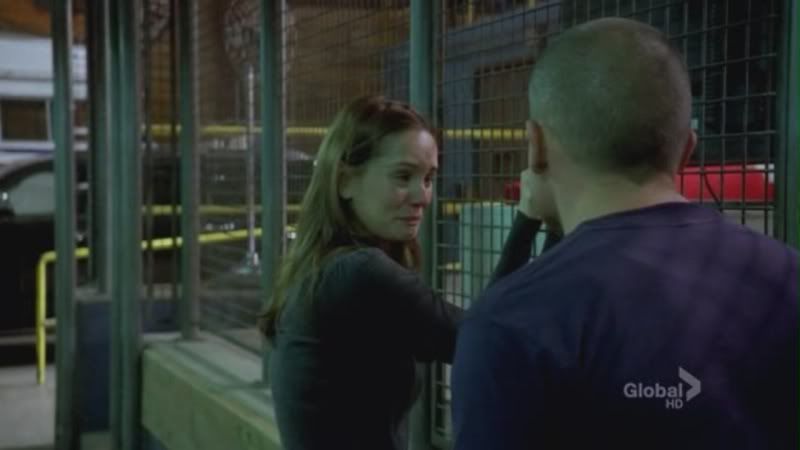 Dr Sara is also not doing well. She's just a tad worried about her boyfriend being in the hands of people who have made no secret of the fact that they want to kill him.

~*~

Location: Somewhere Creepy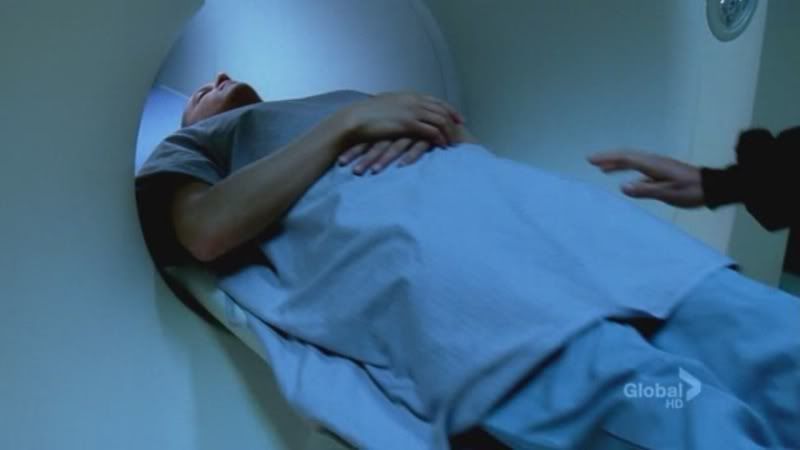 But it appears as if Michael is getting treatment.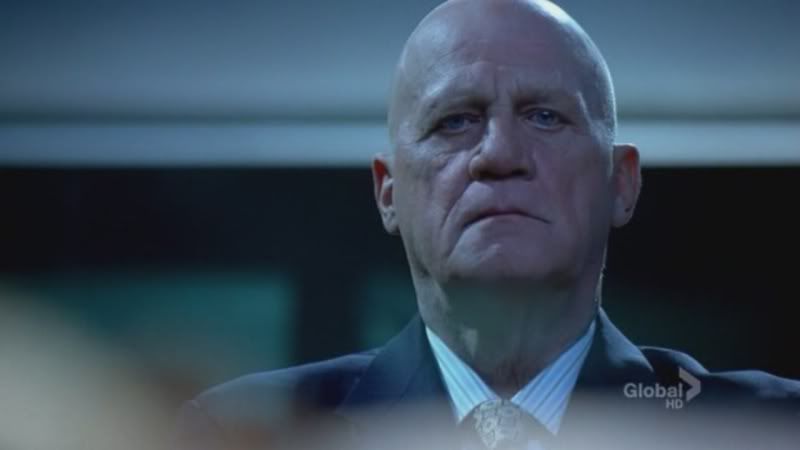 While General Pad Man looks on creepily.

~*~

Location: The pier.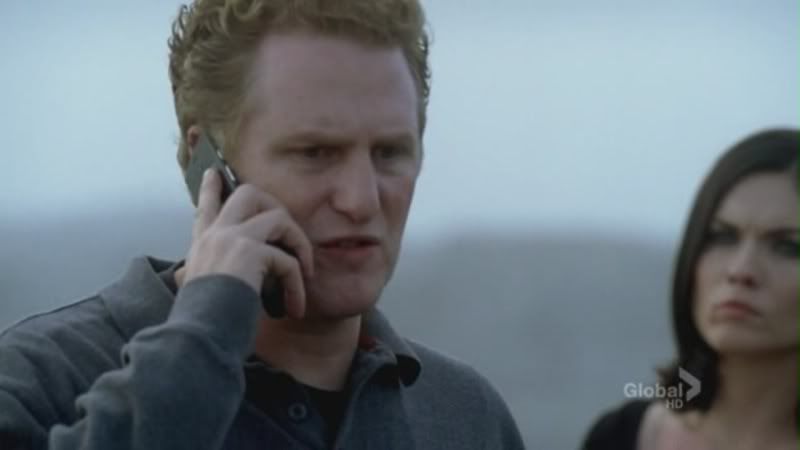 As Self and Gretchen are waiting for Vykin, they get a call from T-Bag.




T-Bag: Hey, bit of an issue. I have a new hostage, I think he's part of the Company.

Self: So kill him.

T-Bag: But he could also be a bible salesman.

Self: So kill him.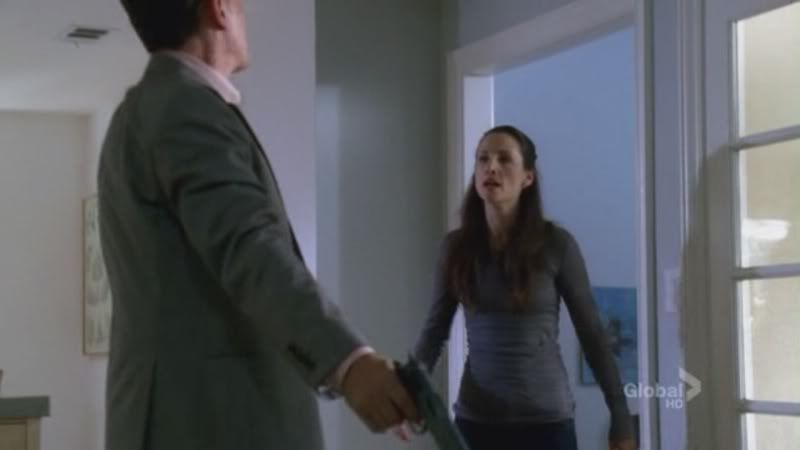 T-Bag: You should probably go into the other room for this.

Rita: Listen to me! Cole Pfeiffer wouldn't do this!

T-Bag: Damn, playing to my weaknesses like that.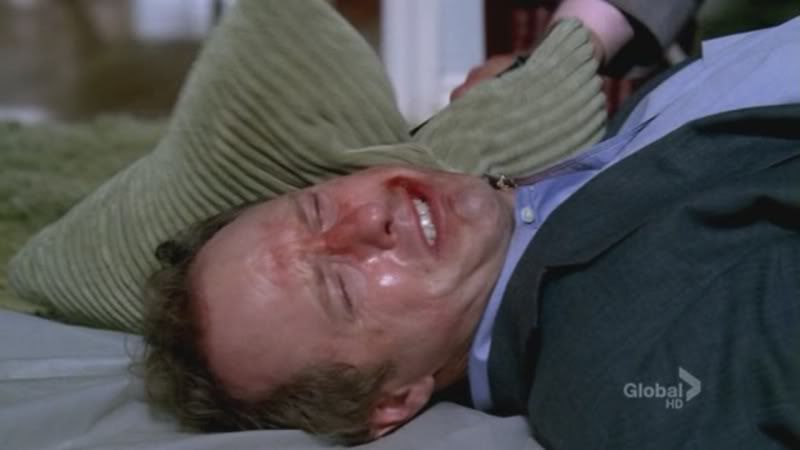 But just as T-Bag is about to do the deed, the bible salesman demonstrates knowledge of a psalm.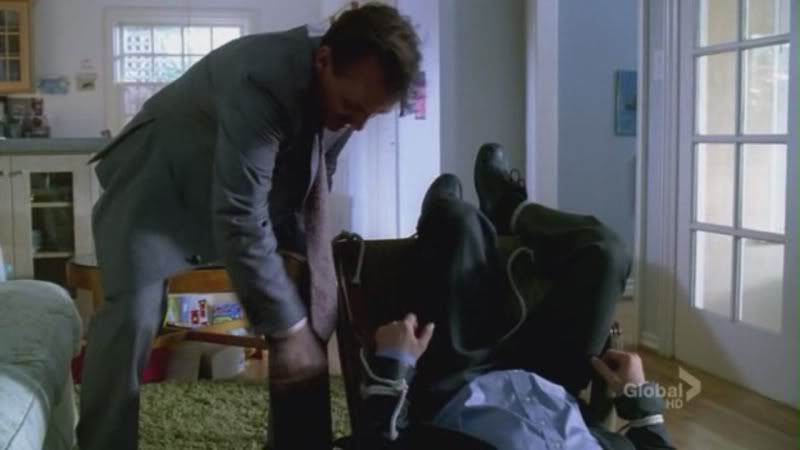 This is all the proof needed to convince T-Bag of his authenticity. He tells Rita and Emily to get in the car and drive as far away as they can and unties the bible salesman.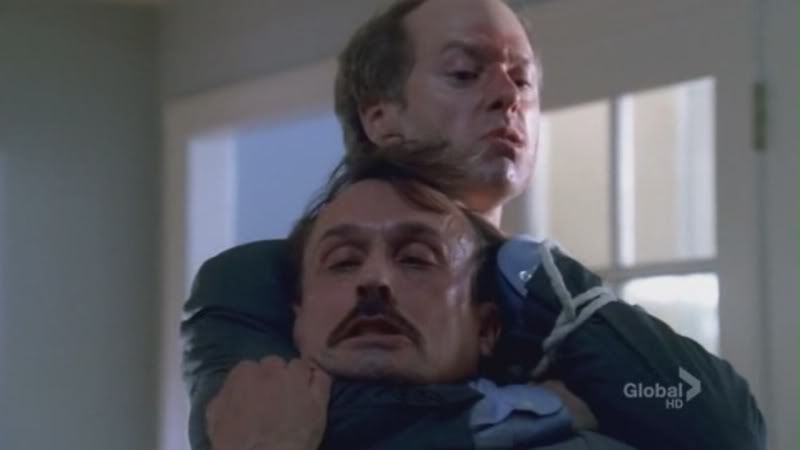 Who turns out to be an Evil Company agent after all.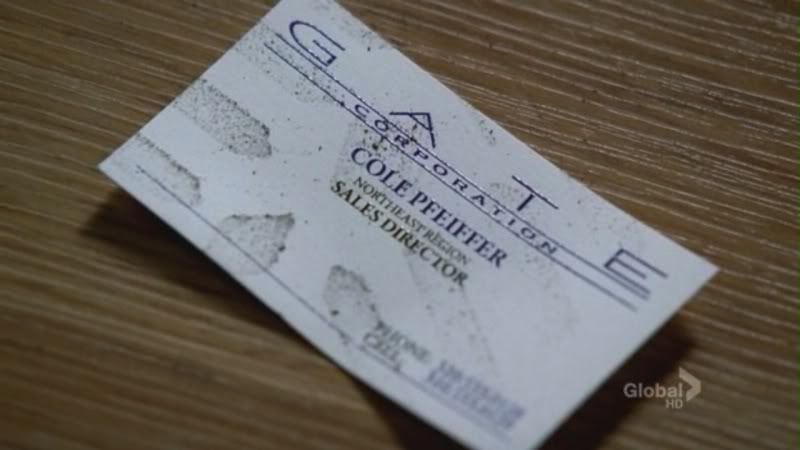 And who symbolically treads on T-Bag's dreams as they leave.

~*~

Location: Evil Company Headquarters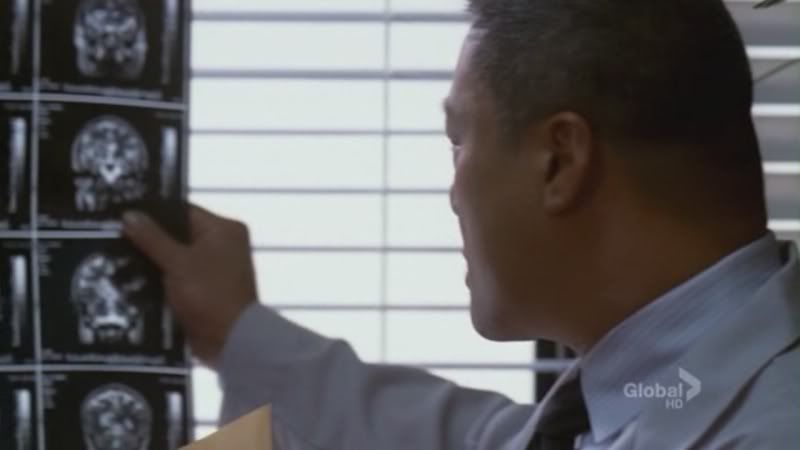 Doctor: So, Michael has a malignant tumour and needs an operation ASAP.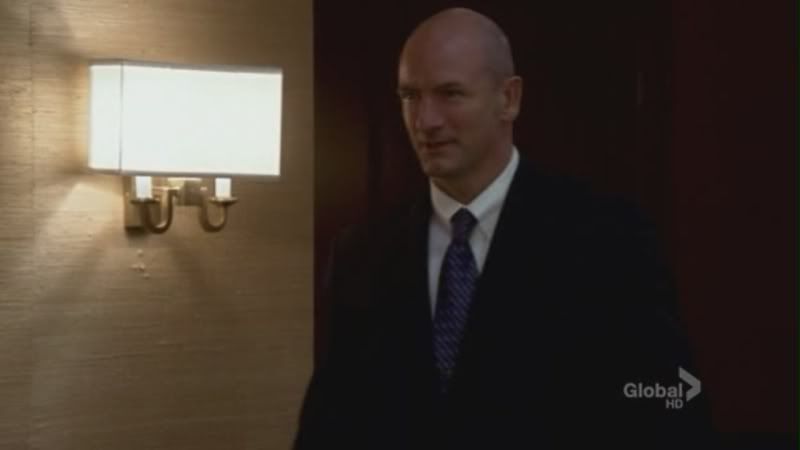 Random Company Man: You'll never guess who's just arrived.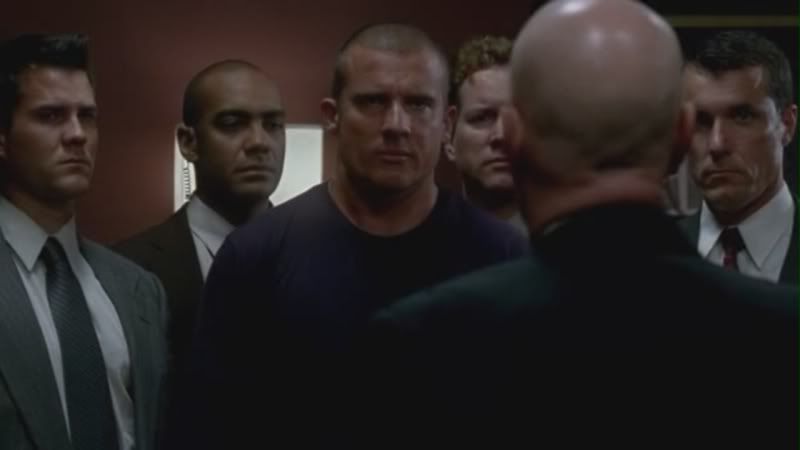 Lincoln!

~*~

Location: The pier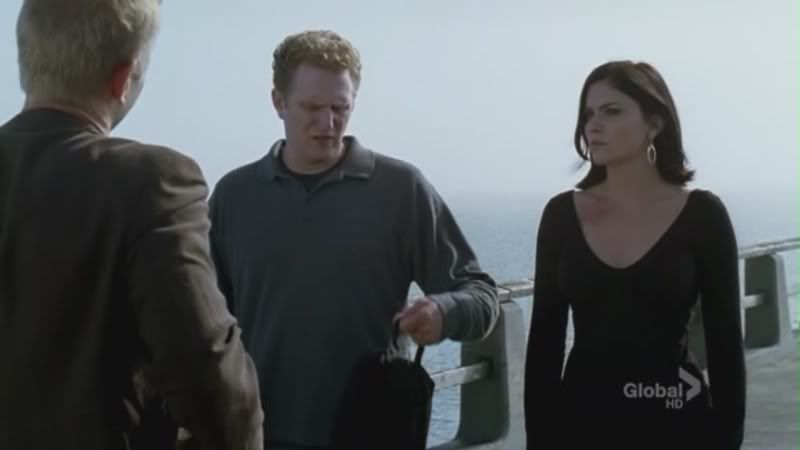 Self hands over the newly completed Scylla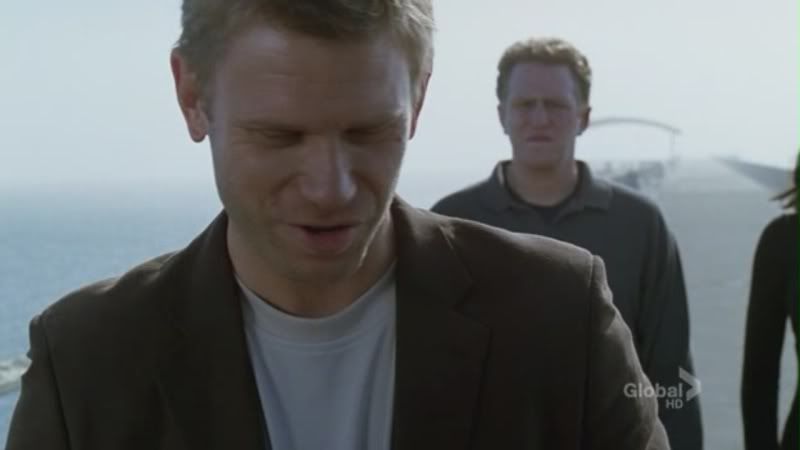 Self: What about the money?

Vykin: It's on its way.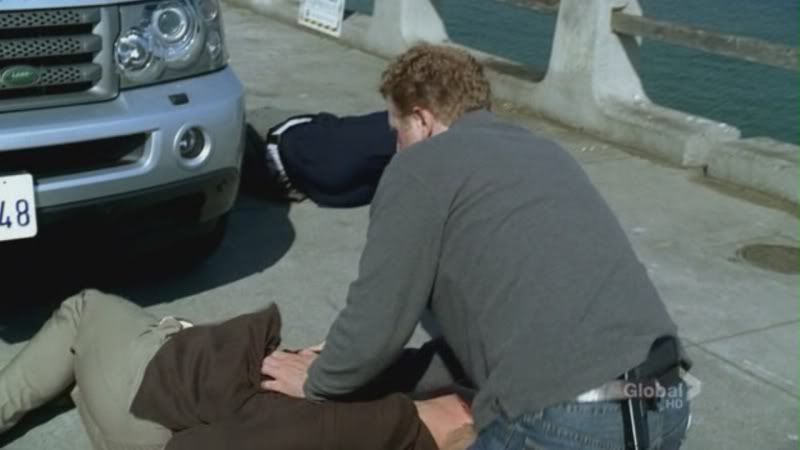 So Self shoots him. Cos he doesn't want to share the money with a middleman.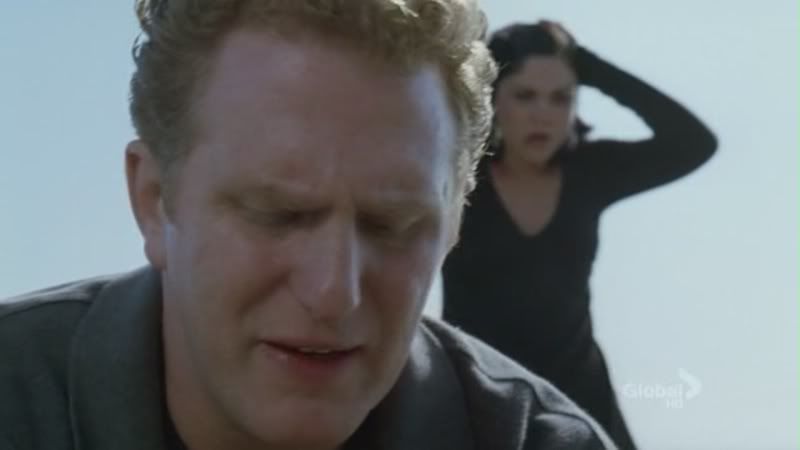 Evil Gretchen: Oh my god, you are a complete moron! Have you never engaged in highly illegal dealings with exceedingly dangerous organisations before?

~*~

Location: Cafe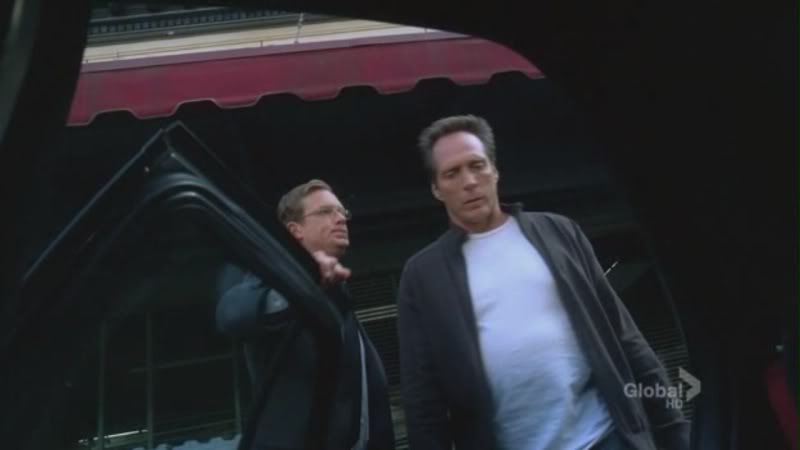 Wheeler: In you go Alex. Off to our meeting with the Attorney General where you can explain everything.




Mahone: We're not going to see the Attorney General, are we?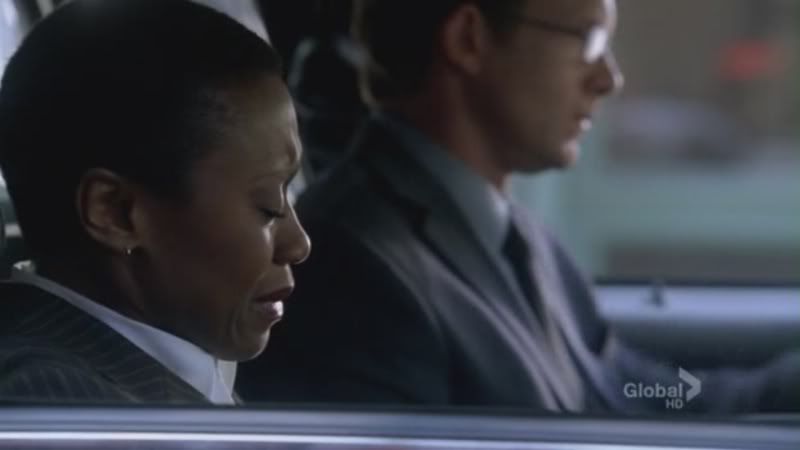 Agent Lang: **Guilt**

~*~

Location: Evil Company Medical Area (Formerly Somewhere Creepy)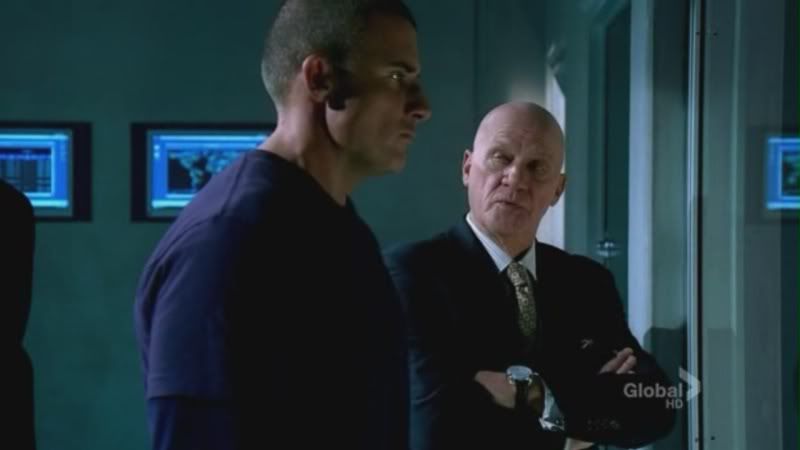 General Pad Man: Michael needs a Very Important Operation. We'll give it to him with our super advanced medical care. In exchange for the return of Scylla, of course.

Lincoln: ...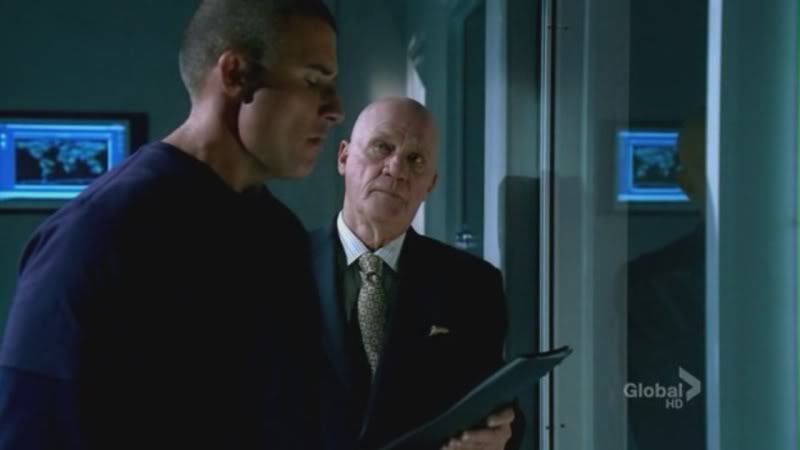 General Pad Man: I know you have doubts, so maybe this will convince you.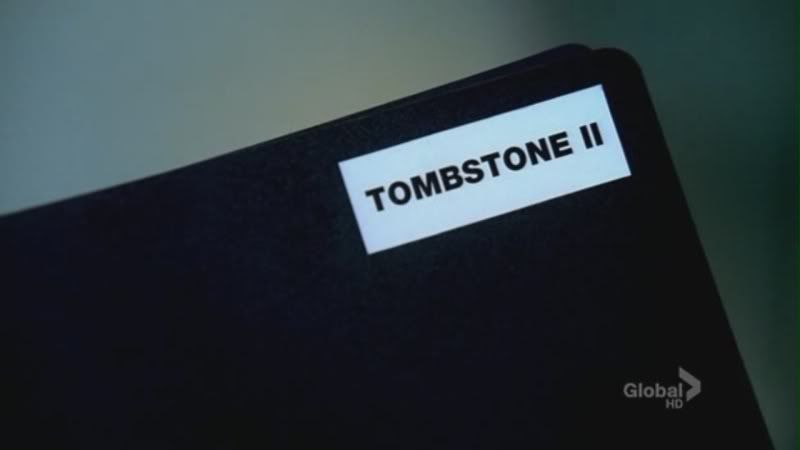 Oooh. What could it be?!?


Credit to
sky_angel22 for the screencaps.